January 27, 2017— In the weeks leading up to President Trump's inauguration—and throughout his campaign as well—the subject of "tax reform" has been raised quite often. But what exactly does this term mean? Some concepts such as rate reduction, repatriation, and more rapid capital expense write-offs have been used but these only scratch the surface.
The House GOP has created a blueprint for corporate tax reform called the "destination-based cash flow tax system" which, in some ways, isn't all that different from what exists today. Revenues are still netted against expenses to generate taxable income. However, in accounting for revenues and expenses, we find some key differences that could profoundly impact financial markets.
Here is a round-up of the proposed changes (as reported by the Tax Foundation in June 2016):
The corporate tax rate would be lowered to 20%, which would be the lowest tax rate since 1939.
Businesses would no longer need to depreciate capital investments; instead, they will be able to fully write off, or expense them, in the way in which they purchased them.
Businesses would no longer need to pay federal tax on profits earned overseas.
Businesses would no longer be able to deduct interest as a business expense; financial transactions would be ignored.
A corporate "border-adjusted tax" (BAT) means neither export revenues nor import expenses are taxed in the U.S.; taxes are applied based on a good's destination, not origin. Of course, BAT isn't new—and has been applied in VAT, retail sales, etc.—but GOP House leadership has now applied it to corporate taxes. This is likely to have a major but not yet fully determined impact on businesses and financial markets.
Ordinary business and capital expenses to be treated the same for tax purposes, which would make spending money on traditionally depreciated property more compelling. Given current concerns over the lack of business capital spending, the rule could produce the stimulation that has been lacking in the current expansion.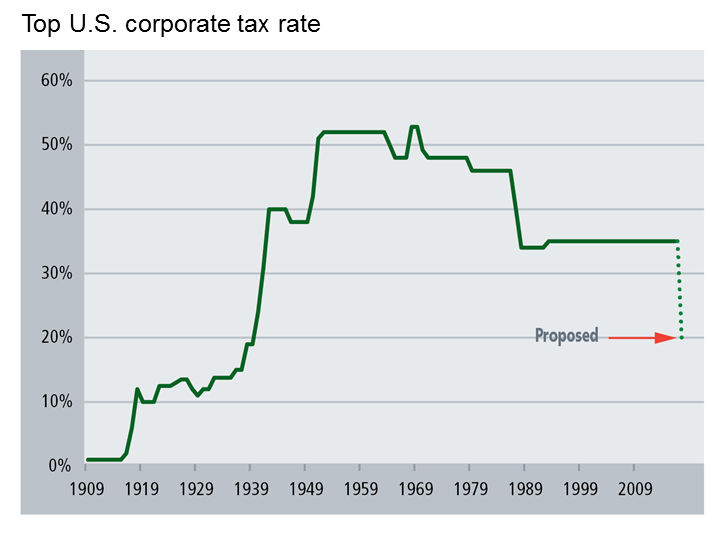 Source: Strategas Research Partners
More chat and the plan as a whole
BAT has been the focal point of most of the plan's opposition. On the surface is the idea that the plan would likely help exporters and harm importers. Retailers could face a significant negative impact since they buy a considerable amount of the goods brought into the country. President Trump has voiced his view that the provisions are too complicated, but he is willing to continue discussions. Some advocates said we should expect this tax plan to lead to a strengthening in the U.S. dollar (USD) which would offset exporter-importer tax differences. Capital Economics has reported that the USD would have to appreciate by 25% to offset the loss of the 20% tax benefit from lost deductibility. There could be considerable risk in creating the tax plan and then waiting to see if the currency follows the expected path. President Trump's reluctance also focused on the resulting outcome assuming the USD strengthened and what that might do to harm efforts to build up U.S. firms that are trying to compete overseas.
On the positive side, BAT should eliminate the need for businesses to make elaborate tax plans involving foreign subsidiaries in the interest of protecting profits from the current high U.S. tax rate. This would simplify tax treatment, lower compliance costs, and reduce/eliminate inversions.
The provisions around eliminating taxes/tax benefits on import earnings and export expenses have led to initial estimates that the new system could raise $1.2 trillion over 10 years, given the U.S.' large trade imbalance (assuming BAT provisions are kept). For those seeking to keep the tax reform impacts revenue neutral, losing this revenue may make the bigger plan of tax reform easier to adopt—but it would then require other adjustments that could water down the benefits in order to retain revenue neutrality.
Imagine a world with no tax consequences
The plan would seemingly level the playing field between debt and equity. Interest expense would be deductible against interest income and any unused interest expense could be carried forward for use against future interest income. A question that quickly arises is how the debt markets would treat a world where there are no tax consequences. If the playing field is leveled, will debt and equity prices tend to match each other? One might think prices would adjust but they would probably not do so in a major way. Consider that:
While debt/equity tax treatment may be more similar, risks like credit, default, and equity ownership haven't changed; investors still need to be compensated for these factors.
We have seen many changes in individual tax rates and the muni market hasn't shifted to accommodate these changes, so we may well see the same thing happen again.
The provisions of the plan may violate World Trade Organization rules which could also present a stumbling block that needs to be addressed.
Several unresolved issues persist, including the treatment of financial services firms; also necessary transition rules haven't been developed. Part of these rules could address how to treat interest payments on corporate debt that has already been issued as well as provide a possible compromise glide path to get border adjustments approved.
As reported by Cornerstone Macro, the new administration and the House are probably not on the same page as of yet on agreeing to the plan details; thus, bringing this to reality will still require a herculean effort. Furthermore, Democratic Party thinking on this topic is largely unknown. Aspects may be appealing but low rates can be a stumbling block. If the plan has to go through a budget reconciliation process that creates sunset provisions (not revenue neutral) the aspirational benefits of a new corporate taxation philosophy may well be lost.
Core narrative
Some quick tax reform proposals wins may be possible, depending on their extent. Changes could mean the following for U.S. corporations: a more competitive tax structure vis a vis the rest of the world; no worries related to where transactions are domiciled; lower maintenance costs of complying with the tax law; and increased activity in spending money on productive assets (by eliminating the difference between ordinary and capital expenses. All of these could potentially lead to stronger economic performance, in support of our pro-domestic equity core narrative, but keep in mind that "border adjustments" will likely need reworking and/or transition rules before passage.
Disclosures
Wilmington Trust is a registered service mark. Wilmington Trust Corporation is a wholly owned subsidiary of M&T Bank Corporation. Wilmington Trust Company, operating in Delaware only, Wilmington Trust, N.A., M&T Bank and certain other affiliates, provide various fiduciary and non-fiduciary services, including trustee, custodial, agency, investment management and other services. International corporate and institutional services are offered through Wilmington Trust Corporation's international affiliates. Loans, credit cards, retail and business deposits, and other business and personal banking services and products are offered by M&T Bank, member FDIC.
These materials are based on public information. Facts and views presented in this report have not been reviewed by, and may not reflect information known to, professionals in other business areas of Wilmington Trust or M&T Bank who may provide or seek to provide financial services to entities referred to in this report. M&T Bank and Wilmington Trust have established information barriers between their various business groups. As a result, M&T Bank and Wilmington Trust do not disclose certain client relationships with, or compensation received from, such entities in their reports.
The information on Wilmington Wire has been obtained from sources believed to be reliable, but its accuracy and completeness are not guaranteed. The opinions, estimates, and projections constitute the judgment of Wilmington Trust and are subject to change without notice. This commentary is for information purposes only and is not intended as an offer or solicitation for the sale of any financial product or service or a recommendation or determination that any investment strategy is suitable for a specific investor. Investors should seek financial advice regarding the suitability of any investment strategy based on the investor's objectives, financial situation, and particular needs. Diversification does not ensure a profit or guarantee against a loss. There is no assurance that any investment strategy will succeed.
IRS Circular 230 disclosure: To ensure compliance with requirements imposed by the IRS, we inform you that, while this presentation is not intended to provide tax advice, in the event that any information contained in this presentation is construed to be tax advice, the information was not intended or written to be used, and cannot be used, for the purpose of (i) avoiding tax related penalties under the Internal Revenue Code or (ii) promoting, marketing, or recommending to another party any matters addressed herein.
Third party trademarks and brands are the property of their respective owners.
Contact an Expert