March 15, 2017—As expected, the Federal Open Market Committee (FOMC) of the Federal Reserve (Fed) hiked its benchmark interest by 25 basis points, or bps (0.25%), from a range of 0.50%–0.75% to a range of 0.75%–1.0%. It is the third such hike of this cycle, but comes just 12 weeks after the previous hike in rates on December 16, 2016. The gap between the first and second hike in December 2016 was a full year.
The FOMC statement noted improvement in the economic data, especially that inflation is nearing the committee's target of 2.0%. The assessment of economic activity was generally upbeat, including noting that "business investment appears to have firmed somewhat." That is an upgrade from previous statements.
This week's decision was not a surprise as markets were pricing in a 100% probability of higher rates. But as we discussed last week, the high market expectation was a very recent phenomenon, moving up sharply over the past six weeks on stronger economic data, some hawkish language from key FOMC members, and expectations of a fiscal boost. We doubt the Fed would have hiked rates this week had the market not given it the green light. Although the economic data merits continued tightening of monetary policy, there is no urgency yet and little indication the Fed has fallen behind the curve. Many FOMC members, including Chair Yellen, had cited uncertainty about fiscal policy as reason to be patient, and that uncertainty has clearly not been resolved. But once the market effectively opened the door for this hike, the Fed was happy to step through. Indeed, the previous hikes were fully expected, with the market pricing in an 84% chance of a hike in December 2015 and 100% in December 2016.
The language and the dots
At today's meeting, the FOMC released its updated economic forecasts as well as expectations for rate hikes over the next three years. Each of the seventeen FOMC participants gives individual forecasts and the median responses receive the most scrutiny. The median expectation for rate hikes in 2017 was unchanged from December 2016 with three increases expected this year. Although the median did not change, a few individuals did increase their expectations from three to four. A slim majority of the committee (nine of seventeen) think three hikes is appropriate; only three think fewer hikes would be appropriate; and five think there should be more hikes this year. The longer-term path for 2018 and 2019 was unchanged, with the median expectation showing three rate hikes in each of those years, respectively. That would bring the federal funds rate to 3% by the end of 2019, which is also the committee's assessment of the longer-term normal level. The expectations for rate hikes are shown in Figure 1. The forecasts for economic growth, the unemployment rate, and inflation were unchanged.
The Fed is trying to strike a balance between preparing the market for higher rate hikes than are currently priced in without scaring the market into a bond market selloff like the unexpected "taper tantrum" of 2013. In that episode, the market overreacted to comments made by then-Chairman Bernanke about a prospective end to the quantitative easing program that was under way. The yield on the 10-year Treasury nearly doubled from the time of his comments to six months later.
Chair Yellen appears to have achieved that goal in the statement and the press conference. She repeatedly argued that today's hike was a natural follow through on the communications made by the FOMC. She pointed to previous public statements and the minutes from the January meeting that all indicated the committee would think rate hikes are appropriate so long as the economic data supported its assessment of the economy and did not alter future expectations. The immediate aftermath of the meeting and press conference appeared to dial back some investor expectations about future policy. The yield on the 10-year Treasury fell sharply to the lowest level in seven trading days. The DXY index of the U.S. dollar fell about 1%.
Figure 1
FOMC participants' assessments of appropriate monetary policy: Midpoint of target range or target level for the federal funds rate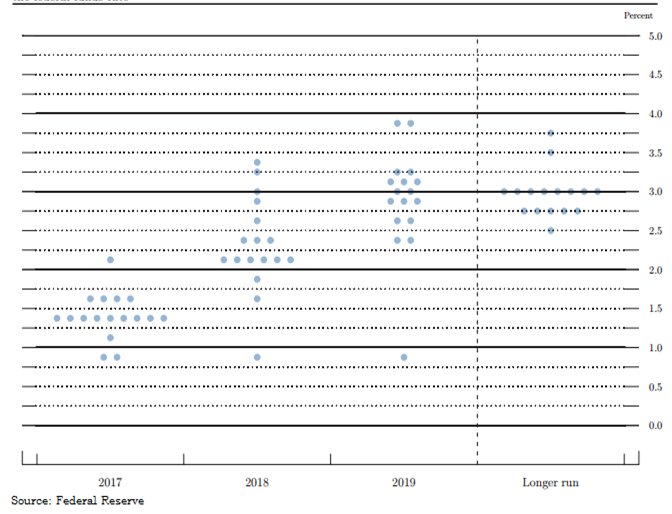 Core narrative
Our assessment of the economy and expectations for the Fed are unchanged following today's information. We continue to expect two more rate hikes in 2017 based on continuing improvement in the economy and stable inflation. This morning's release of the consumer price index supports a stable inflation outlook. An improving economy and gradual rate hikes are supportive of our slight overweight to risk assets and underweight to core fixed income.
Disclosures
Wilmington Trust is a registered service mark. Wilmington Trust Corporation is a wholly owned subsidiary of M&T Bank Corporation. Wilmington Trust Company, operating in Delaware only, Wilmington Trust, N.A., M&T Bank and certain other affiliates, provide various fiduciary and non-fiduciary services, including trustee, custodial, agency, investment management and other services. International corporate and institutional services are offered through Wilmington Trust Corporation's international affiliates. Loans, credit cards, retail and business deposits, and other business and personal banking services and products are offered by M&T Bank, member FDIC.
These materials are based on public information. Facts and views presented in this report have not been reviewed by, and may not reflect information known to, professionals in other business areas of Wilmington Trust or M&T Bank who may provide or seek to provide financial services to entities referred to in this report. M&T Bank and Wilmington Trust have established information barriers between their various business groups. As a result, M&T Bank and Wilmington Trust do not disclose certain client relationships with, or compensation received from, such entities in their reports.
The information on Wilmington Wire has been obtained from sources believed to be reliable, but its accuracy and completeness are not guaranteed. The opinions, estimates, and projections constitute the judgment of Wilmington Trust and are subject to change without notice. This commentary is for information purposes only and is not intended as an offer or solicitation for the sale of any financial product or service or a recommendation or determination that any investment strategy is suitable for a specific investor. Investors should seek financial advice regarding the suitability of any investment strategy based on the investor's objectives, financial situation, and particular needs. Diversification does not ensure a profit or guarantee against a loss. There is no assurance that any investment strategy will succeed.
Any investment products discussed in this commentary are not insured by the FDIC or any other governmental agency, are not deposits of or other obligations of or guaranteed by M&T Bank, Wilmington Trust, or any other bank or entity, and are subject to risks, including a possible loss of the principal amount invested. Some investment products may be available only to certain "qualified investors"—that is, investors who meet certain income and/or investable assets thresholds. Past performance is no guarantee of future results. Investing involves risk and you may incur a profit or a loss.
Any positioning information provided does not include all positions that were taken in client accounts and may not be representative of current positioning. It should not be assumed that the positions described are or will be profitable or that positions taken in the future will be profitable or will equal the performance of those described. Positions described are illustrative and not intended as a recommendation outside of a managed account.
Indices are not available for direct investment. Investment in a security or strategy designed to replicate the performance of an index will incur expenses, such as management fees and transaction costs that would reduce returns.
Third party trademarks and brands are the property of their respective owners.
Contact an Expert