September 21, 2017 — As we had anticipated for several months, the Federal Open Market Committee (FOMC) of the Federal Reserve announced the start of "normalization" of its balance sheet following the meeting this week. This means committee members believe they can and should start to reduce the overall size of the Fed's balance sheet, which has stood at about $4.5 trillion for the past three years following several "quantitative easing" (QE) programs. We believe this will initially have a limited impact on long-term interest rates because markets were anticipating the announcement. Going forward, however, the Fed plans to accelerate the pace of balance sheet reduction, and it is unclear that markets are priced accordingly. Over the next 12 months, if the Fed follows its stated plan, there is the possibility that long-term rates could move up quickly.
Over the years since the recession, the Fed engaged in multiple rounds of QE in an effort to push down longer-term interest rates. To do this, it purchased trillions of dollars' worth of long-term U.S. Treasuries as well as mortgage-backed securities (MBS), issued by Fannie Mae and Freddie Mac. These actions increased the total size of the central bank's balance sheet from approximately $900 billion before the recession to $4.5 trillion today. Although the last round of QE ended at the October 2014 meeting, the Fed has remained an active buyer of Treasuries and MBS in the three years since. On a monthly basis, the Fed receives interest and principal payments from its Treasuries and MBS, and it has been reinvesting those proceeds in new Treasuries and MBS to keep the balance sheet level at $4.5 trillion.
The Fed's not selling; it's just buying less
This week's decision is to not sell any of its holdings, but rather to reinvest less of the proceeds each month. The official FOMC statement this week implemented the details sketched out earlier this year at the June meeting, indicating the Fed would let its holdings of Treasuries decline by a maximum (or "cap") of $6 billion per month and MBS by a maximum of $4 billion per month. Those caps would then increase by $6 billion and $4 billion, respectively, every three months. The caps would hit maximums of $30 billion per month for Treasuries and $20 per month for MBS in October of 2018, assuming the Fed sticks to its expected plan.
For 4Q 2017, the Fed would still be a net buyer of Treasuries. According to our calculations, the Fed has slightly more than $47 billion worth of Treasuries that will mature over the last three months of the year, shown in the first bar of the figure below. Allowing its holdings to decline by $6 billion a month means it would still continue to purchase $29 billion of Treasuries through the end of this year.
We calculate the Fed has $428 billion that will mature over the course of 2018, the highest bar in the figure. If it sticks to the planned schedule of increasing the caps every three months, it would allow Treasury holdings to decline by $252 billion in 2018, so the Fed would buy $176 billion in Treasuries next year.
On the MBS side, it is very challenging to predict the amount of reinvestment because mortgages are generally not scheduled to mature in the near term. To accurately predict the Fed's action, one must accurately predict the rate at which mortgages included in the MBS holdings are paid off early. That is highly sensitive to the performance of the economy and especially to movements in mortgage interest rates. In 2017, the Fed has generally been purchasing MBS in the range of $10-$15 billion per month, but that could decrease sharply if interest rates rise.
Maturity schedule of Fed-held U.S. Treasury securities ($billions)
Source: Federal Reserve, WTIA
It is hard to know whether the overall market has priced in the full Fed schedule. We are fairly confident that the market expected this initial move with the relatively small amounts, and the market reaction after the announcement is supportive of that conclusion. However, the market is frequently dubious about the Fed's ability to meet its stated intentions. That is certainly true when it comes to planned interest rate hikes, as the market has very different (much lower) expectations for the number of rate hikes over the next 1–2 years than does the Fed. If the market is similarly pessimistic that the Fed will be able to progress to monthly declines in the balance sheet of $50 billion per month over the next year, then there could be a significant adjustment of long-term rates as the Fed marches along. That, in turn, would affect the housing market. We think the Fed would be very sensitive to its influence on that front.
The longer-term outlook
The graph below illustrates a long-term projection of what may happen to the Fed's balance over the next several years. The blue dotted line shows how it would decline, assuming the Fed proceeds on schedule to a monthly decline of $50 billion per month in October 2018. There are significant questions about how low the balance sheet will eventually go, and there are many moving parts.
The one thing we know with certainty is the balance sheet will not return to its pre-crisis level of $900 billion. This is certain because the amount of cash in circulation (a liability of the Fed) has risen to $1.6 trillion as of this month. The Fed must hold assets of at least that amount, so the amount of currency effectively puts a floor on the size of the balance sheet. If the amount of currency in circulation continues to grow at historical rates (not a certainty if consumers eschew currency in favor of debit cards, bitcoin, or other substitutes) it would grow to $2 trillion by the year 2021, shown below.
Additionally, many members of the FOMC have signaled they like their new method of controlling short-term interest rates (not discussed in detail here), which makes use of a reverse repurchase program. As of this month, that program was about $360 billion; however, it could change significantly going forward. But a rough projection of increased cash in circulation and holding the reverse-repurchase program constant would bring the minimum balance sheet size to slightly below $2.5 trillion at the beginning of year 2021, about the same time the Fed will have pared its assets down to the same level. This would be the same timeframe recently projected by New York Fed President Bill Dudley, and at the bottom of his suggested balance sheet range of "$2.4 trillion to $3.5 trillion."
Projection of Federal Reserve balance sheet ($ trillions)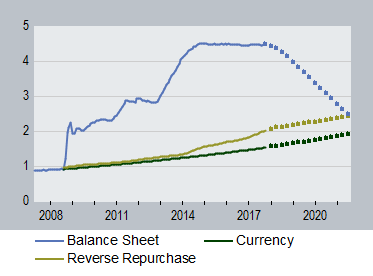 Source: Federal Reserve, WTIA
Core narrative
The Federal Reserve announced the beginning of its balance sheet normalization process at the September meeting, a move we had been anticipating for several months. The details in terms of dollar amounts had already been provided earlier this year, and this timing was expected by many market participants. Accordingly, the initial market reaction to the announcement was mild. Going forward, we think the market may be more pessimistic about the Fed's ability to shrink the balance sheet as quickly as stated. This brings forth the possibility of faster-than-expected increases in long-term interest rates should the Fed proceed as stated. Importantly, the fact that the Fed followed through with this action means it is confident that markets and the economy are strong enough to handle less monetary accommodation. We expect the economy to continue growing over the next year and the Fed to proceed with balance sheet normalization. We expect longer-term rates to rise, and accordingly are underweight core fixed income in our tactical asset allocation.
Disclosures
Wilmington Trust is a registered service mark. Wilmington Trust Corporation is a wholly owned subsidiary of M&T Bank Corporation. Wilmington Trust Company, operating in Delaware only, Wilmington Trust, N.A., M&T Bank and certain other affiliates, provide various fiduciary and non-fiduciary services, including trustee, custodial, agency, investment management and other services. International corporate and institutional services are offered through Wilmington Trust Corporation's international affiliates. Loans, credit cards, retail and business deposits, and other business and personal banking services and products are offered by M&T Bank, member FDIC.
These materials are based on public information. Facts and views presented in this report have not been reviewed by, and may not reflect information known to, professionals in other business areas of Wilmington Trust or M&T Bank who may provide or seek to provide financial services to entities referred to in this report. M&T Bank and Wilmington Trust have established information barriers between their various business groups. As a result, M&T Bank and Wilmington Trust do not disclose certain client relationships with, or compensation received from, such entities in their reports.
The information on Wilmington Wire has been obtained from sources believed to be reliable, but its accuracy and completeness are not guaranteed. The opinions, estimates, and projections constitute the judgment of Wilmington Trust and are subject to change without notice. This commentary is for information purposes only and is not intended as an offer or solicitation for the sale of any financial product or service or a recommendation or determination that any investment strategy is suitable for a specific investor. Investors should seek financial advice regarding the suitability of any investment strategy based on the investor's objectives, financial situation, and particular needs. Diversification does not ensure a profit or guarantee against a loss. There is no assurance that any investment strategy will succeed.
Any investment products discussed in this commentary are not insured by the FDIC or any other governmental agency, are not deposits of or other obligations of or guaranteed by M&T Bank, Wilmington Trust, or any other bank or entity, and are subject to risks, including a possible loss of the principal amount invested. Some investment products may be available only to certain "qualified investors"—that is, investors who meet certain income and/or investable assets thresholds. Past performance is no guarantee of future results. Investing involves risk and you may incur a profit or a loss.
Any positioning information provided does not include all positions that were taken in client accounts and may not be representative of current positioning. It should not be assumed that the positions described are or will be profitable or that positions taken in the future will be profitable or will equal the performance of those described. Positions described are illustrative and not intended as a recommendation outside of a managed account.
Indices are not available for direct investment. Investment in a security or strategy designed to replicate the performance of an index will incur expenses, such as management fees and transaction costs that would reduce returns.
Third party trademarks and brands are the property of their respective owners.
Contact an Expert