September 2, 2020—Last week the Federal Open Market Committee (FOMC) of the Federal Reserve announced changes to its Statement on Longer-Run Goals and Monetary Policy Strategy. That official statement, first adopted in 2012 and only modified slightly in years since, is an important guidepost for markets, as it formally establishes how the Fed interprets the mandate given by Congress. The key changes are the adoption of an average inflation target and an explicit assurance that low unemployment rates alone will not prompt the Fed to raise rates in the late stages of a recovery. In our view, the Fed is trying to convince markets it is less hawkish (i.e., less likely to raise rates, more likely to let inflation run a bit high) than it has been or been perceived to be in the past. There will likely be very little impact on the economy or markets in the immediate term, but the new approach would be supportive of equities and other risk assets in the later years of an expansion, and also lead to a structurally higher and steeper yield curve. For those impacts to happen, though, the Fed must both convince markets that the leopard has changed its spots and then follow through when the time comes.
What did they do? Two major changes
Average inflation targeting
The Fed officially adopted an average inflation target (AIT) framework for achieving their congressional mandate of "price stability." The concept is incredibly simple and relates to the existing inflation target of 2%. The new statement says the Fed "seeks to achieve inflation that averages 2% over time." Therefore, if actual inflation misses to the downside of their target for some material period, the Fed would actively try to make up for this miss by generating inflation above the target in later years, so the long-term average would be 2%.
Examining the labor market
The second change is to how the Fed interprets the "maximum employment" component of its mandate. The statement previously treated too-high and too-low employment in a symmetric manner, indicating the Fed would examine "deviations from it's maximum level." The updated statement says monetary policy will be influenced by "shortfalls of employment from its maximum level. In the past, when the unemployment rate was high markets could expect the Fed to keep rates low to help generate economic growth and jobs. When the unemployment rate fell "too low," below the "natural level," markets expected the Fed to raise rates because the overheated labor market could generate high wages and high inflation. In the updated statement the Fed is telling markets to continue expecting those low rates in a recession, but to not necessarily expect them to hike rates when unemployment grinds lower.
Figure 1: Market expectations of Federal Reserve policy (%)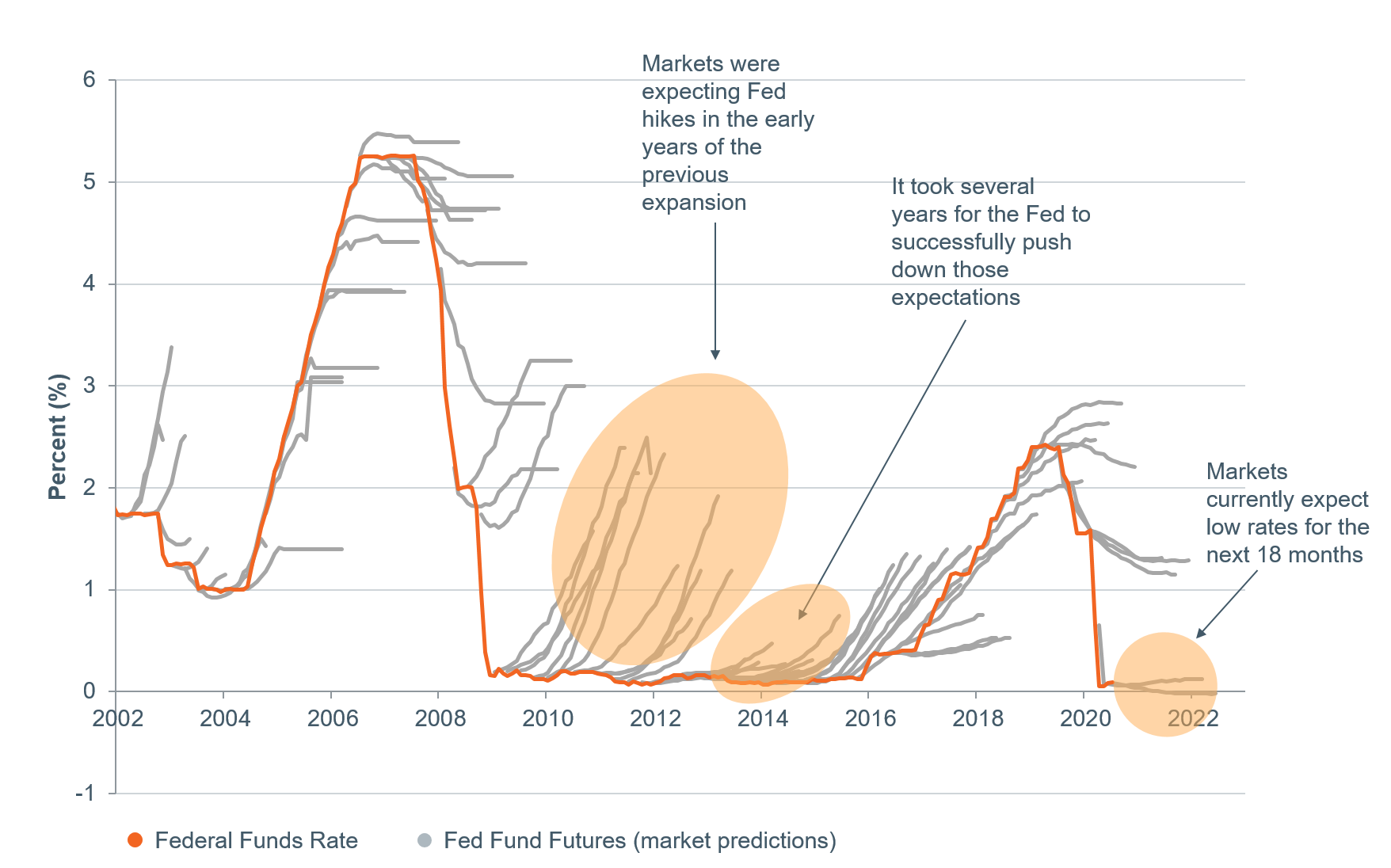 Sources: Bloomberg, Federal Reserve, WTIA. Data as of July 31, 2020.
Why did they do it?
In our view, the Fed's updated statement is an effort to rid itself of a perception that it has a hawkish bias, that it is expected to hike rates at the first whiff of inflation, or even act preemptively if it expected inflation might breach the 2% level in the near future. The Fed battled this perception in the early aftermath of the global financial crisis (GFC) a decade ago.
Figure 1 shows market expectations for rate moves as indicated by fed funds futures. As early as 2009 – 10, the market was pricing in a swift rate hike cycle despite an economy in disarray and an unemployment rate above 9% at the time. It was not until 2012 that the Fed was able to push those expectations down in a meaningful way, doing so with the announcement of open-ended asset purchases in the third round of quantitative easing (QE3) and explicit assurances not to raise rates until certain triggers were met. In some ways this new Fed guidance is the formalization of adjustments they made "on the fly" over the past decade.
As can also be seen in the Figure, markets in 2020 have been expecting a flat rate path following the onset of the pandemic and did not need this new Fed announcement to be convinced. But the announcement is likely not intended to have much relevance now; it is more likely to have an impact in coming years when the economy has improved appreciably. Historically, when an expansion was well-entrenched and the unemployment rate was grinding lower, markets would expect the Fed to take action and nip inflation in the bud to keep it from getting above their target at all. With this new statement, the Fed is attempting to convince markets it will be patient in raising rates.
The labor market statement will be especially important as it is a not-so-thinly-veiled instruction to markets to ignore the "Phillips curve" the next time around. That is the notion, popular for decades, that low unemployment would ultimately drive inflation higher. The relationship was stronger in some periods than others and was a key motivating factor for the Fed to start considering hikes in 2015 – 16. The Fed's projections started to hint at future rate hikes in early 2015 when the unemployment rate fell below 6%, and market expectations moved up accordingly. The first rate change did not occur until December 2015, with a single 0.25% hike, and then not again until December 2016. They kept expecting inflation to pick up because unemployment was grinding lower, but it never materialized in any serious way. With this new statement, the Fed is now telling markets to put very little weight on a strong labor market by itself as a reason to expect them to hike. The Fed's Vice Chair Richard Clarida expressed this in clear terms in a speech this week.
What will the impact be?
Short-term
We expect little impact on the economy and financial markets from this Fed statement in the near-term, and more impact in coming years whenever a recovery becomes more entrenched. When the unemployment rate grinds lower indicating a tightening labor market, investors should be less concerned about rate hikes from the Fed. It will take more than just a low unemployment rate and require other indications of incipient inflation or some other reason to expect it is on the way. We believe that should translate to stronger equity performance late in the cycle.
Long-term
If the Fed is successful in convincing markets of their goals, we expect the long-term impacts would be higher average inflation and higher long-term interest rates. A key motivation for the Fed to make this change is the inexorable downward trend of long-term rates over decades that has made their tools less effective. Interest rates have trended down for decades and have given the Fed less room to cut rates in a recession as a way to promote growth.
Table 1: Declining inflation and volatility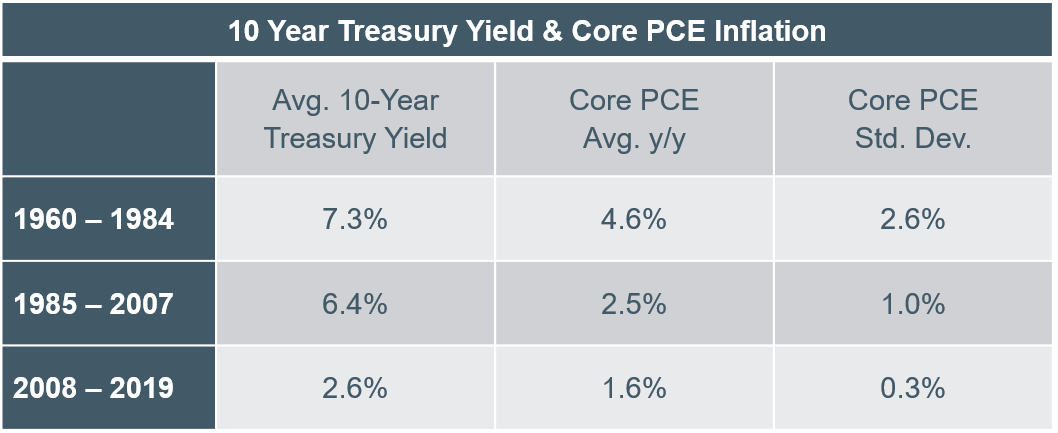 Sources: Bureau of Economic Analysis, WTIA. Data as of August 31, 2020.
This downward trend in rates is a direct result of ever-lower inflation achieved by the Fed since the high inflation of the 1970s. After Paul Volcker "broke the back" of rampant inflation in the early 1980s, the Fed's steady monetary policy over the ensuing decades made inflation lower and more predictable than ever before, a period described by economists as the "Great Moderation." Low and predictable inflation is a boon for consumers and businesses as it greatly simplifies decision-making on investments, costs of production, wage planning, and spending.
Perhaps paradoxically, the Fed may have done "too good of a job," as that success of low and predictable inflation is precisely the reason rates have drifted so low. As can be seen in Table 1, core PCE inflation drifted down to 2.5% on average during the Great Moderation, and then down to 1.6% from 2008 to 2019. And it's not just the level of inflation but also the volatility, shown in the last column. Bond market investors have spent decades increasingly believing the Fed will never let inflation run materially above 2% prompting them to require very little compensation for actual inflation and very little for the risk of higher inflation.
Will they be believed?
It's critical to understand that any short- or long-term impacts can only occur if the Fed convinces markets that the leopard has changed its spots. It's worth pointing out that the Fed has technically had this average inflation targeting approach since 2012. In previous versions of the statement, it stated 2% inflation "over the longer run" as its goal. It's a simple mathematical fact that if inflation falls below 2% in any given year then reaches 2% over the longer run then there will be inflation readings above 2% later. Chair Powell stated this simple truism at the December 2018 press conference, and at that time the bulk of Fed officials were forecasting inflation above 2% for the next several years. But the Fed never pushed this implication as a main communication so it's not surprising that markets would not expect it.
The real test for the Fed and markets will come when inflation does accelerate later in the cycle. We believe inflation will remain low in 2020 and through the first half of 2021 given the weakness in the economy. There is a greater chance of inflation in this recovery than in the previous one due to the dramatic response of Congress by way of stimulus payments to businesses and households. With a higher chance of inflation, the Fed may face difficult decisions in coming years to stick with this new communication and not let inflation overshoot.
Core narrative
The Fed's new statement of longer-run goals and monetary policy strategy includes two material changes to the way they approach their mandate. They've officially adopted AIT, which they arguably had already implied in the past, and they also said explicitly they won't rely on a low unemployment rate alone as a reason to expect inflation and rate hikes. Both changes are an attempt to convince financial markets that they intend to be less hawkish than in the past and as they're currently perceived. The implication is that rate hikes in the latter parts of any economic cycle will be slower to come and perhaps milder than they would have been before.
The new strategy has little practical impact in the immediate term but should be supportive of equities and other risk assets in the later stages of a cycle and should also promote a structurally higher and steeper Treasury yield curve. These impacts rely entirely on whether the Fed can convince markets its behavior will truly be different than in previous cycles. We expect the approach will indeed be different, but also that this cycle could push inflation higher than the last recovery, and sooner, due to multiple reasons, most notably the huge fiscal response. We remain cautious about the near-term economic outlook as it hinges significantly on the path of the virus, medical advances, and fiscal policy. By extension we hold a slight underweight to equities and in July added an allocation to gold. In the longer term we will assess the Fed's commitment to this new strategy when the prospect of inflation surfaces.
Disclosures
Wilmington Trust is a registered service mark used in connection with various fiduciary and non-fiduciary services offered by certain subsidiaries of M&T Bank Corporation including, but not limited to, Manufacturers & Traders Trust Company (M&T Bank), Wilmington Trust Company (WTC) operating in Delaware only, Wilmington Trust, N.A. (WTNA), Wilmington Trust Investment Advisors, Inc. (WTIA), Wilmington Funds Management Corporation (WFMC), and Wilmington Trust Investment Management, LLC (WTIM). Such services include trustee, custodial, agency, investment management, and other services. International corporate and institutional services are offered through M&T Bank Corporation's international subsidiaries. Loans, credit cards, retail and business deposits, and other business and personal banking services and products are offered by M&T Bank, member FDIC.
Facts and views presented in this report have not been reviewed by, and may not reflect information known to, professionals in other business areas of Wilmington Trust or M&T Bank who may provide or seek to provide financial services to entities referred to in this report. M&T Bank and Wilmington Trust have established information barriers between their various business groups. As a result, M&T Bank and Wilmington Trust do not disclose certain client relationships with, or compensation received from, such entities in their reports.
The information on Wilmington Wire has been obtained from sources believed to be reliable, but its accuracy and completeness are not guaranteed. The opinions, estimates, and projections constitute the judgment of Wilmington Trust and are subject to change without notice. This commentary is for informational purposes only and is not intended as an offer or solicitation for the sale of any financial product or service or a recommendation or determination that any investment strategy is suitable for a specific investor. Investors should seek financial advice regarding the suitability of any investment strategy based on the investor's objectives, financial situation, and particular needs. Diversification does not ensure a profit or guarantee against a loss. There is no assurance that any investment strategy will succeed.
Past performance cannot guarantee future results. Investing involves risk and you may incur a profit or a loss.
The gold industry can be significantly affected by international monetary and political developments as well as supply and demand for gold and operational costs associated with mining.
Indexes are not available for direct investment.
©2020 M&T Bank Corporation and its subsidiaries. All rights reserved.