February 16, 2017—Even with the new administration sucking up most of the oxygen in Washington D.C., there is plenty of attention still due to the Federal Reserve and the likelihood of more rate hikes this year. Investors are understandably focused on the pace of those possible rate hikes in 2017, which are now inextricably linked to the outlook for fiscal policy. Fed officials have explicitly linked the uncertain outlook for monetary policy to the uncertain outlook for fiscal policy. But the fiscal calendar is malleable, while the Fed is scheduled to meet in mid-March with data increasingly supporting the case for multiple rate hikes this year. Despite some recent strong economic data, we currently expect the Fed to leave rates unchanged in March, punting to June.
The data looks good
Recent data in our view certainly support rate hikes in the near term. The 1.9% headline growth rate for gross domestic product (GDP) in the fourth quarter of 2016 was disappointing, but pulled down by a pullback in exports that had surged in the third quarter, pushing growth in Q3 up to 3.5%. Looking through the quarterly action in exports, the economy grew at a 2.7% annualized rate in the second half of last year, a welcome acceleration from a worrisome weak 1.1% in the first half. Encouragingly, the Institute for Supply Management (ISM) of the manufacturing and service sectors, which we believe are a helpful monthly proxy for GDP, tell the same story as the GDP data, with slowdowns early last year and strong momentum heading into 2017. There is plenty of other encouraging data to start 2017 including retail sales, housing starts, manufacturing orders, job growth, and a still-low unemployment rate.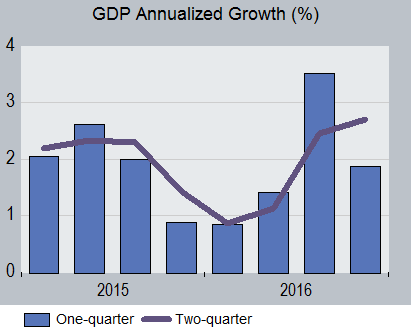 Source: Bureau of Economic Analysis
This week expectations for a hike got a boost from the consumer price index (CPI) inflation reading for January 2017, which at 2.5% y/y was the highest in five years. As we have detailed in past posts, the stronger inflation figures were to be expected given the dynamics of energy prices. But this week's inflation report also included a boost in core inflation, which ignores the impacts of food and energy. That strong move in core inflation combined with Fed Chair Janet Yellen's testimonies on Capitol Hill, where she indicated rate hikes are likely in coming months, boosted market expectations of a hike in March to 40% on Wednesday from just 30% at the beginning of the week. It has since receded to 36%, but the chatter about a March hike is increasing.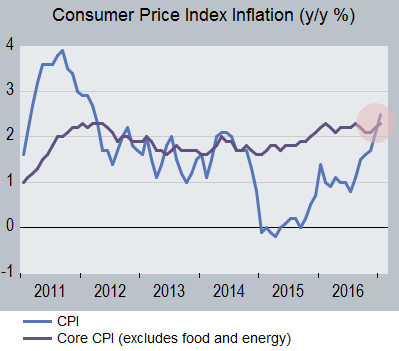 Source: Bureau of Labor Statistics
Not so fast
Despite the strong data, and our conviction that a rate hike in March would be appropriate, we expect the Fed to leave rates unchanged and punt to the June meeting (there is another scheduled meeting in early May but is less likely because of the lack of a scheduled press conference). There are two reasons we currently expect the Fed will take a pass next month. First, we expect the major data releases between now and then to dampen the mood a bit. Second, we don't expect greater clarity on fiscal policy.
As far as the data goes, the CPI inflation report was quite strong but it is really the "other" inflation gauge, the personal consumption expenditures (PCE) index, which matters most to the Fed. The core CPI index jumped 0.3% in January; the strongest bump of the past 6 years, but there is no guarantee that core PCE will follow. The two measures track fairly well together over 12 month horizons with a correlation of 0.77, but the m/m changes are less tight at 0.51, owing to monthly statistical noise.
Statistical noise will also be important on March 15. That is the second day of the Fed meeting with their interest rate decision to be announced in early afternoon. The next CPI inflation report will be released at 8:30 am that morning. We expect headline inflation to move higher thanks to gasoline prices, likely to 2.8%-2.9%. But we expect the underlying core CPI measure to slow sharply. We do think core inflation should keep moving up, but the sharp increase reported this week was outsized (2.6 standard deviations from the mean) and we believe partly hit by statistical noise. It is likely to slow in the next report just as the Fed is getting set to make their decision on interest rates.
The other important data point is of course the employment report due out on March 10. We think the upside surprise in January of 227,000 jobs added looks a bit too strong for such a tight labor market, and there is likely to be a deceleration in February. Average hourly earnings growth however, which fell to just 2.5% y/y in the last report, will likely bounce back up, but only to 2.8% or 2.9%. Accordingly, we expect this employment report to be somewhat of a wash in terms of Fed hike expectations.
And then there is the uncertainty of fiscal policy which members of the committee, including Chair Yellen, have said is clouding the outlook for the economy and their rate decisions. There is very little chance that much, if any uncertainty will be resolved by March 15.
On hold next month
We recognize the data is supportive of a rate hike at the March meeting and we believe it would be appropriate. But as detailed above, the upcoming data points will likely weaken the case for a hike on the margin, and the uncertainty about fiscal policy will remain. On balance we think that translates to leaving rates unchanged in March, especially for this dovish Fed. In our view that translates to a constructive environment for risk assets, especially domestic ones, where we maintain a slight overweight to equities. We do believe rate hikes are coming in the second half of the year, and the case for those will continue to materialize through the spring. That supports our current underweight to core fixed income.
Disclosures
Wilmington Trust is a registered service mark. Wilmington Trust Corporation is a wholly owned subsidiary of M&T Bank Corporation. Investment management and fiduciary services are provided by Wilmington Trust Company, operating in Delaware only, and Wilmington Trust, N.A., a national bank. Loans, retail and business deposits, and other personal and business banking services and products are offered by Manufacturers and Traders Trust Company (M&T Bank), member FDIC. Wilmington Trust Investment Advisors, Inc., a subsidiary of M&T Bank, is a SEC-registered investment adviser providing investment management services to Wilmington Trust and M&T affiliates and clients.
These materials are based on public information. Facts and views presented in this report have not been reviewed by, and may not reflect information known to, professionals in other business areas of Wilmington Trust or M&T Bank who may provide or seek to provide financial services to entities referred to in this report. M&T Bank and Wilmington Trust have established information barriers between their various business groups. As a result, M&T Bank and Wilmington Trust do not disclose certain client relationships with, or compensation received from, such entities in their reports.
The information on Wilmington Wire has been obtained from sources believed to be reliable, but its accuracy and completeness are not guaranteed. The opinions, estimates, and projections constitute the judgment of Wilmington Trust and are subject to change without notice. This commentary is for information purposes only and is not intended as an offer or solicitation for the sale of any financial product or service or a recommendation or determination that any investment strategy is suitable for a specific investor. Investors should seek financial advice regarding the suitability of any investment strategy based on the investor's objectives, financial situation, and particular needs. Diversification does not ensure a profit or guarantee against a loss. There is no assurance that any investment strategy will succeed.
Any investment products discussed in this commentary are not insured by the FDIC or any other governmental agency, are not deposits of or other obligations of or guaranteed by M&T Bank, Wilmington Trust, or any other bank or entity, and are subject to risks, including a possible loss of the principal amount invested. Some investment products may be available only to certain "qualified investors"—that is, investors who meet certain income and/or investable assets thresholds. Past performance is no guarantee of future results. Investing involves risk and you may incur a profit or a loss.
Any positioning information provided does not include all positions that were taken in client accounts and may not be representative of current positioning. It should not be assumed that the positions described are or will be profitable or that positions taken in the future will be profitable or will equal the performance of those described. Positions described are illustrative and not intended as a recommendation outside of a managed account.
Indices are not available for direct investment. Investment in a security or strategy designed to replicate the performance of an index will incur expenses, such as management fees and transaction costs that would reduce returns.
Third party trademarks and brands are the property of their respective owners.
Contact an Expert