Fed Chair Powell's speech at the Economic Club of New York on November 28 brings to mind "The Twelve Days of Christmas," the age-old English Christmas carol that seems to be ubiquitous on the radio and in stores around this time of year. After Powell's notably hawkish Oct 3 comments about rates being "a long way from neutral"—precipitating a sharp market selloff from which the market has not yet fully recovered—his latest comments took a more dovish tone. Indeed, two statements from the prepared speech in particular stand out in a way that invites a tempting comparison to the two "turtle doves" in the above-mentioned carol:
"We also know that the economic effects of our gradual rate increases are uncertain, and may take a year or more to be fully realized. While [Federal Open Market Committee] participants' projections are based on our best assessments of the outlook, there is no preset policy path. We will be paying very close attention to what incoming economic and financial data are telling us." (emphasis added)
"Interest rates are still low by historical standards, and they remain just below the broad range of estimates of the level that would be neutral for the economy—that is, neither speeding up nor slowing down growth."
These statements (along with comments from Fed Vice Chair Clarida on November 27 and the November Federal Open Market Committee, or FOMC, meeting minutes) suggest a more dovish tone from the Fed, and therefore a potentially slower pace of rate hikes than currently communicated by the Fed. However, we would also caution against equity markets getting carried away, as we don't believe the statements above suggest the Fed necessarily has to stop hiking when rates approach estimates of neutral. The neutral interest rate, referenced above by Chair Powell, (also sometimes referred to as r*, the equilibrium interest rate, or the natural rate), is the theoretical interest rate that would neither stimulate nor restrict the economy. Below we share two key takeaways from recent Fed communications.
The Fed remains data dependent, which suggests a potentially slower pace of hikes
The market swoon after Chair Powell's hawkish October 3 comments had triggered market fears that the Fed would be marching forward on an inexorable path of rate hikes en route to the neutral federal (fed) funds rate, indifferent to data. Chair Powell's statements on November 28 reminded markets that this is not how the Fed approaches policy, as there is no "preset policy path." Vice Chair Clarida made similar comments in his November 27 speech, when he highlighted that incoming data should not only inform the Fed's near-term forecasts from a cyclical standpoint, but also their longer-term structural forecasts of the neutral interest rate and unemployment, which are also key in determining the future path of policy.
What does this reminder of Fed data dependence imply in our view? For most of 2018, the U.S. economy has seen firm inflation, indications of very strong growth, and a tight labor market, all of which have justified the Fed's steady pace of hikes. However, in the past two months, we have started to see some initial signs of moderation in two key areas of the economic data. The first has been a deceleration in business capital expenditures, or capex (spending on structures, equipment, and intellectual property), an important growth driver this year, along with consumer spending. The trend has yet to be confirmed, but further indications of a more sustained slackening in cap ex from businesses would suggest concern about a slower pace of growth than originally envisioned for 2019. The second is slowing momentum in key measures of inflation and inflation expectations, both of which are currently running just below the Fed's 2.0% target.
These may be early indications that the U.S. economy is starting to feel more directly the impacts of trade tensions, slowing global growth, and a stronger dollar, all of which are downside risks to the outlook mentioned in the November FOMC meeting minutes. Chair Powell in his speech also highlighted the Fed's new Financial Stability Report, which concludes that though there are some potential vulnerabilities in various sectors of the financial system, the risks of destabilization of the broader financial system as a whole are lower compared to the past because the banking system is much better capitalized and regulated than it was prior to the Great Recession. One area to watch, however, is risk taking outside of the banking sector, of which Chair Powell admits the Fed's view is less than complete.
Despite these downside risks, the FOMC meeting minutes suggest that the Fed still views the downside risks to the outlook as roughly balanced by potential for upward pressure on prices (as firms may begin to pass on rising input costs to consumers due to rising wages and tariffs). We expect a rate hike in December from the Fed (as does the market), but expect an equal chance of two or three rate hikes from the Fed in 2019, compared to the three hikes currently suggested by the Fed's median projection.
Interest rates may be "just below" the range of estimates for neutral, but this does not preclude the Fed from hiking "beyond neutral"
The FOMC's median projection of the long-run "neutral" fed funds rate is currently at 3.0%, still some distance from the current 2.0%–2.25% target. By mentioning the broader range of estimates for the neutral rate (which varies between 2.5%–3.5%), Powell's comments suggest that if the Fed hikes in December, as the market expects, to 2.25%–2.5%, the fed funds target would be just at the bottom end of the range of estimates of neutral (Figure 1). This could be interpreted by some in the market to indicate that the Fed may hike in December and then stop hiking. However, in our view, this does not necessarily mean that the Fed will not hike further into the range, or "beyond neutral." In fact, Powell's Oct 3 comment that "we're a long way from neutral," was immediately preceded by, "We may go past neutral." In addition, the Fed's current median projection for its planned rate hikes by the end of 2021 suggest the fed funds rate will be at 3.4%, which is above the longer-run "neutral" rate estimate of 3.0%. In our view, Chair Powell's recent comment tempers the hawkishness of his Oct 3 comments, but this does not necessarily mean that the Fed has come to the end of its hiking cycle.
Core narrative
Recent comments from Chair Powell, Vice-Chair Clarida, and the FOMC meeting minutes should all serve to calm market worries about the Fed hiking interest rates on an inflexible path toward neutral, regardless of signals from the economic data. Recent signs of moderation in business investment and inflation data, suggest the potential for a slower pace of hikes from the Fed, which should be supportive for U.S. equities. In addition, Chair Powell and Vice Chair Clarida's references to rates being "just below" the range of estimates of neutral suggest that the Fed may be closer to the end of the hiking cycle. However, we would caution against over exuberance about prospects for equity market gains, as there is still scope for the Fed to continue to hike beyond the neutral rate. While we do not expect recession for the U.S. economy in 2019, we do expect a moderation in growth from about 3.0% to 2.0%–2.5%, as the boost to both consumer spending and business investment from tax reform fade. We therefore remain neutral on U.S. equities.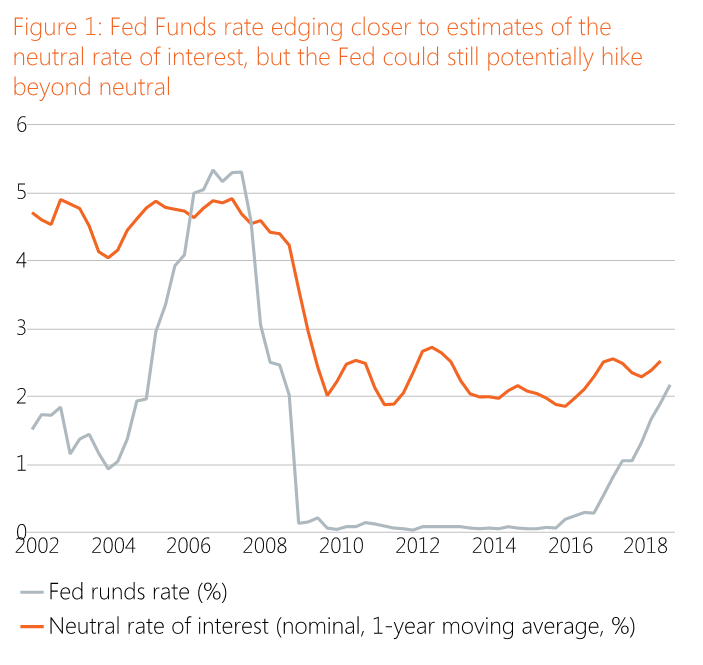 The nominal neutral rate of interest is defined as the New York Federal Reserve's Laubach-Williams model estimate of the real neutral (or natural) rate of interest plus the year over year percent change in Core PCE inflation.
Source:  Federal Reserve, Macrobond, WTIA
Data as of November 30, 2018
Disclosures
Wilmington Trust is a registered service mark. Wilmington Trust Corporation is a wholly owned subsidiary of M&T Bank Corporation. Wilmington Trust Company, operating in Delaware only, Wilmington Trust, N.A.,  M&T Bank and certain other affiliates, provide various fiduciary and non-fiduciary services, including trustee, custodial, agency, investment management and other services. International corporate and institutional services are offered through Wilmington Trust Corporation's international affiliates. Loans, credit cards, retail and business deposits, and other business and personal banking services and products are offered by M&T Bank, member FDIC. Wilmington Trust Investment Advisors, Inc. is an SEC-registered investment adviser providing investment management services to Wilmington Trust and M&T Bank affiliates and clients.
These materials are based on public information. Facts and views presented in this report have not been reviewed by, and may not reflect information known to, professionals in other business areas of Wilmington Trust or M&T Bank who may provide or seek to provide financial services to entities referred to in this report. M&T Bank and Wilmington Trust have established information barriers between their various business groups. As a result, M&T Bank and Wilmington Trust do not disclose certain client relationships with, or compensation received from, such entities in their reports.
The information on Wilmington Wire has been obtained from sources believed to be reliable, but its accuracy and completeness are not guaranteed. The opinions, estimates, and projections constitute the judgment of Wilmington Trust and are subject to change without notice. This commentary is for information purposes only and is not intended as an offer or solicitation for the sale of any financial product or service or a recommendation or determination that any investment strategy is suitable for a specific investor. Investors should seek financial advice regarding the suitability of any investment strategy based on the investor's objectives, financial situation, and particular needs. Diversification does not ensure a profit or guarantee against a loss. There is no assurance that any investment strategy will succeed.
Any investment products discussed in this commentary are not insured by the FDIC or any other governmental agency, are not deposits of or other obligations of or guaranteed by M&T Bank, Wilmington Trust, or any other bank or entity, and are subject to risks, including a possible loss of the principal amount invested. Some investment products may be available only to certain "qualified investors"—that is, investors who meet certain income and/or investable assets thresholds. Past performance cannot guarantee future results. Investing involves risk and you may incur a profit or a loss.
Any positioning information provided does not include all positions that were taken in client accounts and may not be representative of current positioning. It should not be assumed that the positions described are or will be profitable or that positions taken in the future will be profitable or will equal the performance of those described. Positions described are illustrative and not intended as a recommendation outside of a managed account. Indices are not available for direct investment. Investment in a security or strategy designed to replicate the performance of an index will incur expenses, such as management fees and transaction costs that would reduce returns.
Third-party trademarks and brands are the property of their respective owners.