July 13, 2018— On July 10, the Trump administration announced a new round of potential tariffs on $200 billion worth of goods imported from China—on the heels of the first round of tariffs which went into effect on July 6. As my colleague, Senior Investment Strategist Meghan Shue, wrote last month in "U.S.-China Trade Tensions Heating Up", we don't think that first round will have a material impact on economic growth and inflation. But this new round is much larger and targets different goods. If implemented, they are much more likely to hurt economic growth and push up on consumer inflation. Such a hit to growth, combined with the high likelihood of retaliation from China, could have serious deleterious impacts on markets.
Round 2 is quite different from Round 1
The first round of tariffs of 25% on $50 billion worth of goods imported into the U.S. partially went into effect on July 6 as they were applied to $34 billion while the other $16 billion are under review but are expected to be implemented soon. As Meghan wrote last month, the Round 1 tariffs are not likely to significantly hamper growth or boost inflation. First, the combined size of just $50 billion is relatively small, but also because those tariffs were (carefully) placed almost entirely on "intermediate" goods such as boilers, turbines, industrial furnaces, polymers, resins, and chemicals).Those tariffs will drive up the import costs for U.S. firms who would then face decisions on whether, and to what degree, to pass the costs onto their customers. The Chinese government responded in kind with tariffs on $34 billion of U.S. goods and stand ready with tariffs on another $16 billion should that next bit from the U.S. get implemented.
The proposed Round 2 tariffs are quite different in that they would be assessed on $200 billion worth of imported Chinese goods, at a lower rate of 10%, but on a much wider swath of goods and importantly, on many final consumer goods. The proposed list includes more than 6,000 items, including canned foods, produce, tobacco, printer ink, household cleaning products, personal hygiene products, pesticides, wool, silk, textiles, clothing, handbags, suitcases, sporting goods, auto parts, tires, televisions, electronics, and so on. It also includes more intermediate goods than those in Round 1, with building materials as notable additions. One way of visualizing the impact to you as a consumer: Every big box store item with a label that says "Made in China" will probably soon cost more.
To put the scale of the proposed tariffs in perspective, the U.S. imported $2.3 trillion of goods in 2017, with $505 billion (about 21%) coming from China. The most recent proposed tariffs combined with those already in place would place a levy on half of everything coming from China. Of the $2.3 trillion in imported goods, about $600 billion were final, non-auto consumer goods, and we estimate roughly 50% of them came from China. In short, the newly proposed tariffs are quite significant and would hit a significant number of everyday goods.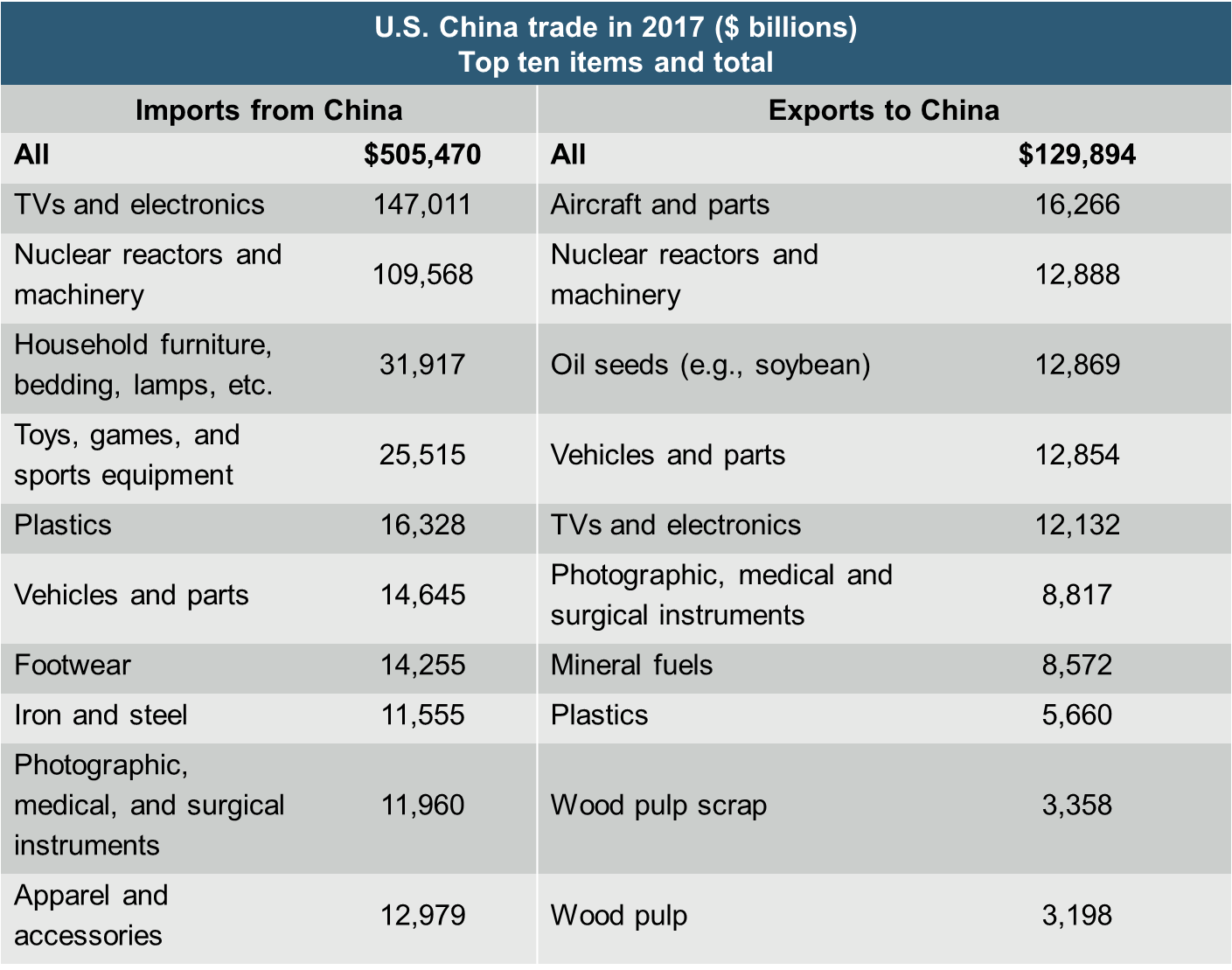 Data as of December 31, 2017
Source: Census Bureau
What happens next?
Of course no one knows exactly what will happen next. It's clear that the leadership of both countries do not want an ever-escalating trade war. But as any game theorist can tell you, there are plenty of decision trees that can lead to a sub-optimal result where both players could be worse off.
There have been no publicly known conversations between the two countries since early June, when earlier negotiations ended came to a standstill. But there are reasons to be optimistic. On Thursday (July 12), China's Vice Minister of Commerce indicated the Chinese are willing to talk about the issue. The Chinese government does not face the same kind of voter repercussions as the U.S. (with the impending midterm elections), but the recent decline of its equity market to bear territory surely has its leaders' attention. On the U.S. side, President Trump is facing pressure from his own party, as the Senate voted 88-11 to rebuke him over his trade policy. The vote is purely symbolic at this point, but does reflect the views of American voters, who prefer negotiating trade agreements to the imposition of tariffs.
Importantly, there is blowback from politically important constituencies in the U.S. The largest business lobby has mounted a campaign arguing against the use of tariffs complete with a page on its website for users to see the impacts on their states and a handy form to write their congressional representatives. Soybean farmers are some of the earliest casualties of these actions, as one-third of their collective harvest was exported to China in 2017. The product is the third-largest export item from the U.S. totaling $13 billion last year, but now faces a 25% retaliatory tariff, while China removed the tariff on soybeans from five other Asian countries. In the U.S., soybean prices have fallen more than 20% since the trade actions started and are now at their lowest in a decade. Crucially, American soybeans are principally grown in politically important Midwestern states, which may explain why President Trump tweeted on the subject even though he was in Brussels for a NATO meeting at the time.
We are not political prognosticators, but we do recognize the mutually destructive nature of an escalating trade war and place a higher probability on some kind of resolution than on an endless march forward with more tariff actions.
Core narrative
The first round of U.S. and Chinese tariffs was relatively small, and for the economy, inconsequential. This next proposed round, and any retaliation from China, is much larger and hits U.S. consumer goods in a way that would be more damaging to the economy and put more upward pressure on inflation. We believe that an ever-escalating trade war would be damaging to the economy, and at some point would likely take its toll on stock markets. But we also recognize that the endgame is more likely to be a negotiated solution that does not include massive tariffs. Should that change we would be forced to reevaluate our economic and market outlooks accordingly.
Disclosures
Wilmington Trust is a registered service mark. Wilmington Trust Corporation is a wholly owned subsidiary of M&T Bank Corporation. Wilmington Trust Company, operating in Delaware only, Wilmington Trust, N.A., M&T Bank and certain other affiliates, provide various fiduciary and non-fiduciary services, including trustee, custodial, agency, investment management and other services. International corporate and institutional services are offered through Wilmington Trust Corporation's international affiliates. Loans, credit cards, retail and business deposits, and other business and personal banking services and products are offered by M&T Bank, member FDIC. Wilmington Trust Investment Advisors, Inc. is an SEC-registered investment adviser providing investment management services to Wilmington Trust and M&T Bank affiliates and clients.
These materials are based on public information. Facts and views presented in this report have not been reviewed by, and may not reflect information known to, professionals in other business areas of Wilmington Trust or M&T Bank who may provide or seek to provide financial services to entities referred to in this report. M&T Bank and Wilmington Trust have established information barriers between their various business groups. As a result, M&T Bank and Wilmington Trust do not disclose certain client relationships with, or compensation received from, such entities in their reports.
The information on Wilmington Wire has been obtained from sources believed to be reliable, but its accuracy and completeness are not guaranteed. The opinions, estimates, and projections constitute the judgment of Wilmington Trust and are subject to change without notice. This commentary is for information purposes only and is not intended as an offer or solicitation for the sale of any financial product or service or a recommendation or determination that any investment strategy is suitable for a specific investor. Investors should seek financial advice regarding the suitability of any investment strategy based on the investor's objectives, financial situation, and particular needs. Diversification does not ensure a profit or guarantee against a loss. There is no assurance that any investment strategy will succeed.
Any investment products discussed in this commentary are not insured by the FDIC or any other governmental agency, are not deposits of or other obligations of or guaranteed by M&T Bank, Wilmington Trust, or any other bank or entity, and are subject to risks, including a possible loss of the principal amount invested. Some investment products may be available only to certain "qualified investors"—that is, investors who meet certain income and/or investable assets thresholds. Past performance is no guarantee of future results. Investing involves risk and you may incur a profit or a loss.
Any positioning information provided does not include all positions that were taken in client accounts and may not be representative of current positioning. It should not be assumed that the positions described are or will be profitable or that positions taken in the future will be profitable or will equal the performance of those described. Positions described are illustrative and not intended as a recommendation outside of a managed account.
Indices are not available for direct investment. Investment in a security or strategy designed to replicate the performance of an index will incur expenses, such as management fees and transaction costs that would reduce returns.
Third-party trademarks and brands are the property of their respective owners.