May 22, 2017— Measures of consumer confidence loom large in the financial market press. Several analysts believe that consumer confidence indices have predictive power on consumer spending and stock market returns. Some analysts use intuition to suggest that increased consumer confidence leads to an increase in consumer spending, which strengthens the economy given that consumer spending makes up about two-thirds of Gross Domestic Product (GDP). Other analysts consider consumer confidence to be a leading indicator for stock market performance. There has been some anecdotal evidence published suggesting that the Consumer Confidence Index (CCI) is a contrarian indicator of stock market performance. Several analysts suggest that when the index peaks, a bear market tends to ensue.
Adding to the hype is the fact that the Conference Board's measure of consumer confidence experienced a steady uptrend since October of 2016. This trend culminated when the index reached its highest level in over 16 years back in March before experiencing a slight decline in April. The Conference Board reported on April 25 that its CCI declined to 120.3 following the downwardly revised 124.9 level reached back in March—the highest level since December of 2000. Despite this drop, the CCI still remains close to a 16-year high.
The natural question to ask is then: Is there statistical evidence that supports the claims that the Consumer Confidence Index and its components really have predictive power on consumer spending and stock market returns?
Consumer confidence and retail sales
The initial part of the question seeks to test whether the CCI could predict consumer spending. The first step in testing this assumption is to run the correlations using historical data going back to 1995 between the CCI and its sub-components against the Retail Sales Index and the Core Retail Sales Index, which excludes autos and gasoline. The Core Retail Sales Index is an appropriate measure of consumer spending because it excludes gasoline, which is an inelastic good (i.e. people still need to drive their cars to work even if they have a pessimistic economic outlook).
The summary table in Figure 1 shows that there are no strong correlations between retail sales and any of the components that make up the CCI. A regression analysis (not shown here) similarly indicated that the CCI does not explain the movement in the Retail and Core Retail Sales Indices in a statistically significant way. 
Figure 1: Correlations between the Consumer Confidence components and Retail Sales

Source: Bloomberg; WTIA
Given that consumer confidence and retail sales are not significantly correlated when comparing the data contemporaneously, the natural progression of the analysis is to see if consumer confidence in one month has any effect on retail sales in future months. To find out if there was a relationship, the next step was to lag the CCI to see if the index affected future periods of retail sales. The results demonstrated that there are no significant relationships or predictive power between the CCI and retail sales as can be seen in the summary presented Figure 2. The only finding was that Consumer Confidence and Core Retail Sales have a higher correlation than Consumer Confidence and regular Retail Sales.
Figure 2: Lagged correlations of the CCI and Retail Sales

Source: Bloomberg; WTIA
Consumer confidence and the stock market
The second step to answering the latter part of the question is to run the correlations on historical monthly data for the CCI and the S&P 500 monthly returns. As can be extrapolated from the summary table shown in Figure 3 below, the correlations do not appear to be statistically significant.
Running a regression (not shown here) to see if the different Consumer Confidence components have any predictive power in explaining the movements in market returns indicated that some components were statistically significant in explaining how they affect market returns, but those effects failed to explain more than 5% of the movement in market returns.
Figure 3: Correlations between the Consumer Confidence components and S&P 500 returns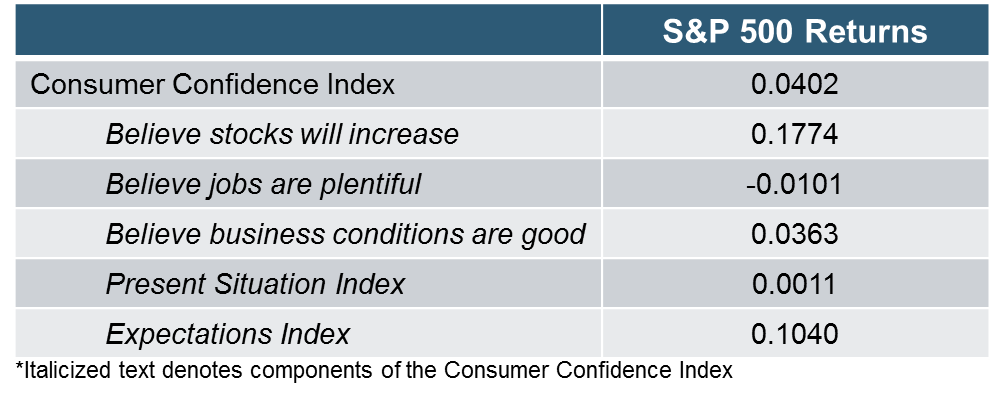 Source: Bloomberg; WTIA
Lagging the data to see how a movement in the CCI affects the movements of future stock market returns produced a similar result. The results shown in Figure 4 suggest that there are no significant correlations between the CCI and the S&P 500 monthly returns. The highest correlation found was that when the stock market increases, people tend to think that the stock market will continue to increase a month later, although these conclusions only had a correlation of about 0.43.
Figure 4: Lagged correlations between the Consumer Confidence Index and S&P 500 returns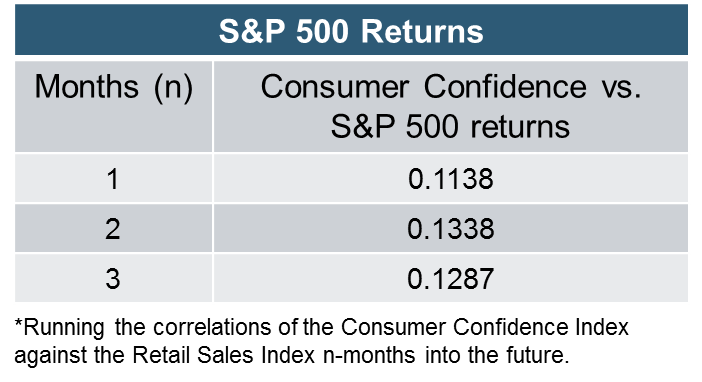 Source: Bloomberg; WTIA
Conclusion
After a careful evaluation of the correlations between the several different components in the Conference Board's Consumer Confidence Index, the S&P 500 monthly returns, the monthly Retail Sales Index, and Core Retail Sales Index, we found no evidence to suggest that the Consumer Confidence Index has any significant predictive power on retail sales and stock market returns.
We found no evidence suggesting that the CCI is a leading indicator of what will happen to retail sales or the stock market. Even though the index does not affect market returns and retail sales directly, we will continue to monitor the index with the caveat that this is not a leading indicator. Even though it does not affect retail sales or stock market returns directly, it could affect other variables not discussed here that do affect market returns and retail sales more directly.
Disclosures
Wilmington Trust is a registered service mark. Wilmington Trust Corporation is a wholly owned subsidiary of M&T Bank Corporation. Wilmington Trust Company, operating in Delaware only, Wilmington Trust, N.A.,  M&T Bank and certain other affiliates, provide various fiduciary and non-fiduciary services, including trustee, custodial, agency, investment management and other services. International corporate and institutional services are offered through Wilmington Trust Corporation's international affiliates. Loans, credit cards, retail and business deposits, and other business and personal banking services and products are offered by M&T Bank, member FDIC.
These materials are based on public information. Facts and views presented in this report have not been reviewed by, and may not reflect information known to, professionals in other business areas of Wilmington Trust or M&T Bank who may provide or seek to provide financial services to entities referred to in this report. M&T Bank and Wilmington Trust have established information barriers between their various business groups. As a result, M&T Bank and Wilmington Trust do not disclose certain client relationships with, or compensation received from, such entities in their reports.
The information on Wilmington Wire has been obtained from sources believed to be reliable, but its accuracy and completeness are not guaranteed. The opinions, estimates, and projections constitute the judgment of Wilmington Trust and are subject to change without notice. This commentary is for information purposes only and is not intended as an offer or solicitation for the sale of any financial product or service or a recommendation or determination that any investment strategy is suitable for a specific investor. Investors should seek financial advice regarding the suitability of any investment strategy based on the investor's objectives, financial situation, and particular needs. Diversification does not ensure a profit or guarantee against a loss. There is no assurance that any investment strategy will succeed.
Any investment products discussed in this commentary are not insured by the FDIC or any other governmental agency, are not deposits of or other obligations of or guaranteed by M&T Bank, Wilmington Trust, or any other bank or entity, and are subject to risks, including a possible loss of the principal amount invested. Some investment products may be available only to certain "qualified investors"—that is, investors who meet certain income and/or investable assets thresholds. Past performance is no guarantee of future results. Investing involves risk and you may incur a profit or a loss.
Any positioning information provided does not include all positions that were taken in client accounts and may not be representative of current positioning. It should not be assumed that the positions described are or will be profitable or that positions taken in the future will be profitable or will equal the performance of those described. Positions described are illustrative and not intended as a recommendation outside of a managed account.
Indices are not available for direct investment. Investment in a security or strategy designed to replicate the performance of an index will incur expenses, such as management fees and transaction costs that would reduce returns.
Third party trademarks and brands are the property of their respective owners.