November 17, 2016—Whether it was because of the unexpected outcome or the dramatic shift in policy direction voters favored, the U.S. presidential election of 2016 has brought with it many pending and significant changes. In this and other blog posts to follow, we will explore how these changes may impact the economy and more importantly, the financial markets. As is their propensity to be forward looking, markets started reacting before the final votes were cast and they have already staked out some significant positions reflecting positives and negatives that seem likely to take place. Before we look at these, we have to back up and give consideration to the likely team that will be assembled and the plans the new administration will seek to implement come next January.
The first appointments say a lot
Between now and the middle of January, the new administration will need to put in place roughly 4,000 people in jobs covering the broad expanse of government departments. However, over the weekend, we learned the identity of the first two and it says a lot about the challenges facing the new administration. Reince Priebus, the outgoing head of the Republican National Committee and a consummate Washington insider, will take on the role of chief of staff while Stephen Bannon, formerly of Goldman Sachs and Breitbart News, has been chosen to be chief strategist and senior White House counselor. Given the Trump campaign slogan to "Drain the Swamp," the new administration is going to need to have a mixture of people with and without Washington backgrounds, and the first two appointments are right in line with this thinking. They also pose the challenge of trying to manage this combination. By making him chief of staff, Mr. Trump is asking Mr. Priebus to focus on the present by managing the day-to-day White House operations. Mr. Bannon will have the "bigger picture" in mind as he will seek to make sure the new administration is sticking to its agenda of revamping government. These two gentlemen worked together on the campaign but life in "The Swamp" is very different, so managing this combination will be critical to its success. However, having people fulfilling leadership roles that reflect the need to govern and to reform is a theme that we think will be played out in many of the upcoming appointments.
The next round
Trying to match people and positions in the new administration is bound to fail but we want to go through some of the current thoughts as much to focus on the people involved. We believe that many of the people we discuss here are likely to occupy positions of leadership so the question is how well this achieves a mixture between Washington veterans and outsiders.
Filling out the cabinet positions will likely begin with several of the most highly visible positions at State, Treasury, and Defense. Former New York Mayor Rudolph Giuliani is considered a leading candidate, for Secretary of State, with former U.N. Ambassador John Bolton also being considered. Both of these individuals bring very strong convictions about being forceful against terrorist organizations and represent a big shift from the Obama administration. The Treasury Secretary short list is apparently being led by Trump campaign finance chair Steven Mnuchin. The role of Treasury Secretary may be handicapped by the possibility that Trump himself will want a large role in many of the issues that are likely to be part of the administration's plans including tax reform and regulatory reform.
The Defense Secretary will need to preside over an expected rebuilding of the armed services and the list of possible candidates includes Alabama Senator Jeff Sessions, former Arizona Senator Jon Kyl, and outgoing New Hampshire Senator Kelly Ayotte.
The Attorney General position will also be high on the list and here we find Giuliani's name mentioned along with New Jersey Governor Chris Christie and possibly Senator Sessions.
As we move into the next tier of cabinet officials, names such as Dr. Ben Carson, and former governors Mike Huckabee, Rick Perry, and even former Alaska Governor Sarah Palin begin to surface. We would expect these positions that would include leaders for Commerce, Homeland Security, Interior, Education, and Health and Human Services to be determined once the first three to four high level positions are determined.
The plan
Getting the people in place is only part of the battle as the Trump team and Congress will likely want to be ready to move forward quickly once Inauguration Day is passed. Furthermore, it is in anticipation of this plan that markets have moved in the short period since the election. So what do we expect?
We expect there to be gravitation towards the "low hanging fruit" with the intention of finding some easier items to gain quick early victories. Tax reform may be a major starting point due to the combination of much work having already been done by the House and Senate leadership on the subject along with the potential to jump start the economy. We think the emphasis will be on corporate tax reform as well as a reduction in the overall corporate tax rate that has significant and likely bipartisan support. Elements of corporate tax reform are likely to include a major decrease in the corporate tax rate, elimination of the corporate AMT, immediate tax-deductible expensing of capital investments, and repatriation provisions for offshore cash. Personal tax provisions will be included but these could be more controversial and subject to Democratic resistance particularly to the extent that higher income individuals benefit. Again, we would expect simple items to be included as giving individuals some form of tax relief will help boost consumer spending and GDP growth at the same time. Proposed legislation is likely to be put forth shortly after the inauguration as much of the ground work has already been done by the House and Senate and we would expect the provisions to be retroactive to the beginning of 2017.
We would also expect the new administration to focus on eliminating regulations as quickly as possible as these are also thought to be positive for economic growth and will meet numerous objectives of the constituencies that elected Mr. Trump.
Dealing with the Affordable Care Act will be a fairly large challenge. Deciding what to repeal or keep may be fairly easy to identify but determining what the replacement looks like will draw considerable debate. House Speaker Ryan's blue print in his "Better Way Forward" offers what many believe to be a good starting point for this design. There is urgency for Republicans to get this legislation passed as it will represent a major political milestone as well as eliminate a system that is proving more onerous and expensive to operate. Given the political makeup of the 2018 elections, where 25 Democratic Senate seats are up for election with roughly half in states that Trump carried or did very well in—plus the reality that the existing law is not working—bipartisan support to make these changes could materialize. In passing the original version of the ACA, Democrats probably isolated themselves and devoted too much effort to getting it passed, and Republicans will want to be wary of doing the same thing. That is why the "replace" half of this effort will be particularly critical to get more widespread support.
There are many more aspects to Mr. Trump's plans including foreign trade, immigration, infrastructure spending, and financial services regulations. As we mentioned before, this is the first in what will likely be a series of discussions on the coming changes likely to take place as the Trump team takes over.
Core narrative
If we break the Trump program down, we find that it has basically four major pieces:
Deficit financed expansion of fiscal policy through tax cuts and spending initiatives.\
Regulatory relief through removing Obama executive orders
Legislative fixes to the ACA and Dodd-Frank
Trade negotiations aimed at eliminating provisions that are not helping the U.S.
Each piece has been reflected in the market moves taking place immediately following the election. We have seen domestic equities respond positively to the prospects of stronger growth (Figure 1). We have seen U.S. Treasury yields move up by 30 to 40 basis points as the prospects of deficit financing raises inflation and financing cost concerns (Figure 2). Legislative fixes have helped some sectors within the healthcare arena but hurt others such as hospitals, while financial company stocks have done very well. The impact of higher U.S. rates, a stronger U.S. dollar, and concerns over trade relationships have caused Developed International companies to basically tread water while Emerging Market companies are down by 5-7% since the election. So far, our positioning is working out well as our underweight to fixed income and overweight to domestic equity markets has more than made up for the drag created by Emerging Markets and our recently established overweight to this asset class.
Figure 1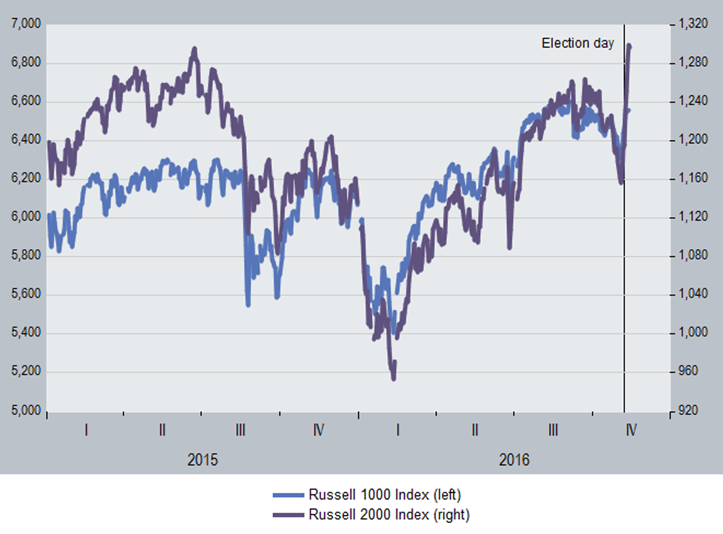 Source: Bloomberg
Figure 2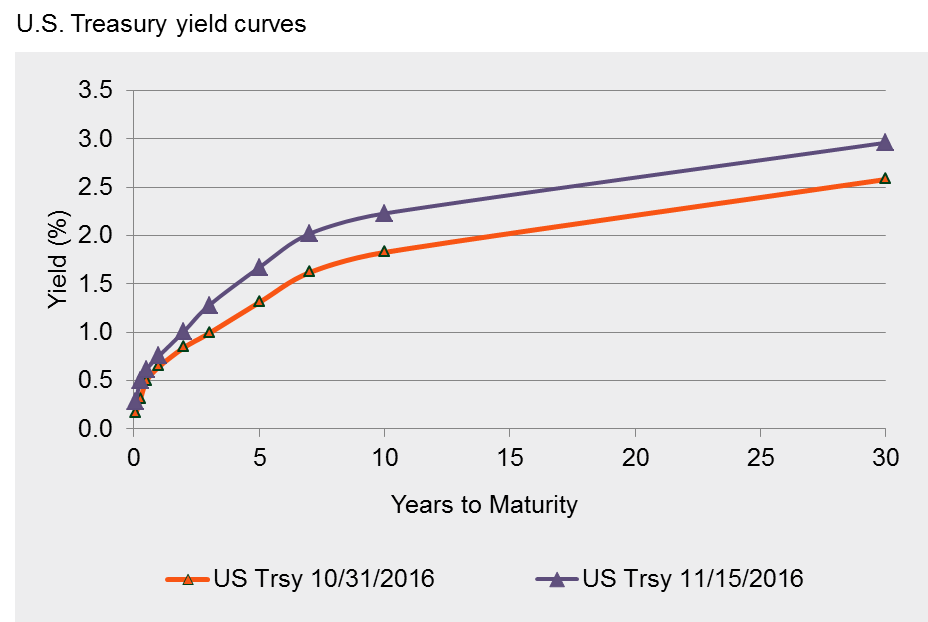 Source: Bloomberg
Finally, it is worth remembering that there is a lot of positive sentiment in today's markets and while many changes will take place, history has also shown that less gets accomplished than what is initially suggested. No doubt this will happen here as well. Deficit financing has been a major stumbling block for Republicans in the past and could easily shake up party unity once again. While holding a majority in the Senate, operating with a mere 52-48 majority can be quite difficult given the rules in the Senate. This reality may temper market moves until more details and better precision can be seen in what exactly will be changing.
Disclosures
Wilmington Trust is a registered service mark. Wilmington Trust Corporation is a wholly owned subsidiary of M&T Bank Corporation. Investment management and fiduciary services are provided by Wilmington Trust Company, operating in Delaware only, and Wilmington Trust, N.A., a national bank. Loans, retail and business deposits, and other personal and business banking services and products are offered by Manufacturers and Traders Trust Company (M&T Bank), member FDIC. Wilmington Trust Investment Advisors, Inc., a subsidiary of M&T Bank, is a SEC-registered investment adviser providing investment management services to Wilmington Trust and M&T affiliates and clients.
These materials are based on public information. Facts and views presented in this report have not been reviewed by, and may not reflect information known to, professionals in other business areas of Wilmington Trust or M&T Bank who may provide or seek to provide financial services to entities referred to in this report. M&T Bank and Wilmington Trust have established information barriers between their various business groups. As a result, M&T Bank and Wilmington Trust do not disclose certain client relationships with, or compensation received from, such entities in their reports.
The information on Wilmington Wire has been obtained from sources believed to be reliable, but its accuracy and completeness are not guaranteed. The opinions, estimates, and projections constitute the judgment of Wilmington Trust and are subject to change without notice. This commentary is for information purposes only and is not intended as an offer or solicitation for the sale of any financial product or service or a recommendation or determination that any investment strategy is suitable for a specific investor. Investors should seek financial advice regarding the suitability of any investment strategy based on the investor's objectives, financial situation, and particular needs. Diversification does not ensure a profit or guarantee against a loss. There is no assurance that any investment strategy will succeed.
Any investment products discussed in this commentary are not insured by the FDIC or any other governmental agency, are not deposits of or other obligations of or guaranteed by M&T Bank, Wilmington Trust, or any other bank or entity, and are subject to risks, including a possible loss of the principal amount invested. Some investment products may be available only to certain "qualified investors"—that is, investors who meet certain income and/or investable assets thresholds. Past performance is no guarantee of future results. Investing involves risk and you may incur a profit or a loss.
Any positioning information provided does not include all positions that were taken in client accounts and may not be representative of current positioning. It should not be assumed that the positions described are or will be profitable or that positions taken in the future will be profitable or will equal the performance of those described. Positions described are illustrative and not intended as a recommendation outside of a managed account.
Indices are not available for direct investment. Investment in a security or strategy designed to replicate the performance of an index will incur expenses, such as management fees and transaction costs that would reduce returns.
Third party trademarks and brands are the property of their respective owners.
Contact an Expert