May 29, 2019—On May 24, Theresa May announced that she would resign as Conservative Party Leader and Prime Minister (PM), effective June 7. She said that she would stay on as caretaker until a new leader is elected, which is expected by the end of July. Additionally, the Conservatives and the Labour Party both suffered large losses in European Parliament (EP) elections held May 23-26, as voters turned to parties with more clearly expressed Leave and Remain positions on the issue of the UK's departure from the European Union (EU), nicknamed Brexit. Both developments suggest a continuing level of political and economic uncertainty for those investing in UK securities. In this blog post, I address what I consider to be the five questions that are top of mind at this juncture:
1. Why did Theresa May resign? Theresa May's resignation follows her failure—three times—to secure parliament's approval of the EU Withdrawal Agreement (WA) she had negotiated with the EU. The WA is intended to avoid the negative economic consequences as the UK transitions from full EU membership to an eventual free trade agreement (FTA). However, the WA contains a controversial provision called the "Irish Backstop" opposed by many Conservatives and by Northern Ireland Unionists. In votes taken earlier this year, the Parliament rejected both the WA and a "no-deal Brexit," leaving the PM in a difficult position. She turned to the opposition Labour Party to try to secure its support for a compromise deal. This move alienated her Conservative colleagues, some of whom favor "no deal" over what they may consider a "bad deal." The negotiations with Labour ultimately failed. Theresa May resigned when it became clear that her party was about to remove her as its leader.
2. What are the implications of the EP election results for Brexit? The EP election results reveal that the British public remains deeply divided on Brexit, and frustrated with the way the PM and Labour leader Jeremy Corbyn have handled the issue. Many pro-Leave voters are willing to bear the negative economic consequences of a no-deal exit (namely, the imposition of significant tariffs and non-tariff barriers) in order to secure what they expect to be a brighter future for a more independent British economy. They voted for Nigel Farage's Brexit Party. On the other hand, many pro-Remain Conservatives and Labour Party members believe that tariffs and non-tariff barriers would be disastrous for certain UK manufacturing industries, as well as for the UK's global competitiveness. They want a new referendum, which they expect will support Remain. They voted for the pro-Remain Liberal Democrats and Greens.
Figure 1: Next Conservative leader/PM: Implied probability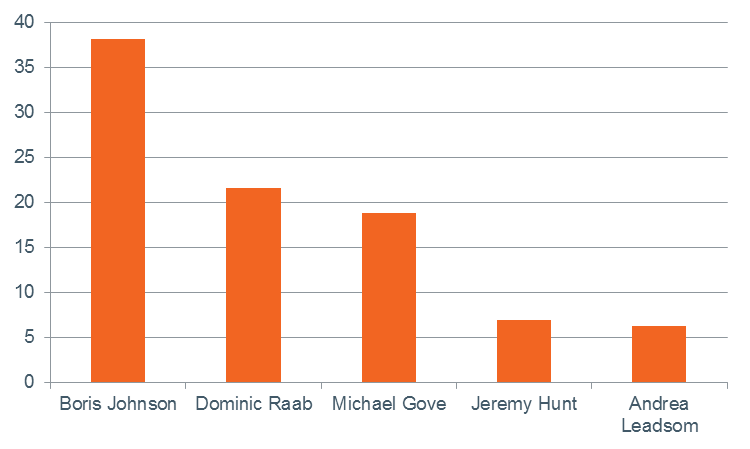 Sources: Oddschecker/Bloomberg
Data as of May 27, 2019
3. Who might become the next Conservative Leader (and PM) and what Brexit policies might he/she pursue? There are already several potential candidates. Figure1 shows the implied probability for the major contenders, derived by Bloomberg from UK-based Oddschecker, which compiles odds from several continuous online UK bookmaking markets. (It should be noted that bookmaking on sports and politics is a big business in UK society). Per the odds, Boris Johnson is currently the leading candidate. He is the former London mayor and foreign secretary. He was a prominent leader of the Leave campaign during the 2016 referendum and has been a consistent critic of Theresa May's handling of Brexit. Other major contenders include former Brexit Secretary Dominic Raab and Environment Secretary Michael Gove. Most candidates would prefer to rework the WA to eliminate the Irish Backstop and free the UK to negotiate FTAs with other countries. Where they may differ is in their views regarding the acceptability of a no-deal exit as a fallback. Some fear a no-deal exit would trigger a no-confidence vote in the House of Commons, potentially forcing new general elections.
4. What outcome can we expect, if any, on Brexit by year end? The Brexit extension period granted by the EU earlier this year expires on October 31, 2019. Unless a revamped WA is ratified beforehand, the UK will leave the EU without a deal. A key question is whether the EU will relent on its opposition to reopening the WA to amendments, given its new negotiating partner. Figure 2 shows the implied probabilities of three Brexit scenarios. (As the scenarios are posed as individual yes/no questions to bettors, they do not sum to 100). Currently, online bookmakers are assigning a higher probability to some form of WA being ratified (or to the EU granting a second extension to permit further negotiations in 2020) than to either a no-deal Brexit or a second referendum. Apparently, the British expect that a new UK prime minister will be able to make progress with the EU by year end. Agreement and ratification of a revised WA would certainly be a market-friendly development.
Figure 2: Brexit scenarios through year end: Implied probability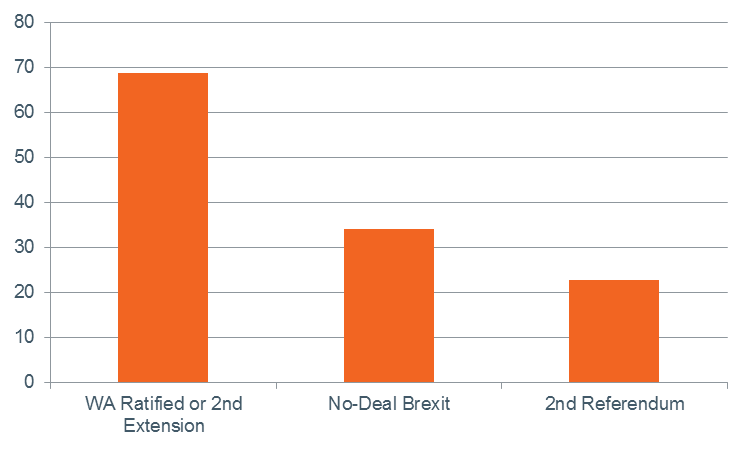 Sources: Oddschecker/Bloomberg
Data as of May 27, 2019
5. Might the new PM call a general election by year end? A new Conservative PM would be unlikely to call a new general election if he/she believed there was a significant risk of a Labour Party victory. Online bookmakers are currently assigning a higher probability to a scenario that no party would win an outright majority (Figure 3). Thus, any government would require the support of a multiparty coalition. Under these circumstances, it is unlikely that the Conservatives would call a general election that could inadvertently produce a coalition led by the Labour Party. A decision by the new PM to refrain from calling a new general election would be market-positive, as a potential PM Jeremy Corbyn espouses far-left economic policies.
Figure 3: General election scenarios through year end: Implied probability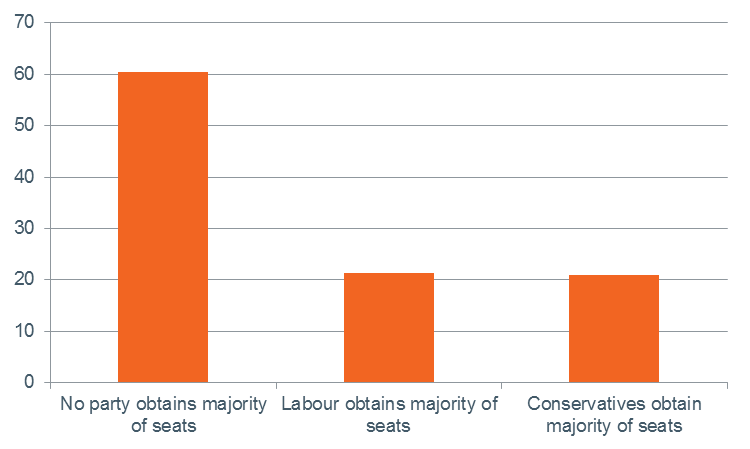 Sources: Oddschecker/Bloomberg
Data as of May 27, 2019
Core narrative
We are currently neutral weight to developed markets—of which the UK is a large component—versus our strategic benchmark. The continuing political uncertainty associated with Brexit continues to weigh on UK stocks, especially small- and mid-cap stocks that depend heavily on continental Europe for sales or supply chains. (The political uncertainty is less important for mega-cap global multinationals, such as UK-domiciled energy, mining, and pharmaceutical stocks, which are less dependent on the UK domestic market and actually benefit from a weak pound sterling). Prior to Theresa May's announcement, we believed that investors had taken comfort in Parliament's sentiments against a no-deal Brexit. After her announcement, and after the EP elections, we now believe that markets are not adequately discounting the probability of a no-deal exit. Recent developments suggest the risk of a no-deal exist is material. Nevertheless, our base case remains that a newly empowered UK Prime Minister can conclude a revised WA with the EU, either this year or next. This would be a market-positive development. We also believe that the risk of a general election yielding a Labor Party victory is low, to which investors would also breathe a sigh of relief. With the risks fairly balanced, we feel a neutral allocation to developed markets (within an overall neutral allocation to global equities) is appropriate.
Disclosures
Wilmington Trust is a registered service mark. Wilmington Trust Corporation is a wholly owned subsidiary of M&T Bank Corporation. Wilmington Trust Company, operating in Delaware only, Wilmington Trust, N.A.,  M&T Bank and certain other affiliates, provide various fiduciary and non-fiduciary services, including trustee, custodial, agency, investment management and other services. International corporate and institutional services are offered through Wilmington Trust Corporation's international affiliates. Loans, credit cards, retail and business deposits, and other business and personal banking services and products are offered by M&T Bank, member FDIC. Wilmington Trust Investment Advisors, Inc. is an SEC-registered investment adviser providing investment management services to Wilmington Trust and M&T Bank affiliates and clients.
These materials are based on public information. Facts and views presented in this report have not been reviewed by, and may not reflect information known to, professionals in other business areas of Wilmington Trust or M&T Bank who may provide or seek to provide financial services to entities referred to in this report. M&T Bank and Wilmington Trust have established information barriers between their various business groups. As a result, M&T Bank and Wilmington Trust do not disclose certain client relationships with, or compensation received from, such entities in their reports.
The information on Wilmington Wire has been obtained from sources believed to be reliable, but its accuracy and completeness are not guaranteed. The opinions, estimates, and projections constitute the judgment of Wilmington Trust and are subject to change without notice. This commentary is for information purposes only and is not intended as an offer or solicitation for the sale of any financial product or service or a recommendation or determination that any investment strategy is suitable for a specific investor. Investors should seek financial advice regarding the suitability of any investment strategy based on the investor's objectives, financial situation, and particular needs. Diversification does not ensure a profit or guarantee against a loss. There is no assurance that any investment strategy will succeed.
Any investment products discussed in this commentary are not insured by the FDIC or any other governmental agency, are not deposits of or other obligations of or guaranteed by M&T Bank, Wilmington Trust, or any other bank or entity, and are subject to risks, including a possible loss of the principal amount invested. Some investment products may be available only to certain "qualified investors"—that is, investors who meet certain income and/or investable assets thresholds. Past performance cannot guarantee future results. Investing involves risk and you may incur a profit or a loss.
Any positioning information provided does not include all positions that were taken in client accounts and may not be representative of current positioning. It should not be assumed that the positions described are or will be profitable or that positions taken in the future will be profitable or will equal the performance of those described. Positions described are illustrative and not intended as a recommendation outside of a managed account. Indices are not available for direct investment. Investment in a security or strategy designed to replicate the performance of an index will incur expenses, such as management fees and transaction costs that would reduce returns.
Third-party trademarks and brands are the property of their respective owners.