June 19, 2018—It's not just the warm weather on the East Coast that is heating up these days. It is also the escalating friction between the U.S. and its trading partners, China in particular. The Trump administration has imposed a series of tariffs that are either in or will soon be in effect on a spectrum of goods—ranging from washing machines to steel and aluminum—that, as of Friday, will include an additional $34 billion of imports from China. After an immediate retaliatory response from China to this latest series of tariffs, President Trump is now threatening yet another round of tariffs on the world's second-largest economy after the U.S., vowing to continue the escalation to as much as $450 billion of its imports. The U.S. currently imports roughly $500 billion worth of goods from China, which imports far less from us ($130 billion), but has other tools at its disposal— including the capacity to disrupt supply chains or block U.S. companies from accessing its market.
Trade developments seem to be progressing in a "two-steps-forward-one-step-back" type of pattern, with the latest threats representing an important step back. In our assessment, President Trump is attempting to use tariffs as a negotiating tool in an overall strategy aimed at reducing trade barriers. While we agree with the overall goal, it is clear that the use of "sticks" (and maybe a carrot or two—as in Trump's attempts to keep Chinese telecom firm ZTE in business) increases the chance of a policy misstep that could harm growth.
As investors, it is very challenging to handicap the outcome of what is increasingly looking like a trade war. Instead, we look at the balance of risks around the trade tensions, along with other signals we are receiving from the global economy. For now, the impacts of the tariffs in place (including the expected impact on the $34 billion of Chinese goods) appear negligible to the overall U.S. economy and inflation. Estimates vary but may be for a U.S. economic growth trim of around -0.1% in 2018 and 2019, with inflation to increase by a similar 0.1% year over year. However, should the Trump administration move forward with additional tariffs targeting either $100-$200 billion of Chinese imports or autos from elsewhere, or both, we would expect the growth and confidence impacts to become more discernible, particularly for U.S. trade partners, where trade represents a larger portion of GDP. U.S. economic indicators remain robust, but the first half of the year has seen some deceleration from Europe, Japan, and China, which would be exacerbated by a trade war. A period of prolonged uncertainty would also likely be detrimental to U.S. capital investment. Increased capex was a key goal of the 2017 Tax Cuts and Jobs Act and remains an important assumption in our expectation of 3% GDP growth in 2018.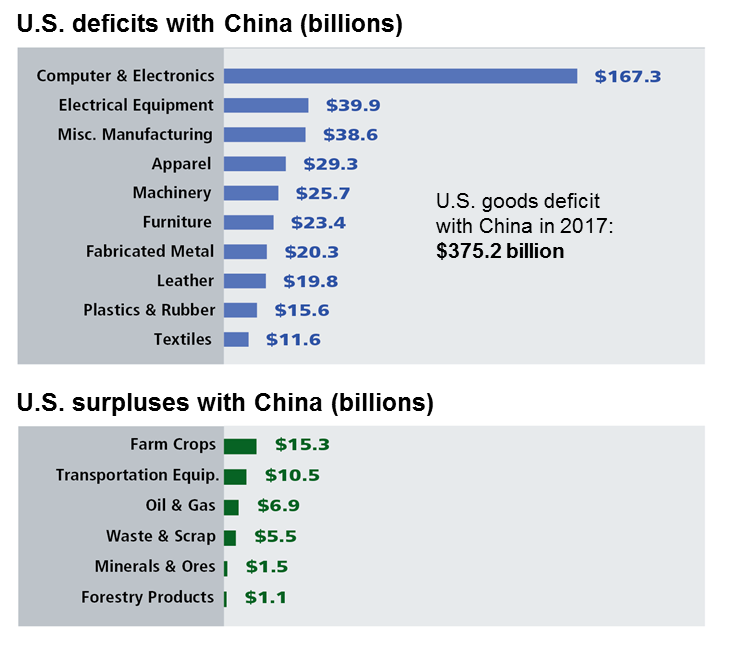 Data as of December 31, 2017
Source: U.S. Census
Core narrative
Trade remains the major risk to our otherwise positive outlook. While we do not believe protectionism or broad-based tariffs are the goal of the Trump administration, it is looking more likely that President Trump will stand firm in this "game of chicken." After all, to not follow through on his threats hurts his negotiating position, and righting a series of trade-related wrongs against the U.S. would be a victory ahead of U.S. midterm elections.
The global economy continues to grow, with particular strength in the U.S. and an expected second-half pickup for Europe, Japan, and China. The U.S. business cycle is getting on in years, but we do not yet think we have seen the peak in equity markets. As a result, we remain overweight equities and underweight fixed income. Decelerating non-U.S. economic growth and risks around trade led us to reduce our overweight to non-U.S. equities at the beginning of this month, with the proceeds added to cash and U.S. small cap. At this point, it remains our base case that trade tensions will be resolved without permanent tariffs and perhaps an improvement to overall terms of trade. However, should trade risks mount or growth indicators wane, we would likely reconsider our tactical overweight to equities.
Disclosures
Wilmington Trust is a registered service mark. Wilmington Trust Corporation is a wholly owned subsidiary of M&T Bank Corporation. Wilmington Trust Company, operating in Delaware only, Wilmington Trust, N.A., M&T Bank and certain other affiliates, provide various fiduciary and non-fiduciary services, including trustee, custodial, agency, investment management and other services. International corporate and institutional services are offered through Wilmington Trust Corporation's international affiliates. Loans, credit cards, retail and business deposits, and other business and personal banking services and products are offered by M&T Bank, member FDIC. Wilmington Trust Investment Advisors, Inc. is an SEC-registered investment adviser providing investment management services to Wilmington Trust and M&T Bank affiliates and clients.
These materials are based on public information. Facts and views presented in this report have not been reviewed by, and may not reflect information known to, professionals in other business areas of Wilmington Trust or M&T Bank who may provide or seek to provide financial services to entities referred to in this report. M&T Bank and Wilmington Trust have established information barriers between their various business groups. As a result, M&T Bank and Wilmington Trust do not disclose certain client relationships with, or compensation received from, such entities in their reports.
The information on Wilmington Wire has been obtained from sources believed to be reliable, but its accuracy and completeness are not guaranteed. The opinions, estimates, and projections constitute the judgment of Wilmington Trust and are subject to change without notice. This commentary is for information purposes only and is not intended as an offer or solicitation for the sale of any financial product or service or a recommendation or determination that any investment strategy is suitable for a specific investor. Investors should seek financial advice regarding the suitability of any investment strategy based on the investor's objectives, financial situation, and particular needs. Diversification does not ensure a profit or guarantee against a loss. There is no assurance that any investment strategy will succeed.
Any investment products discussed in this commentary are not insured by the FDIC or any other governmental agency, are not deposits of or other obligations of or guaranteed by M&T Bank, Wilmington Trust, or any other bank or entity, and are subject to risks, including a possible loss of the principal amount invested. Some investment products may be available only to certain "qualified investors"—that is, investors who meet certain income and/or investable assets thresholds. Past performance is no guarantee of future results. Investing involves risk and you may incur a profit or a loss.
Any positioning information provided does not include all positions that were taken in client accounts and may not be representative of current positioning. It should not be assumed that the positions described are or will be profitable or that positions taken in the future will be profitable or will equal the performance of those described. Positions described are illustrative and not intended as a recommendation outside of a managed account.
Indices are not available for direct investment. Investment in a security or strategy designed to replicate the performance of an index will incur expenses, such as management fees and transaction costs that would reduce returns.
Third-party trademarks and brands are the property of their respective owners.