August 23, 2019 – Today, Federal Reserve Chair Jerome Powell gave his highly anticipated speech at the Fed's annual research conference in Jackson Hole, Wyoming. Markets were abuzz ahead of time trying to divine whether he would tip his hand and reveal his inclination to reduce rates again at the upcoming September meeting, or if he would signal reluctance and disappoint equity investors. Reactions to the speech have been mixed, with some news outlets portraying it as straddling the line. We think it was much more on the dovish side, suggesting in a very structured way the reasons why Powell is inclined to reduce rates on September 18.
The speech was structured as a bit of a history lesson and then had a final section devoted to the current environment. The historical sections are as important, because they are being used to build a case for more rate cuts.
As a somewhat unconventional way of detailing the speech, here is a paraphrasing with our view laced in:
"[T]he economy is close to both goals," ‒controlled inflation and full employment‒so there should not be any upward or downward bias based on current economic data.
Let me talk to you about three eras in monetary history.
Era I (1950-1982) was a time of learning for the Fed. The end was kind of a mess because the Fed kept rates too low for too long and created very high inflation in the late 1970s. Thankfully, Volcker came in and showed us how to address that.
Era II (1983-2009) was a great time because we had two of the three longest expansions in U.S. history, and those expansions were more stable. During that long expansion of the 1990s, the Fed twice did mid-cycle adjustments, cutting rates a bit to prolong the expansion. Those mid-cycle adjustments really worked out well.
In 1995, the Fed reduced rates in response to a slowdown in the U.S. economy and a global slowdown. That should sound familiar today.
In 1998, the Fed lowered rates in response to domestic and international financial market events, including the Russian debt default, the failure of Long-Term Capital Management, and the Asian Financial Crisis. This may also sound familiar today.
Era III (2010-current) is kind of perplexing because we've been dealing with low rates, low inflation, and a lot of confusion about how low the unemployment rate can go without triggering inflation. We also can't figure out where the neutral federal funds rate, r*, is. On balance, most of what has happened in Era III would argue for lower rates.
Some might ask if rates have been too low for too long. Sometimes people get worried about the Fed setting rates too low for too long because it might create a sustained period of uncontrollable high inflation. Such high inflation is very unlikely right now, and if it did happen we know how to fix it, thanks to Volcker.
Sometimes people get worried about low rates for too long because it builds up financial market bubbles. But Congress and the Fed are on top of that, thanks to Dodd-Frank regulations and the Fed's new financial stability responsibilities.
So if the current data look okay, and our economic forecasts are generally positive, why would we lower rates? The answer is risk management. I say "[i]t will at times be appropriate for us to tilt policy one way or the other because of prominent risks."
Let me tell you about the three main risks we've been monitoring in 2019: slowing global growth, trade policy uncertainty, and muted inflation. As you know, we cut rates in July, and those three risks have only gotten worse since then.
We are deeply committed to fulfilling our mandate. And if you read everything above, you'll see it means we're very likely to cut rates again soon.
Core narrative
We already thought the Fed was likely to cut rates again in future meetings before Powell spoke, and his comments only embolden that view. And as if his speech weren't enough for markets to digest on a Friday in the dog days of summer, it was bookended by new brinksmanship on the U.S.–China trade front. Before Powell spoke the Chinese authorities announced plans to counter President Trump's newest tariff actions with retaliatory tariffs of their own. Shortly after Powell spoke, President Trump announced he would be responding to China's announcement later in the afternoon (and had not yet done so at the time of this writing). Markets moved down sharply after Trump's tweets. We think the Fed's dovish stance and high probability of cutting rates would by themselves be supportive of equities and risk assets, but are being swamped by the trade news of the day. This is not surprising, in our view, as we have long believed that the effects of an escalating trade war could not be canceled out by lower short-term interest rates. We continue to recommend a neutral positioning to equities until more clarity can be attained on the trade front and how it will affect the economy.
Fed funds rate, FOMC median projections for fed funds rate, and market expectations for fed funds rate (%)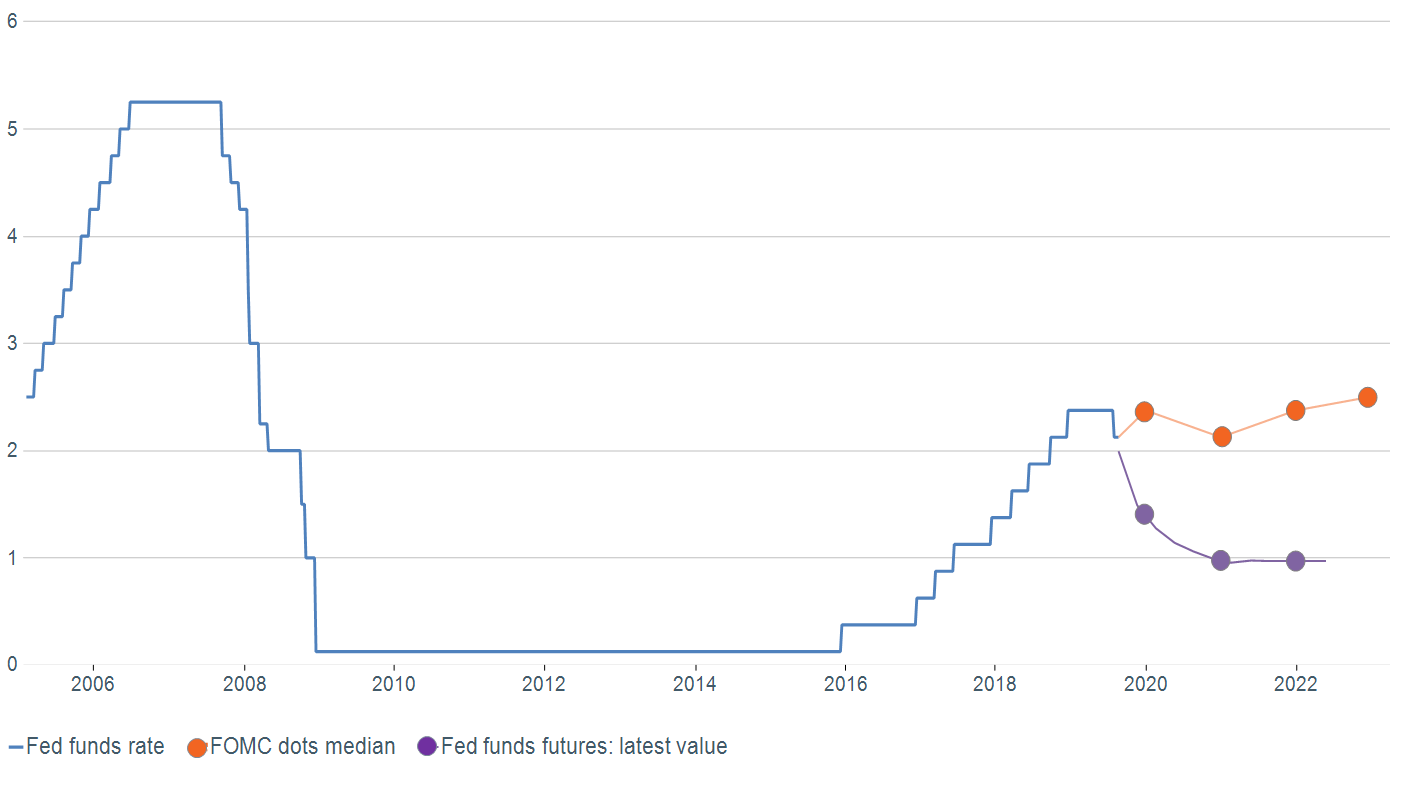 Data as of August 9, 2019
Source: Macrobond, Federal Reserve, Bloomberg, and WTIA.
Disclosures
Wilmington Trust is a registered service mark. Wilmington Trust Corporation is a wholly owned subsidiary of M&T Bank Corporation. Wilmington Trust Company, operating in Delaware only, Wilmington Trust, N.A.,  M&T Bank and certain other affiliates, provide various fiduciary and non-fiduciary services, including trustee, custodial, agency, investment management and other services. International corporate and institutional services are offered through Wilmington Trust Corporation's international affiliates. Loans, credit cards, retail and business deposits, and other business and personal banking services and products are offered by M&T Bank, member FDIC.
Facts and views presented in this report have not been reviewed by, and may not reflect information known to, professionals in other business areas of Wilmington Trust or M&T Bank who may provide or seek to provide financial services to entities referred to in this report. M&T Bank and Wilmington Trust have established information barriers between their various business groups. As a result, M&T Bank and Wilmington Trust do not disclose certain client relationships with, or compensation received from, such entities in their reports.
The information on Wilmington Wire has been obtained from sources believed to be reliable, but its accuracy and completeness are not guaranteed. The opinions, estimates, and projections constitute the judgment of Wilmington Trust and are subject to change without notice. This commentary is for information purposes only and is not intended as an offer or solicitation for the sale of any financial product or service or a recommendation or determination that any investment strategy is suitable for a specific investor. Investors should seek financial advice regarding the suitability of any investment strategy based on the investor's objectives, financial situation, and particular needs. Diversification does not ensure a profit or guarantee against a loss. There is no assurance that any investment strategy will succeed.
Past performance cannot guarantee future results. Investing involves risk and you may incur a profit or a loss.