May 10, 2019 – President Trump raised tariffs on U.S. imports from China today, as he warned he would this past Sunday on Twitter. Following months of signs that both sides were progressing toward an amicable agreement, that narrative was upended by Trump's tweet, which vaguely alluded to "attempt[s] to renegotiate" by the Chinese. At first it was not clear whether the president was blustering for bluster's sake, or if the negotiations had truly hit the rocks. As the week unfolded, it became clearer that the Chinese authorities had backtracked on some, or many, aspects of the deal. With the large trade delegation arriving on Thursday afternoon, there was precious little time to reach a deal before President Trump's midnight deadline.
We believe the events of the week appear to have left the two sides with a far deeper rift than could have been expected as recently as last week. In addition, both sides have tools at their disposal, including tariffs and other measures, which are likely to be employed in the near term. In short, the risks of a protracted battle over trade have risen and that could be damaging to the economy and markets. Accordingly, we have reduced our recommended portfolio allocation to U.S. Large-Cap Equities and Emerging Markets Equities. We are allocating the proceeds to Cash, and stand ready to redeploy should we see indications that risks are abating.
The markets, the tariffs, and the prospects
The events of the week have clearly taken a toll on markets, curtailing risk appetite and sending investors into safe havens. Through midday Friday, the S&P 500 was down about 2% for the week, the worst since the disastrous drop of 7% in mid-December 2018. The details of the market response were as would be expected given the nature of the conflict: the tech-heavy Nasdaq performed worse than the S&P and the Philadelphia Semiconductor Index (SOX) was down 6%. In fixed income markets, investors piled into Treasuries, pushing down yields across the maturity spectrum, and risk spreads on high-yield corporate bonds rose. Despite the movements, we view this reaction as quite muted given the gravity of the issues at play. The S&P 500 is down just 2.2% from its record high. We believe the market may be underestimating the challenges ahead.
The increased tariffs are clearly a negative for the economy and markets. They raise an existing tariff from 10% to 25% on roughly $200 billion worth of goods imported to the U.S. from China. That is on top of the initial round, which was a 25% tariff on $50 billion worth of goods. We have said since the start that an ever-escalating trade war would be bad for the economy, bad for markets, and would force us to reevaluate our outlook (see The New Proposed China Tariffs Are a Big Deal – July 13, 2018). In our view, the real pain for the economy and markets does not come from the overnight change in tariffs, but from the prospect of both sides getting dug in, throwing up more protectionist barriers, and extending the feud for weeks, months, or even longer.
Figure 1: Monthly tariff revenues have increased since mid-2018 ($billions)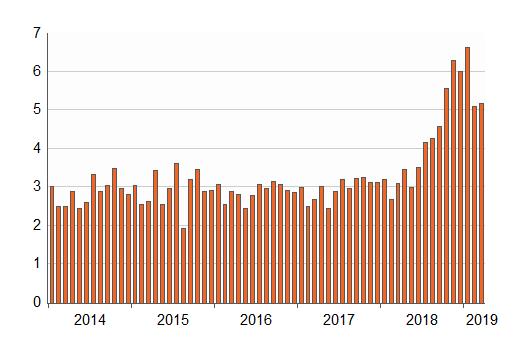 Data as of March 2019
Source: U.S. Dept. of Treasury
Specifically, President Trump said in his Sunday tweets and again in a Thursday press conference that he is pursuing more tariffs on the $300–$350 billion worth of imports from China that have yet to be targeted. The first two rounds of tariffs have been placed mostly on intermediate and industrial goods. That next step would largely hit consumer goods that have so far been spared (think of everything you buy in big box stores that are "Made in China"). Additionally, just minutes after the U.S. announced the increase in tariffs, China announced it would retaliate, but without details. That could include reinstating tariffs on autos that had been implemented in 2018, and were suspended later in the year as a sign of good faith. Aside from simply applying tariffs, the authorities in China have reportedly stymied American businesses by other methods, and could do more of the same. The American Chamber of Commerce in China reported in December 2018 that more than half of its members reported "suffering the consequences of…increased inspections, slower customs clearances, and other complications from increased bureaucratic oversight or regulatory scrutiny."
Importantly, both sides have motivations to ultimately reach a deal, but also to stand firm and fight hard along the way. On the U.S. side, the Trump administration is seeking real change in the long-standing practice of Chinese companies appropriating the intellectual property (IP) of U.S. firms, as well as the Chinese support and subsidies of their domestic industries. Politically, President Trump has in the past week enjoyed an improvement in his approval ratings to the highest levels since early-2018 on this issue, which is bipartisan. While we are not political prognosticators, we recognize this as an incentive for him to dig in. It's notable that President Trump tweeted this morning there is "absolutely no need to rush." For the Chinese, the theft of IP and support for their industries are seen as critical components of their continued ascendance and their ultimate goal of being more self-sufficient and a global superpower. Perhaps most critically, we learned this week that the rifts appear to be myriad and wide, to a much greater degree than previously known.
Core narrative
We have characterized the U.S.–China trade situation as a key risk to the outlook since the feud began. We have also said that these negotiations were never going to be easy, and would proceed in a "two steps forward, one step back" progression. However, this week's developments reflect taking several steps back and also revealed a deeper rift between the negotiators than was previously known. While we still believe that the two sides will ultimately come to a deal, we believe the risks of a protracted feud with more rounds of damaging actions could lie ahead. It is not encouraging that the talks had ended by midday, the Chinese were on their way home, and the only thing to show for the week's events was a comment from Treasury Secretary Mnuchin that the discussions had been "constructive." A longer-term fight with higher tariffs could have damaging effects on consumer spending, corporate capex, and corporate earnings, in our view. Because of those rising risks, we decided to reduce our allocations to U.S. Large-Cap Equities and Emerging Markets Equities, and deploy those assets to cash where we can be nimble for future movements as needed.
Disclosures
Wilmington Trust is a registered service mark. Wilmington Trust Corporation is a wholly owned subsidiary of M&T Bank Corporation. Wilmington Trust Company, operating in Delaware only, Wilmington Trust, N.A.,  M&T Bank and certain other affiliates, provide various fiduciary and non-fiduciary services, including trustee, custodial, agency, investment management and other services. International corporate and institutional services are offered through Wilmington Trust Corporation's international affiliates. Loans, credit cards, retail and business deposits, and other business and personal banking services and products are offered by M&T Bank, member FDIC. Wilmington Trust Investment Advisors, Inc. is an SEC-registered investment adviser providing investment management services to Wilmington Trust and M&T Bank affiliates and clients.
These materials are based on public information. Facts and views presented in this report have not been reviewed by, and may not reflect information known to, professionals in other business areas of Wilmington Trust or M&T Bank who may provide or seek to provide financial services to entities referred to in this report. M&T Bank and Wilmington Trust have established information barriers between their various business groups. As a result, M&T Bank and Wilmington Trust do not disclose certain client relationships with, or compensation received from, such entities in their reports.
The information on Wilmington Wire has been obtained from sources believed to be reliable, but its accuracy and completeness are not guaranteed. The opinions, estimates, and projections constitute the judgment of Wilmington Trust and are subject to change without notice. This commentary is for information purposes only and is not intended as an offer or solicitation for the sale of any financial product or service or a recommendation or determination that any investment strategy is suitable for a specific investor. Investors should seek financial advice regarding the suitability of any investment strategy based on the investor's objectives, financial situation, and particular needs. Diversification does not ensure a profit or guarantee against a loss. There is no assurance that any investment strategy will succeed.
Any investment products discussed in this commentary are not insured by the FDIC or any other governmental agency, are not deposits of or other obligations of or guaranteed by M&T Bank, Wilmington Trust, or any other bank or entity, and are subject to risks, including a possible loss of the principal amount invested. Some investment products may be available only to certain "qualified investors"—that is, investors who meet certain income and/or investable assets thresholds. Past performance cannot guarantee future results. Investing involves risk and you may incur a profit or a loss.
Any positioning information provided does not include all positions that were taken in client accounts and may not be representative of current positioning. It should not be assumed that the positions described are or will be profitable or that positions taken in the future will be profitable or will equal the performance of those described. Positions described are illustrative and not intended as a recommendation outside of a managed account. Indices are not available for direct investment. Investment in a security or strategy designed to replicate the performance of an index will incur expenses, such as management fees and transaction costs that would reduce returns.
Third-party trademarks and brands are the property of their respective owners.