March 10, 2020—The stock market and economic outlooks are changing rapidly. Over the past few days we have witnessed several developments that led us to downgrade our outlook for the economy and markets and moved a 2020 recession into our base case. However, with hysteria evident everywhere from the floor of the NY Stock Exchange to the toilet paper aisle of Costco, we would encourage clients not to panic. These are the sorts of times when some of the worst damage done to a portfolio can be self-inflicted. We recommend a modest underweight to equities rather than a more drastic reduction in equity holdings.
Figure 1: WTI crude oil and range of break-even prices for U.S. oil industry ($/barrel)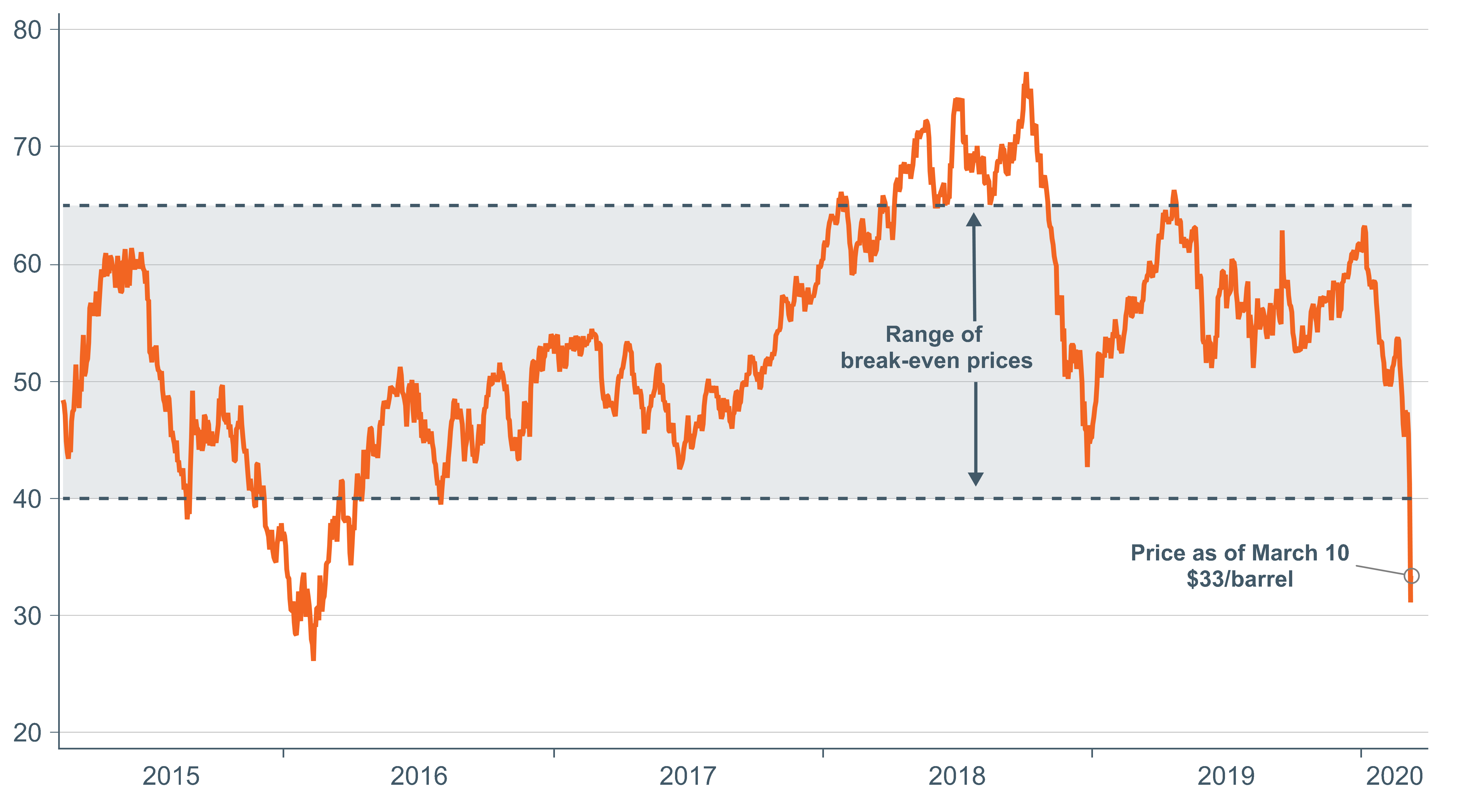 Source: RBC Capital Markets: Shaded grey shows estimated break-even prices for the U.S. oil industry accounting for dividends. Data as of March 10, 2020.
Recent developments
There have been three critical developments that have led us to increase the probability of a mild contraction in U.S. GDP for one or two -quarters in 2020 above 50%, moving it to our most likely scenario.
1. Uncontained coronavirus—The spread of the novel coronavirus causing an illness known as COVID-19 has continued undeterred around the globe. In the U.S., the spread of the virus could lead to increased school closures, depressed appetite for travel or entertainment spending, and a severe strain on our health care system. The global economy is faced with a trifecta of supply shocks, demand shocks, and strain on the all-important services sector. While China's rate of daily new cases has reportedly declined and factories seem to be slowly returning to normal, it is now faced with a greater chance of transmission from those entering the country. Chinese policymakers who are pushing the envelope to get the economy back up and running risk a relapse. Quantifying the full economic ramifications of the virus very much depends on one variable no one can predict with certainty: time.
2. Oil price war—Over the past weekend, OPEC developments led to a collapse in oil prices that threatens the solvency of small-to-midsize U.S. oil companies and risks throwing the manufacturing sector back into a tailspin after a difficult year of trade war and tariffs. On Friday, OPEC failed to strike a deal to remove an additional 1.5 million barrels from the oil market (largely because of Russia's refusal to agree to production cuts). On Saturday, Saudi Arabia announced an effective price war, undercutting the price offered to its customers by $6–$7 and threatening to increase production to more than 12 million barrels per day beginning in April—which would represent a record amount of output from the kingdom—in an attempt to gain market share. The price of oil fell on Monday—the most in a single day since the 1991 Gulf War. The price of West Texas Intermediate (WTI) crude closed at $31/bbl mid-day Monday, the lowest price since 2016 and a level at which the majority of U.S. shale producers would be unprofitable.
This could lead to stress in credit markets, bankruptcies in the energy industry, and a dearth of energy-related capex. We also note that the U.S. economy has evolved in the past decade such that lower oil prices are no longer a clear-cut benefit to the economy. Reduced oil prices still represent a "tax cut" of sorts to consumers, but the U.S. as a net exporter of oil means lower prices have a negative effect on the energy industry and broader manufacturing sector. As an example, energy-related spending is as much as 10% of total U.S. capex.
3. Political winds shifting—Tuesday will give us another set of data points about the identity of the prospective Democratic challenger to President Trump. Vermont Senator Bernie Sanders appears to have lost a significant amount of momentum to former Vice President Joe Biden. Investors appear more comfortable with the policies of Biden, which represent less disruption and uncertainty across a variety of industries. However, Biden is advocating for higher corporate and individual tax rates, including increasing the 20% capital gains tax to align with the personal tax rate and revising the estate tax to include unrealized appreciation of assets at the time of death. These policies decrease the after-tax return for equity investors. There is also polling data to support the theory that Biden is a more formidable opponent to Trump than is Sanders at a time when Trump's #1 policy achievement—the economy—is in jeopardy.
Recession on the horizon
We would not expect any one of the three factors to by itself slow the economy enough to risk a contraction, but the combination of the three is significant and increases the probability of a one- or two- quarter contraction of U.S. GDP to more than 50%. We made a tactical reduction of risk in portfolios in late February, moving from a modest overweight to a modest underweight in equities and increasing our allocation to high-quality fixed income and cash. We expect market weakness to persist at least for a few more weeks as uncertainty around the virus, oil prices, and election persist.
While a one- or two-quarter contraction in U.S. growth is now more than likely to occur, we would note that the U.S. economy was well positioned coming into the recent turmoil. The February payroll report noted a 273k net new jobs, and the unemployment rate stands at 3.5%. Consumer balance sheets are in solid shape, with a total financial obligations ratio (total household debt and tax payments as a percent of total income) of 15%, around the lowest in history, and a personal savings rate of 7.7%, the highest in multiple decades. Our key takeaway is that a recession is likely to be a short contraction in growth from which the U.S. rebounds in relatively short order, not the multi-year structural decline in growth experienced during the financial crisis.
Core narrative
We would encourage clients to remain calm and avoid selling into weakness. To be clear, we are advocating for an underweight to equities versus a strategic benchmark, by no means a wholesale liquidation of equity holdings. The market volatility in recent weeks has been extraordinary, with implied volatility (measured by the CBOE Volatility Index, or VIX) the highest since 2008, surpassing that of the 2018, 2015, and 2011 market scares. These are dangerous markets around which to trade for the risk of locking in losses and missing some very large up days, as volatility is a two-way street. Instead, we would recommend riding through near-term volatility. Uncertainty is heightened and downside risks have grown, but there is also the possibility that the economic impact of the virus and oil scares diminishes as we approach the summer months. Additional support could be provided by countries deploying fiscal stimulus (including China and the U.S.).
This could potentially be an advantageous time for those looking to rebalance portfolios or deploy capital from a recent liquidity event, but we would preach patience. Our expectation is that the market has not yet found its bottom, and the economic fallout from a combination of coronavirus and oil markets could take several months to work through. We know how hard it is to time the bottom in the equity market, so we would recommend that clients look to deploy some of their excess cash in current markets, perhaps over a slightly longer period than normal.
Disclosures
Wilmington Trust is a registered service mark. Wilmington Trust Company, operating in Delaware only, Wilmington Trust, N.A., M&T Bank and certain other subsidiaries of M&T Bank Corporation, provide various fiduciary and nonfiduciary services, including trustee, custodial, agency, investment management and other services. International corporate and institutional services are offered through M&T Bank Corporation's international subsidiaries. Loans, credit cards, retail and business deposits, and other business and personal banking services and products are offered by M&T Bank, member FDIC.
Facts and views presented in this report have not been reviewed by, and may not reflect information known to, professionals in other business areas of Wilmington Trust or M&T Bank who may provide or seek to provide financial services to entities referred to in this report. M&T Bank and Wilmington Trust have established information barriers between their various business groups. As a result, M&T Bank and Wilmington Trust do not disclose certain client relationships with, or compensation received from, such entities in their reports.
The information on Wilmington Wire has been obtained from sources believed to be reliable, but its accuracy and completeness are not guaranteed. The opinions, estimates, and projections constitute the judgment of Wilmington Trust and are subject to change without notice. This commentary is for information purposes only and is not intended as an offer or solicitation for the sale of any financial product or service or a recommendation or determination that any investment strategy is suitable for a specific investor. Investors should seek financial advice regarding the suitability of any investment strategy based on the investor's objectives, financial situation, and particular needs. Diversification does not ensure a profit or guarantee against a loss. There is no assurance that any investment strategy will succeed.
Past performance cannot guarantee future results. Investing involves risk and you may incur a profit or a loss.
Indexes are not available for direct investment. Investment in a security or strategy designed to replicate the performance of an index will incur expenses such as management fees and transaction costs which would reduce returns.