December 14, 2016— U.S. retail sales slowed down for the month of November, but are still on track to add to growth in the fourth quarter. November retail sales increased 0.1% in November from the month prior. This was a more muted increase than the market expectations of a 0.3% increase. Excluding autos and parts purchases, the gain was 0.2%. Importantly, the monthly retail sales change from September to October of this year was revised down from a colossal 0.8% to a still strong 0.6%.
The month-over-month change in retail sales tends to be very volatile. Using the 3-month annualized rate of growth shown below (figure 1) helps to smooth some of that volatility. The 3-month rate is moving up because a dip in August is moving out of the calculation and is replaced by November's positive number, as well as stronger figures in September and October. We are generally seeing an improvement in recent months compared to a slowdown witnessed during the summer. Retail sales are about one third of total personal consumption expenditures, with the other spending on services and other items. The consumer remains quite strong thanks to continued job and wage growth and we expect growth to continue. However, we expect consumer spending to be less a part of overall GDP growth going forward and expect business investment to pick up.
Figure 1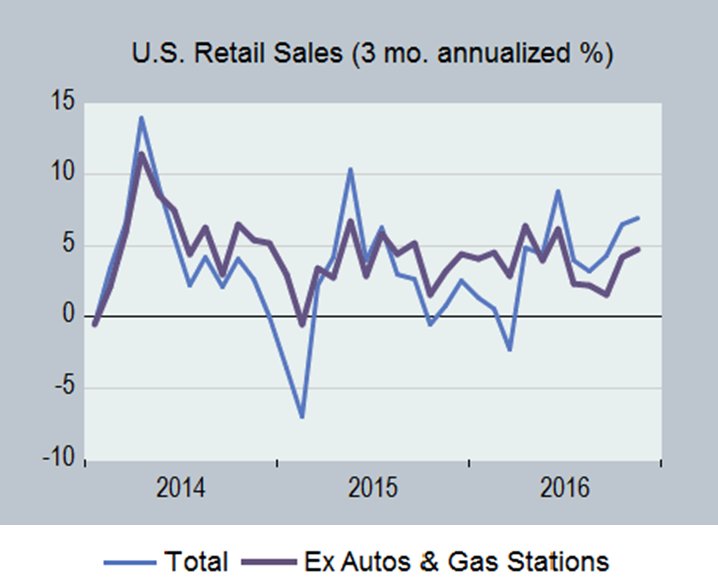 Source: Bloomberg
Retail Sales Components
We also note the ongoing structural change in the U.S. consumer. Sales at non-store retailers, which are driven mostly by online merchant activity, increased by 0.1% from the month of October to November and are now 11.9% higher than a year prior. E-commerce is becoming increasing popular when compared to traditional retail stores and there is a continued shift by consumers towards internet shopping.
Figure 2 shows the longer term impact of online shopping. It shows total retail sales as well as three selected categories indexed to the start of the recession in December 2007. Total retail sales recovered to their pre-recession peak in early 2011 and are now about 22% above that level. Electronics and appliance stores have yet to regain their pre-recession peak. Strikingly, non-store retailers, driven by online shopping, is more than 80% higher than at the end of 2007.
Figure 2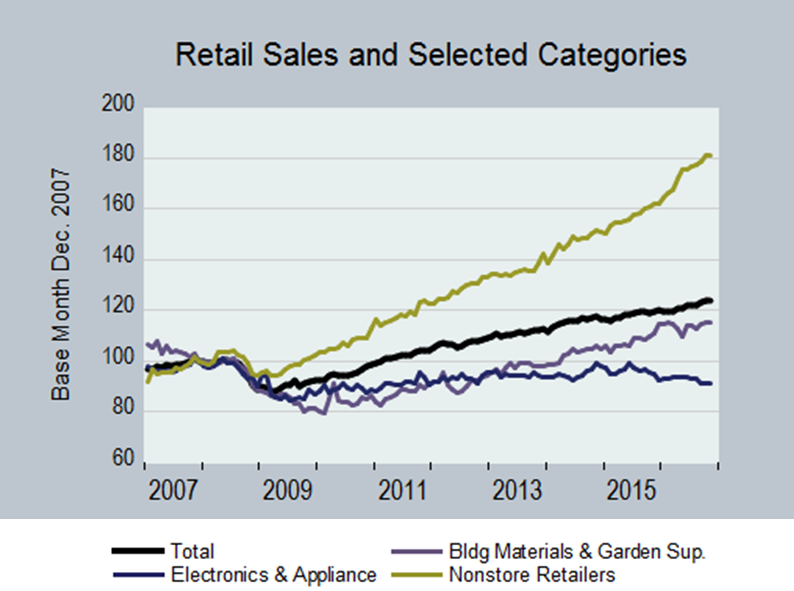 Source: Bloomberg, WTIA
Core Narrative
Retail sales data this week supports our core narrative of continued consumer spending. Sales decelerated in a month that included the presidential election, but we are optimistic that consumer spending will continue through the holiday season. Separately, the University of Michigan's Consumer Confidence Index for the month of December reached its highest level in almost two years, which suggests that real consumption will continue to grow over the coming months. The positive data supports our mild overweight to risk assets.
Disclosures
Wilmington Trust is a registered service mark. Wilmington Trust Corporation is a wholly owned subsidiary of M&T Bank Corporation. Investment management and fiduciary services are provided by Wilmington Trust Company, operating in Delaware only, and Wilmington Trust, N.A., a national bank. Loans, retail and business deposits, and other personal and business banking services and products are offered by Manufacturers and Traders Trust Company (M&T Bank), member FDIC. Wilmington Trust Investment Advisors, Inc., a subsidiary of M&T Bank, is a SEC-registered investment adviser providing investment management services to Wilmington Trust and M&T affiliates and clients.
These materials are based on public information. Facts and views presented in this report have not been reviewed by, and may not reflect information known to, professionals in other business areas of Wilmington Trust or M&T Bank who may provide or seek to provide financial services to entities referred to in this report. M&T Bank and Wilmington Trust have established information barriers between their various business groups. As a result, M&T Bank and Wilmington Trust do not disclose certain client relationships with, or compensation received from, such entities in their reports.
The information on Wilmington Wire has been obtained from sources believed to be reliable, but its accuracy and completeness are not guaranteed. The opinions, estimates, and projections constitute the judgment of Wilmington Trust and are subject to change without notice. This commentary is for information purposes only and is not intended as an offer or solicitation for the sale of any financial product or service or a recommendation or determination that any investment strategy is suitable for a specific investor. Investors should seek financial advice regarding the suitability of any investment strategy based on the investor's objectives, financial situation, and particular needs. Diversification does not ensure a profit or guarantee against a loss. There is no assurance that any investment strategy will succeed.
Any investment products discussed in this commentary are not insured by the FDIC or any other governmental agency, are not deposits of or other obligations of or guaranteed by M&T Bank, Wilmington Trust, or any other bank or entity, and are subject to risks, including a possible loss of the principal amount invested. Some investment products may be available only to certain "qualified investors"—that is, investors who meet certain income and/or investable assets thresholds. Past performance is no guarantee of future results. Investing involves risk and you may incur a profit or a loss.
Any positioning information provided does not include all positions that were taken in client accounts and may not be representative of current positioning. It should not be assumed that the positions described are or will be profitable or that positions taken in the future will be profitable or will equal the performance of those described. Positions described are illustrative and not intended as a recommendation outside of a managed account.
Indices are not available for direct investment. Investment in a security or strategy designed to replicate the performance of an index will incur expenses, such as management fees and transaction costs that would reduce returns.
Third party trademarks and brands are the property of their respective owners.
Contact an Expert