September 6, 2019 – Only weeks after Boris Johnson replaced Theresa May as Conservative leader and Prime Minister, he has suffered a humiliating setback regarding both his Brexit strategy–leaving the EU "deal or no-deal"–and his ambitions to strengthen his power as Prime Minister through victory in a new general election. We believe that new general elections will take place after the current Brexit deadline of October 31 is extended through January 31. We believe most likely that an anti-Brexit coalition of Labour, the Liberal Democrats, and smaller parties will win the election.  Leftist Labour Leader Jeremy Corbyn would probably replace Boris Johnson as PM.  While Corbyn espouses anti-market policies, he would be constrained by the Liberal Democrats and other parties in his coalition, who favor free-market policies.
Recent developments
To make a long story short, after Boris Johnson became PM with the support of the Leave wing of the Conservatives, he executed a plan to leave the EU, "deal or no deal," by the October 31 deadline that the EU had granted back in March. After meeting with EU leaders at the G-7 summit promising that he would offer fresh ideas on resolving the Irish border issue, he used a parliamentary procedure to trigger a 5-week suspension of the House of Commons, starting September 12. Opponents to "no deal" Brexit felt that the suspension was a parliamentary trick aimed at compressing the time available to prevent "no deal."
When the Commons returned from its summer break on September 3, a cross-party alliance, including Conservative rebels, voted to seize control over the agenda from the Government – that is, from the PM.  Johnson then expelled the rebels, leaving his remaining Conservatives with only a minority in the Commons. The following day, the Commons voted to instruct the government to request from the EU an extension to January 31. Johnson then tabled a motion for a new general election to be held in October 14, just three days before a key EU meeting and two weeks before the current Brexit deadline. Fearing this motion to be a trick, Labour and other parties rejected the motion, which required a two-thirds vote.  Johnson has had an emotional reaction to the votes, with the result that additional Conservative Party members, including Boris' own brother, are distancing themselves.
Why we believe elections are likely soon after October
Labour and other parties have indicated that they would favor holding a general election after the Brexit extension was secured. While there will be no election in October, we believe that Boris Johnson will ultimately agree to an election some time thereafter. First, he knows that his minority government is already a lame duck. Second, opinion polls currently suggest that the Conservatives would win around 40%-45% of the vote. For Johnson, this is a sufficient level of support to roll the dice on a new election. Third, he knows that his own personal popularity is bound up with concluding Brexit, one way or the other, and if this issue drags on, his popularity will diminish, and he would likely be forced to resign.
What is the likely outcome of the elections?
The Conservatives may win more seats than any other party in such an election. However, it will likely not gather the majority required to form a new government.  Rather, it seems more likely that a coalition of anti-Brexit parties, led by Labour Leader Jeremy Corbyn, would form a new government. The parties within such a coalition (Labour, the Liberal Democrats, the Scottish Nationalists, and the Welsh Nationalists) oppose Brexit and support holding a second Brexit referendum. Moreover, current opinion polling suggests that Remain would solidly prevail. Many UK citizens feel that in 2016 they were misled about the costs of Brexit, and some of these citizens blame Johnson, who was a major Brexit campaigner.
Labour Leader Jeremy Corbyn is a hard-left socialist. His own policy program is anti-market and would be just as bad for the UK as Brexit would be. However, fortunately he will not have free rein. In a multi-party coalition, he would be constrained by the positions of junior partners, particularly the resurgent, pro-free-market, Liberal Democrats. It may well be that the Liberal Democrats would demand that Jo Swinson, their party leader, become Deputy PM within a coalition government. Nevertheless, there are policy risks associated with any government that might be led by Corbyn.
Pound Sterling in U.S. Dollars since Boris Johnson became PM on July 24, 2019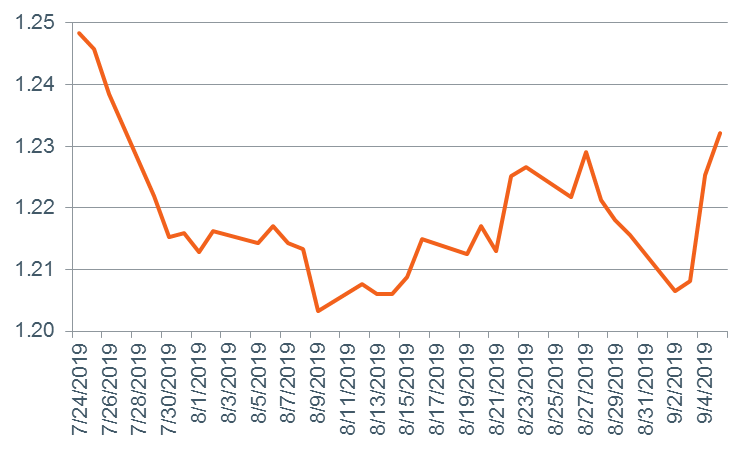 Source: Bloomberg
Data as of September 4, 2019
Core narrative
We currently have a neutral position on developed markets. Contributing to our positioning is uncertainty over the outcome of Brexit. We believe that recent developments make a no-deal Brexit highly unlikely and reduce even the probability of a soft Brexit. However, they do increase the likelihood of new elections producing a government led by hard-left Jeremy Corbyn. While Corbyn may be constrained by the need to work within a coalition, there are still policy risks associated with any government he leads. It may be that we are exchanging one form of market risk for another.
Disclosures
Wilmington Trust is a registered service mark. Wilmington Trust Corporation is a wholly owned subsidiary of M&T Bank Corporation. Wilmington Trust Company, operating in Delaware only, Wilmington Trust, N.A.,  M&T Bank and certain other affiliates, provide various fiduciary and non-fiduciary services, including trustee, custodial, agency, investment management and other services. International corporate and institutional services are offered through Wilmington Trust Corporation's international affiliates. Loans, credit cards, retail and business deposits, and other business and personal banking services and products are offered by M&T Bank, member FDIC.
Facts and views presented in this report have not been reviewed by, and may not reflect information known to, professionals in other business areas of Wilmington Trust or M&T Bank who may provide or seek to provide financial services to entities referred to in this report. M&T Bank and Wilmington Trust have established information barriers between their various business groups. As a result, M&T Bank and Wilmington Trust do not disclose certain client relationships with, or compensation received from, such entities in their reports.
The information on Wilmington Wire has been obtained from sources believed to be reliable, but its accuracy and completeness are not guaranteed. The opinions, estimates, and projections constitute the judgment of Wilmington Trust and are subject to change without notice. This commentary is for information purposes only and is not intended as an offer or solicitation for the sale of any financial product or service or a recommendation or determination that any investment strategy is suitable for a specific investor. Investors should seek financial advice regarding the suitability of any investment strategy based on the investor's objectives, financial situation, and particular needs. Diversification does not ensure a profit or guarantee against a loss. There is no assurance that any investment strategy will succeed.
Past performance cannot guarantee future results. Investing involves risk and you may incur a profit or a loss.