April 2, 2020—As markets continue to fluctuate, it looks as if no asset classes have been spared the COVID-19-driven price hit. Real estate investment trusts (REITs) have struggled along with the broader equity market, despite having outperformed during past periods of stress, including the market drawdown in 4Q 2018.
REITs own, and frequently operate, income-generating real estate. Holdings include a variety of commercial properties, ranging from apartments and office buildings to retail and industrial properties. REITs are listed on stock exchanges, and investors can buy shares, similar to how they would equities.  Depending on the make-up of their holdings, REITs can be either defensive or cyclical—a hotel REIT would generate fluctuating income depending on the macroeconomic environment while apartment buildings would likely see steadier rental levels. REITs are required to pay out at least 90% of taxable income to investors, and many pay out 100%. In times of falling interest rates these dividends look more attractive relative to bonds, and the underlying capital-intensive real estate benefits from the lower cost of capital.
While the recent market drawdown has been challenging, REITs are well positioned to endure short-term price declines. Strong fundamentals and a favorable rate environment should reward investors who are able to stomach the recent volatility.
Recent turmoil
Markets are struggling with how to digest this particular disruption. Quick and painful drops in the market, as well as sharp upswings, have become the new norm in recent weeks. 
REITs have been no exception. As investors began to comprehend the serious nature of the COVID-19 threat, REIT prices fell hard, despite the contractual cash flows of the underlying properties. The speed and magnitude of the fall was driven by the unique nature of this crisis, for which recent history offers no playbook. For instance, as authorities called for widespread closures and restrictions on group gatherings, the potential impacts to traditionally defensive real estate—student housing, offices—were picked up immediately. Hotels, casinos, and retail—more cyclical in nature—also fell as huge swaths of the population canceled trips and activities in favor of staying home. Senior housing REITs also dropped given the vulnerability of tenants to the virus. 
Figure 1: REIT subsector performance YTD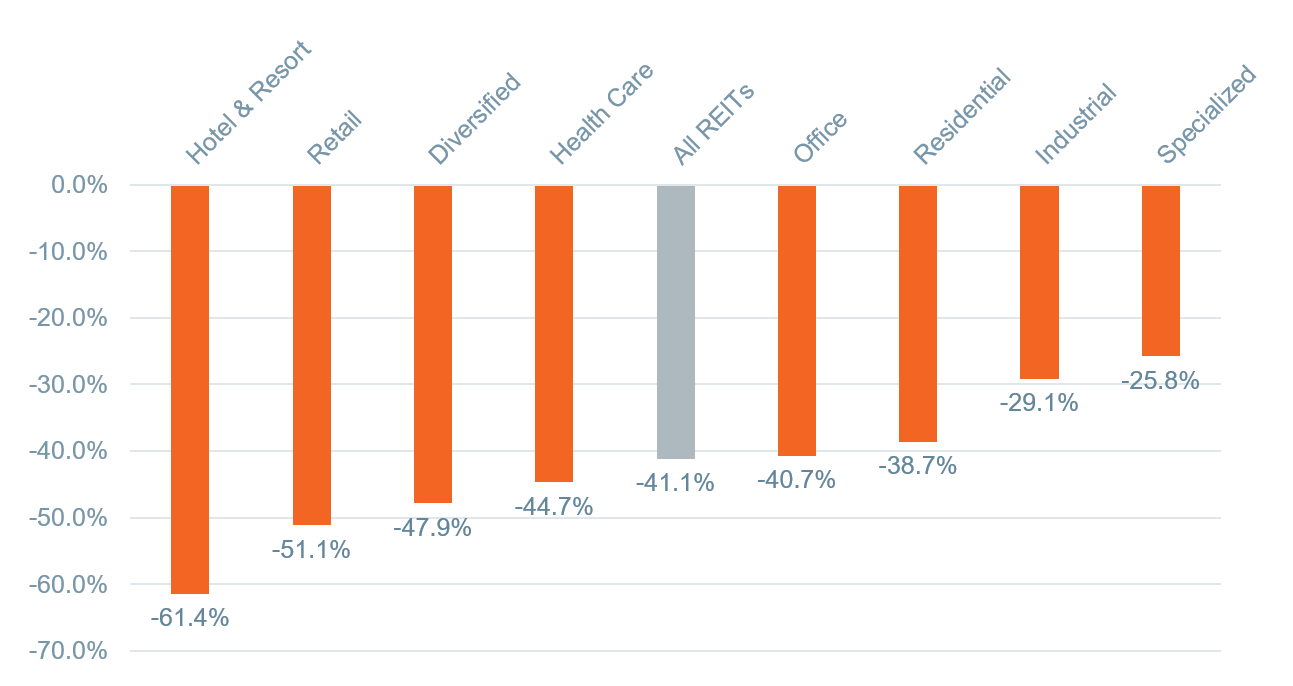 Source: Morningstar. Performance shown for January 1 through March 23, 2020. Sectors are based on the S&P Developed Markets REIT Index.
Strong REIT fundamentals
As seen in other asset classes, though, the REIT sell-off seemingly ignored the strong fundamentals we're seeing on recent balance sheets.
Amid the price decline, it is important to note that, on average, REITs entered this downturn carrying less debt than they were during any other recent crisis (31% debt/asset value and 5.4x debt/EBITDA, versus 46% and 8.0x, respectively in 2008).  What's more, they are now less expensive relative to stocks and bonds, than they were in 2008. Investors can gauge the price attractiveness of REITS based on two key fundamentals: capitalization rates (cap rate, the ratio of net operating income relative to original cost) and funds from operations (FFO). Cap rate spreads relative to bonds are 3.30% and the FFO multiple relative to the S&P price-to-earnings (P/E) multiple is 89%, versus spreads of 1.05% and a one-to-one FFO to P/E ratio in 2008. Further, significantly less new supply has hit the market in recent years relative to the build up to 2008.
While publicly traded REITs have seen a dramatic price decline, underlying property markets, as represented by private real estate transactions, have held up relatively well. During the past weeks, most transactions previously agreed upon have closed, though certain transactions have been pushed out. While prices for properties will likely fall for certain asset types and geographies, it is also likely that transaction volume will slow as market participants digest the impact. Once there is more clarity around the impact of the virus, transaction volume may pick up again, supported by record low interest rates. 
There is also a notable return differentiation within the broader asset class, and a well-diversified REIT fund includes both vulnerable and more resilient subsectors. Hotels, the worst-hit subsector, comprise only a small percentage of the domestic and global REIT indices (Figure 2). REITs like residential apartments, single-family homes, towers, and data centers provide a good counterweight. As more people spend time at home these subsectors become even more essential than before, which should protect value. Fears of missed rent payments from cash-strapped tenants have put pressure on prices, but government relief checks and rental payment plans will likely forestall a complete dry-up of cash flow. Strong operating margins of apartment REITs provide further cushioning, as property-level expenses make up only 30% of revenue, on average. Industrial REITs may even see a macro-driven boost as the need for logistics space increases to support a more highly strained supply chain and increased usage of delivery services. While some REITs are adjusting their 2020 earnings guidance based on short-term expected fallout from the virus, three- to five-year projections remain consistent. 
Figure 2: Domestic and global REIT subsector breakdown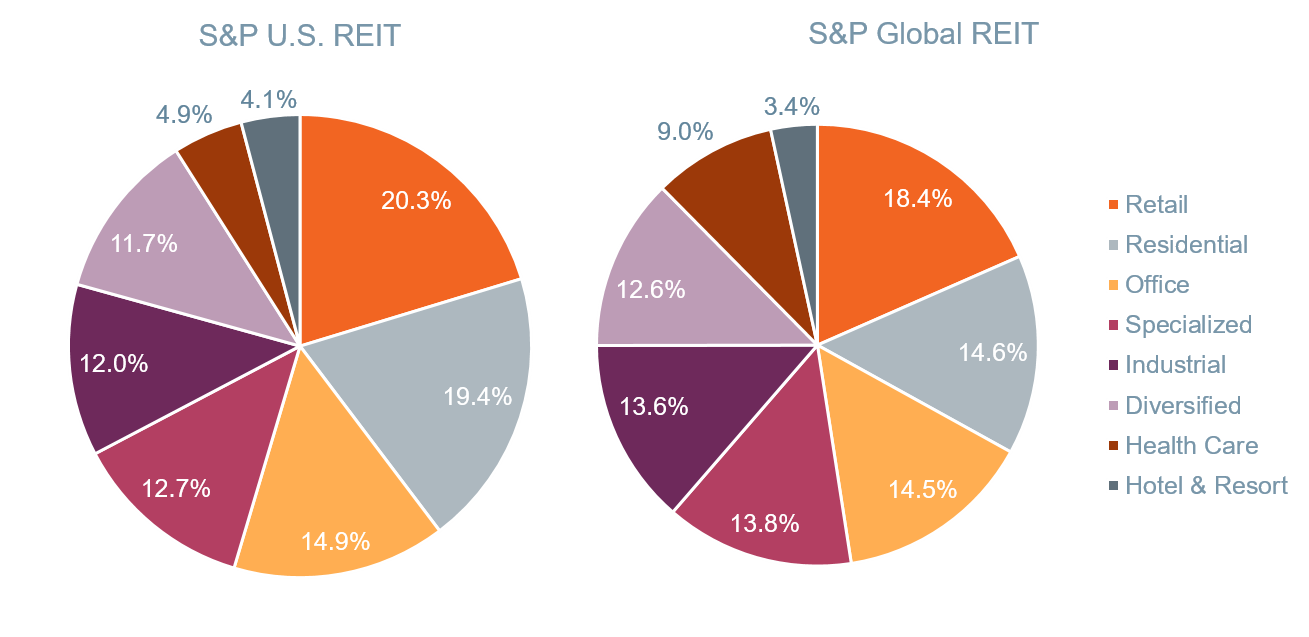 Source: S&P Global Market Intelligence. Data as of March 23, 2020.
From a geographic perspective, remaining diversified across domestic and global REITs could prove beneficial as the virus works its way across the globe. While Asia recovers, REIT values there are expected to behave more defensively just as domestic REITs face the peak of the pandemic. Further, global REITs contain less hotel and senior housing exposure, eliminating some of the potential negative pressure. 
Core narrative
Despite this drawdown, REITs can remain an important component to a well-diversified portfolio. Troubled areas, like hotels and retail, make up a small portion of the overall REIT universe and are offset by sectors such as industrial and apartment which should retain value. As interest rates remain low, real estate should increase in relative value. REIT funds provide an opportunity to invest across a diversified set of properties and receive regular income payments without the hassle of direct investment.
REITs entered this drawdown with some of the strongest fundamentals seen in the sector in the last 20 years. Lower levels of leverage, sustainable cash flows, and lengthy contracts should set high-quality REITs up for solid performance over the longer term.
Disclosures
Wilmington Trust is a registered service mark used in connection with various fiduciary and non-fiduciary services offered by certain subsidiaries of M&T Bank Corporation including, but not limited to, Manufacturers & Traders Trust Company (M&T Bank), Wilmington Trust Company (WTC) operating in Delaware only, Wilmington Trust, N.A. (WTNA), Wilmington Trust Investment Advisors, Inc. (WTIA), Wilmington Funds Management Corporation (WFMC), and Wilmington Trust Investment Management, LLC (WTIM). Such services include trustee, custodial, agency, investment management, and other services. International corporate and institutional services are offered through M&T Bank Corporation's international subsidiaries. Loans, credit cards, retail and business deposits, and other business and
personal banking services and products are offered by M&T Bank, member FDIC. 
Facts and views presented in this report have not been reviewed by, and may not reflect information known to, professionals in other business areas of Wilmington Trust or M&T Bank who may provide or seek to provide financial services to entities referred to in this report. M&T Bank and Wilmington Trust have established information barriers between their various business groups. As a result, M&T Bank and Wilmington Trust do not disclose certain client relationships with, or compensation received from, such entities in their reports.
The information on Wilmington Wire has been obtained from sources believed to be reliable, but its accuracy and completeness are not guaranteed. The opinions, estimates, and projections constitute the judgment of Wilmington Trust and are subject to change without notice. This commentary is for information purposes only and is not intended as an offer or solicitation for the sale of any financial product or service or a recommendation or determination that any investment strategy is suitable for a specific investor. Investors should seek financial advice regarding the suitability of any investment strategy based on the investor's objectives, financial situation, and particular needs. Diversification does not ensure a profit or guarantee against a loss. There is no assurance that any investment strategy will succeed.
Past performance cannot guarantee future results. Investing involves risk and you may incur a profit or a loss.
© 2020 M&T Bank Corporation and its subsidiaries. All rights reserved.