December 15, 2020—Technology companies were the undisputed darlings of the equity market in 2020, benefiting from a structural acceleration of technological adoption that resulted in strong organic growth in a weak economic environment. As we highlighted in our recent blog post, "Big Tech in Perspective: Making sense of valuations and expanding market share of mega-cap technology stocks," the five largest tech giants (Facebook, Apple, Amazon, Alphabet, Microsoft) have outperformed the S&P 500 by nearly 300% since 2015 and swelled to 20% of the index by market cap, the highest share captured by five companies in at least three decades.
We argued, and still believe, that the group's large presence has been earned, after delivering an abundance of groundbreaking products and services over the years and generating earnings growth roughly double that of the broader market. As we enter a new year with a new presidential administration, the winds may be starting to shift, presenting some new challenges to the tech sector in the form of increased regulation. Will this veil of policy uncertainty be enough to knock big tech off its throne?
Increasing scrutiny of big tech's dominance–how did we get here?
The last four years brought a dramatic shift in government attitudes toward big tech, from a relatively hands-off approach under President Obama to a more confrontational stance under President Trump. Bipartisan frustrations with the increasing market power of the tech titans prompted the House Judiciary Committee to launch a 16-month investigation of Amazon, Apple, Facebook, and Google into whether their dominant foothold in their respective industries and the operational structure of company platforms stifles the ability of smaller firms to effectively compete. The past few months have yielded the fruits of Congress's labor, including recent suits filed against Google and Facebook, and a 449-page report from the House Antitrust Subcommittee in October recommending sweeping changes to antitrust law.
A "blue wave," with Democrats winning the White House and taking decisive control of both chambers of Congress, would likely have presented the greatest regulatory threat to technology companies. With Democrats setting the agenda in the Senate with a substantial majority of votes, some of the more aggressive proposals, such as those calling for the breakup of large tech firms could have had a viable path to the Senate floor. However, with a Biden/Harris administration and either a divided or narrowly controlled Congress, any rewrite of antitrust law will likely require some degree of bipartisan cooperation. Looking forward, the magnitude of potential change within the remaining spectrum of possibilities hinges upon control of the Senate (to be determined by two critical runoff elections in January), key personnel appointments, and the White House's ranking of legislative priorities.
Figure 1: Big tech has been subject to heightened antitrust scrutiny in 2020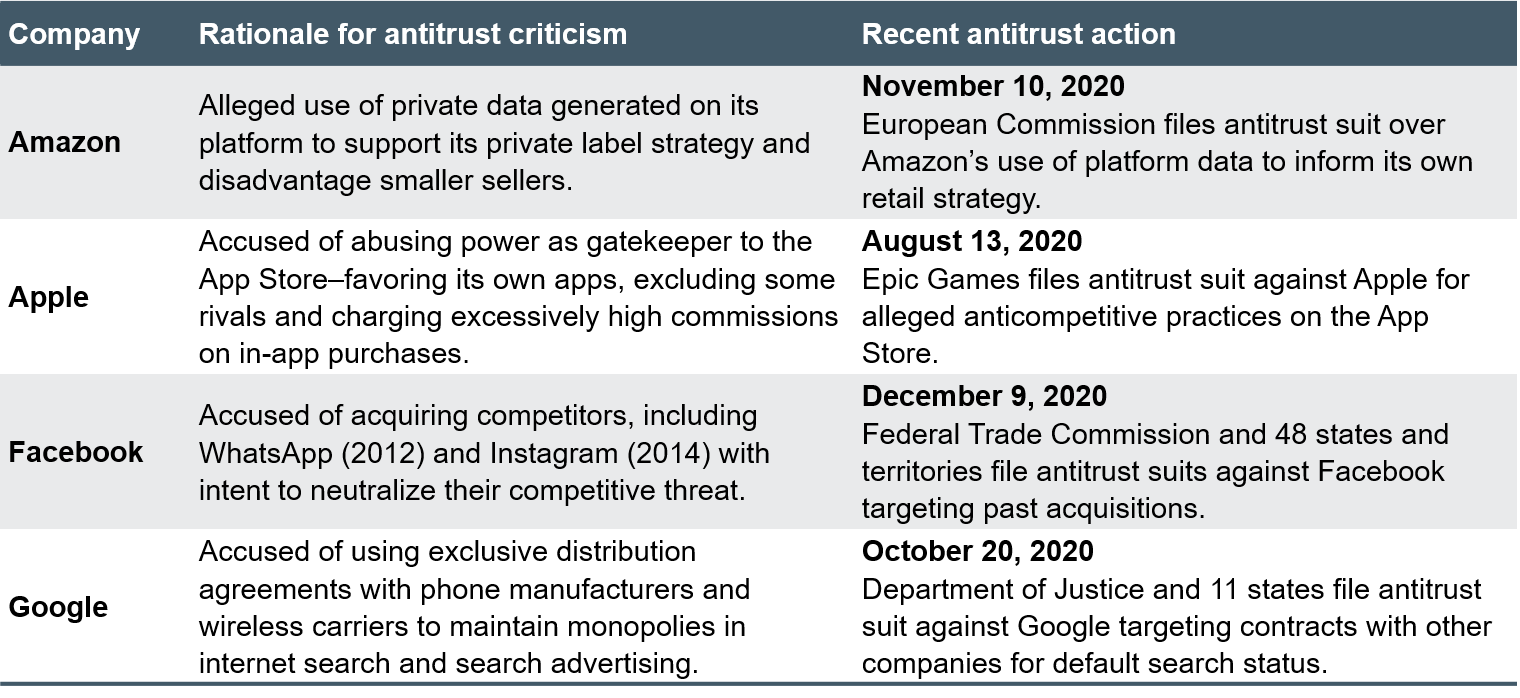 Magnitude of change to antitrust law dependent on Senate control
The Senate's pivotal role in the antitrust arena is twofold. First, Biden's appointments of key personnel, including top jobs at the Department of Justice (DOJ) and Federal Trade Commission (FTC), which largely set the tempo and direction of antitrust enforcement, must be approved by the Senate. In the event of gridlock, appointees with more radical views would likely face a prohibitive amount of resistance. If Republicans maintain control, currently the consensus expectations, or even if Democrats gain control with a slim majority, Biden's picks are likely to be more moderate to appease both parties and garner the necessary votes.
Second, the need for 60 votes to ensure a bill's passage (60 votes required to end a filibuster, an extended debate that can delay a final vote indefinitely), likely rules out the more ambitious proposed regulatory changes posing the most significant threat for big tech. While there is bipartisan support for legislative change to better police large technology firms, there is a lack of consensus over how antitrust law should change to do so. For example, Republicans and Democrats of the House Antitrust Subcommittee released separate versions of their October report.
The bolder report from Democrats called for a fundamental shift in the principles guiding antitrust rulings, and recommended harsher penalties, including the breakup of big tech offenders and major restrictions on merger and acquisition activities.
In contrast, Republicans outlined more moderate tweaks to current law and expressed greater concern with how big tech allegedly uses its position in the marketplace to censor speech, which had not been targeted by Democrats.
A few areas did receive support from both parties, such as increasing funding for the government's two antitrust enforcers, the DOJ and FTC, moderately increasing scrutiny of mergers, and enhancing customers' abilities to transfer digital data from one platform to another. Bipartisan policies of this sort are likely more realistic over the next two years, but of course, it remains to be seen if these agenda items will be prioritized.
Tech regulation not a top agenda item under Biden
Technology regulation hasn't been an explicit area of focus for Biden, who has generally held a more moderate stance on antitrust issues, although he has expressed frustration with the internet giants' moderation of content online. Despite Biden vowing to "get tough on big tech" on the campaign trail, his grievances have generally centered on the low tax rates paid by large technology firms. What seems clear at this point is that more pressing items—such as delivering further stimulus—appear to rank higher on Biden's legislative priorities. Biden and Harris's newly created transition website outlines their top priorities as they take the reins in 2021, including, harnessing the COVID-19 pandemic, economic recovery, racial equity, and climate change. Antitrust reform is notably absent from this list, which highlights an important point: Every administration enters the White House with a lengthy collection of policy proposals and must determine the short list of items on which to center their efforts. Where antitrust reform stands on that list is uncertain, but the impetus is more likely to come from Congress, and with more bold changes seemingly off the table given the projected control in the Senate, we don't see antitrust reform as an immediate concern for big tech.
Can big tech continue to thrive in 2021?
Federal agencies and state legislators have laid the groundwork for a continued flow of antitrust suits targeting large technology firms in the near term, including those launched most recently against Google and Facebook. However, the diminished likelihood of corporate tax increases under a divided or tightly controlled Congress, which, in our view, would have posed a more formidable threat, is likely an offsetting positive for the sector. Another key point is that antitrust cases take a long time to litigate. The Microsoft case in 1998, for instance, was part of a back-and-forth exchange with the DOJ that lasted the better part of ten years and the case took three years from filing to final settlement. While the current case against Google and others that may follow could eventually have negative implications, the process will take time and it's likely too early to know or price in the potential impact.
It is important to consider that the five largest tech companies have diversified business models, with multiple profit engines. As an example, Google and Amazon's cloud businesses, which are not the main targets of regulators, are among their fastest-growing and most profitable segments. Amazon's cloud business accounted for a majority of its operating income in 2019. In the near term, the potential for positive vaccine news and expectations for a swifter economic recovery may pose the risk of a short-term rotation out of big tech, which has been viewed as a safe haven, in favor of more economically sensitive segments. However, from a fundamental perspective we see no reason why recent growth drivers and supportive tailwinds that have fueled big tech's surge this year—including accelerated digital transformation, above-average expected growth rates and resilient business models—will be any less powerful over the next two years.
Core narrative
The recent pickup in antitrust scrutiny poses a potential long-term risk for big tech and will be important to monitor closely, but in our view doesn't hinder the investment prospects of the group in the near-to-medium term. We continue to view increasing use of the cloud, e-commerce, and technology more broadly as sustainable drivers of growth that are likely to persist well beyond the pandemic, and we discuss these themes and more in our 2021 Capital Markets Forecast. We continue to have a positive view on technology and cloud software companies but are hesitant to add to these areas of the market in the near term. Positive vaccine news and the potential for a return to normal in 2021 have led to a rotation from mega-cap tech into value that could persist, at least intermittently, over the coming months. We are diversifying across equity factors and hold a slight overweight to equities overall.
Disclosures
Wilmington Trust is a registered service mark used in connection with various fiduciary and non-fiduciary services offered by certain subsidiaries of M&T Bank Corporation including, but not limited to, Manufacturers & Traders Trust Company (M&T Bank), Wilmington Trust Company (WTC) operating in Delaware only, Wilmington Trust, N.A. (WTNA), Wilmington Trust Investment Advisors, Inc. (WTIA), Wilmington Funds Management Corporation (WFMC), and Wilmington Trust Investment Management, LLC (WTIM). Such services include trustee, custodial, agency, investment management, and other services. International corporate and institutional services are offered through M&T Bank Corporation's international subsidiaries. Loans, credit cards, retail and business deposits, and other business and personal banking services and products are offered by M&T Bank, member FDIC.
Facts and views presented in this report have not been reviewed by, and may not reflect information known to, professionals in other business areas of Wilmington Trust or M&T Bank who may provide or seek to provide financial services to entities referred to in this report. M&T Bank and Wilmington Trust have established information barriers between their various business groups. As a result, M&T Bank and Wilmington Trust do not disclose certain client relationships with, or compensation received from, such entities in their reports.
The information on Wilmington Wire has been obtained from sources believed to be reliable, but its accuracy and completeness are not guaranteed. The opinions, estimates, and projections constitute the judgment of Wilmington Trust and are subject to change without notice. This commentary is for informational purposes only and is not intended as an offer or solicitation for the sale of any financial product or service or a recommendation or determination that any investment strategy is suitable for a specific investor. Investors should seek financial advice regarding the suitability of any investment strategy based on the investor's objectives, financial situation, and particular needs. Diversification does not ensure a profit or guarantee against a loss. There is no assurance that any investment strategy will succeed.
Past performance cannot guarantee future results. Investing involves risk and you may incur a profit or a loss.
The gold industry can be significantly affected by international monetary and political developments as well as supply and demand for gold and operational costs associated with mining.
Indexes are not available for direct investment.
Reference to the company names mentioned in this example is merely for explaining the market view and should not be construed as investment advice or investment recommendations of those companies. Third party trademarks and brands are the property of their respective owners.
©2020 M&T Bank Corporation and its subsidiaries. All rights reserved.