October 6, 2016–This post is intended to explore two separate but connected issues:
Is a Commodity Research Board Index a good proxy for World economic growth?
What are the implications for Emerging Markets?
Commodity Research Board Raw Industrials Index
First, it's a bit strange to be writing about commodities and their importance on the same day that West Texas Intermediate surpassed a psychological threshold of $50 for the first time in more than three months, and not be writing about oil. I'm writing about other commodities. The CRB has several indexes that track different categories of commodities including metals, textiles & fibers, livestock, as well as fats & oils. Their raw industrials (RI) index brings together the metals index, textiles & fibers, and just one item (hides) out of livestock. It does not include the food categories. Importantly, the index does not include crude oil so is not subjected to the vagaries of that market which is influenced heavily by significant speculation, financial engineering, and a "wannabe" cartel.
The CRB collects prices for each of the components from various markets, all in the U.S. so all are priced in dollars. The details can be found on their website. The items in the index are produced in a wide number of countries and are used worldwide, so truly represent a world market.
A first question is whether the CRB RI might be a good proxy for global economic growth. The chart below shows the year-over-year change in the index compared to real global gdp growth as amalgamated by the IMF. The notable features of the chart include a loose tracking of the two items and several points when the CRB RI led world GDP growth in a change of direction. Also of note is the recent uptick in the CRB RI. In level terms the CRB RI bottomed out in November of 2015 and has been moving up fairly steadily since. It is a daily index and through October 5, 2016 was up 7.1% y/y.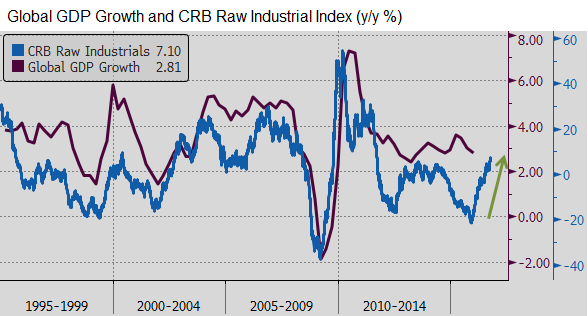 Source: Bloomberg
By contrast, the global GDP figure is only available through 2015Q4, when it measured just 2.8%. The biggest challenges with GDP data are of course that they're atrociously challenging to calculate, and that they are significantly delayed. If you were to accept that the CRB RI index is a helpful proxy for global growth, then it would be encouraging that it has improved sharply since the end of 2015 through today.
What does it mean for Emerging Markets?
If the CRB RI is signaling good things for the world economy, then there is an argument for being relatively more optimistic for emerging markets (EM). EM countries generally have a higher beta to growth both in economic and financial market terms. The market is often focused on crude oil and the implications for EM energy exporters, but many emerging markets also export significant amounts of materials such as those in the CRB RI.
The chart below shows the CRB RI indexed to November 24, 2015 when it reached its low for this cycle. Note that this bottoming out came 2 months before the bottoming out of crude oil, and that the CRB RI rose fairly steadily through the market turmoil of January and February 2016. The MSCI Emerging Markets equity index is also shown, and is indexed to its low, registered on January 21, 2016. Since bottoming out it has rallied about 33%. As of October 5, the CRB RI is up about 16% from its low.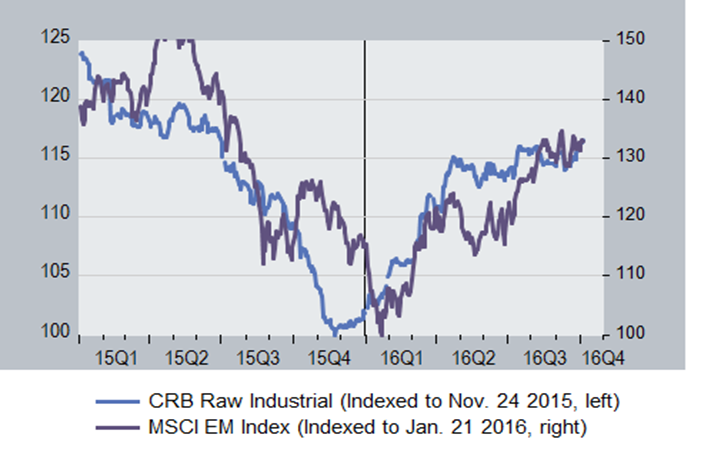 Source: Bloomberg; WTIA
The MSCI EM index is in dollar terms and is of course the combination of many individual markets. The table below shows regression analysis of individual equity markets included in the MSCI EM index in their local currencies. The regression analysis is of y/y% changes in the country's equity index regressed on the y/y% change in the CRB RI. The adjusted r-square column shows that each of the equations has a very good fit, and the coefficient column shows how sensitive the equity market is to the CRB RI. For example, China's coefficient of 0.76 indicates that when the CRB RI moves up 1% y/y, China's equity market moves up 0.76% on average. The t-stat column merely shows that for the most part, the estimates are statistically significant.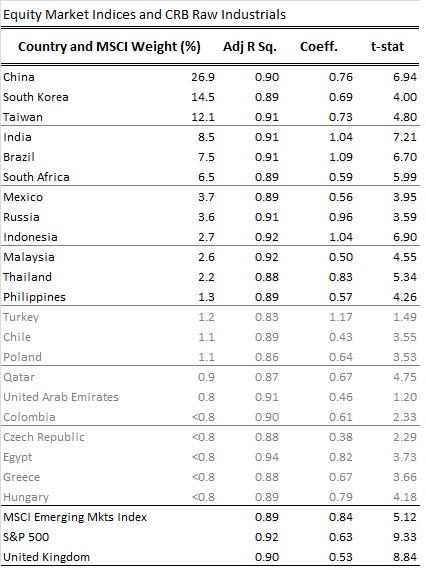 Source: Bloomberg; WTIA
Core Narrative
The CRB RI might be a good proxy for world economic growth, and if so, it is quite handy because it is available on a daily basis and comes from reliable market sources. It bottomed out way back in November of 2015, and managed to keep moving up through the market turmoil of January and February 2016, including the rout in crude oil prices. As it has continued to move up this year, equity markets in EM countries as well as much of their economic data (trade, inflation, currencies, etc.) have improved too. This has been supportive of our recent move to close the underweight in emerging markets.
Disclosures
Wilmington Trust is a registered service mark. Wilmington Trust Corporation is a wholly owned subsidiary of M&T Bank Corporation. Investment management and fiduciary services are provided by Wilmington Trust Company, operating in Delaware only, and Wilmington Trust, N.A., a national bank. Loans, retail and business deposits, and other personal and business banking services and products are offered by Manufacturers and Traders Trust Company (M&T Bank), member FDIC. Wilmington Trust Investment Advisors, Inc., a subsidiary of M&T Bank, is a SEC-registered investment adviser providing investment management services to Wilmington Trust and M&T affiliates and clients.
These materials are based on public information. Facts and views presented in this report have not been reviewed by, and may not reflect information known to, professionals in other business areas of Wilmington Trust or M&T Bank who may provide or seek to provide financial services to entities referred to in this report. M&T Bank and Wilmington Trust have established information barriers between their various business groups. As a result, M&T Bank and Wilmington Trust do not disclose certain client relationships with, or compensation received from, such entities in their reports.
The information on Wilmington Wire has been obtained from sources believed to be reliable, but its accuracy and completeness are not guaranteed. The opinions, estimates, and projections constitute the judgment of Wilmington Trust and are subject to change without notice. This commentary is for information purposes only and is not intended as an offer or solicitation for the sale of any financial product or service or a recommendation or determination that any investment strategy is suitable for a specific investor. Investors should seek financial advice regarding the suitability of any investment strategy based on the investor's objectives, financial situation, and particular needs. Diversification does not ensure a profit or guarantee against a loss. There is no assurance that any investment strategy will succeed.
Any investment products discussed in this commentary are not insured by the FDIC or any other governmental agency, are not deposits of or other obligations of or guaranteed by M&T Bank, Wilmington Trust, or any other bank or entity, and are subject to risks, including a possible loss of the principal amount invested. Some investment products may be available only to certain "qualified investors"—that is, investors who meet certain income and/or investable assets thresholds. Past performance is no guarantee of future results. Investing involves risk and you may incur a profit or a loss.
Any positioning information provided does not include all positions that were taken in client accounts and may not be representative of current positioning. It should not be assumed that the positions described are or will be profitable or that positions taken in the future will be profitable or will equal the performance of those described. Positions described are illustrative and not intended as a recommendation outside of a managed account.
Indices are not available for direct investment. Investment in a security or strategy designed to replicate the performance of an index will incur expenses, such as management fees and transaction costs that would reduce returns.
Third party trademarks and brands are the property of their respective owners.
Contact an Expert