November 2, 2017— Technological advances have fundamentally changed the way our society exchanges goods and services and have paved the way for the rise of the "gig economy." This type of economy is mainly made up of flexible jobs that are usually short term in nature and are composed mostly of independent contractors and freelancers instead of full-time employees—think about the Ubers, Lyfts, and Airbnbs of the world. The effects of gig economies on wages and inflation can already be seen today, but these effects have the potential to become much more pronounced in the future.
The number of people currently employed by the gig economy is extremely difficult to determine. Government agencies often have a difficult time collecting data from these cohorts and there are very few studies and surveys that agree on the number of gig workers currently employed under the gig economy. The McKinsey Global Institute (MGI) estimated the gig economy workforce to be between 54 and 69 million people in the United States, or about 27% of the working-age population.
Uber alone had grown to over 600,000 drivers in the United States by the end of 2016, which is nearly three times the number of taxi drivers and chauffeurs in the United States in 2014. Lyft had about 700,000 drivers by the end of 2016, which was double the number from the prior year. Airbnb has reached over 4 million listings worldwide, which are more listings than the top five hotel brands combined, with listings in the U.S. surpassing the 660,000 mark.
Gig economies and wages
The rise of the gig economy has made the supply of labor more efficient. Technology has enabled companies to adjust the supply of labor in a matter of seconds based on supply and demand characteristics. It has made some service providers more efficient since they no longer have an excess supply of labor. For example, Uber does not have to pay drivers when they sit idle in traffic or when they wait for passengers to request their services. The supply of drivers depends largely on the demand of the passengers requesting these services.
Gig economies can also make it easier to find a job. Sometimes finding a job is as easy as downloading an app and passing a quick inspection. This ease of entry into the workforce could cause the unemployment rate to decrease. Normally, we would expect that the current low unemployment rate of 4.2% would exert upward pressure on wages as employers compete for labor. Figure 1 demonstrates that this has not been the case. While wages have increased slightly, it has been marginal.
Figure 1: Change in earnings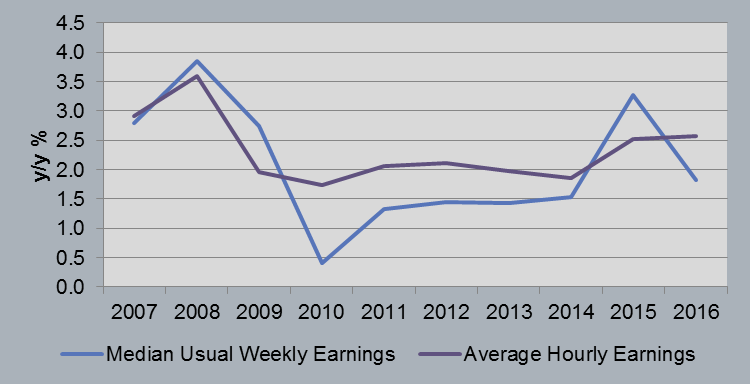 Data as of December 31, 2016
Source: Bloomberg
Median Usual Weekly Earnings (MUWE) are calculated using the Current Population Survey conducted by the U.S. Census and the Bureau of Labor Statistics (BLS). It can include workers who self-identify as meeting the gig worker criteria. Average Hourly Earnings (AHE) are calculated through the Establishment Survey conducted by the BLS. This survey only includes workers that are officially on payrolls for establishments and therefore excludes gig workers. The fact that the MUWE earnings line is usually below the AHE line could have something to do with the rise of technology platforms that facilitate gig work. For context, Airbnb was founded in 2008, Uber was founded in 2009, and Lyft was founded in 2012.
One reason why wages have not increased more rapidly could be because workers for most gig economy companies are considered independent contractors, not employees. They do not qualify for basic protections like overtime pay and minimum wages. Low unemployment no longer leads to rapid wage increases. We can see this as being the case with the MUWE line trailing the AHE line fairly consistently since 2010.
Gig economies and inflation
The fact that wages have not been steadily increasing suggests that inflation is not coming from wage increases. Since the gig economy mostly deals with services, the natural progression is to analyze whether inflation is being subdued by cheaper services.
For example, Airbnb has made it more affordable to take vacations. Figure 2 shows the average hotel and Airbnb price rates for some popular cities in the United States. Airbnb offers less favorable prices to customers in the South, but beats prices in the Northeast and the Pacific Northwest.
Figure 2: Average hotel and Airbnb rates in popular cities (daily rates for all room types)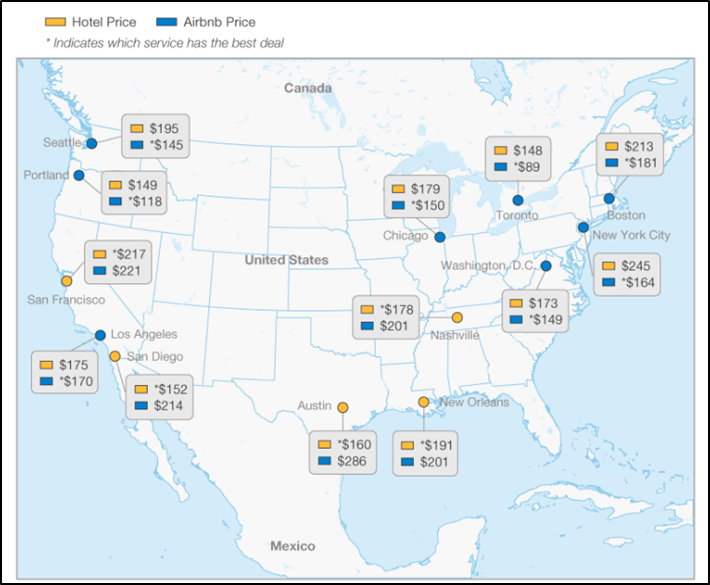 Source: busbud.com
Historically, the services side of the economy has been the main contributor to inflation with consumers spending only about one-third on goods and the remaining consumption being spent on services. This weight of services and goods in the Consumer Price Index (CPI) has widened over time as can be seen in Figure 3.
Figure 3: Weight in the Consumer Price Index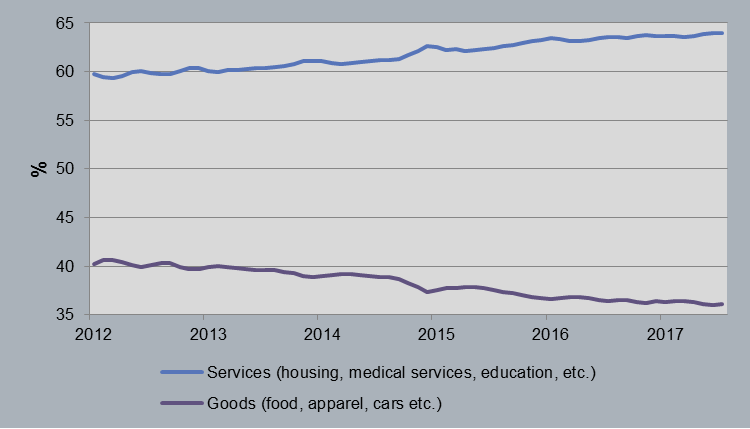 Data as of September 30, 2017
Source: Bloomberg
Additionally, the recent slowdown in CPI inflation can be attributed mainly to a decline in the services component of the index as can be seen in the Figure 4. This trend could potentially continue as gig workers continue to make up a larger portion of the labor force.
Figure 4: Consumer Price Index (CPI)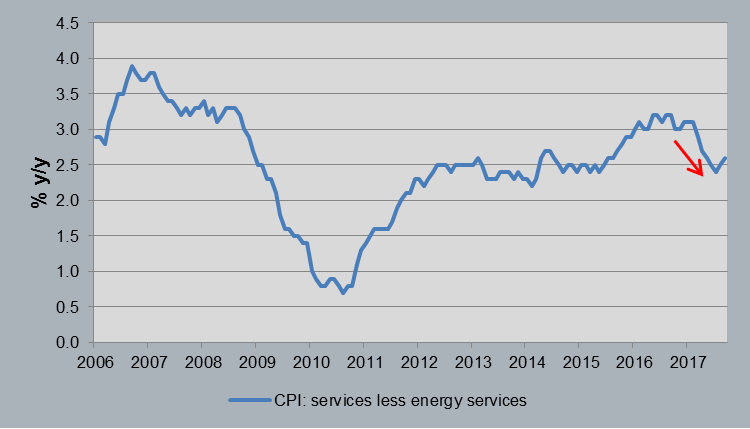 Data as of September 30, 2017
Source: Bloomberg
Core narrative
Both inflation and wage growth have been lower in the current economic recovery compared to previous expansions. There is not a consensus for the reason, but it is possible that the gig economy and its workers are playing a part. It is quite difficult to conclude the type of role that gig economies have in determining inflation given the limited data available for this cohort. The Bureau of Labor Statistics published some figures on contingent and alternative work arrangements back in 2005 with more recent figures set to be published in early 2018. One thing that is certain is that gig economies are disrupting the way we consume goods and services and making the supply of labor more efficient. If this group of people continues to increase in size through the facilitation of technology platforms, the impact has the potential to become much larger in the future. The effects of gig economies on wages and inflation are something that we will continue to monitor very closely.
Disclosures
Wilmington Trust is a registered service mark. Wilmington Trust Corporation is a wholly owned subsidiary of M&T Bank Corporation. Wilmington Trust Company, operating in Delaware only, Wilmington Trust, N.A., M&T Bank and certain other affiliates, provide various fiduciary and non-fiduciary services, including trustee, custodial, agency, investment management and other services. International corporate and institutional services are offered through Wilmington Trust Corporation's international affiliates. Loans, credit cards, retail and business deposits, and other business and personal banking services and products are offered by M&T Bank, member FDIC.
These materials are based on public information. Facts and views presented in this report have not been reviewed by, and may not reflect information known to, professionals in other business areas of Wilmington Trust or M&T Bank who may provide or seek to provide financial services to entities referred to in this report. M&T Bank and Wilmington Trust have established information barriers between their various business groups. As a result, M&T Bank and Wilmington Trust do not disclose certain client relationships with, or compensation received from, such entities in their reports.
The information on Wilmington Wire has been obtained from sources believed to be reliable, but its accuracy and completeness are not guaranteed. The opinions, estimates, and projections constitute the judgment of Wilmington Trust and are subject to change without notice. This commentary is for information purposes only and is not intended as an offer or solicitation for the sale of any financial product or service or a recommendation or determination that any investment strategy is suitable for a specific investor. Investors should seek financial advice regarding the suitability of any investment strategy based on the investor's objectives, financial situation, and particular needs. Diversification does not ensure a profit or guarantee against a loss. There is no assurance that any investment strategy will succeed.
Any investment products discussed in this commentary are not insured by the FDIC or any other governmental agency, are not deposits of or other obligations of or guaranteed by M&T Bank, Wilmington Trust, or any other bank or entity, and are subject to risks, including a possible loss of the principal amount invested. Some investment products may be available only to certain "qualified investors"—that is, investors who meet certain income and/or investable assets thresholds. Past performance is no guarantee of future results. Investing involves risk and you may incur a profit or a loss.
Any positioning information provided does not include all positions that were taken in client accounts and may not be representative of current positioning. It should not be assumed that the positions described are or will be profitable or that positions taken in the future will be profitable or will equal the performance of those described. Positions described are illustrative and not intended as a recommendation outside of a managed account.
Indices are not available for direct investment. Investment in a security or strategy designed to replicate the performance of an index will incur expenses, such as management fees and transaction costs that would reduce returns.
Third-party trademarks and brands are the property of their respective owners.
Contact an Expert