Will the UK and EU Reach a New Free Trade Agreement?
September 21, 2020—UK Prime Minister Boris Johnson recently introduced the Internal Market Bill (the Bill) into Parliament, which conflicts with the UK-EU divorce agreement (officially the withdrawal agreement). The Bill threatens to derail ongoing UK-EU negotiations on a free trade agreement (FTA) and has also provoked widespread outrage (in the UK, EU, and even the U.S.) that the UK would be violating international law and even threatening peace in Northern Ireland. This Wilmington Wire explains the Bill and its potential implications for successful completion of a free trade agreement.
Negotiations on a new free trade agreement (FTA)
On February 1, 2019, the UK formally exited the EU, almost three years after the Brexit referendum. Under the UK-EU withdrawal agreement, there is a transition period lasting through December 31, 2020. During this period, the UK and EU agreed to negotiate a free trade agreement (FTA), one that would be looser than the current EU single market, which applies a common set of quality and health standards and restrictions on state subsidies to business across the entire trading bloc. It is very much in the common interests of both the UK and the EU to conclude such an agreement; otherwise, commerce between these neighboring economies would revert to World Trade Organization (WTO) rules.
The bilateral negotiations got off to a slow start, beginning only in early 2020, and were subsequently hampered by the spread of COVID-19 in Europe. Initially, the two parties were very far apart. The UK wanted a relatively nonintrusive FTA like the one the EU has with Canada. However, the EU demanded that any agreement continue to apply much of the single market's regulatory regime, pointing out that the EU has much larger trade with the nearby UK than with distant Canada.
The free trade negotiations have been carried out both in public and in private. In public fora, both sides have decried a lack of progress on key issues and have issued dire warnings that the end-December deadline will be missed. However, in private, the two sides have made considerable progress. Reportedly, there are only two major substantive areas left to negotiate: fisheries and state subsidies. Additionally, they are discussing procedures for adjudicating disputes under the FTA. These are contentious matters, and it may take weeks or months to resolve any differences.
Internal Market Bill—an option if FTA negotiations fail
On September 9, PM Johnson tossed a wrench (or a "spanner", as the English would say) into FTA negotiations by introducing the Bill into Parliament.
This Bill contemplates the possibility that the UK and EU would fail to complete an FTA by year's end. At that point, under the UK's principle of "devolution," the regulatory powers now exercised by the EU would shift not to the UK Parliament but rather to the UK's four regional governments: Northern Ireland, Scotland, Wales, and Greater London. This creates the possibility that regulations passed by one region would conflict with those of other regions, causing regulatory fragmentation across the UK.
The Bill aims to prevent this problem by requiring regional governments to accord mutual recognition to each other's regulations, which would encourage internal market harmonization. While the Bill sounds like good public policy, it also conflicts with the Northern Ireland provisions of the UK-EU withdrawal agreement, thus provoking claims that the UK would be violating international law.
The withdrawal agreement requires Northern Ireland to continue to apply certain EU regulations that already apply to the Republic of Ireland, even after the transition period expires after December 2020. By applying such EU regulations to Northern Ireland, the undulating land border with the Republic of Ireland can remain completely open to commerce, benefitting Irelanders on both sides of the border.
However, to the extent the UK regions' regulations differ from the EU's, the withdrawal agreement would necessitate limited customs checks between Northern Ireland and the rest of the UK. Many UK Conservatives find such customs checks to be an abysmal EU infringement of UK sovereignty. The Bill aims to prevent that possible outcome by forcing the Northern Ireland government to allow the commercial regulations of other UK regions to supersede these EU regulations. Consequently, the Bill aims to bring Northern Ireland fully into its own internal market should FTA negotiations fail.
A critical consideration for PM Johnson is that a new Northern Ireland government was formed in January 2020, after a three-year hiatus. Under the 1998 Good Friday peace agreement, Northern Ireland's government involves power-sharing between Protestant Unionists (who generally favor close ties with the UK) and Catholic Irish Nationalists (who generally favor close ties with the Republic of Ireland). Despite their differences, both groups share a strong commitment to maintaining an open land border with the Republic of Ireland, which they feel is essential to the prosperity of Northern Irelanders. Thus, it is possible that the Northern Ireland government may be more inclined to use its devolved regulatory authority to prioritize EU commercial relations over those with the UK. The Bill aims to foreclose that possibility.
Because the Bill violates the withdrawal agreement, its introduction has been widely condemned. In its current form, the Bill may have insufficient support for passage in the House of Commons and would almost certainly be rejected in the House of Lords.
However, PM Johnson's intent is not necessarily to get a bill enacted immediately, but rather to exhibit the kind of bill that Parliament may enact if FTA negotiations fail, even if such a law were to override provisions of the withdrawal agreement. Along the same lines, he is also threatening to expand UK subsidies to businesses should FTA negotiations fail in order to support UK businesses against EU competition. Essentially, Johnson is using threats to try to advance the negotiations and leverage the UK's bargaining power.
Even while vociferously complaining about the Bill in public, the EU understands the PM's intent. Thus, the EU agreed to resume FTA negotiations on September 28. We believe that private FTA negotiations will continue to discuss the more difficult items, such as fisheries and state subsidies to business. We also anticipate additional public warnings about the impending failure of the talks. Even if the negotiations do not conclude by end-December, we would anticipate a last-minute extension to the deadline to permit completion.
Core narrative
In our tactical asset allocation, we are underweight equities in general, but equal-weight international developed markets, which include the UK and EU. We do not envision any significant political problems in Europe (or in Japan, which has a new PM), for the remainder of 2020 and going into 2021. While Europe appears to be facing a COVID-19 fall/winter resurgence, so might the United States, as well. European equities are more cyclical in nature than U.S. equities (which are heavily weighted toward technology stocks), thus positioning them well for any economic recovery based on COVID-19 vaccine development and distribution.
Pound Sterling (GBP/USD) since Brexit Referendum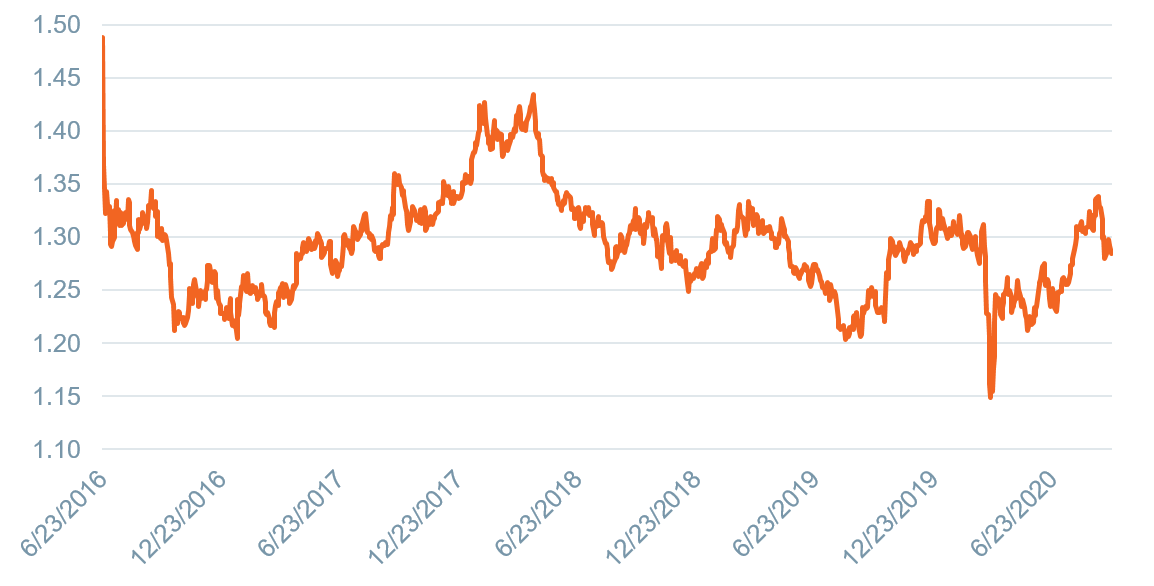 Source: Bloomberg. Data as of September 21, 2020.
Disclosures
Wilmington Trust is a registered service mark used in connection with various fiduciary and non-fiduciary services offered by certain subsidiaries of M&T Bank Corporation including, but not limited to, Manufacturers & Traders Trust Company (M&T Bank), Wilmington Trust Company (WTC) operating in Delaware only, Wilmington Trust, N.A. (WTNA), Wilmington Trust Investment Advisors, Inc. (WTIA), Wilmington Funds Management Corporation (WFMC), and Wilmington Trust Investment Management, LLC (WTIM). Such services include trustee, custodial, agency, investment management, and other services. International corporate and institutional services are offered through M&T Bank Corporation's international subsidiaries. Loans, credit cards, retail and business deposits, and other business and personal banking services and products are offered by M&T Bank, member FDIC.
Facts and views presented in this report have not been reviewed by, and may not reflect information known to, professionals in other business areas of Wilmington Trust or M&T Bank who may provide or seek to provide financial services to entities referred to in this report. M&T Bank and Wilmington Trust have established information barriers between their various business groups. As a result, M&T Bank and Wilmington Trust do not disclose certain client relationships with, or compensation received from, such entities in their reports.
The information on Wilmington Wire has been obtained from sources believed to be reliable, but its accuracy and completeness are not guaranteed. The opinions, estimates, and projections constitute the judgment of Wilmington Trust and are subject to change without notice. This commentary is for informational purposes only and is not intended as an offer or solicitation for the sale of any financial product or service or a recommendation or determination that any investment strategy is suitable for a specific investor. Investors should seek financial advice regarding the suitability of any investment strategy based on the investor's objectives, financial situation, and particular needs. Diversification does not ensure a profit or guarantee against a loss. There is no assurance that any investment strategy will succeed.
Past performance cannot guarantee future results. Investing involves risk and you may incur a profit or a loss.
The gold industry can be significantly affected by international monetary and political developments as well as supply and demand for gold and operational costs associated with mining.
Indexes are not available for direct investment.
©2020 M&T Bank Corporation and its subsidiaries. All rights reserved.