December 11, 2017—This year's holiday season is more frenetic than usual, with investors getting an added dash of craziness in the form of a major federal tax overhaul, a feat last achieved in 1986. That last rewrite was a bipartisan effort between President Reagan and the Democrat-controlled House and Senate, and evolved over the course of nearly 18 months with committee hearings, amendments, and debates. This current effort has, thus far, been strictly along party lines and moving at breakneck speed. The final form remains unknown (let alone whether passage is assured) and there are significant similarities and differences between the House bill passed in late November and the Senate version, which was narrowly approved by the chamber in the wee hours of Saturday, December 2. The two versions of the legislation will now likely move to be reconciled in a conference of the two chambers (each represented by a small, select group) and then sent back to both chambers for full votes. Despite the uncertainties, the similarities in the current bills enable us to broadly outline the impacts we believe the legislation could have on markets and on the economy.
Markets react
We expect passage of the legislation would be a boon to equities. The combination of stronger consumer spending and lower taxes would likely drive expectations of higher revenues and earnings, enabling price appreciation of equities. We recognize that markets move ahead of actual developments to some degree, and in some sense the pricing-in of tax legislation began more than a year ago after Donald Trump won the presidential election and Republicans maintained control of both houses. It appears that some of the more recent equity market gains this fall can be attributed to the impending legislation. Since returning from the August break and revisiting the proposals, markets have gained on days when the legislation appeared to be gaining steam and faltered when it hit a speed bump. Of particular note is the outperformance of small-cap equities, which have outperformed large-cap equities since September 1, and also stand to gain more than their larger counterparts from the reduced corporate tax rate.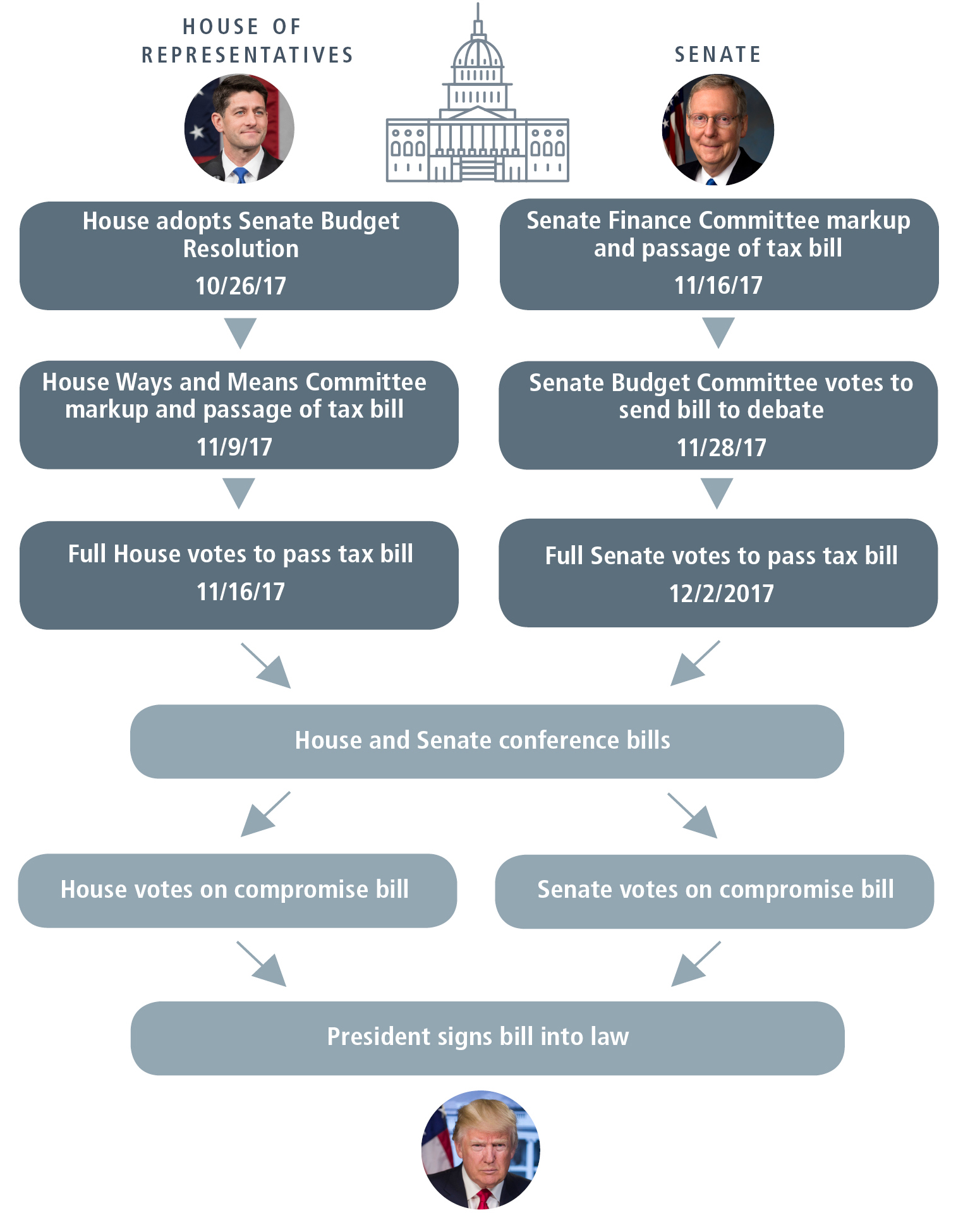 Short-term boosts
The markets are reacting to an expected boost to economic growth from passage of the legislation. The economy would benefit in the short term from boosts to both consumer spending as well as business capital investment. Both the House and Senate versions would cut marginal income tax rates across the board[1],and sharply increase the standard deduction, all while broadening the tax base by removing or severely curtailing many existing deductions. The Joint Committee on Taxation (JCT), a nonpartisan committee of Congress staffed with economists that "score" legislation's projected impacts, estimates the House bill would reduce personal income taxes by $191 billion in year 2019. It is too soon for estimates of the Senate bill that passed the full chamber, but the JCT had estimated an earlier version that came out of the Senate Budget Committee would reduce tax bills by $239 billion.
If passed, the increased disposable income would almost certainly boost consumer spending. For perspective, after passage of the 2003 Bush tax cuts, spending leapt at an annualized rate of 6% in the third quarter of that year as consumers spent their windfall, a figure that has not since been repeated, let alone surpassed. We do caution that we would not expect all of the dollars to be spent. Data show lower income individuals tend to spend more incremental income than those with higher income. The JCT estimates that 42% of the tax cuts in the House plan would go to households earning more than $200,000 per year. This is understandable as higher income individuals pay a higher proportion of income taxes. In 2015, tax returns with more than $200,000 of income made up about 4.5% of total returns and paid 59% of the total personal income tax.
Both tax plans would also dramatically reshape corporate taxes (by reducing the statutory rate from 35% to 20%), allowing businesses to immediately expense the cost of new capital investment, and move to a "territorial" system that taxes income based on the location of activity as opposed to where the company resides. We expect each of these to boost growth by: prompting more capital expenditures by existing firms; making the U.S. a more appealing location for expansion; and encouraging new business creation. As with the personal income cuts, the reduction in the corporate rate is accompanied by the removal of many deductions. This would be relatively more beneficial to small-cap companies that currently deduct less and pay an estimated effective rate of 30%–31%, while large-cap companies take greater advantage of the tax code and pay an average effective rate of 26%–27%.
Long-term challenges
Unfortunately, the short-term boost to the economy and markets described earlier comes at a cost. After all, the first lesson of economics is that each action's benefits also has costs, or put more simply: "There is no such thing as a free lunch." In the case of both tax bills, the costs come in the form of a significant increase to government debt and deficits, which could in turn impinge on long-term growth.
The degree of increase in the debt is a matter of debate because of the uncertainty of how the economy will respond to the new tax structure. Before taking into account macroeconomic impacts, the "static" estimate from the JCT is an increase of $1.4 trillion over 10 years in the House bill. That would be a significant increase to the already-daunting projection that the debt will grow by $10 trillion from now until 2027 if no action is taken on spending or revenues.
The figures are more encouraging once one considers the potential for the new tax structure to generate stronger economic growth and therefore stronger revenues, most commonly referred to as "dynamic scoring." The trouble is that performing the dynamic scoring may be equal parts economics, alchemy, and guesswork, depending on whom you ask. The JCT and the Congressional Budget Office (CBO) are the official scorers in Washington for legislation, and are meant to be impartial and nonpartisan. In our judgment, they do the best they can with projections, but are frequently criticized from whichever side of the aisle dislikes the result. Other sources for dynamic scoring estimates include nongovernment think tanks such as the Tax Policy Center (TPC) and the Tax Foundation (TF). Both outfits bill themselves as independent and nonpartisan, but the TPC is sometimes viewed as somewhat left-of-center while the TF takes quite conservative positions on taxes and would be more apt to forecast stronger economic growth numbers from lower taxes.
In any case, it appears the current tax bills would still add significantly to long-term debt even with dynamic scoring. For the House version, the TPC's model generates very small growth impacts, keeping the long-term debt increase at $1.5 trillion, while the TF projects much stronger economic growth—about 0.3%–0.4% higher per year, based on stronger business capex. However, the TF says the House bill would still add $1.1 trillion to the debt over 10 years. The JCT released its dynamic scoring estimate of an earlier version of the Senate bill just as we were preparing to publish, estimating $400 billion in additional revenue over 10 years from stronger growth, bringing their net cost of the legislation to an even $1 trillion. They had not yet released an estimate of the Senate version that passed the chamber.
Core narrative
We have maintained a neutral weighting to both large- and small-cap U.S. equities for the most part because of the strength of the economy, but also with an eye to the prospect of significant tax legislation. Market prices likely already reflect the legislation's intended impact to some degree, but we do not think it is fully the case, and there is more room for price appreciation. We expect the legislation to pass in some form and be further supportive of equities. Beyond the short term, however, passage would force us to reevaluate the long-term growth prospects of the U.S. economy and, by extension, returns on the associated asset classes.
Disclosures
Wilmington Trust is a registered service mark. Wilmington Trust Corporation is a wholly owned subsidiary of M&T Bank Corporation. Wilmington Trust Company, operating in Delaware only, Wilmington Trust, N.A., M&T Bank and certain other affiliates, provide various fiduciary and non-fiduciary services, including trustee, custodial, agency, investment management and other services. International corporate and institutional services are offered through Wilmington Trust Corporation's international affiliates. Loans, credit cards, retail and business deposits, and other business and personal banking services and products are offered by M&T Bank, member FDIC.
These materials are based on public information. Facts and views presented in this report have not been reviewed by, and may not reflect information known to, professionals in other business areas of Wilmington Trust or M&T Bank who may provide or seek to provide financial services to entities referred to in this report. M&T Bank and Wilmington Trust have established information barriers between their various business groups. As a result, M&T Bank and Wilmington Trust do not disclose certain client relationships with, or compensation received from, such entities in their reports.
The information on Wilmington Wire has been obtained from sources believed to be reliable, but its accuracy and completeness are not guaranteed. The opinions, estimates, and projections constitute the judgment of Wilmington Trust and are subject to change without notice. This commentary is for information purposes only and is not intended as an offer or solicitation for the sale of any financial product or service or a recommendation or determination that any investment strategy is suitable for a specific investor. Investors should seek financial advice regarding the suitability of any investment strategy based on the investor's objectives, financial situation, and particular needs. Diversification does not ensure a profit or guarantee against a loss. There is no assurance that any investment strategy will succeed.
Any investment products discussed in this commentary are not insured by the FDIC or any other governmental agency, are not deposits of or other obligations of or guaranteed by M&T Bank, Wilmington Trust, or any other bank or entity, and are subject to risks, including a possible loss of the principal amount invested. Some investment products may be available only to certain "qualified investors"—that is, investors who meet certain income and/or investable assets thresholds. Past performance is no guarantee of future results. Investing involves risk and you may incur a profit or a loss.
Any positioning information provided does not include all positions that were taken in client accounts and may not be representative of current positioning. It should not be assumed that the positions described are or will be profitable or that positions taken in the future will be profitable or will equal the performance of those described. Positions described are illustrative and not intended as a recommendation outside of a managed account.
Indices are not available for direct investment. Investment in a security or strategy designed to replicate the performance of an index will incur expenses, such as management fees and transaction costs that would reduce returns.
Third-party trademarks and brands are the property of their respective owners.
To ensure compliance with requirements imposed by the IRS, we inform you that, while this presentation is not intended to provide tax advice, in the event that any information contained in this presentation is construed to be tax advice, the information was not intended or written to be used, and cannot be used, for the purpose of (i) avoiding tax related penalties under the Internal Revenue Code or (ii) promoting, marketing, or recommending to another party any matters addressed herein.
---
[1] The House version maintains the highest rate at 39.6% but raises the threshold for that highest rate. Also, the House bill reduces the number of tax brackets from seven to four while the Senate plan maintains seven brackets.