September 18, 2017— China's ruling Communist Party (CCP) convenes its 19th National Congress on October 18. The congress will be assembling against the backdrop of a favorable investment climate that goes well beyond mere window-dressing:
Rising personal incomes are driving the revenue of many listed companies, especially in e-commerce.
Beijing's "One Belt and One Road" initiative of building infrastructure along China's overland and overseas trade routes is opening up opportunities for Chinese industries.
Environmental upgrades, investments in industrial automation, and low energy prices are containing costs and widening profit margins.
Forward valuations for most Chinese stocks remain attractive.
External threats are under control; targeted U.S. trade policy actions do not significantly threaten manufacturers' export revenues, while suicidal action by North Korea seems unlikely and the South China Sea issue is contained.
P/E ratio based on forward 12-month earnings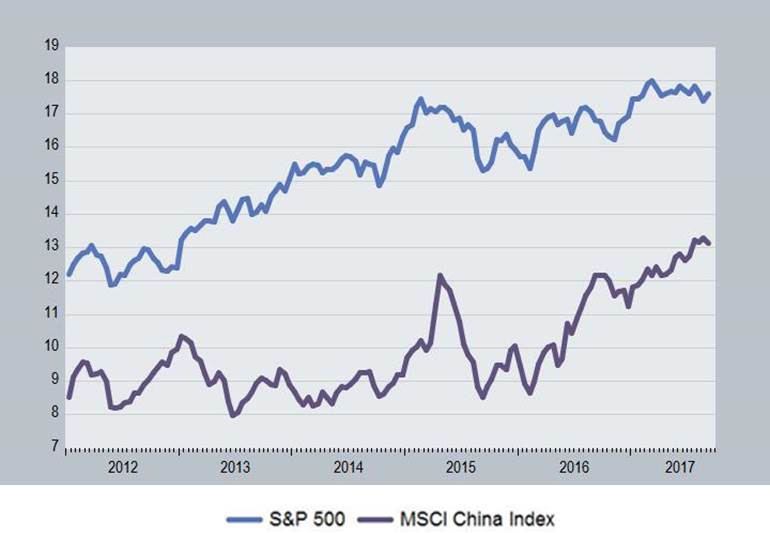 Source: Bloomberg; WTIA
Our expectations for the party congress
The congress will reconfirm President Xi Jinping ("Xi") as the CCP's General Secretary for a second five-year term. As head of China's government, its military, and its ruling Communist Party, Xi is already the most powerful Chinese leader since Deng Xiao Ping.
The congress offers Xi an opportunity to introduce protégés into leadership positions. It will endorse his picks for the 25-member Politburo and its seven-member Standing Committee, the CCP's top executive body. During his first term, Xi had already ousted many political opponents under cover of an anti-corruption campaign.
Xi will present the CCP's program. In it, we expect he will emphasize vigilance in controlling financial market risks. In recognition of the fact that support for the CCP could be eroded by markets in disarray—recall 2015's on-shore stock market collapse and currency devaluations—Xi has become more personally involved in financial policy than is typical for CCP leaders.
MSCI China Index year-over-year % change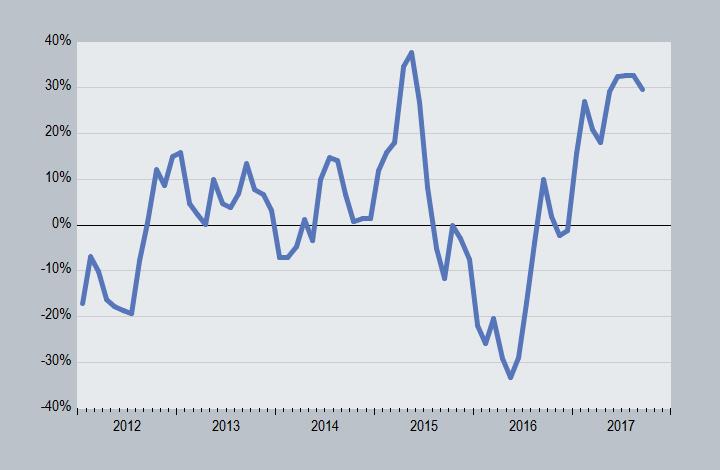 Source: Bloomberg
Slaying giant crocodiles
One of Xi's concerns is how best to stop emerging financial conglomerates from accruing so much market power that they pose a systemic threat to financial stability and even threaten CCP control.
During 2015-2016, three insurance companies (Anbang, Foresea, and Evergrande) had grown unchecked into massive financial conglomerates. They sold immense volumes of over-hyped, high-yielding annuities and used the corresponding premium streams as collateral for highly leveraged acquisitions of real estate developers and overseas real estate.
By mid-2016, the government-controlled press had dubbed these emerging conglomerates "giant crocodiles." These crocodiles had exploited the fragmented nature of the regulatory structure— there are separate regulators for insurance, securities, and banks. Coordination among them has been poor.
To address regulatory deficiencies, Xi replaced the heads of the three regulators and placed the former head of the insurance regulator under corruption investigation. He ordered the agency heads to coordinate their efforts to rein in the crocodiles and placed undercover law enforcement agents at their disposal. Soon, the regulators were blocking M&A deals and forcing executive departures, while undercover agents were apprehending suspects and witnesses not just across China, but also in Hong Kong and beyond.
In July 2017, Xi led a policy discussion on financial markets regulation at the government's "Financial Works Conference." As a consequence of this discussion, Xi established a permanent body within the State Council (the equivalent of the U.S. Cabinet) to coordinate the three agencies' work and assigned oversight to the central bank, the People's Bank of China (PBOC).
We suspect that in his second term, Xi will appoint protégés to head up the regulators and possibly even combine them into a super-regulator.
Corralling the shadow banks
Xi is also concerned about the systemic risks of the rapid growth of leverage, caused by "shadow banking," which refers to unregulated deposit-taking and credit extension by non-bank financial institutions:
The shadow banks offer unusually high interest rates to depositors and extend credit to higher-risk investments, often in real estate.
Shadow banks played an enabling role in leveraging crocodiles' acquisition of real estate developers and overseas real estate.
These banks also added fuel to the fire of the 2015 stock market bubble and financing margin lending by broker-dealers—which, in effect, double-leveraged retail investors' speculative purchases of the "A" shares of many new or smaller companies.
In April 2017, Xi chaired a Politburo Study Group on the systemic risks posed by shadow banking. The following month, the PBOC instructed state banks to restrict credit to the shadow banking system.
Early during his second term, we anticipate that Xi will replace PBOC Governor Zhao Xiaochuan with a protégé and instruct him to prioritize the shadow banking issue.
Keeping the currency under control
Xi will no doubt expect his new PBOC governor to avoid further currency crises. The loose peg to an international currency basket, introduced in late 2015, has worked well to set market expectations. Capital controls, particularly on outbound investment, have stabilized foreign currency reserve levels.
Core narrative
We are currently overweight emerging markets equities. Chinese equity markets account for about one-quarter of the MSCI Emerging Markets index. Consequently, sustained outperformance by emerging markets equities requires continued strong performance by Chinese stocks. China's investment environment is favorable. Moreover, the Chinese authorities, including Xi himself, are focused on recognizing and controlling systemic financial market risks.
Disclosures
Wilmington Trust is a registered service mark. Wilmington Trust Corporation is a wholly owned subsidiary of M&T Bank Corporation. Wilmington Trust Company, operating in Delaware only, Wilmington Trust, N.A., M&T Bank and certain other affiliates, provide various fiduciary and non-fiduciary services, including trustee, custodial, agency, investment management and other services. International corporate and institutional services are offered through Wilmington Trust Corporation's international affiliates. Loans, credit cards, retail and business deposits, and other business and personal banking services and products are offered by M&T Bank, member FDIC.
These materials are based on public information. Facts and views presented in this report have not been reviewed by, and may not reflect information known to, professionals in other business areas of Wilmington Trust or M&T Bank who may provide or seek to provide financial services to entities referred to in this report. M&T Bank and Wilmington Trust have established information barriers between their various business groups. As a result, M&T Bank and Wilmington Trust do not disclose certain client relationships with, or compensation received from, such entities in their reports.
The information on Wilmington Wire has been obtained from sources believed to be reliable, but its accuracy and completeness are not guaranteed. The opinions, estimates, and projections constitute the judgment of Wilmington Trust and are subject to change without notice. This commentary is for information purposes only and is not intended as an offer or solicitation for the sale of any financial product or service or a recommendation or determination that any investment strategy is suitable for a specific investor. Investors should seek financial advice regarding the suitability of any investment strategy based on the investor's objectives, financial situation, and particular needs. Diversification does not ensure a profit or guarantee against a loss. There is no assurance that any investment strategy will succeed.
Any investment products discussed in this commentary are not insured by the FDIC or any other governmental agency, are not deposits of or other obligations of or guaranteed by M&T Bank, Wilmington Trust, or any other bank or entity, and are subject to risks, including a possible loss of the principal amount invested. Some investment products may be available only to certain "qualified investors"—that is, investors who meet certain income and/or investable assets thresholds. Past performance is no guarantee of future results. Investing involves risk and you may incur a profit or a loss.
Any positioning information provided does not include all positions that were taken in client accounts and may not be representative of current positioning. It should not be assumed that the positions described are or will be profitable or that positions taken in the future will be profitable or will equal the performance of those described. Positions described are illustrative and not intended as a recommendation outside of a managed account.
Indices are not available for direct investment. Investment in a security or strategy designed to replicate the performance of an index will incur expenses, such as management fees and transaction costs that would reduce returns.
Third party trademarks and brands are the property of their respective owners.
Contact an Expert