August 24, 2016—It must be August. We're all coming back from vacation, doing our back-to-school shopping and, of course, eagerly anticipating the comments from Federal Reserve Chair Janet Yellen at the annual economic policy symposium in Jackson Hole, Wyoming. She is scheduled to speak on Friday and we know only the title of her speech: "The Federal Reserve's Monetary Toolkit."
First, let's assert that we likely won't get any clear conviction as to whether Yellen is leaning toward a September or December rate hike, or perhaps pushing to 2017. Fed chairs only infrequently opt to front-run the full committee meeting, so any hints are likely to be heavily veiled and strongly caveated. Additionally, Jackson Hole is different. It's where economists (both Federal Reserve researchers and external invitees) offer broader research-driven assessments of the economy or monetary policy. That said, it has been used by at least one Fed chair as an opportunity to lay out the case for a course of policy, if not the start dates. Recall that in 2012, then-Chairman Ben Bernanke extolled the virtues of large-scale asset purchases (i.e., quantitative easing, or QE) one month before embarking on QE3. That carefully crafted speech was the culmination of months of research on the economy and efficacy of QE.
What is this "r-star" we've been hearing about?
If Chair Yellen does the same in laying out a course for policy, we expect she would be describing a "toolkit" that reflects a year of thinking about the "neutral federal funds rate," which has been come to be known as "r*," or "r-star." In layman's terms, r* is the federal funds rate that would be neither stimulative nor contractionary, or the rate at which the Fed would neither be pressing on the accelerator nor the brake for the current economy. The important thing to note about r* is that it is not static, but moves around and right now, Chair Yellen will argue, it's essentially at a historic low.
What are they saying about r*?
Here's the simplest way to think about it: The Fed has decided that flooring the gas pedal hasn't been nearly as stimulative as it once thought. This is because r* has indeed fallen significantly since the recession. So even pressing on the gas pedal as hard as possible (i.e., the near-zero interest rate policy since late-2008) is not nearly as stimulative as might appear on the surface. It's a bit like flooring the gas pedal for seven years thinking you had a 12-cylinder engine when in fact it's only four cylinders. The graph below shows r* and the federal funds rate, with both in "real" terms (adjusted for inflation). The critical point is the gap between these two, and as can be seen, in historic terms, the current gap is not particularly large.
More specifically, when the real federal funds rate is below r* (i.e., when the blue line is below the black) the Fed is pressing on the gas pedal. When blue is above black, they are tapping the brakes. The vertical distance between the two lines is the degree to which the Fed is pressing on the gas. So the realization over the past year is that even though they were flooring the gas pedal, it was not even as stimulative as in the past two post-recession periods. This is easily seen in the post-2001 recession period where the vertical distance between the two lines is much greater than in the current recovery.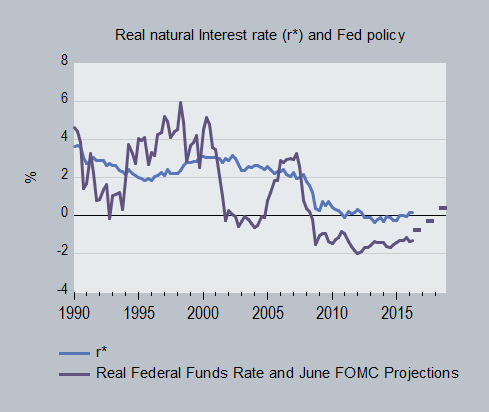 Source: Bureau of Economic Analysis
So what will Yellen say on Friday?
Given that her speech is about the Fed's toolkit, our expectation is for her to address the tools at the Fed's disposal in a world where flooring the gas pedal does not appear to be as effective as it once was. These include:
More QE and forward guidance: These are a given. She'll likely give some indication that more asset purchases or more guidance about low rates remain tools at the Fed's disposal.
Negative rates. This is possible, but perilous. The European Central Bank and Bank of Japan made the same realization that flooring the gas pedal wasn't enough, and essentially cut a hole in the floorboards so they could push down the gas pedal further. This has had mixed economic results, negatively impacted financial institutions, and drawn the ire of politicians. Yellen faced sharp questioning from lawmakers on both sides of the aisle in early 2016 about the mere possibility of the Fed pursuing negative interest rates, and the Fed is loath to invite more heat from Congress.
Helicopter money. This one is likely to be more effective in pushing up inflation toward the Fed's goals, but also likely more perilous in a political sense than negative rates.
On the timing of rate hikes, there is likely to be very little information, but other FOMC members have recently spoken about the need to go even more slowly than previously thought. The chart above includes the June FOMC projections of the path for the real funds rate (which the Fed implicitly provides because they give a federal funds rate forecast as well as an inflation forecast – we've simply done the subtraction for the chart). The increasingly cautious FOMC members are essentially getting worried that if the black line doesn't start moving up, then their rate hikes will intersect and they will have tightened too much. Consequently, we expect Chair Yellen to suggest we are very close to the conditions necessary to support further rate hikes but that nothing is certain and only future data will determine the outcome.
Why is r* so low, anyway?
The proffered reasons for such a low level of the neutral rate are as numerous as they are uncertain. In Yellen's December 2015 speech she listed: tighter underwriting standards, household deleveraging, contractionary fiscal policy, weak international economic growth, dollar appreciation, elevated uncertainty about the U.S. economy, and weak productivity growth. Note that these headwinds run the gamut from being regulatory to cyclical to structural in nature.
In our minds the key is the last item: productivity growth. Shown in the chart below, the five-year compound annual growth rate in productivity has simply been abysmal over the course of this economic recovery. There is significant debate whether this is a structural or cyclical phenomenon. We will detail in a subsequent post, as well as in the 2017 Capital Markets Forecast, our thoughts on the matter. But for the moment the more important consideration is what Yellen thinks.
We doubt that she will give a firm view on the direction of productivity, and will more likely stress its importance and point out how confounding the issue is. In her May 2016 speech in Philadelphia she indicated she was "cautiously optimistic" before laying out reasons to be noncommittal. Don't expect anything more concrete this Friday.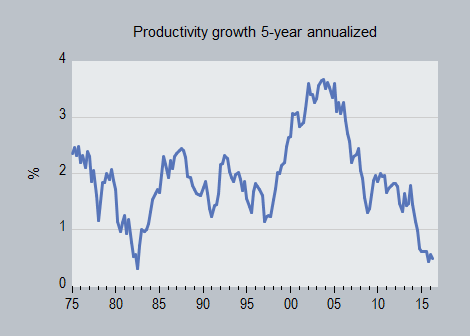 Source: Bureau of Economic Analysis
Core narrative
A structurally low r* results in structurally low Fed policy rates which in turn leaves us with structurally low yields in the bond markets. This means that fixed income is not as perilous as it may seem, albeit lower carry arguably provides scant compensation even for less drawdown risk.  More important, equity market valuations should not be measured by historical valuation levels.  Higher PEs will be reached in market equilibrium due to the relative unattractiveness of the bond markets. Therefore if and when we can break through the current earnings recession, we expect the equity market to move higher.
Disclosures
Wilmington Trust is a registered service mark. Wilmington Trust Corporation is a wholly owned subsidiary of M&T Bank Corporation. Investment management and fiduciary services are provided by Wilmington Trust Company, operating in Delaware only, and Wilmington Trust, N.A., a national bank. Loans, retail and business deposits, and other personal and business banking services and products are offered by Manufacturers and Traders Trust Company (M&T Bank), member FDIC. Wilmington Trust Investment Advisors, Inc., a subsidiary of M&T Bank, is a SEC-registered investment adviser providing investment management services to Wilmington Trust and M&T affiliates and clients.
These materials are based on public information. Facts and views presented in this report have not been reviewed by, and may not reflect information known to, professionals in other business areas of Wilmington Trust or M&T Bank who may provide or seek to provide financial services to entities referred to in this report. M&T Bank and Wilmington Trust have established information barriers between their various business groups. As a result, M&T Bank and Wilmington Trust do not disclose certain client relationships with, or compensation received from, such entities in their reports.
The information on Wilmington Wire has been obtained from sources believed to be reliable, but its accuracy and completeness are not guaranteed. The opinions, estimates, and projections constitute the judgment of Wilmington Trust and are subject to change without notice. This commentary is for information purposes only and is not intended as an offer or solicitation for the sale of any financial product or service or a recommendation or determination that any investment strategy is suitable for a specific investor. Investors should seek financial advice regarding the suitability of any investment strategy based on the investor's objectives, financial situation, and particular needs. Diversification does not ensure a profit or guarantee against a loss. There is no assurance that any investment strategy will succeed.
Any investment products discussed in this commentary are not insured by the FDIC or any other governmental agency, are not deposits of or other obligations of or guaranteed by M&T Bank, Wilmington Trust, or any other bank or entity, and are subject to risks, including a possible loss of the principal amount invested. Some investment products may be available only to certain "qualified investors"—that is, investors who meet certain income and/or investable assets thresholds. Past performance is no guarantee of future results. Investing involves risk and you may incur a profit or a loss.
Any positioning information provided does not include all positions that were taken in client accounts and may not be representative of current positioning. It should not be assumed that the positions described are or will be profitable or that positions taken in the future will be profitable or will equal the performance of those described. Positions described are illustrative and not intended as a recommendation outside of a managed account.
Indices are not available for direct investment. Investment in a security or strategy designed to replicate the performance of an index will incur expenses, such as management fees and transaction costs that would reduce returns.
Third party trademarks and brands are the property of their respective owners.
Contact an Expert