March 22, 2019—On Friday, the slope of the Treasury yield curve inverted between the 10-year and 3-month Treasuries (in other words, the yield on a 3-month Treasury exceeded that of a 10-year Treasury), with the 10-year yield falling to as low as 2.42% intraday—the lowest since the start of the year—and the 3-month yield holding fairly steady at 2.45% (Figure 1). Financial media outlets sounded the alarm bells, and equity markets sold off sharply by mid-day.
Figure 1: Inverted yield curve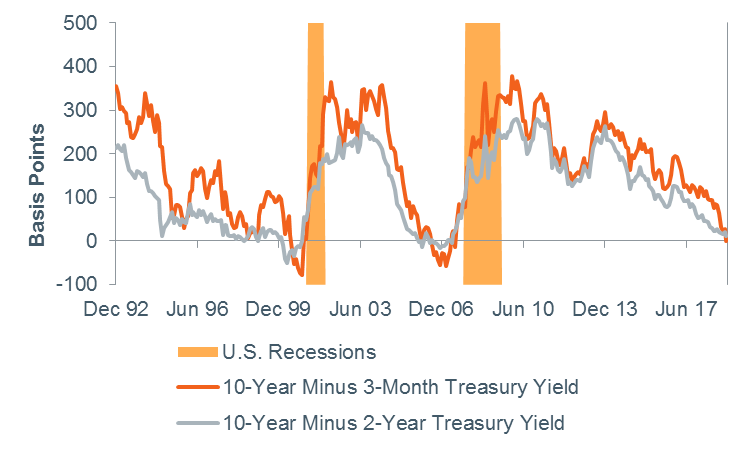 As of March 22, 2019.
Source: Bloomberg.
We have discussed in prior communications (December 2017 Capital Perspectives: Canaries in the Economic Coal Mine, as well as Flatter Curve, but Expect the Bull to Keep Running from July 2018) the significance of monitoring the yield curve, as it has inverted prior to the last several recessions and become a recessionary indicator followed by investors. Typically, we monitor the difference between the 10-year yield and the 2-year yield, and that measure remained upward sloping but at the smallest differential of the expansion—just 0.12%. Many have cited that the better predictor for a recession is actually the slope of the curve between the 10-year and 3-month tenors, but historically the two have tracked each other fairly closely.
What has caused the curve to invert? We would point to three catalysts:
Very weak global economic data. Specifically, the preliminary PMIs out of the eurozone and Japan were very weak, with manufacturing deteriorating sharply into contractionary territory in Germany (a 6.5-year low) and France, and holding steady but below 50 in Japan. (A PMI is a survey-based measure that indicates whether businesses are seeing activity expand—a reading above 50—or contract—a reading below 50.) This has led to a flight-to-safety in European markets, with investors bidding up bonds and sending the yield on the 10-year German bund back into negative territory for the first time since 2016. Negative-yielding bonds in regions like Europe and Japan make the yield on U.S. Treasuries—even at just 2.5% for a 10-year note—look downright attractive (Figure 2), which raises demand and sends yields even lower. In this way, low yields outside of the U.S. are exerting a gravitational pull on Treasury yields.
Figure 2: U.S. and international bond yields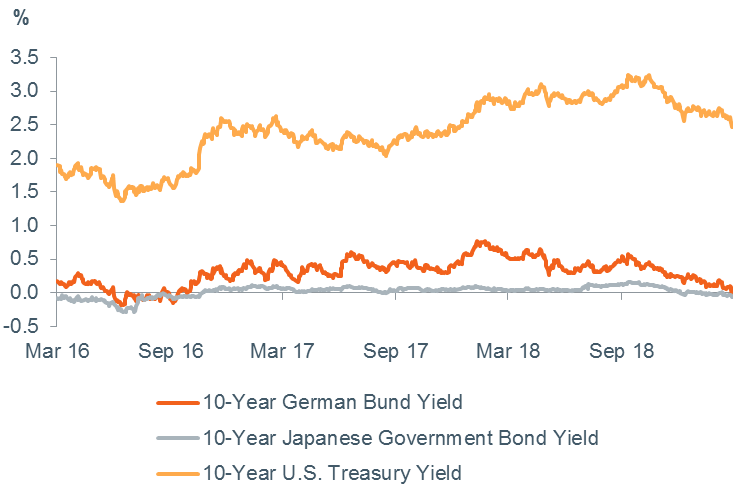 As of March 22, 2019.
Source: Bloomberg.
Fears about the U.S. economic outlook. While the market reaction to the Fed's dovish decision (to hold rates steady and signal no further rate hikes for 2019) could have been a sigh of relief, instead, the narrative almost immediately turned to questions about whether the Fed knows something the rest of the market does not. The 10-year yield moved lower on concerns about U.S. growth and a view that inflation will remain below the Fed's target for the foreseeable future. In general, bond yields reflect expectations for future economic growth and inflation. Meanwhile, the Federal Reserve on Wednesday held policy rates steady, which tends to drive the 3-month Treasury yield, leading to an inversion of the curve. Importantly, we think growth concerns are overdone, and we view the Fed's decision as being driven more by the reality that inflation is not a threat rather than broader concerns about the U.S. growth outlook. We still expect U.S. GDP growth around 2% in 2019.
Fed halting balance sheet reduction. The Fed's March 20 decision included specifications related to the end of its balance sheet reduction, with the September date occurring earlier than many had expected. A larger Fed balance sheet means more demand for Treasuries and lower yields.
What does this mean for investors? It is the clearest sign yet that we are late cycle, but we are not yet opening the escape hatch. Historically, the S&P 500 has never peaked before the 10-year minus 2-year yield curve has inverted. (As a reminder, that yield curve stayed positively sloping as of Friday.) While an inversion has preceded recessions, it has done so by anywhere from 11 months to two years.
We also think it is important to recognize that the shape of the yield curve is a prominent signal on the Fed's dashboard of market indicators. In the past two cycles, the Fed has continued to raise interest rates despite an inverted curve. We think today is more analogous to the mid-1990s, when the yield curve also inverted but the Fed then held an emergency meeting and ended up cutting rates in response. We are not expecting the Fed to cut rates, but we do think they will hold steady for the time being and not raise rates again until the yield curve "grants permission" to do so.
Core narrative
At this time, we are not panicking about the inverted yield curve. We expect global economic data to pick up in coming months as Chinese policy stimulus gains traction in the economy and U.S.–China trade tensions recede. This should help buoy global trade and, in turn, overseas economic data. At this point, the Fed's next moves are critical. The central bank has strongly signaled it is not raising rates any time soon, which severely reduces the risk of a recession in the near term. Client portfolios are neutral International Developed Equities versus our strategic benchmark, favoring the U.S. over International, and slightly overweight Emerging Markets Equities. At today's bond yields, we remain underweight high-quality bonds, instead choosing to hold elevated levels of cash, which offer comparable income and no-duration risk should yields move higher in response to the better economic data we expect. We are by no means dismissing what the market is telling us, but we think it is prudent to continue monitoring the data for evidence that the U.S. growth outlook is deteriorating before reducing risk in client portfolios.
Disclosures
Wilmington Trust is a registered service mark. Wilmington Trust Corporation is a wholly owned subsidiary of M&T Bank Corporation. Wilmington Trust Company, operating in Delaware only, Wilmington Trust, N.A.,  M&T Bank and certain other affiliates, provide various fiduciary and non-fiduciary services, including trustee, custodial, agency, investment management and other services. International corporate and institutional services are offered through Wilmington Trust Corporation's international affiliates. Loans, credit cards, retail and business deposits, and other business and personal banking services and products are offered by M&T Bank, member FDIC. Wilmington Trust Investment Advisors, Inc. is an SEC-registered investment advisor providing investment management services to Wilmington Trust and M&T Bank affiliates and clients.
These materials are based on public information. Facts and views presented in this report have not been reviewed by, and may not reflect information known to, professionals in other business areas of Wilmington Trust or M&T Bank who may provide or seek to provide financial services to entities referred to in this report. M&T Bank and Wilmington Trust have established information barriers between their various business groups. As a result, M&T Bank and Wilmington Trust do not disclose certain client relationships with, or compensation received from, such entities in their reports.
The information on Wilmington Wire has been obtained from sources believed to be reliable, but its accuracy and completeness are not guaranteed. The opinions, estimates, and projections constitute the judgment of Wilmington Trust and are subject to change without notice. This commentary is for information purposes only and is not intended as an offer or solicitation for the sale of any financial product or service or a recommendation or determination that any investment strategy is suitable for a specific investor. Investors should seek financial advice regarding the suitability of any investment strategy based on the investor's objectives, financial situation, and particular needs. Diversification does not ensure a profit or guarantee against a loss. There is no assurance that any investment strategy will succeed.
Any investment products discussed in this commentary are not insured by the FDIC or any other governmental agency, are not deposits of or other obligations of or guaranteed by M&T Bank, Wilmington Trust, or any other bank or entity, and are subject to risks, including a possible loss of the principal amount invested. Some investment products may be available only to certain "qualified investors"—that is, investors who meet certain income and/or investable assets thresholds. Past performance cannot guarantee future results. Investing involves risk and you may incur a profit or a loss.
Any positioning information provided does not include all positions that were taken in client accounts and may not be representative of current positioning. It should not be assumed that the positions described are or will be profitable or that positions taken in the future will be profitable or will equal the performance of those described. Positions described are illustrative and not intended as a recommendation outside of a managed account.
Indices are not available for direct investment. Investment in a security or strategy designed to replicate the performance of an index will incur expenses, such as management fees and transaction costs that would reduce returns.
Third-party trademarks and brands are the property of their respective owners.