November 23, 2020—In a year marked by a global pandemic, a world recession, and a U.S. presidential election, it is somewhat understandable that bitcoin's[i] steady ascent in recent months might not have been at the front and center of market attention until just recently. But over in the cryptocurrency world, a combination of developments has been driving stronger demand for bitcoin, while supply growth is slowing, driving strong returns (+145% year to date in 2020, and +250% from the lows in March).
Our Capital Markets Forecast (CMF) this year addresses the lasting impacts of the pandemic on the economy and markets. While Bitcoin is not addressed directly in the CMF there is a clear connection between the structural changes we describe and the continued relevance of Bitcoin. Last week we launched the first theme on Pivoting the Business. In Theme 2, to be released November 30, 2020, we detail the burden of government debt, which is a key factor in the attractiveness of Bitcoin to some. In Theme 3, to be released December 14, 2020, we focus on fundamental changes to financial markets and investing, where Bitcoin is relevant.
In our view, recent developments suggest bitcoin is making progress toward becoming an asset that may eventually be worth considering in a portfolio. But the bitcoin market is not there yet, with some of the same factors we discussed in our 2017 primer as potential risks of investing in bitcoin still in place. High volatility and lingering concerns about fraudulent activity and market manipulation are some of these. However, as we also noted in 2017, we still see the potential for bitcoin to evolve over time and will continue to monitor its readiness for inclusion in a portfolio. In this note we provide an overview of bitcoin's recent market movements, some key developments we view as notable, and what we are watching going forward as the cryptocurrency space matures.
Figure 1: Bitcoin's steady rise in 2020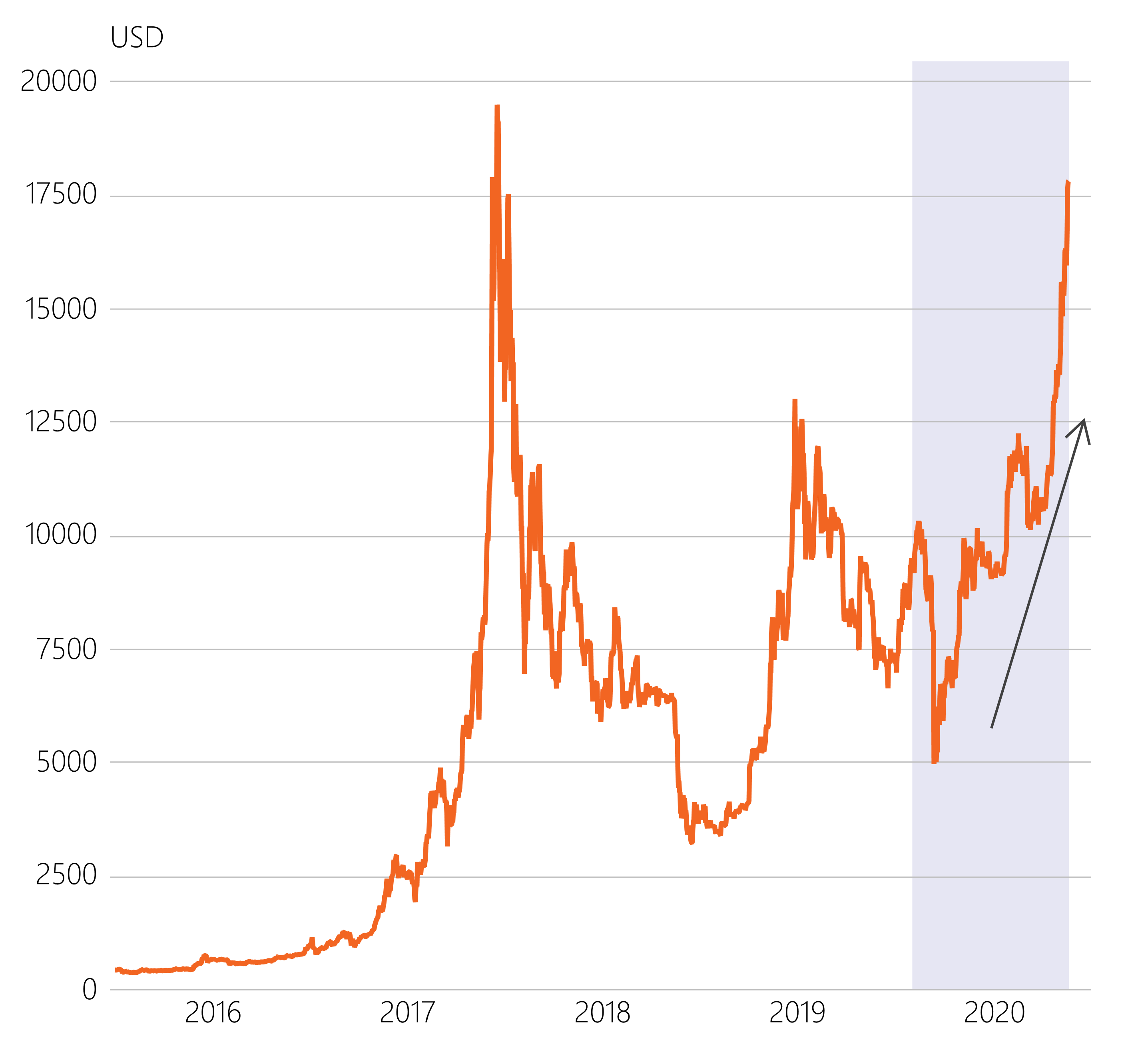 Source: Macrobond. Data as of 11/19/2020.
Bitcoin market overview
Returns: Bitcoin functions like a commodity, with prices driven by supply and demand. It has been on a wild ride in recent years. Prices spiked to an all-time high in 2017, only to nosedive by nearly 80% over the course of 2018 (Figure 1). A number of factors bruised its value, including concerns about fraudulent activity and hacking. Since 2019 though, bitcoin has slowly been making a comeback (details below), with some outsized returns relative to other assets (Figure 2).
Figure 2: Bitcoin posted strong returns relative to gold, S&P 500, and the dollar in 2019 and 2020 (%)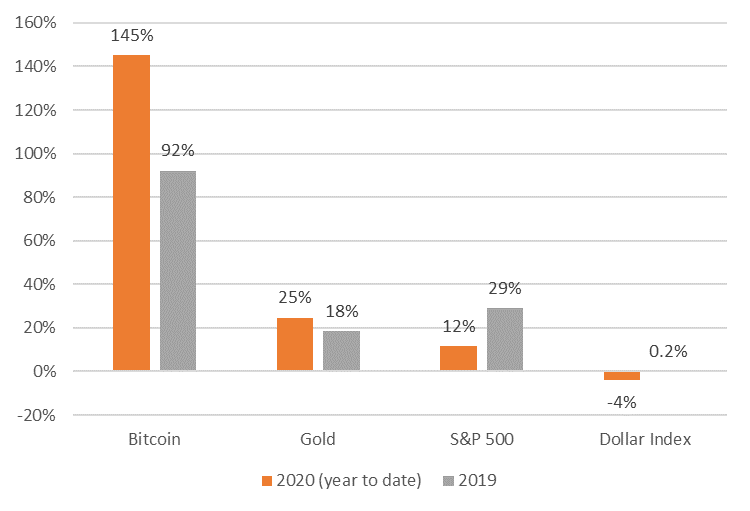 Source: Macrobond. Data as of November 17, 2020.
Correlations: Bitcoin's longer-term correlations remain positive with the S&P 500 and gold, and negative with the U.S. dollar, suggesting that it is being used by investors as an alternative currency, with "risk-on[ii]" and inflation hedge characteristics (Figure 3).
Figure 3: Bitcoin correlations with gold and equities have been positive, but negative with the dollar
Source: Macrobond. Data as of November 17, 2020.
Volatility: The outsized returns posted by bitcoin in recent years have also come with a downside. Its volatility still remains highly elevated relative to gold, the S&P 500, and the dollar, even though it has eased since bitcoin's early days (Figure 4).
Figure 4: Bitcoin's volatility remains elevated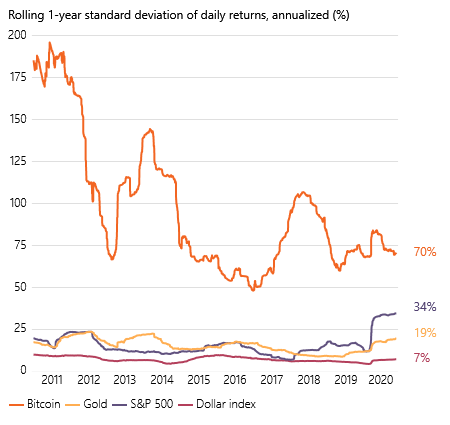 Source: Macrobond. Data as of November 17, 2020.
Bitcoin as money: Taking some steps in the right direction
In our 2017 primer, we noted that currencies (both digital decentralized and government-issued) are typically evaluated in terms of their ability to meet three key criteria:
As a store of value (ability to allow individuals to defer purchases of goods and services to a future date)
Medium of exchange (ability to be used as a form of payment for goods and services)
Unit of account (ability to be used as a direct measure of the value of goods and services)
Bitcoin has primarily been used as a store of value since its inception. Its volatility and existential threats in its early days brought into question its ability to stand up on its own on this front (due to the risks of being supplanted by another competitor cryptocurrency, fraud, and hacking). However, bitcoin has seemingly been a cat with nine lives, and remains the dominant cryptocurrency in the marketplace today. It accounts for nearly 67% of the total cryptocurrency market capitalization (cap) of $497 billion, with ether, the second-largest cryptocurrency by market cap coming in at a distant 11%; tether, the third largest, at just 4%; and the remaining 7,707 cryptocurrencies currently on the market accounting for around 19% of total market cap).
Figure 5: Bitcoin remains the dominant cryptocurrency by market capitalization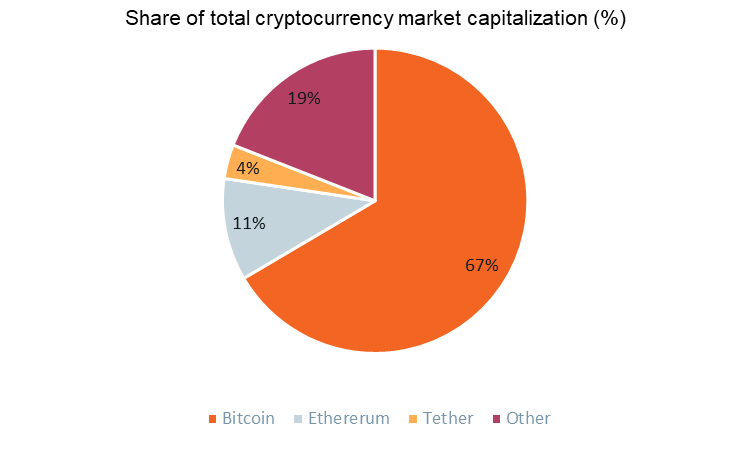 Source: Coinmarketcap.com. Data as of November 17, 2020.
In our view, three recent developments suggest that bitcoin has made some progress in terms of its ability to function as a store of value, and potentially also as a medium of exchange.
1) Fidelity's entry into the cryptocurrency custody space in 2019 has supported bitcoin's ability to be a viable store of value. Although a number of crypto companies have been offering digital asset settlement, storage, and reporting services for years, the entry of an established money manager into this space has helped to legitimize cryptocurrency as an asset class. For institutional investors in particular, the option of using a known entity for the storage of client crypto assets provides assurances with regard to safety.[iii]
2) A July 2020 ruling from the Office of the Comptroller of the Currency (OCC), which regulates and supervises national banks, clarified that federally chartered banks and thrifts may provide custody services for customers, further legitimizing cryptocurrency as an asset class, which also supports bitcoin's ability to serve as a store of value.[iv]
3) Paypal's October 2020 announcement that it will allow customers to buy, hold, and sell cryptocurrency directly from Paypal accounts could provide a significant boost to the potential cryptocurrency userbase. Paypal and Venmo have a combined user base of roughly 350 million (with growth of roughly 70 million per year). [v] In contrast, Coinbase, one of the leading U.S. cryptocurrency platforms, for example, has a current userbase of just 35 million.[vi] Even more significant is the company's plan to make cryptocurrency available as a payment option for purchases at the 26 million merchants on its platform in 2021. Paypal will handle the conversion from crypto/fiat currency with no incremental fees for customers or merchants. In our view, Paypal's large user base and the ease of transactions on its platform could potentially provide a pathway for bitcoin (and other cryptocurrencies) to move toward use as a medium of exchange.
Rising demand
In addition to the developments above, there have been a number of other drivers behind rising demand for bitcoin as of late.
Macroeconomic reasons for holding bitcoin have intensified in 2020. Unprecedented levels of monetary and fiscal stimulus in response to the pandemic have raised concerns about rising inflation and a falling dollar, prompting investors to look for inflation hedges (which bitcoin can potentially provide given its limited supply).
Improving infrastructure and normalization of cryptocurrency have also supported bitcoin in recent years. Reduced execution costs, rising liquidity, and growth of the cryptocurrency derivatives[vii] market (making it easier for investors to hedge) have also provided underlying support for the currency by making it easier and cheaper to transact. The growth of decentralized finance (also known as defi), or the use of cryptocurrency platforms that allow lenders and borrowers to transact without the traditional banks, has further bolstered demand for bitcoin and other cryptocurrencies.
Reduced (though not completely eliminated) perceptions of fraudulent/illicit activity. According to the Comptroller of Currency (head of the OCC), Brian Brooks, roughly 1% of bitcoin activity involves fraud/money laundering; but the percentage is the same for 1% of fiat currency as well (and much higher based on dollar value). In addition, blockchain's[viii] transparency has been proven helpful to law enforcement agencies in cracking down in illicit activity, as transactions are pseudonymous, but not anonymous. The arrival of Bitcoin exchange-traded funds (ETFs) down the road is a development we will be watching for, as it would likely draw additional institutional investor participation in the space. The SEC has so far rejected all bitcoin ETF proposals submitted, with many of the denials centered on the lack of clarity around whether the market is resistant enough to fraudulent activity and market manipulation.
Broadening investor interest. While retail investors were the first to embrace bitcoin as an asset class, and continue to do so, new signs of interest have emerged from corporations and institutional investors as the infrastructure of the bitcoin market has improved.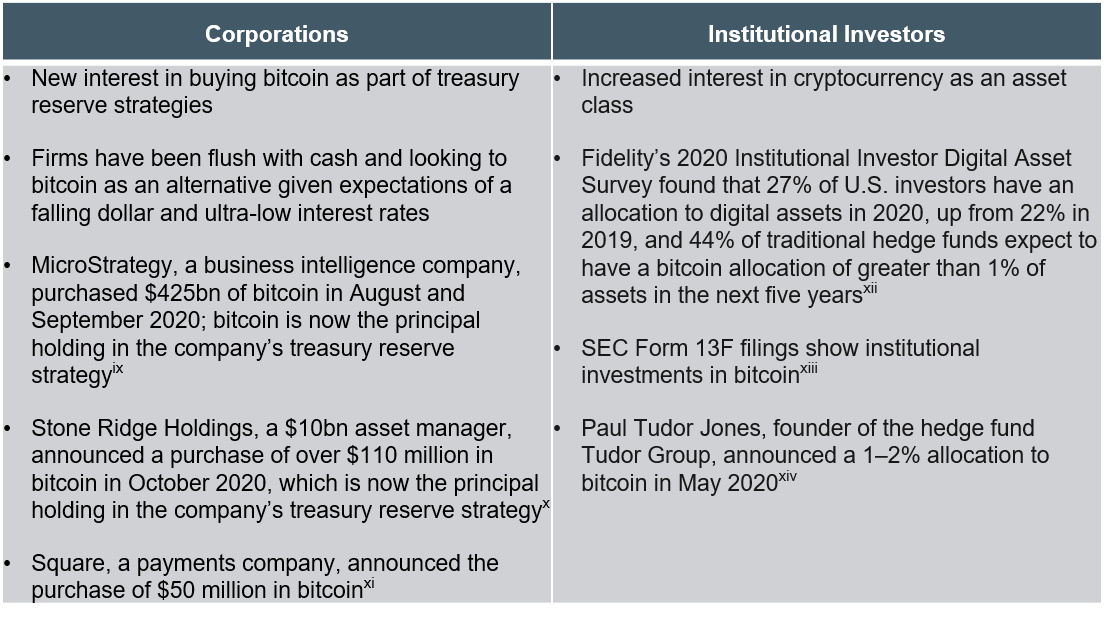 Slowing supply growth
This rising demand for bitcoin has been met with falling supply. The main reason for slowing supply growth is simply a function of bitcoin's design. The digital currency was created so that total supply would not exceed 21 million bitcoin (see "The ABCs of Bitcoin" for background), and 18.5 million of these have been released into circulation so far. [ix] As a result, the mechanical algorithm behind bitcoin is set to slow growth in its supply steadily over time, with the amount of new bitcoin released cut in half roughly every four years. This process, which most recently occurred in May 2020, is referred to as "halving," and has the net effect of dampening the supply of bitcoin, in turn boosting its price.
A second reason for slowing supply may be linked to bitcoin owners holding onto the digital currency for longer periods of time. Data from Coinmetrics suggest that the share of total bitcoin supply that has been held for at least one year (and not being used in blockchain transactions) has been rising steadily since 2018 (to 63% as of October 25). This suggests increased use of bitcoin as a store of value.[x]
Looking ahead: The private and public sector are looking to get in on the cryptocurrency game
Bitcoin has long been the star of the decentralized cryptocurrency world since its creation in 2009. It was the first (with over 7,000 alternative currencies have been created since), and is the longest standing (with over 1,700 having failed).[xi] However, the idea of cryptocurrencies issued by private entities (such as Facebook's Libra), and central banks (China's digital yuan), has also been in the limelight as potential competitors to decentralized cryptocurrencies (like bitcoin, which are run without a central intermediary).
Facbook's Libra—announced to much fanfare in June 2019—still remains a work in progress nearly a year and a half later. Having run into a number of regulatory challenges, ambitions and timelines for development have been scaled back considerably, and a number of major institutions initially involved have abandoned ship. Facebook has made two notable modifications to its original plans as result.
1) The Libra digital currency will simply be a composite of individual digital coins backed by local currencies rather than an independent digital currency backed by a basket of fiat currencies. This change was a response to worries that a multi-currency backed Libra utilized on large scale could interfere with the ability of central banks to conduct monetary policy.
2) Facebook will now create a permissioned blockchain, rather than the open, permission-less one originally proposed, again due to regulatory concerns about security.[xii]
As we noted last year, Libra's success as a cryptocurrency was very much uncertain given the early stages of the project. However, Facebook's ongoing pursuit of the project and the potential lessons learned will still likely help crypto assets make strides toward becoming a more mainstream eventual form of payment (and asset class) given Facebook's large user base, assuming Libra is eventually launched.
Central banks have not been sitting on the sidelines either. Central banks initially approached digital currencies with caution, given safety concerns, and worries about the ability of digital currencies to potentially interfere with monetary policy intermediation. However, they have taken an increasing positive tone in recent years (Figure 6), recognizing the need to stay abreast of a trend that is not likely to disappear any time soon. And many have taken the "if you can't beat them, join them" approach, with 80% of surveyed central banks involved in research or efforts to create central bank digital currencies (CBDCs), and 20% of central banks stating they are likely to issue a CBDC in the medium term (one to six years).[xiii]
China's central bank (the People's Bank of China, or PBOC) has been at the leading edge of this movement. After initiating a digital currency research group in 2014, the PBOC first launched a pilot program for its digital yuan with four state banks in April 2020, and in October 2020 just wrapped up its largest trial to date with 50,000 households in Shenzhen. The digital yuan is intended to be a digital version of the fiat currency and will be intermediated by the central bank and the banking system (unlike cryptocurrencies such as bitcoin, which utilize a decentralized blockchain). While a date has not been set for the formal launch of the digital yuan, potential widespread adoption in the most populous country in the world could suggest increasing comfort with digital currencies for both payment and investment uses in the future, further supporting demand for bitcoin and other cryptocurrencies.
Taken together, the fact that actors across multiple sectors of the economy are working toward building an infrastructure for digital currencies should encourage more widespread adoption and provide further support for their development as an asset class.
Figure 6: Net number of central bank speeches taking a positive tone with regard to central bank digital currencies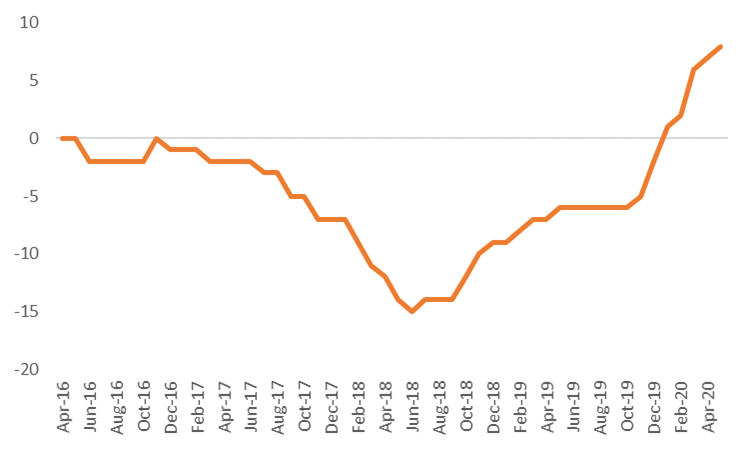 Source: Auer, R, G Cornelli and J Frost (2020), "Rise of the central bank digital currencies: drivers, approaches and technologies", BIS working paper, No 880, August. Data as of: May 20, 2020.
Core narrative
Recent developments point to progress and support for bitcoin's ability to be used as a store of value, and potentially as a medium of exchange in the future. However, we don't yet recommend adding bitcoin to portfolios. High volatility remains a hurdle, as do lingering concerns about market manipulation and fraudulent activity. We currently prefer exposure to gold in portfolios, as it has a positive long-term correlation with bitcoin and provides similar inflation hedge characteristics but is less volatile. Gold can also provide the dual benefits of holding up in the longer term in both risk-on and risk-off environments. We still see potential for bitcoin to find a place in portfolios in the future as the market evolves, and we will continue to monitor developments in the space, with SEC approval of Bitcoin ETFs a key marker to look out for.
Disclosures
Wilmington Trust is a registered service mark used in connection with various fiduciary and non-fiduciary services offered by certain subsidiaries of M&T Bank Corporation including, but not limited to, Manufacturers & Traders Trust Company (M&T Bank), Wilmington Trust Company (WTC) operating in Delaware only, Wilmington Trust, N.A. (WTNA), Wilmington Trust Investment Advisors, Inc. (WTIA), Wilmington Funds Management Corporation (WFMC), and Wilmington Trust Investment Management, LLC (WTIM). Such services include trustee, custodial, agency, investment management, and other services. International corporate and institutional services are offered through M&T Bank Corporation's international subsidiaries. Loans, credit cards, retail and business deposits, and other business and personal banking services and products are offered by M&T Bank, member FDIC.
Facts and views presented in this report have not been reviewed by, and may not reflect information known to, professionals in other business areas of Wilmington Trust or M&T Bank who may provide or seek to provide financial services to entities referred to in this report. M&T Bank and Wilmington Trust have established information barriers between their various business groups. As a result, M&T Bank and Wilmington Trust do not disclose certain client relationships with, or compensation received from, such entities in their reports.
The information on Wilmington Wire has been obtained from sources believed to be reliable, but its accuracy and completeness are not guaranteed. The opinions, estimates, and projections constitute the judgment of Wilmington Trust and are subject to change without notice. This commentary is for informational purposes only and is not intended as an offer or solicitation for the sale of any financial product or service or a recommendation or determination that any investment strategy is suitable for a specific investor. Investors should seek financial advice regarding the suitability of any investment strategy based on the investor's objectives, financial situation, and particular needs. Diversification does not ensure a profit or guarantee against a loss. There is no assurance that any investment strategy will succeed.
Past performance cannot guarantee future results. Investing involves risk and you may incur a profit or a loss.
The gold industry can be significantly affected by international monetary and political developments as well as supply and demand for gold and operational costs associated with mining.
Indexes are not available for direct investment. Investment in a security or strategy designed to replicate the performance of an index will incur expenses such as management fees and transaction costs which will reduce returns. References to specific securities are not intended and should not be relied upon as the basis for anyone to buy, sell, or hold any security. Holdings and sector allocations may not be representative of the portfolio manager's current or future investment and are subject to change at any time. It should not be assumed that these securities were or will be profitable. Reference to the company names mentioned in this material are merely for explaining the market view and should not be construed as investment advice or investment recommendations of those companies. PLEASE NOTE: We make no recommendations of any currency, product, provider, or protocol; names of same are included solely as examples for purposes of discussion. Third-party trademarks and brands are the property of their respective owners.
©2020 M&T Bank Corporation and its subsidiaries. All rights reserved.
---