April 2, 2020—In our 2019 Capital Markets Forecast we highlighted myriad risks posed by the increasing amount and deteriorating quality of BBB-rated debt, which sits in the lowest tier of the investment-grade corporate bond market and just one notch above high yield. A decade of low interest rates, thanks to an accommodative Federal Reserve, incentivized companies to increase their level of borrowing, helping the BBB universe grow by more than 300% since 2009[1]. New bond issuance was met with a strong appetite for yield among investors over the years, enabling borrowing costs over treasuries to remain low. What raised concerns, was the amount of debt carried by the average BBB issuer, which was not far off from levels commonly seen among high-yield companies. With a slowing of cash flows or an exogenous shock, a large group of companies could be susceptible to a wave of downgrades to junk territory.
When an issuer is downgraded from BBB to BB+ or below by at least two major ratings agencies (S&P, Fitch, or Moody's), it is reclassified as junk and joins the cohort known as "fallen angels." The results of this can be particularly damaging for two reasons. First, a flurry of forced selling from funds with investment-grade-only mandates and passively managed vehicles historically leads to a sharp rise in yields (drop in price) of the issuer's debt, punishing the company with higher future borrowings costs, and bondholders with a loss in the value of their investment. Across the current cycle, the median rise in borrowing costs over treasuries that occurred around a downgrade from BBB to high yield has been around 250 basis points (bps), relative to just 25bps for a drop from A to BBB, according to Morgan Stanley. Second, the high-yield market is a small, less liquid market relative to investment-grade, which is five times its size, and the larger capital structures of investment-grade issuers are difficult for it to absorb. The latest fallen angels, Kraft Heinz, Occidental Petroleum, and most recently, Ford, are set to become three of the largest high-yield issuers with $21 billion, $35 billion and $36 billion in eligible debt, respectively. In short, the downgrade from investment-grade to junk pushes an immense amount of supply into the market all at once, where there isn't commensurate demand to receive it, leading to sharp price declines.
In 2019, we didn't see the growth of BBBs as a root cause for concern, but rather a weak link in the financial system that would be exposed in the event of a slowdown in corporate revenues or an exogenous shock. We believed that companies in the investment-grade and high-yield spaces might suffer disproportionately in the event of mass downgrades, and that stress could spill over into other asset classes and the broader economy. In late 2018, the Federal Reserve was in the final stages of a three-year cycle of rate hikes, which raised concerns that increasing borrowing costs for BBB issuers might be the straw that breaks the camel's back. Over the past month, the coronavirus pandemic's impact on company revenues and growing stress in the corporate bond market has shifted fallen angel risk back into focus.
Investment-grade and high-yield markets' ratings ($100 billions)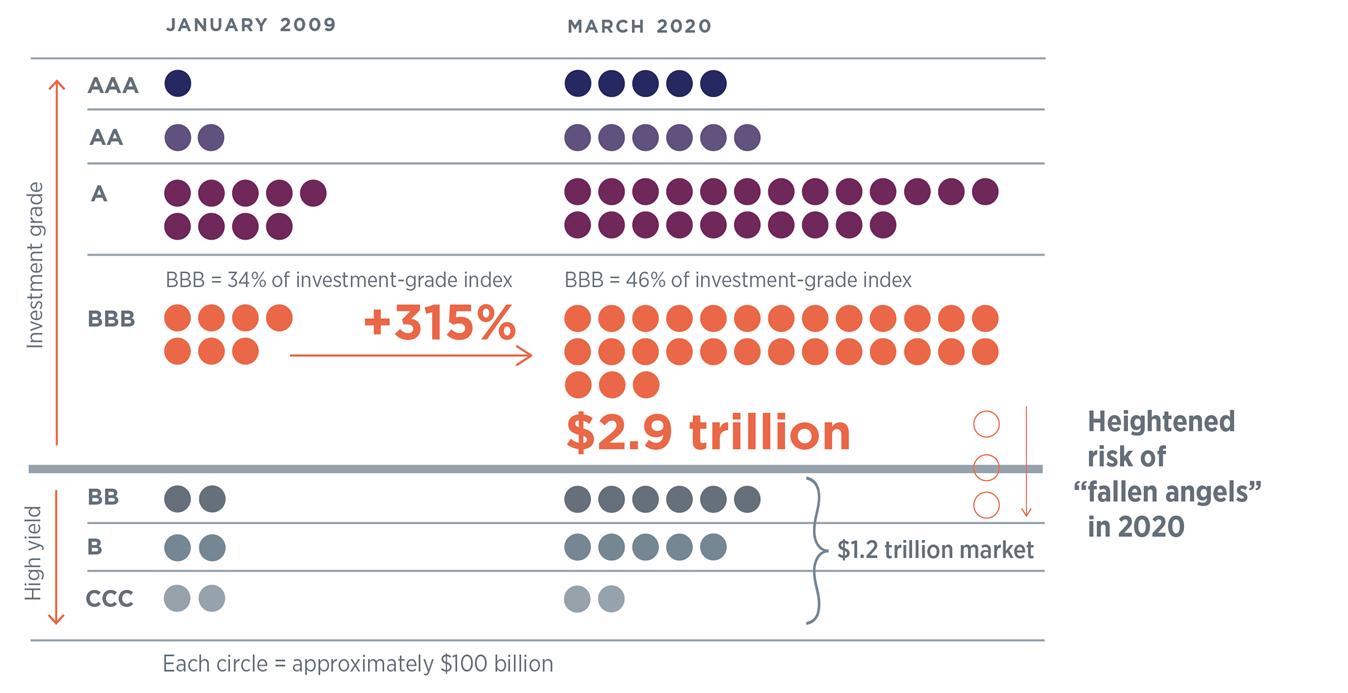 Source: FTSE Fixed Income LLC, Morgan Stanley, WTIA. Data as of March 18, 2020
"Fallen angels" in credit markets refers to companies that are downgraded from investment-grade (BBB and above) to below investment-grade, also known as "junk bond status". A rising rate environment or any unexpected economic weakness heightens the risk of BBB-rated firms being downgraded. 
What is happening?
The rapid spread of coronavirus across the globe has spurred a wave of aggressive containment measures, which have shut down nonessential businesses, brought travel to a near standstill, and relegated millions of consumers to their homes for the foreseeable future. Revenues that companies planned to use toward operational expenses, capital expenditures, and to cover approaching debt obligations have faded from view. In addition, Saudi Arabia and Russia pivoted from years of production cuts alongside OPEC+ peers to a hostile price war that will introduce millions of additional barrels of oil to a market that was already oversupplied. Increasing supply, combined with the virus's negative impact on global demand, drove oil prices to multiyear lows. Energy companies, which have the largest representation in the lowest rung of debt rated BBB, are facing prices far below levels needed to cover expenses.
To fill the gap in revenues created by the recent tumult, companies across industries have increasingly tapped revolvers, cut expenses, and rushed to arrange new financing. Many have flocked to the commercial paper market, creating a supply demand imbalance that drove a spike in borrowing rates. Investors, weary of the vulnerabilities in credit markets and fearing a wave of downgrades from ratings agencies have sold in masses, driving record outflows from bond mutual funds. Funds that invest in investment-grade bonds saw their worst two weeks of outflows on record, with investors withdrawing  $35.6 billion and $38 billion over the weeks ending March 18 and March 25. Alongside an abundance of supply flowing back into the market, liquidity dried up and credit spreads surged to levels last seen during the financial crisis. From a company perspective, the lapse in liquidity is particularly concerning. With over $500 billion in investment-grade debt maturing over the next 12 months and the coronavirus weighing on revenues, the need for companies to refinance is more urgent than ever and, with a dearth of willing buyers, new issuance has been reserved for only the highest-quality blue chip names with a premium attached.
The dynamics at play have created a rare dislocation. We have seen spreads on investment-grade issues, particularly those in the bloated BBB space, rise even more than high yield, a much riskier group of borrowers. Since the beginning of February, BBB option-adjusted spreads spiked over 180%, relative to 117% for high yield.
What has the Federal Reserve done to support the corporate bond market?
The Federal Reserve took notice of the imbalances forming and, on March 23, set up two facilities to provide liquidity for the corporate bond market, one targeting the primary market (or new issuance) and the other supporting secondary markets (bonds already trading). Both will be funded by $10 billion equity lines from the Treasury and loans from the New York Fed. Both facilities will exclude companies expected to receive government aid in the fiscal stimulus bill recently signed after working its way through Congress, and are set to expire in six months unless extended further by the Fed.
The Primary Market Corporate Credit Facility (PMCCF) is designed for the Fed to purchase newly issued corporate bonds maturing in four years or less from investment-grade U.S. issuers. The PMCFF will help provide market access for eligible companies, when markets would otherwise struggle to absorb the new supply. The Secondary Market Corporate Credit Facility (SMCCF) is designed for the Fed to purchase corporate bonds in the secondary market (already trading) maturing in five years or less of investment-grade U.S. issuers and corporate bond ETFs. The SMCCF will serve to improve liquidity and enhance market functioning. The Fed will be a large buyer in a market that has been dominated by sellers, which should put some downward pressure on spreads.
While much of the Fed's recent playbook has been seen before, what they have done here is unprecedented. The Federal Reserve Act prohibits direct purchase of corporate bonds and ETFs, and both facilities will be implemented through special purpose vehicles (SPVs) to sidestep current regulation.
Will it be enough?
The new fed facilities have relieved some of the stress in the credit market, with spreads coming down modestly since initial disclosure. While the Fed hasn't revealed when they will start buying corporate bonds, the announcements have effectively reopened the door for new issuance. Over the week ending March 27, U.S. companies brought $109 billion in new issuance to market, which is the highest weekly total on record. New deals continue to be skewed toward higher quality borrowers, although investors have warmed up to riskier names over the past week.
In our view, the Fed's action will help to restore market functioning, particularly on the short end of the curve where the Fed will be buying. However, substantial risks remain for lower-quality, investment-grade issuers and the high-yield market, which will not receive direct support from the Fed. High-yield issuance had been frozen for nearly a month, before YUM! Brands broke the ice with a new offering just this week. We believe that a considerable amount of pain is yet to be felt in high yield, which is why we remain underweight. In investment-grade, issuance had been at a near standstill for industries most vulnerable to the recent slowdown in consumer demand, such as automakers, airlines and energy companies, for most of March. Cruise operator Carnival managed to break this trend recently, raising several billion dollars in new debt, but with a costly 12.5% coupon, among the highest yields ever offered for an investment-grade issue, and claims on the company's assets for investors in the event of a default. It is important to understand that while the Fed can help restore market functioning and provide ample short-term financing for companies at a reasonable cost, it cannot improve fundamentals or restore demand to the industries that desperately need it. Underlying fundamentals and solvency of companies depend on the length of the economic shutdown, which is unpredictable at this point. While we welcome the recent Fed corporate bond facilities and the balance of risk has improved marginally for investment-grade corporates, we are weary that things are likely to get worse before they improve, which is why we carry a neutral position to investment-grade corporate bonds.
Core narrative:
We remain underweight to high-yield taxable fixed income and neutral to investment-grade taxable fixed income. We view the Fed's implementation of the PMCCF and SMCCF as supportive of market functioning in the investment-grade fixed income market and a critical step in providing issuers with enhanced access to credit. However, we acknowledge that liquidity doesn't resolve the core issue of muted demand and weak company fundamentals. The BBB space will remain susceptible to fallen angel risk in the months ahead, particularly if the coronavirus outbreak escalates materially from here. Risks in the high-yield market are elevated, and likely to remain so, until we see an improvement in the trajectory of the current slowdown.
[1] Source: Bloomberg
Disclosures
Wilmington Trust is a registered service mark used in connection with various fiduciary and non-fiduciary services offered by certain subsidiaries of M&T Bank Corporation including, but not limited to, Manufacturers & Traders Trust Company (M&T Bank), Wilmington Trust Company (WTC) operating in Delaware only, Wilmington Trust, N.A. (WTNA), Wilmington Trust Investment Advisors, Inc. (WTIA), Wilmington Funds Management Corporation (WFMC), and Wilmington Trust Investment Management, LLC (WTIM). Such services include trustee, custodial, agency, investment management, and other services. International corporate and institutional services are offered through M&T Bank Corporation's international subsidiaries. Loans, credit cards, retail and business deposits, and other business and
personal banking services and products are offered by M&T Bank, member FDIC. 
Facts and views presented in this report have not been reviewed by, and may not reflect information known to, professionals in other business areas of Wilmington Trust or M&T Bank who may provide or seek to provide financial services to entities referred to in this report. M&T Bank and Wilmington Trust have established information barriers between their various business groups. As a result, M&T Bank and Wilmington Trust do not disclose certain client relationships with, or compensation received from, such entities in their reports.
The information on Wilmington Wire has been obtained from sources believed to be reliable, but its accuracy and completeness are not guaranteed. The opinions, estimates, and projections constitute the judgment of Wilmington Trust and are subject to change without notice. This commentary is for information purposes only and is not intended as an offer or solicitation for the sale of any financial product or service or a recommendation or determination that any investment strategy is suitable for a specific investor. Investors should seek financial advice regarding the suitability of any investment strategy based on the investor's objectives, financial situation, and particular needs. Diversification does not ensure a profit or guarantee against a loss. There is no assurance that any investment strategy will succeed.
Past performance cannot guarantee future results. Investing involves risk and you may incur a profit or a loss.
© 2020 M&T Bank Corporation and its subsidiaries. All rights reserved.