December 17, 2019 — For the second time in as many months, we have increased our allocation to equities in response to a more optimistic outlook and a clear reduction in macro risks. Our outlook for domestic and global growth is more positive than just a few months ago when global manufacturing and trade were in stark decline and threatened to drag major economies inexorably downward toward recessions. Our investment committee moved to a neutral position in May 2019 when the global economy was slowing and the uncertainty surrounding the two principal macro risks—U.S-China trade and Brexit—were highest. In November 2019, we judged the economic outlook to have improved and the risks to have receded sufficiently, to wade back in and again have a slight overweight to risk. Our optimism seems to have been well-founded, and the further improvement in the outlook and reduction of macro risks supports another move that direction. The reasons for our increased optimism on growth and risk assets are threefold.
A bottoming out of the data. We see the economic outlook as improved relative to just a few months ago. As we pointed out last month, the more-than-year-long collapse in global manufacturing and trade was showing signs of bottoming out (Figure 1). We noted the improvement in China's manufacturing sector and a host of other indicators are increasing our conviction. The U.S. manufacturing sector continues to decline but there are indications the freefall may be bottoming out, and importantly the service sector remains in positive territory. In particular for the U.S., the labor market has surprised to the upside in the past two months, beating job growth expectations indicating firm's willingness to hire which bodes well for consumer spending. Auspiciously for global growth, the Organisation For Cooperation and Development's (OECD's) leading indicators, which use forward-looking economic data to predict turning points, have stabilized and turned more positive for the largest developed economies, including the U.S., U.K., France Germany, Japan, Italy and Canada. These and other developments are continuations of the positive developments we noted a month ago. We have taken to saying, "bottoming is a process," meaning we should not necessarily expect a sharp, one-way rebound in the data. Indeed, some data still looks weak. But we believe the conditions are ripe for improvement. Last month, we noted our optimistic outlook came with the "huge caveat" that a breakdown in the U.S.-China trade negotiations would upend the global improvements. On that front there is good news too.
Figure 1: Global manufacturing sector showing signs of bottoming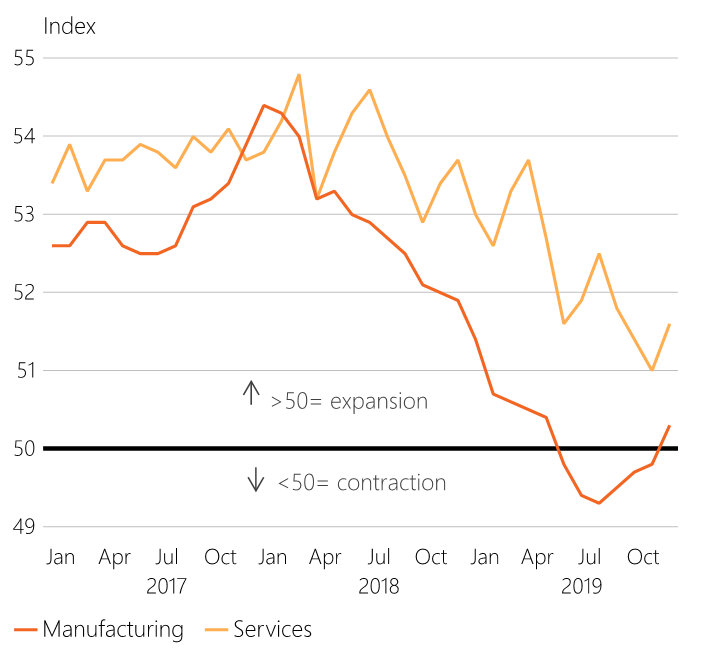 Data as of November 30, 2019. Sources: Markit, Macrobond.
Phase 1 trade deal on track. American and Chinese trade negotiators made enough progress to announce a deal and prevent a scheduled increase in tariffs on December 15, as we anticipated. The text of the agreement has yet to be released, but it is clear both sides have made a big step and prefer to avoid further escalation. Based on official comments and interviews, it appears China has agreed to increased purchases of U.S. goods over the course of multiple years. U.S. Trade Representative Robert Lighthizer says an increase of at least $200 billion, which would more than double U.S. exports there, but China has yet to confirm the amount. Lighthizer said China has agreed to new commitments on protecting intellectual property of foreign firms, stopping the "forced transfer" of technology, and some restrictions on the management of their currency. In exchange the U.S. would reduce the punitive tariffs that have been put into place over the past two years. Though we have not seen the deal and it likely won't be signed until at least January, the development encourages our conviction that we have seen "peak tariffs," as both countries' economies have been badly damaged by the trade war, and it is in both sides interest to deescalate. We believe this bodes well for their domestic economies, especially manufacturing, as well as the highly integrated global manufacturing sector. Lifting of tariffs gives a boost to the industries directly affected, and a stepping back of the brinksmanship may help boost capital expenditures more broadly, which have suffered over the past year. The Duke CFO survey of global business leaders and the National Federation of Independent Business's survey of small U.S. companies both showed sharp declines from peak optimism in mid-2018, dragged down by the slowing economy and the uncertainty of the trade war. Lifting the cloud should bring some optimism and could lead to increased capital expenditures, in our view.
More certainty that Brexit may happen. Perhaps for the first time since the shocking Brexit vote in 2016, there is some clarity on the fate of the path forward. Prime Minister Boris Johnson's Conservative Party won 365 of the 650 seats in the House of Commons in last week's election, the strongest showing for the party since Margaret Thatcher's victory in 1987. Johnson's slogan to "get Brexit done" played a part in turning longtime Labor strongholds over to Conservatives, giving Johnson the mandate he needed to proceed with Brexit as he sees fit. The UK will likely be out of the European Union by the end of January, with many more machinations—in the form of new trade deals and possibly more turbulence from Scotland and Northern Ireland, both of whom wanted to stay in—to come. But the decisive election at least brings some more certainty to the near-term path forward, with the potential of removing a major source of risk to international markets.
Core narrative
We have said since the outset of the U.S.-China trade war that a full-fledged accelerating increase of tariffs and non-tariff barriers would be sufficient to push the U.S. economy into recession and equity markets into bear territory. The U.S. and global economies have felt the pain, especially over the past six months. The announcement of agreement on a "Phase 1" deal, in our view, goes a long way toward removing the largest macro risk to markets. Combined with more certainty on Brexit and a broad improvement in economic data and the outlook, we are more optimistic about equity markets heading into 2020 and have increased our overweight to equities accordingly.
We are quite conscious that resolution of one set of risks merely makes an opening for others to fill the void. So while we have gained some optimism we are doubtful that we've seen the end of the U.S.-China trade spat. There are many steps to go and plenty of opportunities for it to worsen again in 2020. Somewhere in the middle of 2020 we expect markets to begin pricing in the risks that will emanate from the U.S. election, no matter the victor. For now we are confident that risks have abated enough to justify this increase in risk assets.
Disclosures
Wilmington Trust is a registered service mark. Wilmington Trust Corporation is a wholly owned subsidiary of M&T Bank Corporation. Wilmington Trust Company, operating in Delaware only, Wilmington Trust, N.A., M&T Bank and certain other affiliates, provide various fiduciary and non-fiduciary services, including trustee, custodial, agency, investment management and other services. International corporate and institutional services are offered through Wilmington Trust Corporation's international affiliates. Loans, credit cards, retail and business deposits, and other business and personal banking services and products are offered by M&T Bank, member FDIC.
Facts and views presented in this report have not been reviewed by, and may not reflect information known to, professionals in other business areas of Wilmington Trust or M&T Bank who may provide or seek to provide financial services to entities referred to in this report. M&T Bank and Wilmington Trust have established information barriers between their various business groups. As a result, M&T Bank and Wilmington Trust do not disclose certain client relationships with, or compensation received from, such entities in their reports.
The information on Wilmington Wire has been obtained from sources believed to be reliable, but its accuracy and completeness are not guaranteed. The opinions, estimates, and projections constitute the judgment of Wilmington Trust and are subject to change without notice. This commentary is for information purposes only and is not intended as an offer or solicitation for the sale of any financial product or service or a recommendation or determination that any investment strategy is suitable for a specific investor. Investors should seek financial advice regarding the suitability of any investment strategy based on the investor's objectives, financial situation, and particular needs. Diversification does not ensure a profit or guarantee against a loss. There is no assurance that any investment strategy will succeed.
Past performance cannot guarantee future results. Investing involves risk and you may incur a profit or a loss.
Indexes are not available for direct investment. Investment in a security or strategy designed to replicate the performance of an index will incur expenses such as management fees and transaction costs which would reduce returns.