April 15, 2020—The COVID-19 epidemic and ensuing mitigation measures are unprecedented and will produce jarring impacts on the U.S. and world economies. The stay-at-home measures employed in the U.S. and elsewhere include the forced closure of vast swaths of the economy on both the goods and services sides. The first and most dramatic signs of the damage have been in new claims for unemployment insurance, which show 16.8 million people losing jobs over the past three weeks and more to be announced tomorrow morning. In terms of monthly data, we are just now starting to see the impacts hitting the U.S. This morning's retail sales showed a record decline of 8.7% in March compared to February. That does not tell the whole story and we believe it will deteriorate further. But just how far relies on how long the mitigation measures stay in place.
We developed a framework for projecting economic growth, which then plays into our portfolio positioning. In the time since developing the framework, we have revised down our expectations for nearly all scenarios based on lower expected consumer spending, higher job losses, and a slower resumption of economic activity once mitigations are lifted. Below we present the framework in more detail than before.
Notwithstanding the recent rally in markets, we expect conditions to deteriorate and equity markets to re-test the lows set in March. We continue to recommend an underweight to equities and recently increased our allocation to municipal bonds. We remain cautious and will continue to evaluate economic and market developments as they play out.
Our bottom-up approach
To estimate the expected economic impact of the current crisis, we built a bottom-up analysis by projecting the possible impacts on specific line items of consumer spending, job losses, cutbacks on business capital expenditures, and the government's fiscal policy response. Critically, the future spread of the virus and medical developments for diagnosis and treatment are unknown; hence, so are the degree and length of the economic shutdowns ahead. In order to deal with that, we estimated impacts over varying scenarios of degree and length.
Our results, shown in Figure 1, indicate a wide range of possibilities for economic growth in the U.S. in 2020. The best is a very positive 2.9% growth rate if the spread of the virus abated immediately and only one-third of the country experienced mitigation efforts for 30 days. We are likely already past that point with nearly 90% of the U.S. population under some kind of stay-at-home order at the start of April 2020. The worst outcome of -14.0% comes from a nationwide order for 180 days and would be the poorest economic performance in the scope of the U.S. GDP data, exceeding the worst year of the Great Depression.
Figure 1
U.S. Real GDP growth 2020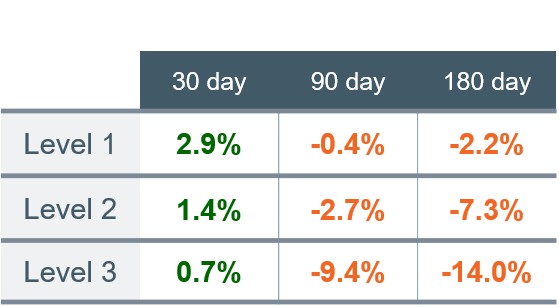 Level 1: One-third of the nation's population is under significant mitigation measures
Level 2: Two-thirds of the nation's population is under significant mitigation measures
Level 3: The full nation's population is under significant mitigation measures
All scenarios assume a $2 trillion federal stimulus package of which $1 trillion enters the economy directly in 2020.
Data as of April 7, 2020.
Source: WTIA.
Consumer spending
It's well known that the American consumer is the largest component of the U.S. economy, making up approximately two-thirds of GDP. The nature of the COVID-19 mitigation efforts is leading to a sudden shutdown of many types of consumer spending, different from any recession witnessed in the past. We apply adjustment factors for a very detailed level of consumer spending (36 subsectors) for each degree of mitigation to project the aggregate impact on consumer spending.
Figure 2 shows the impacts aggregated to a higher level than the level of analysis. In our scenario framework, we apply differentiated impacts to each consumer spending sector depending on its exposure to the mitigation efforts. Some line items are more affected by the mitigation strategies, such as restaurants, movie theaters, and hotels (as a result of canceled events and restricted travel). Also taking a hit are retail (clothing) and personal service businesses (salons), while other categories are actually seeing an increase in spending (internet video streaming and groceries) as a result of the stay-at-home orders.
The impact on overall consumer spending is staggering. With a Level 1 mitigation, where one-third of the country is under some kind of stay-at-home restriction, consumer spending declines by more than 10%. Under Level 3, nearly one-third of consumer spending disappears. Those figures are in annual spending terms. To incorporate these figures into our overall framework, we adjust the annual figures (12 months) from Figure 2 to reflect the timeframes of 30 days, 90 days, and 120 days.
Figure 2
Summary of projected consumer spending impacts by mitigation level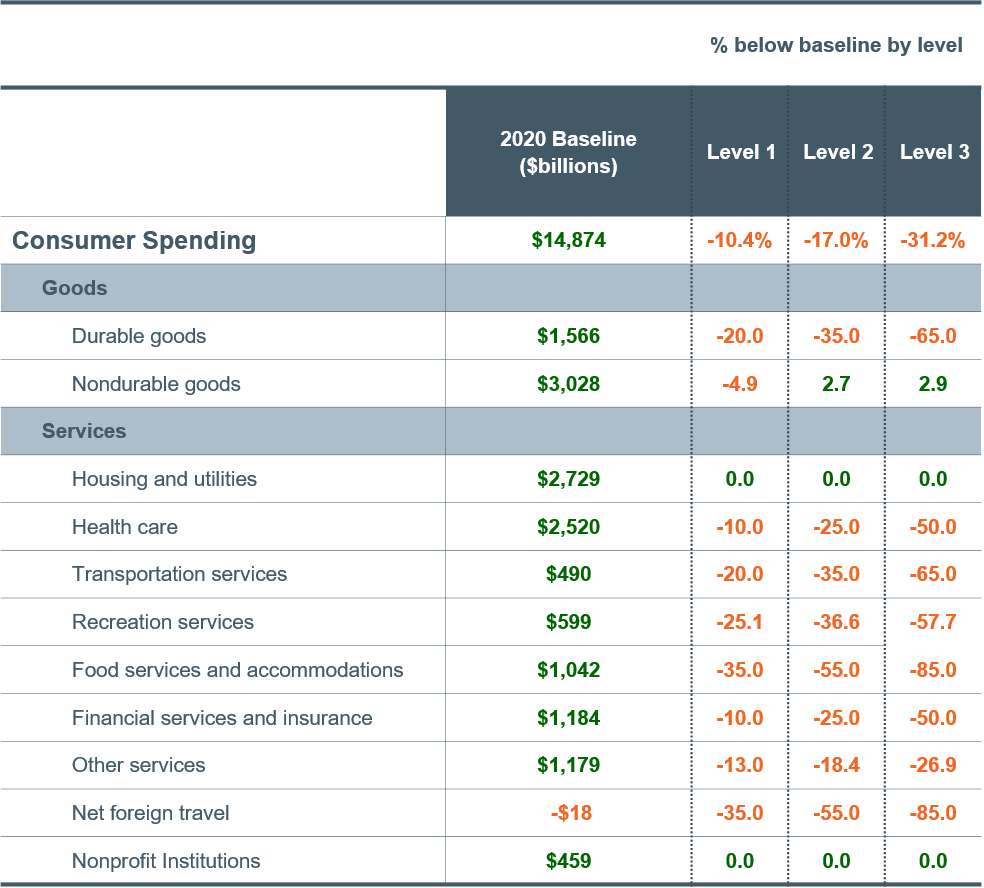 Level 1: One-third of the nation's population is under significant mitigation measures
Level 2: Two-thirds of the nation's population is under significant mitigation measures
Level 3: The full nation's population is under significant mitigation measures
All scenarios assume a $2 trillion federal stimulus package of which $1 trillion enters the economy directly in 2020.
Data as of April 7, 2020.
Sources: Bureau of Economic Analysis, WTIA.
Job losses
We also estimate job impacts for each of the levels and lengths of mitigation. We provide separate impacts for each of the 14 main employment sectors. Impacts are more severe for highly affected industries (leisure and hospitality) and less for others (professional and business services). The job losses are then factored into our GDP growth estimates by way of lost income, which in turn further reduces consumer spending.
In addition to leisure and hospitality, the industries expected to see the largest reduction in employment include retail trade and other services, and health care (nonurgent medical employees at doctor and dentist offices). In addition, some additional sectors may be vulnerable given a large share of small business employment (construction, wholesale trade). We also expect reduced employment in the energy sector (which falls under the mining and logging industry), assuming that the plunge in oil prices persists.
Figure 3 shows the projected aggregate impacts on the U.S. job market for the 90-day scenarios at all three levels. At Level 1 for 90 days, we project 11.5 million job losses, which would lead to an estimated unemployment rate of 10.5%, assuming no change in the labor force. At Level 2, the job losses are more than double, and at Level 3 for 90 days, we project a staggering loss of 34 million jobs generating a Depression-era level of unemployment of nearly one-quarter of the labor force. Importantly, these job losses could be very short-term in nature if the mitigations are lifted and government stimulus efforts are successful in preventing large-scale, permanent layoffs.
Figure 3
Projected job losses (millions) and implied unemployment rates by scenario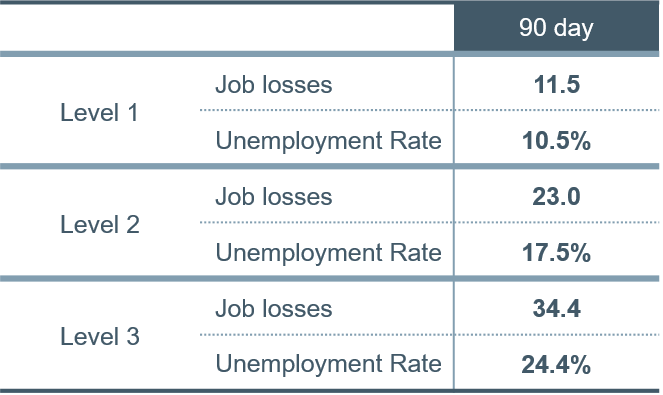 Employment impacts do not incorporate the potential impact of fiscal stimulus on hiring behavior or labor supply. Unemployment rate calculations assume no change in the labor force.
Data as of April 7, 2020.
Source: WTIA.
Capital expenditures
Capital expenditures (capex) are expected to decline due to the collapse in oil prices and the mitigation strategies. Private capex makes up nearly 18% of the economy. About 80% of that is spending by firms and the other 20% is the construction of homes. For the shorter mitigation periods, we do not expect capex to decline as sharply as in the 2008–2009 crisis. In that episode more than a decade ago, a financial crisis impeded capital flows, blocked access to credit, and created a more drawn out and intense economic cycle. But a prolonged 180-day mitigation for the entire country is likely to bring down capex as much as before.
The impact increases with the level and length of mitigation. Capex is a smaller component of the economy, but historically has more significant swings than consumer spending over the course of a cycle. This cycle could be different as the primary trigger for the downturn is a direct, forced reduction of consumer spending.
Fiscal stimulus
The fiscal stimulus plans that have already been signed into law will boost direct federal spending and enter the economy to mitigate some of the lost spending and wages described earlier. The largest and most recent plan includes many grants and lending programs that are designed to help firms through the challenging declines in consumer spending, which translate to lost revenue. There are industry-specific programs for airlines and hospitals. A key component is the nearly $350 billion for Small Business Administration loans that will essentially convert to grants and won't need to be paid back for small businesses that retain their employees. This complements expanded access to credit markets for large firms through the Federal Reserve.
Other components of the stimulus are paid directly to individuals. These include checks of $1,200 sent directly to individuals making up to $75,000 and then declining amounts up to $99,000. In addition, those with children will receive $500 per child. Additionally, for those who lose their jobs, the eligibility and the amount of income replacement from the unemployment insurance program have been greatly expanded. We incorporate the federal fiscal stimulus spending in our expectations for growth in each of the scenarios.
The ultimate economic impact of COVID-19 and the mitigation measures depend heavily on variables that are currently unpredictable, including the spread of the disease, the level of mitigation employed, and the length of that mitigation. Our framework is a way to address those uncertainties by examining a range of scenarios. We are confident that, with the level of mitigation implemented thus far and the economic damage that has emerged, the U.S. will experience a sharply negative shock in the second quarter like never witnessed before. The depth of that shock will depend on the duration of mitigation. Crucially, the rate of economic recovery after mitigation is lifted will depend on how businesses have weathered the storm. The fiscal stimulus provides a cushion for many businesses, and in our model, it softens the blow to growth.
Core narrative
We retain a cautious stance on markets, positioning client portfolios with a modest underweight to equities versus our strategic benchmark and a slight overweight to investment-grade municipal bonds. The U.S. health situation is clearly going to deteriorate further in the near term as we march toward the national peak of the pandemic, and absent a positive surprise from the pharmaceutical industry, we see little to counter that negative news flow. However, we still expect the U.S. contraction to be shorter—albeit deeper—than many prior recessions, and we expect stocks will be higher, perhaps significantly so, 12 months from now. Rather than reducing risk further in portfolios, we think it is prudent to be rebalancing portfolios and queuing up—but not yet deploying—strategies for adding back to risk assets. It is not yet the time to overweight equities, but for investors with a time horizon greater than two to three years, we believe the market currently presents attractive opportunity that may only increase if indeed we have not yet reached the depths of this crisis.
Disclosures
Wilmington Trust is a registered service mark used in connection with various fiduciary and non-fiduciary services offered by certain subsidiaries of M&T Bank Corporation including, but not limited to, Manufacturers & Traders Trust Company (M&T Bank), Wilmington Trust Company (WTC) operating in Delaware only, Wilmington Trust, N.A. (WTNA), Wilmington Trust Investment Advisors, Inc. (WTIA), Wilmington Funds Management Corporation (WFMC), and Wilmington Trust Investment Management, LLC (WTIM). Such services include trustee, custodial, agency, investment management, and other services. International corporate and institutional services are offered through M&T Bank Corporation's international subsidiaries. Loans, credit cards, retail and business deposits, and other business and
personal banking services and products are offered by M&T Bank, member FDIC.
Facts and views presented in this report have not been reviewed by, and may not reflect information known to, professionals in other business areas of Wilmington Trust or M&T Bank who may provide or seek to provide financial services to entities referred to in this report. M&T Bank and Wilmington Trust have established information barriers between their various business groups. As a result, M&T Bank and Wilmington Trust do not disclose certain client relationships with, or compensation received from, such entities in their reports.
The information on Wilmington Wire has been obtained from sources believed to be reliable, but its accuracy and completeness are not guaranteed. The opinions, estimates, and projections constitute the judgment of Wilmington Trust and are subject to change without notice. This commentary is for information purposes only and is not intended as an offer or solicitation for the sale of any financial product or service or a recommendation or determination that any investment strategy is suitable for a specific investor. Investors should seek financial advice regarding the suitability of any investment strategy based on the investor's objectives, financial situation, and particular needs. Diversification does not ensure a profit or guarantee against a loss. There is no assurance that any investment strategy will succeed.
Past performance cannot guarantee future results. Investing involves risk and you may incur a profit or a loss.
© 2020 M&T Bank Corporation and its subsidiaries. All rights reserved.