October 24, 2019— On Tuesday, October 22, by a vote of 329-299, the UK House of Commons approved in principle the revised EU Withdrawal Agreement (to implement "Brexit") negotiated with the EU by Prime Minister Boris Johnson. The PM has managed to achieve what his predecessor, Theresa May, could not, even after three attempts. However, the Withdrawal Agreement, a formal treaty, will only go into effect once Parliament approves an accompanying Withdrawal Bill, which constitutes detailed implementing legislation. Such a bill would normally merit weeks of debate and amendment. Consequently, the Commons rejected the PM's proposal for only three days of debate. This means that the UK will need the EU to accept the UK's request (which the PM made Saturday, under a law previously passed by the Commons) for an extension of the October 31 Brexit deadline. The EU will likely agree. Two potential amendments to the bill, if passed, may well lead the PM to pull the bill, which would trigger a general election.
What does Johnson's new deal do?
The Withdrawal Agreement retains the basic structure of May's agreement, except with respect to Northern Ireland. During an interim period through December 2020, the UK and EU would negotiate some form of loose free trade agreement like that which the EU has with Switzerland, Canada, or Japan. At the end of the interim period, the UK would be free to sign free trade agreements with other countries. Given that it can take years to negotiate a free trade agreement, it seems likely that the interim period will be extended. During the interim period, the UK remains within the EU customs union, which allows tariff-free goods trade within the EU, and common external tariffs.
The thorny Irish border issue is fudged by an arrangement whereby goods shipped from Britain to Northern Ireland, but ultimately headed to the Republic of Ireland, would be subject to EU tariffs. There would be no customs collected at the intra-Irish land border. The Northern Irish Assembly (currently suspended) would have the right to cancel this arrangement after four years. The Democratic Unionists of Northern Ireland are unhappy about the arrangement because it would establish a customs border of sorts between Northern Ireland and the rest of the United Kingdom, which they consider a threat to the unity of the UK.
Will pro-Remain parties in the Commons seek to amend the bill?
Unhappiness about the new Northern Ireland arrangement provides a wedge for a potential amendment to the Withdrawal Bill. This would force the government to keep the UK in the EU customs union past December 2020, even if no free trade agreement can be reached. There is a lot of support for such an amendment across all political parties, except among pro-Leave Conservatives. In a previous round of amendment consideration several months ago, this amendment failed by only three votes. In addition, the pro-Remain parties are likely to offer an amendment to force the Withdrawal Agreement to a popular referendum. This amendment has less support in the Commons than the customs union amendment. A new referendum would raise the possibility that voters could reverse the 2016 referendum outcome. The Johnson government would be vehemently opposed to either amendment. If either is passed, the PM would likely pull the amended bill before final passage and seek a new general election.
Would the EU agree to extend the October 31 Brexit deadline?
The EU does not want to be blamed for causing a no-deal Brexit or for interfering in British politics, so there is no reason it would not extend the deadline. There is some debate within the EU about the length of the extension, whether it should be a few weeks long, or a few months long. If only a few weeks long, the new deadline would allow time for debate of the bill and passage of any amendments.  If a few months long, the extension would allow time for either a new general election or a second Brexit referendum.
Would the UK have a new general election?
It seems likely that the UK will have a new general election, probably before the end of 2019. It is up to the PM to call for one, but, because he lacks a working majority in the Commons, he needs cross-party support. While such support is not guaranteed, it is likely the case that both the Conservatives and Labour feel they can "win" the elections. Johnson clearly feels emboldened by the Commons' passage of the Withdrawal Agreement in principle. However, the pro-Remain parties (Labour, Liberal Democrats, Scottish Nationalists, and Greens) have conviction, based on opinion polling, that the Conservatives will be unable to achieve a majority. In that case, there would be a coalition government, led by Labour (either by Jeremy Corbyn or some who might be more acceptable to coalition partners). In such a government, all bets are off, and there is a greatly increased likelihood that the UK will remain in the EU customs union or that a new referendum would be held.
Market implications
We have tended to be less pessimistic than the market about the probability of a no-deal Brexit. We felt either that a deal would eventually be done (probably after a lengthy extension) or that a second referendum would kill Brexit. With the approval in principle of Johnson's Withdrawal Agreement, the likelihood of a no-deal Brexit has diminished even further, and the market is repricing UK risk. Still, there is a potential downside which we have previously identified. A new general election would create some degree of political and economic policy uncertainty, given that the government may pass from the Conservatives to a Labour-led coalition. Were Corbyn to become prime minister, there is a significant probability that hard-left policies would supplant pro-market policies. However, as we have pointed out, his flexibility to act would be constrained by his coalition partners.
Core narrative
We currently have a neutral weight to developed ex-U.S. equities. German and Japanese industrial and consumer discretionary stocks are sensitive to recent weakness in China, their fastest-growing market. They have also suffered some collateral damage from the U.S.-China trade war. Furthermore, in both countries, an absence of fiscal stimulus has weighed on domestically focused stocks. However, we have not gone to an underweight in domestic ex-U.S. equities, because we would expect a significant boost from a stabilization of Chinese growth and a de-escalation of the U.S.-China trade dispute.
Pound sterling (U.S. dollars)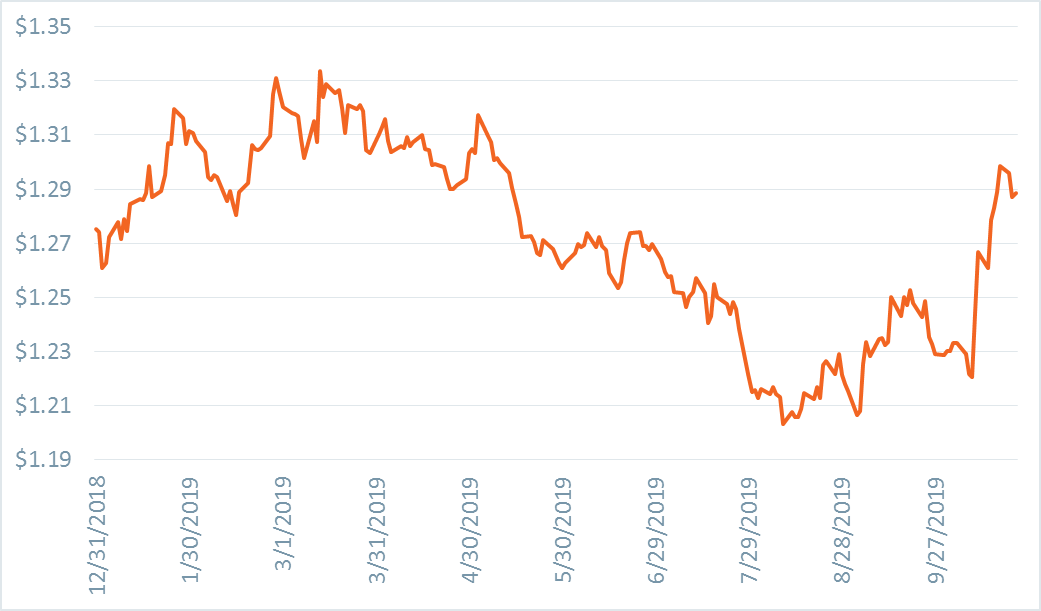 Source: Bloomberg
Data as of October 22, 2019.
Disclosures
Wilmington Trust is a registered service mark. Wilmington Trust Corporation is a wholly owned subsidiary of M&T Bank Corporation. Wilmington Trust Company, operating in Delaware only, Wilmington Trust, N.A., M&T Bank and certain other affiliates, provide various fiduciary and non-fiduciary services, including trustee, custodial, agency, investment management and other services. International corporate and institutional services are offered through Wilmington Trust Corporation's international affiliates. Loans, credit cards, retail and business deposits, and other business and personal banking services and products are offered by M&T Bank, member FDIC.
Facts and views presented in this report have not been reviewed by, and may not reflect information known to, professionals in other business areas of Wilmington Trust or M&T Bank who may provide or seek to provide financial services to entities referred to in this report. M&T Bank and Wilmington Trust have established information barriers between their various business groups. As a result, M&T Bank and Wilmington Trust do not disclose certain client relationships with, or compensation received from, such entities in their reports.
The information on Wilmington Wire has been obtained from sources believed to be reliable, but its accuracy and completeness are not guaranteed. The opinions, estimates, and projections constitute the judgment of Wilmington Trust and are subject to change without notice. This commentary is for information purposes only and is not intended as an offer or solicitation for the sale of any financial product or service or a recommendation or determination that any investment strategy is suitable for a specific investor. Investors should seek financial advice regarding the suitability of any investment strategy based on the investor's objectives, financial situation, and particular needs. Diversification does not ensure a profit or guarantee against a loss. There is no assurance that any investment strategy will succeed.
Past performance cannot guarantee future results. Investing involves risk and you may incur a profit or a loss.
Indexes are not available for direct investment. Investment in a security or strategy designed to replicate the performance of an index will incur expenses such as management fees and transaction costs which would reduce returns.