February 3, 2020 — The novel coronavirus originating from the populous city of Wuhan, China, continues to progress, with still-unclear implications for global economies and markets. Since our Wilmington Wire post last week discussing the topic, the number of reported cases globally has more than quadrupled to 17,489 across 24 different countries, with 362 deaths reported, at the time of writing. All but one of these deaths has occurred in China. Millions of people in China are essentially under lockdown, and most major airlines have suspended some or all flights into and out of China. At this point, anyone lacking a well-functioning crystal ball is digesting the continuous and evolving news flow to determine how the virus could play out through the global economy, ourselves included. Given what we know and our base case assumption for a sharp but short and isolated economic slowdown, we are maintaining our bullish 12-month outlook advising clients to stay the course and remain overweight to equities.
Economic expectations
In short, the economic fallout of the virus will depend on how long it takes to contain the spread and whether the death rate outside of China increases, as well as the response from Chinese and global policymakers. We do not yet know the specifics around these variables, but in our assessment the measures from China to contain the virus have been dramatic, if not a bit delayed. The response from Chinese policymakers to extend the New Year holiday and implement the largest-ever known quarantine affecting almost 60 million people in 17 cities is almost certain to result in a sharp drop in economic activity. The hope is these steps will shorten the duration of the epidemic and resultant economic fallout and see activity rebound in subsequent quarters.
Assuming the virus is contained in the next few weeks, we expect China's economic growth for 2020 to be reduced by between 0.3%–0.5%, with the reduction in global economic growth for the year more modest and potentially on the order of 0.1% below what we were originally anticipating.
Should the situation prove more dire, with the spread and containment of the virus lasting into the second quarter of the year, the economic impact would likely be more severe and widespread. In this case, we would expect to see a greater impact on global supply chains. Planned closures of production facilities for the New Year holiday have thus far avoided meaningful unanticipated disruption to global supply chains, but more prolonged facility closures would be felt globally and could have an outsized impact on technology and industrial companies, as well as on restaurant and other consumer-related outlets. To date, the list of U.S. corporate closures in parts of China includes many familiar names: McDonalds, Starbucks, Pizza Hut, Apple, IKEA, H&M, Gap, and Old Navy. The response from automakers has been mixed. Tesla and Toyota have shuttered production for the time being, while GM, Ford, Fiat Chrysler, and Volkswagen remain operational but with travel restrictions for employees. While these world-recognized brands are highly visible, the possible closures of smaller, lesser-known suppliers could have as big of an impact on economic growth and corporate earnings.
Market reaction
So far, the virus has led to heightened volatility across asset classes, but we are not seeing outright panic, even in the most affected markets, like China. By one measure, the CBOE Volatility Index (VIX), volatility has not yet returned to the height of the U.S.-China trade fight in the spring and summer of 2019 (Figure 1). Chinese markets reopened on Monday, February 3, after being closed for more than a week for the New Year holiday and fell about 10%, with many securities triggering the "down limit" and halting trading. The coming days could see more weakness as investors catch up to the news of the past two weeks. More broadly, emerging markets equities have fallen about -7.5% from the market peak earlier on January 17, 2020. The reaction elsewhere is more muted, with the S&P 500 down just 3% over that time.
Figure 1: Volatility elevated but not signaling panic
CBOE Volatility Index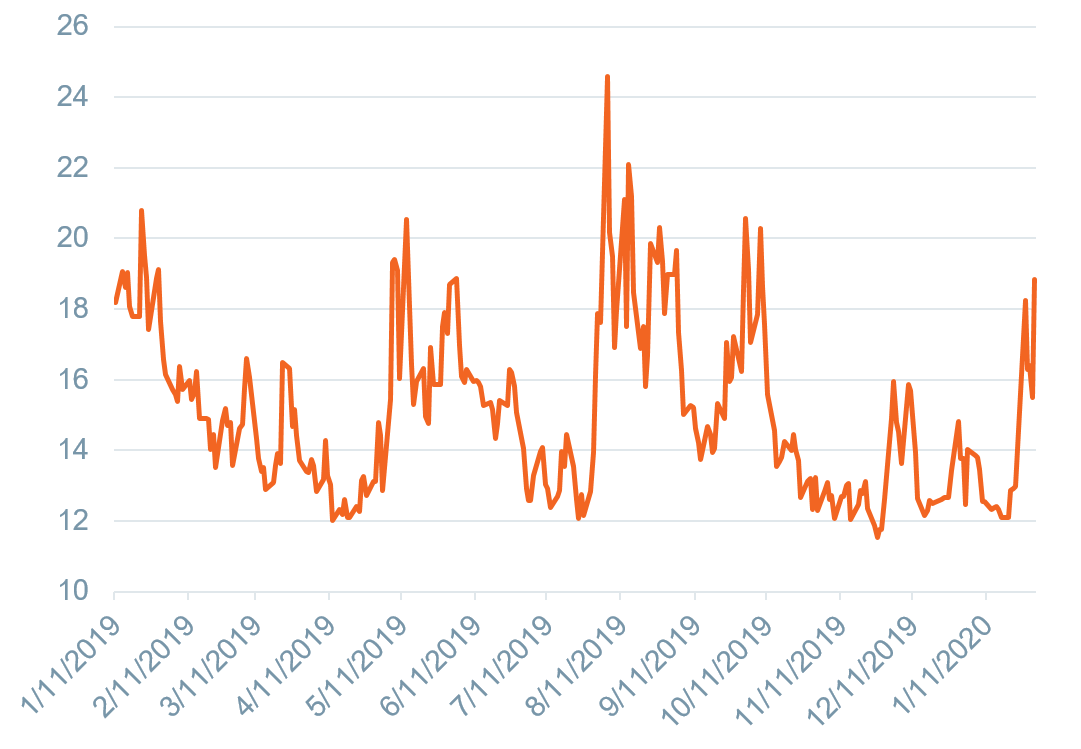 As of February 3, 2020. Source: Bloomberg, Chicago Board of Exchange.
Going forward, we would expect volatility to remain elevated, with China and the surrounding regions feeling the brunt of the pain. This could be offset by stimulus from Chinese policymakers, including the $22 billion worth of liquidity injected into the market on Monday and the 0.1% reduction of the main policy rate for the People's Bank of China.
If the number of deaths outside of China does not increase materially, particularly as we get more information about the second-order spreading of the disease, we would look for U.S. and international developed equity markets to remain soft until the number of cases peaks, but bounce swiftly thereafter. While we look to past epidemics like SARS and MERS with several large grains of salt given changes to the economic environment and market structure over the past 17 years, past instances have seen equities trough not when a cure is found or the economy returns to trend growth, but when the number of new reported cases crests and begins to slow.
Core narrative
This last point is critical and speaks to our long-term investment process. At the end of the day, we may see global equities correct by 5%–10% (the MSCI All Country World Index has corrected -3.5% at the time of writing), but we would expect the market to very quickly reprice once there is a sense that authorities are containing the spread of the virus. Corrections of the 5%–10% variety are a frequent occurrence, and to try to trade around them is rarely profitable, particularly with the speed of new information related to the coronavirus. The hardest thing to do during this type of volatility is nothing, but that is often the best course of action.
Currently, we do not see the coronavirus materially altering our 12-month global economic outlook and we are retaining our modest overweight to equities, favoring U.S. small cap and international developed equities over U.S. large cap and emerging markets. Of course, we are learning more by the hour and are carefully monitoring reports from global health officials to determine if the reality is more negative—or positive—than our base case and may warrant an adjustment to portfolios.
Disclosures
Wilmington Trust is a registered service mark. Wilmington Trust Corporation is a wholly owned subsidiary of M&T Bank Corporation. Wilmington Trust Company, operating in Delaware only, Wilmington Trust, N.A., M&T Bank and certain other affiliates, provide various fiduciary and non-fiduciary services, including trustee, custodial, agency, investment management and other services. International corporate and institutional services are offered through Wilmington Trust Corporation's international affiliates. Loans, credit cards, retail and business deposits, and other business and personal banking services and products are offered by M&T Bank, member FDIC.
Facts and views presented in this report have not been reviewed by, and may not reflect information known to, professionals in other business areas of Wilmington Trust or M&T Bank who may provide or seek to provide financial services to entities referred to in this report. M&T Bank and Wilmington Trust have established information barriers between their various business groups. As a result, M&T Bank and Wilmington Trust do not disclose certain client relationships with, or compensation received from, such entities in their reports.
The information on Wilmington Wire has been obtained from sources believed to be reliable, but its accuracy and completeness are not guaranteed. The opinions, estimates, and projections constitute the judgment of Wilmington Trust and are subject to change without notice. This commentary is for information purposes only and is not intended as an offer or solicitation for the sale of any financial product or service or a recommendation or determination that any investment strategy is suitable for a specific investor. Investors should seek financial advice regarding the suitability of any investment strategy based on the investor's objectives, financial situation, and particular needs. Diversification does not ensure a profit or guarantee against a loss. There is no assurance that any investment strategy will succeed.
Past performance cannot guarantee future results. Investing involves risk and you may incur a profit or a loss.
Indexes are not available for direct investment. Investment in a security or strategy designed to replicate the performance of an index will incur expenses such as management fees and transaction costs which would reduce returns.