February 11, 2020 —This is the fourth in a series on the continuing coronavirus outbreak (Coronavirus Concerns: Monitoring the Risks Closely, but Not Reacting in Portfolios Yet, 1/28; Coronavirus update: Hold the Line 2/3; Coronavirus Disruptions—Which Industries Have Been Hurt Most? 2/5).
As the coronavirus epidemic enters its fourth week, it remains at the center of investor attention, yet a wide swath of uncertainties remains as we assess the virus's impact on economic growth and its implications for global markets. At the time of writing, there are 42,760 confirmed cases of the novel coronavirus (2019-nCOV) across nearly 30 countries with 1,013 reported deaths—surpassing the fatality numbers for SARS in 2003 and MERS in 2012. China has remained the epicenter of the outbreak, home to 99% of cases and 99.8% of deaths reported to date. In addition, the numbers suggest that the virus has been more deadly in China, with 1,011 deaths reported, equating to a 2.3% fatality rate relative to a rate of 0.4% in the rest of the world. We have been closely watching the daily number of cases and the reported mortality of the disease, in hopes of identifying a possible inflection point but believe it is important to separate the known from the unknown at the current stage.
While the number of cases has more than doubled and deaths nearly tripled in the last week, we are starting to see some moderation in the daily growth rate of cases within China. The number of daily new cases in China has decelerated over the past week (Figure 1), dropping to a three-day average of 8% in China from an average of 29% since January 20. Meanwhile, daily new cases in the rest of the world have dropped from an average increase of 26% per day over the same period to an average of 13% over the last three days (skewed upward by the recent outbreak on a cruise ship quarantined off the coast of Japan). While the statistics are encouraging, we recognize that the data coming from China must be discounted to a degree and that the week ahead will be critical for our understanding of the transmissibility of the disease and the effectiveness of measures taken by Chinese authorities to curb the virus' spread.
Figure 1: Daily growth rate of novel coronavirus (January 20–February 10, 2020)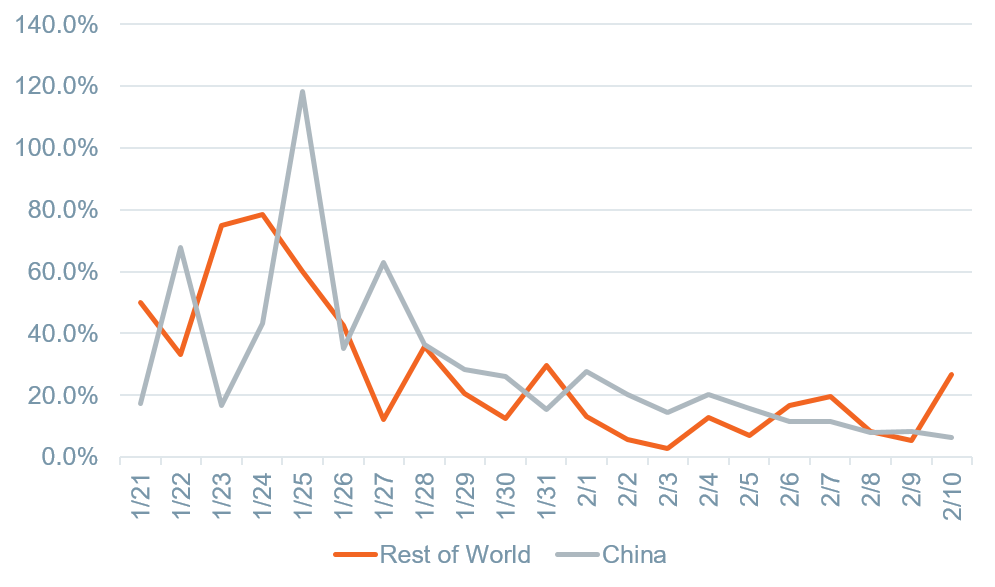 Source: World Health Organization. Data as of February 10, 2020.
Separating the known from the unknown
A key hurdle in evaluating the impact from the coronavirus is the lack of conviction we have in the quality of data coming out of China relative to the rest of the world. While it appears that Chinese authorities are operating with significantly more transparency than in past episodes, the data out of China have thus far been opaque. As an example, only those showing signs of pneumonia are receiving testing for coronavirus due to the severity of the outbreak and scarcity of resources. This leaves an incomplete view of the number of cases in the country, particularly those more mild or asymptomatic cases, presenting risks of overestimating the mortality rate and underestimating the total case count.
The World Health Organization, one of the agencies tasked with tracking cases and fatalities, has highlighted that it is still too early to make a conclusive statement about the mortality rate or the number of cases overall. It may take several weeks or months for us to have a clear view of the number of cases in China and the mortality rate; also, the figures reported in the rest of the world are more trustworthy in our view. Outside of China where the outbreak has been shorter in reach, those with milder cases are more likely to receive testing, leaving us with greater confidence in the accuracy of figures reported in other countries and the efficacy of containment measures implemented.
Why the week ahead matters
Undoubtedly, the actions taken by China to stem the flow of coronavirus have been far more aggressive than in past epidemics. On January 23, Chinese authorities shut down transportation into and out of the city of Wuhan, effectively putting the city of over 11 million on lockdown and initiating one of the largest quarantines in history. The novel coronavirus has a 14-day incubation period, and a little over two weeks have now past since the lockdown in Wuhan commenced. If the series of drastic measures taken by Chinese authorities have been effective, we would expect to see further deceleration in daily growth rates of new cases and deaths over the coming days.
Core narrative
At this time, we are encouraged by the recent deceleration of new daily cases, although it is still too early to claim we are out of the woods. Our client portfolios are currently overweight international developed and U.S. small-cap equities, and the novel coronavirus poses some short-term risks for both asset classes. U.S. small-cap equities are more domestically focused, and therefore better positioned to benefit from a solid U.S. economy. However, smaller companies are often more limited than larger multinationals by flexibility of supply chains, which tend to be less diversified and less capable of pivoting in response to short term disruptions, a key risk as the virus continues to spread.
International developed equities such as Japan and Europe are more leveraged to global trade and thus more vulnerable to a slowdown in China's economic activity. While we expect that the coronavirus will negatively impact tourism and consumer businesses, we anticipate that industrial activity will see more of a rebound once the virus is contained and normal activity resumes. Economic activity may be very weak in the first quarter, but at this time we expect to see a sizable catchup in the second quarter. While the coronavirus introduces short-term risks to our outlook, we maintain our long-term view for a pickup in economic activity and do not believe a change to our positioning is warranted at this time. Recent monetary and fiscal easing from China, a moderately supportive stance from central banks globally, and a resilient consumer and services sector all provide us with further conviction in our view.
Disclosures
Wilmington Trust is a registered service mark. Wilmington Trust Company, operating in Delaware only, Wilmington Trust, N.A., M&T Bank and certain other subsidiaries of M&T Bank Corporation, provide various fiduciary and non-fiduciary services, including trustee, custodial, agency, investment management and other services. International corporate and institutional services are offered through M&T Bank Corporation's international subsidiaries. Loans, credit cards, retail and business deposits, and other business and personal banking services and products are offered by M&T Bank, member FDIC.
Facts and views presented in this report have not been reviewed by, and may not reflect information known to, professionals in other business areas of Wilmington Trust or M&T Bank who may provide or seek to provide financial services to entities referred to in this report. M&T Bank and Wilmington Trust have established information barriers between their various business groups. As a result, M&T Bank and Wilmington Trust do not disclose certain client relationships with, or compensation received from, such entities in their reports.
The information on Wilmington Wire has been obtained from sources believed to be reliable, but its accuracy and completeness are not guaranteed. The opinions, estimates, and projections constitute the judgment of Wilmington Trust and are subject to change without notice. This commentary is for information purposes only and is not intended as an offer or solicitation for the sale of any financial product or service or a recommendation or determination that any investment strategy is suitable for a specific investor. Investors should seek financial advice regarding the suitability of any investment strategy based on the investor's objectives, financial situation, and particular needs. Diversification does not ensure a profit or guarantee against a loss. There is no assurance that any investment strategy will succeed.
Past performance cannot guarantee future results. Investing involves risk and you may incur a profit or a loss.
Indexes are not available for direct investment. Investment in a security or strategy designed to replicate the performance of an index will incur expenses such as management fees and transaction costs which would reduce returns.