December 22, 2020—Throughout 2020, European leaders, including UK leaders, have been developing a fiscal framework for accelerating the region's emergence from the COVID-19 recession. At the same time, they have been laying the groundwork for a "Green and Digital Transition", which they view as a foundation for longer-term economic growth.
European politicians often speak about defending and promoting "European values." Among such values are democratic governance, human rights, a strong social safety network, a clean environment, de-carbonization, free and fair trade, and control over anti-competitive behavior. Many of these European values also serve as organizing principles for EU-level industrial policy.
This Wilmington Wire explores some important steps that the EU has taken to protect and foster its renewable energy, business software, information services, and media industries.
Recent EU Actions on Green and Digital Transition
In mid-December, the EU took several important steps intended to protect and foster its renewable energy, information services, retailers, and information technology industries. We expect the UK to follow the EU's lead, in general outlining it if not matching it exactly in parallel.
On December 12, EU heads-of-state agreed to reduce 2030 greenhouse gas emissions by 55% from 1990 levels. This was the last heads-of-state decision needed in order for the EU to promulgate its Europe Climate Law, a centerpiece of a broader European Green Deal that the European Commission, the EU's top rule-drafting body, publicly presented in 2019. The draft law already requires EU carbon neutrality by 2050. Politically, Green Party gains in the EU Parliament and European national legislatures have helped to spur adoption of ambitious greenhouse gas reduction objectives.
On December 15, the European Commission[1] proposed a Digital Markets Act and a Digital Services Act. The first act seeks to prevent discriminatory and anti-competitive behavior by e-commerce and social media platforms. The second act seeks to prevent dissemination of illegal content. In the event of violations of either act, the Commission would be able to impose heavy fines. Should the fines fail to dissuade, the Commission may take legal action to break up firms. These measures follow earlier measures on digital privacy, which culminated in the General Data Protection Regulation (GDPR). The two new acts would become law subject to prior review by the European Parliament and EU heads-of-state.
On December 17, the EU promulgated its 2021–2027 multi-year financial framework. In addition to providing continuing COVID-19 support in 2021, the framework provides massive capital to support the EU's "Green and Digital Transition", much of which is funded by bonds mutually underwritten by EU governments. This multi-year framework funding complements the bloc's climate and digital regulation.
Promoting European wind energy operators and developers
Geographically, Europe has multiple coastlines, mountain ranges, and a northerly climate. Therefore, it was only natural that European utilities and industries prioritized wind over solar and other renewable technologies. Europe already has several prominent firms in the wind energy business (see Table 1). While Danish and Spanish firms were the pioneers, Germany has followed suit recently, as it de-nuclearizes. Ambitious targets for greenhouse gas reduction, coupled with green transition funding, are likely to help these existing firms, as well as bring additional European firms into the game. In the area of wind energy, the EU is quite concerned about Chinese competitors, who are making global inroads.
Table 1: European Renewable Energy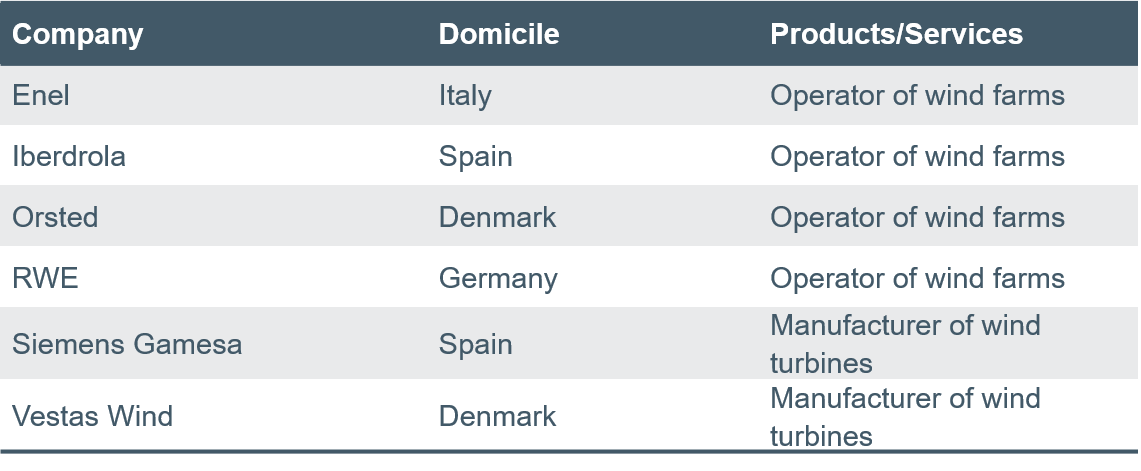 Defending European business software/services and media companies
Europe has a wealth of business software and information services firms, including business analytics and engineering services, as well as media firms. Many operate their own cloud platforms (see table 2 for a partial list). These European firms are coming under competitive pressures from those well-resourced mega-cap U.S. e-commerce and social media firms that are developing comparable services and integrating them seamlessly into their respective information "ecospheres."
The EU Digital Markets Act and the Digital Services Act will give the European Commission powerful tools for dissuading U.S. firms from engaging in anti-competitive behaviors. In this sense, these EU regulations will address objectives like those being pursued in U.S. courts and legislatures. Further, the 2021–2027 multi-year financial framework will help to promote innovation by these existing firms and foster the emergence of new ventures.
Table 2: European Business Software, Information Services, and Media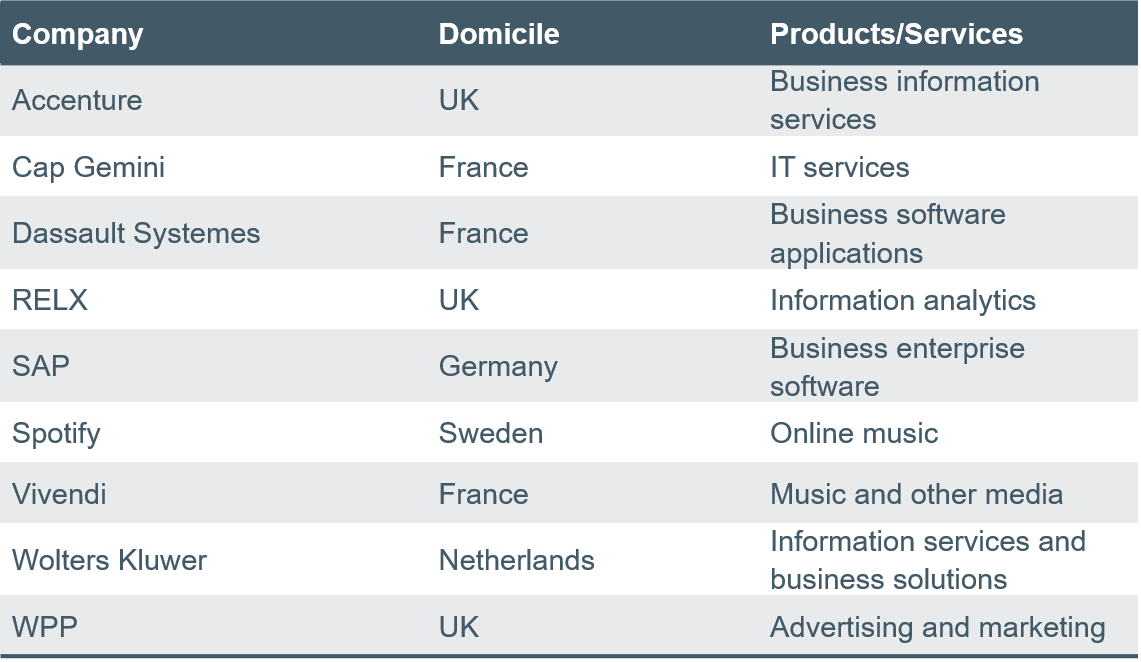 Defending European retailers
Europe continues to enjoy healthy independent brick-and-mortar retailers, including purveyors of well-known luxury brands. A strong retail sector serves European values well, as prosperous local commerce, especially through small- and medium-sized businesses, helps to maintain employment and a strong social safety network. The general pattern has been for European retailers to establish a complementary online presence, rather than for new regional e-commerce platforms to displace brick and mortar. The EU authorities are much more concerned about the threat posed by the mega-cap U.S. e-commerce platforms. They want to make sure that European retailers enjoy nondiscriminatory access to U.S. e-commerce platforms. The Digital Markets Act provides the European Commission tools for deterring such anti-competitive behavior.
Core narrative
While Wilmington Trust has an overweight to equities in our tactical asset allocation (TAA), we remain neutral to developed-country stocks in our strategic allocation (SAA). Among developed-country stocks, European stocks have recently outperformed Japanese stocks, despite COVID-19 hurting the European economy to a greater degree. We expect better performance from European stocks as the vaccines conquer the virus.
---
[1] The European Commission is the executive branch of the European Union, responsible for proposing legislation, implementing decisions, upholding the EU treaties and managing the day-to-day business of the EU.
Disclosures
Wilmington Trust is a registered service mark used in connection with various fiduciary and non-fiduciary services offered by certain subsidiaries of M&T Bank Corporation including, but not limited to, Manufacturers & Traders Trust Company (M&T Bank), Wilmington Trust Company (WTC) operating in Delaware only, Wilmington Trust, N.A. (WTNA), Wilmington Trust Investment Advisors, Inc. (WTIA), Wilmington Funds Management Corporation (WFMC), and Wilmington Trust Investment Management, LLC (WTIM). Such services include trustee, custodial, agency, investment management, and other services. International corporate and institutional services are offered through M&T Bank Corporation's international subsidiaries. Loans, credit cards, retail and business deposits, and other business and personal banking services and products are offered by M&T Bank, Member FDIC.
Facts and views presented in this report have not been reviewed by, and may not reflect information known to, professionals in other business areas of Wilmington Trust or M&T Bank who may provide or seek to provide financial services to entities referred to in this report. M&T Bank and Wilmington Trust have established information barriers between their various business groups. As a result, M&T Bank and Wilmington Trust do not disclose certain client relationships with, or compensation received from, such entities in their reports.
The information on Wilmington Wire has been obtained from sources believed to be reliable, but its accuracy and completeness are not guaranteed. The opinions, estimates, and projections constitute the judgment of Wilmington Trust and are subject to change without notice. This commentary is for informational purposes only and is not intended as an offer or solicitation for the sale of any financial product or service or a recommendation or determination that any investment strategy is suitable for a specific investor. Investors should seek financial advice regarding the suitability of any investment strategy based on the investor's objectives, financial situation, and particular needs. Diversification does not ensure a profit or guarantee against a loss. There is no assurance that any investment strategy will succeed.
Past performance cannot guarantee future results. Investing involves risk and you may incur a profit or a loss.
Indexes are not available for direct investment.
Reference to the company names mentioned in this article should not be construed as investment advice or investment recommendations of those companies.
©2020 M&T Bank Corporation and its subsidiaries. All rights reserved.