May 22, 2019 – While 2018 was a notable year for growth in the economy, with GDP expanding at a solid pace of 2.9%, it was also notable for the lack of growth coming from the housing sector. After making modest positive contributions to annual GDP growth in each year of the recovery since 2012, investment in the housing sector by businesses and households (known as residential investment in the GDP accounts) was nearly flat in 2018 (Figure 1).[i] Myriad factors weighed on the housing market last year, including the upward climb in interest rates, impacts of tax reform, and elevated house prices (in part due to tariffs on key commodity prices and high construction labor costs due to tight labor markets). Though housing's contribution to growth tends to be relatively small on average compared to other components of GDP, it tends to be watched by investors because of its cyclical nature and the signals it might be sending about the overall economic cycle. Interest in housing activity has been amplified in recent years given the sector's key role in precipitating the Great Recession, as investors try and gauge how long the current expansion can continue. As noted in an earlier Wilmington Wire blog post, ("The Housing Market: To worry or not to worry?"), though sales of both new and existing homes turned negative last year on an annual basis for the first time since 2013, we expected the cooling of the housing market to have a contained impact on GDP growth in 2018.
Recent signs of recovery in housing market activity suggest that the housing market in 2019 could be a mild potential tailwind for GDP in 2019, rather than a headwind as it was in 2018. Sales of newly built homes turned positive on a year-over-year basis for the first time in six months in March, and builder sentiment appears to have troughed in early 2019, after a sharp pullback in late 2018. Indicators of future sales of existing homes have improved as well. While some of the factors that contributed to the weakness in the housing market in 2018 continue to persist (tax reform, robust construction sector wage growth), others have ameliorated (interest rates, house prices, prices for tariffed commodities). A bottoming of the housing sector would bode well for a modest potential upside boost from business investment in housing in 2019, though risks to the nascent recovery in housing will be important to watch.
Figure 1: Business investment in the housing sector made almost no contribution to GDP growth in 2018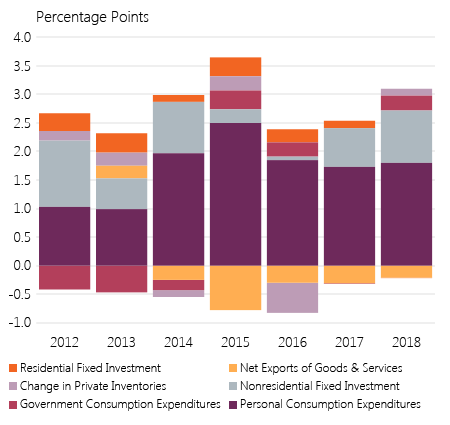 Sources: Macrobond, Bureau of Economic Analysis. Data as of December 31, 2018.
Higher interest rates, tax reform, and climbing house prices took their toll in 2018
Consumer demand for housing should have been on solid footing to start the year in 2018, with the unemployment rate near cycle lows and solid wage growth. However, interest rates climbed in tandem with the Fed's tightening of monetary policy and the economy's solid growth trajectory over the course of the year. With 30-year mortgage rates rising significantly (Figure 2), the increased cost of homeownership dampened demand.
Figure 2: Rising interest rates weighed on housing in 2018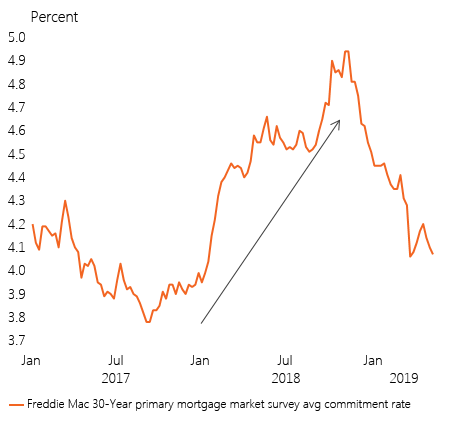 Sources: Macrobond, Freddie Mac. Data as of May 16, 2019.
But interest rates don't tell the whole story in 2018. Recent work from the Federal Reserve Bank of New York[i] compares past periods with similar interest rate increases, and notes that sales of newly constructed homes declined much more significantly in the current period. They note that in the current period of their study, from 4Q 2017 to 3Q 2018, interest rates rose by 70 basis points, or bps (0.70%), with new home sales declining by 7.6%. In contrast, between 2Q 2016 and 1Q 2017, when interest rates rose by 60bps, new home sales actually rose by 10.3%, and from 1Q 2013 to 4Q 2013, when interest rates rose by 80bps, new home sales fell by a much more modest 1.0%.
The authors highlight that one key difference in the current period relative to the past periods being compared was the enactment of tax reform in 2018,[ii] which hit demand for new homes, particularly in high tax states.[iii] A look at new home sales data by region suggests that tax reform may indeed have had a dampening effect. The 6-month moving average smoothes some of the erratic month-to-month movements in this data to give a clearer picture of the trend,[iv] and shows that new home sales in the Northeast and West (which include many of the high tax states) have been particularly hard hit since 2018, suggesting that tax reform may have added downward pressure to the housing market last year (Figure 3).
Figure 3: New home sales in high tax regions were weak in 2018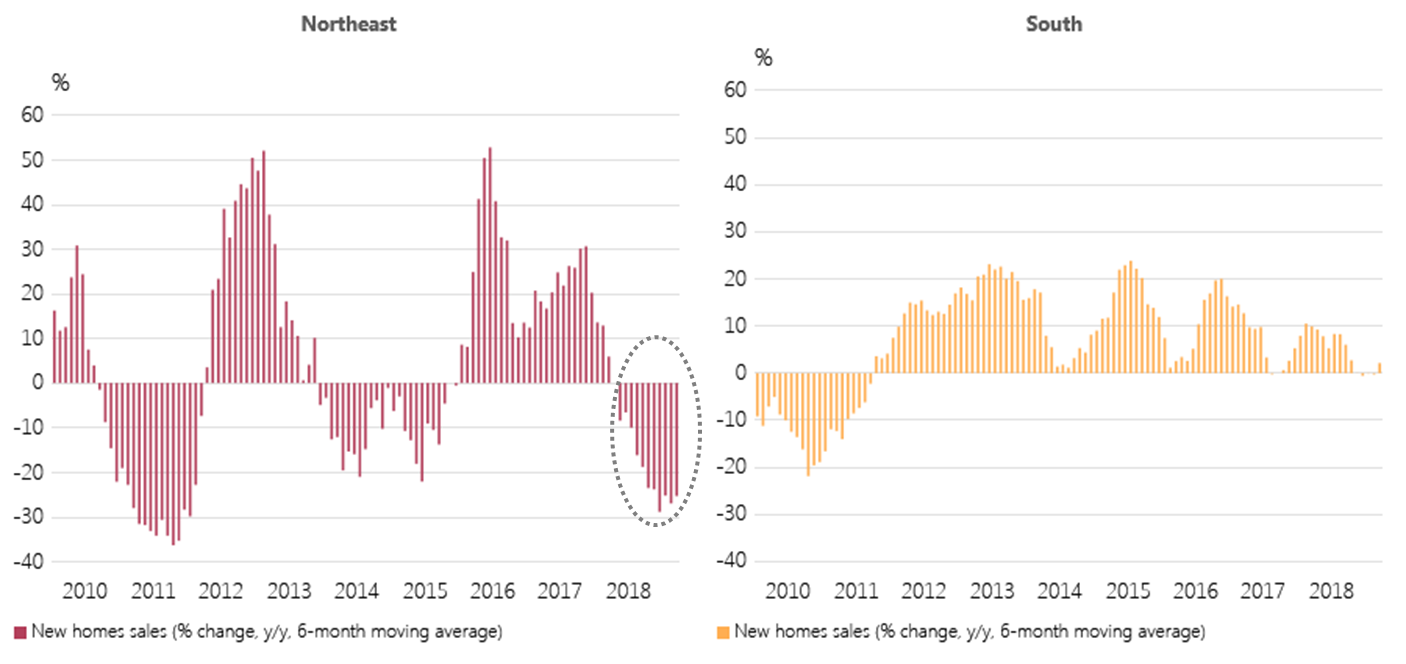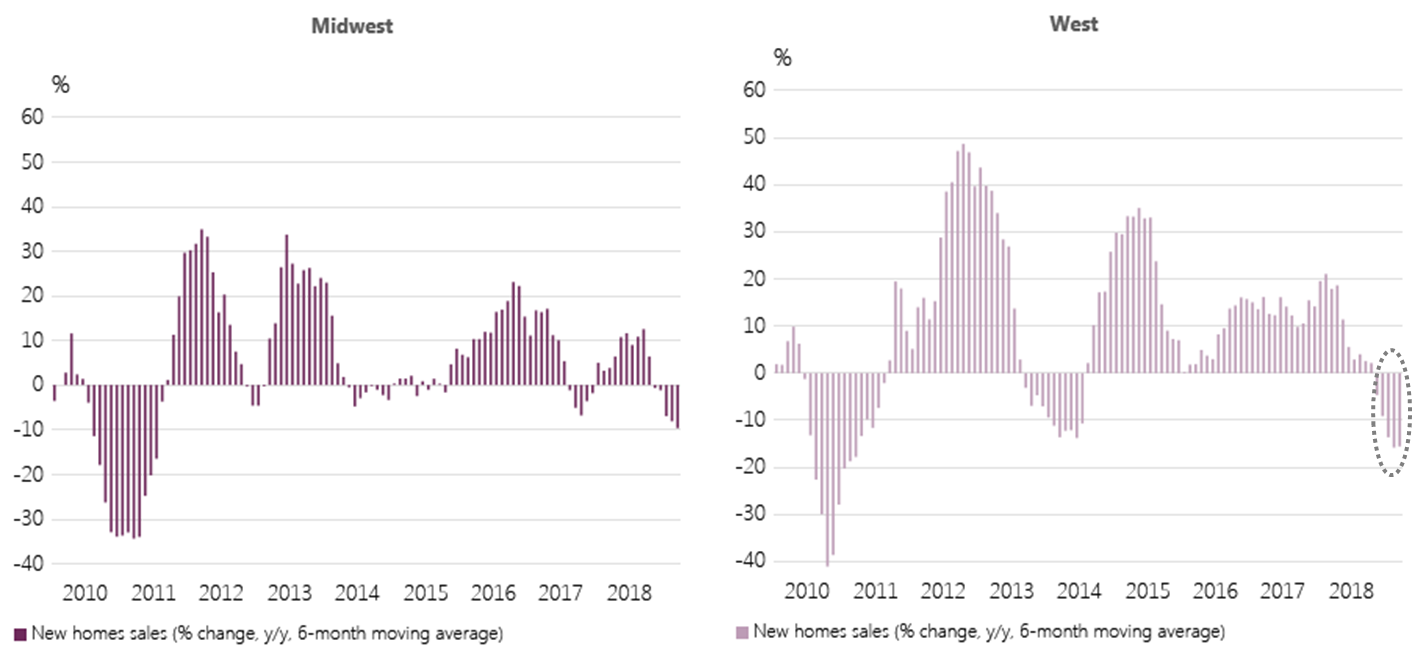 Sources: Macrobond, Census Bureau. Data as of March 2019.
In addition to interest rates and tax reform, house prices saw continued upward pressures in the early part of 2018. Home builders had been constrained by a shortage of construction workers due to tight labor markets. This shortage in turn drove up wages in the industry, which—along with the impact of tariffs on steel, aluminum, and lumber—increased input costs for builders, all feeding into higher house prices. Along with rising interest rates, this creep up in house prices weighed on affordability, dampening demand­­­­­ for homes.
Tentative signs of respite for the housing market
While the headwinds of tax reform and firm construction sector wages remain in place in 2019, a number of other drivers of the housing market have become less of a weight on the housing market. First, interest rates have eased significantly since their peak in November of last year, retracing a significant part of their move up since late 2017 (Figure 2, as the Fed paused its tightening cycle in 2019. Second, lumber, steel, and aluminum prices have moderated as markets have begun to adjust to tariffs. Third, though house prices continue to rise, they are rising at a slower pace, now +3.0% y/y as of February 2019, compared to +6.7% y/y at their peak a year ago (Figure 4).
Figure 4: House price increases have moderated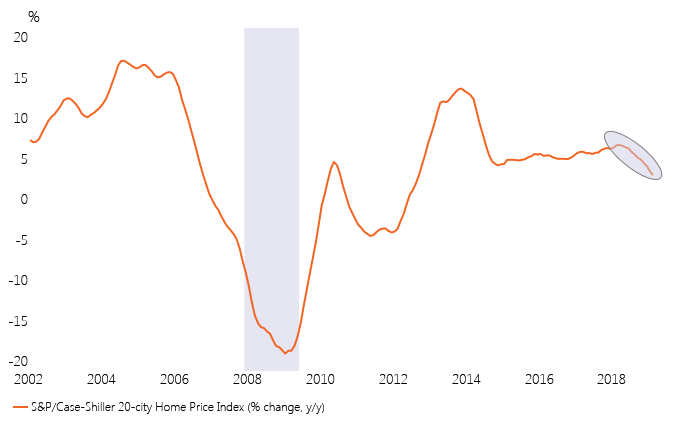 Sources: Macrobond, S&P Global. Data as of February 2019.
How has housing market activity responded so far? A number of indicators have begun to show early signs of improvement, including new home sales, existing homes sales, pending home sales (a leading indicator of existing home sales), and mortgage applications for home purchases (Figure 5). Most of these indicators (with the exception of mortgage applications) are still growing at a slower pace relative to a year ago, but the pace of declines has begun to moderate. Additionally, though trend in the number of building permits issued for new homes and new housing units started continues to remain sluggish, the rebound in home builder sentiment since the start of 2019 suggests that builders are becoming more confident about prospects for the housing market going forward (Figure 6).
Figure 5: A number of housing activity indicators are showing early signs of improvement
Sources: Macrobond, Census Bureau, National Association of Home Builders, Mortgage Bankers Association, National Association of Realtors. Data as of: March 2019 for pending home sales, existing home sales, new home sales; May 12, 2019 for mortgage applications.
Figure 6: Building permits and housing starts remain soft, but builder sentiment is recovering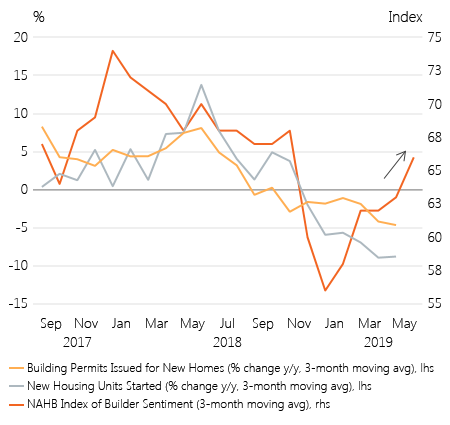 Sources: Macrobond, Census Bureau, National Association of Home Builders. Data as of May 2019 for NAHB Index of Builder Sentiment, April 2019 for Building Permits and Housing Starts.
Core narrative
A tentative upturn in a number of housing market indicators suggests the recent moderation in interest rates, house prices, and tariffed commodity prices could help stabilize residential investment this year. We look for U.S. GDP growth to be slower in 2019, but to remain at a still-solid pace of 2.0%, driven by a moderation in the pace of consumer spending and business investment (in equipment, software, and intellectual property) as the impacts of tax reform fade. A potential recovery in the housing sector could provide a modest boost to GDP in coming quarters.
Risks to the nascent stabilization in the housing market remain though. The dampening impacts of tax reform and firm construction labor costs remain in place. Though not our base case, if recently elevated trade tensions weigh materially on consumer spending and business investment, as discussed in the recent blog post, "U.S. –China Trade and Tariffs: A Deteriorating Outlook," the Fed's stance could change. But dampened consumer sentiment would then likely weigh on housing demand if households decide to put off purchases until they are more certain about the economic outlook. We currently remain neutral on U.S., international developed, and emerging markets equities, as we await more clarity on the U.S.–China trade relations.
[i] Federal Reserve Bank of New York, "Is the Recent Tax Reform Playing a Role in the Decline of Home Sales?" April 15, 2019.
[ii] The Tax Cut and Jobs Act of 2018 introduced measures that lower the amount of mortgage debt that is tax deductible, down to $750,000 from $1,000,000 previously. In addition, whereas previously property taxes had no limit on tax deductibility against federal income tax, now there is a limit of $10,000 total for the combined deduction of property, and state and local taxes. The standard deduction was also doubled, which may reduce the number of taxpayers itemizing deductions (and therefore using the mortgage interest deduction).
[iii] Federal Reserve Bank of New York, "Did Tax Reform Raise the Cost of Owning a Home?" April 17, 2019. High tax states are classified as California, Connecticut, Massachusetts, Minnesota, New Jersey, and New York. The other high tax states—Vermont, Rhode Island, Maryland, Washington D.C., Illinois, and Oregon—were not used in its data set.
[iv] Month-to-month changes in new home sales data are very volatile, and these moves can be even more pronounced depending on the region (with the Northeast historically seeing the widest range of month-to-month changes). These new home sales data often see large revisions, because they are recorded at signing of sales contracts or acceptances of deposit. Existing home sales data, in contrast, are recorded at contract closing; but because they capture activity at a later stage of the cycle, tend to be more of a lagged indicator of housing activity. New home sales tend to lead existing home sales by about one month on average, but overall trend is the same.
[i] Housing's contribution to GDP also comes through consumer spending on housing services (rent, utilities), as well as consumer spending on housing related goods (such as furniture, building materials, etc.).
Disclosures
Wilmington Trust is a registered service mark. Wilmington Trust Corporation is a wholly owned subsidiary of M&T Bank Corporation. Wilmington Trust Company, operating in Delaware only, Wilmington Trust, N.A., M&T Bank and certain other affiliates, provide various fiduciary and non-fiduciary services, including trustee, custodial, agency, investment management and other services. International corporate and institutional services are offered through Wilmington Trust Corporation's international affiliates. Loans, credit cards, retail and business deposits, and other business and personal banking services and products are offered by M&T Bank, member FDIC. Wilmington Trust Investment Advisors, Inc. is an SEC-registered investment adviser providing investment management services to Wilmington Trust and M&T Bank affiliates and clients.
These materials are based on public information. Facts and views presented in this report have not been reviewed by, and may not reflect information known to, professionals in other business areas of Wilmington Trust or M&T Bank who may provide or seek to provide financial services to entities referred to in this report. M&T Bank and Wilmington Trust have established information barriers between their various business groups. As a result, M&T Bank and Wilmington Trust do not disclose certain client relationships with, or compensation received from, such entities in their reports.
The information on Wilmington Wire has been obtained from sources believed to be reliable, but its accuracy and completeness are not guaranteed. The opinions, estimates, and projections constitute the judgment of Wilmington Trust and are subject to change without notice. This commentary is for information purposes only and is not intended as an offer or solicitation for the sale of any financial product or service or a recommendation or determination that any investment strategy is suitable for a specific investor. Investors should seek financial advice regarding the suitability of any investment strategy based on the investor's objectives, financial situation, and particular needs. Diversification does not ensure a profit or guarantee against a loss. There is no assurance that any investment strategy will succeed.
Any investment products discussed in this commentary are not insured by the FDIC or any other governmental agency, are not deposits of or other obligations of or guaranteed by M&T Bank, Wilmington Trust, or any other bank or entity, and are subject to risks, including a possible loss of the principal amount invested. Some investment products may be available only to certain "qualified investors"—that is, investors who meet certain income and/or investable assets thresholds. Past performance cannot guarantee future results. Investing involves risk and you may incur a profit or a loss.
Any positioning information provided does not include all positions that were taken in client accounts and may not be representative of current positioning. It should not be assumed that the positions described are or will be profitable or that positions taken in the future will be profitable or will equal the performance of those described. Positions described are illustrative and not intended as a recommendation outside of a managed account. Indices are not available for direct investment. Investment in a security or strategy designed to replicate the performance of an index will incur expenses, such as management fees and transaction costs that would reduce returns.
Third-party trademarks and brands are the property of their respective owners.