March 17, 2020 —Financial markets have experienced extreme turmoil, with the damage not limited to the equity or taxable bond market. Typically viewed as a safe haven during times of stock market duress, munis have also experienced extreme levels of volatility that surpass 2008 crisis levels and are approaching October 1987 values. After experiencing 59 weeks of positive inflows of over $120 billion in new municipal monies, investors are now selling both high-yield (HY) and investment-grade (IG) bonds due to: rapid declines in HY ETF and Fund NAVs; to actions to rebalance and/or increase equity exposure; and fears that state and local governments will not be able to manage through the virus. Sectors particularly under pressure are municipals secured by the corporate guaranty of airlines (Delta, United, American), airport and port authorities (e.g., JFK, Houston, Chicago O'Hare), assisted living centers, convention centers, and others. While the activity and selling pressure in the municipal bond market is disconcerting, we see it as creating tremendous value in certain areas of the market.
Historically, when municipals experience a sell-off, it begins in the HY sector and continues into the IG market—and can last for extended periods (roughly 36 weeks in 2013). Over the last week, roughly $5.3 billion has been redeemed mostly in HY municipal funds (Friday alone was $3billion). This volatility can be seen in the price decline of the largest HY ETF managed by VanEck (Figure 1). The fund return YTD is -21%, due to selling pressures and market illiquidity. The SEC invoked the "alternative uptick" rule on Thursday to restrict short sellers from taking advantage of the volatility.
Figure 1
VanEck Vectors High Yield Municipal Index ETF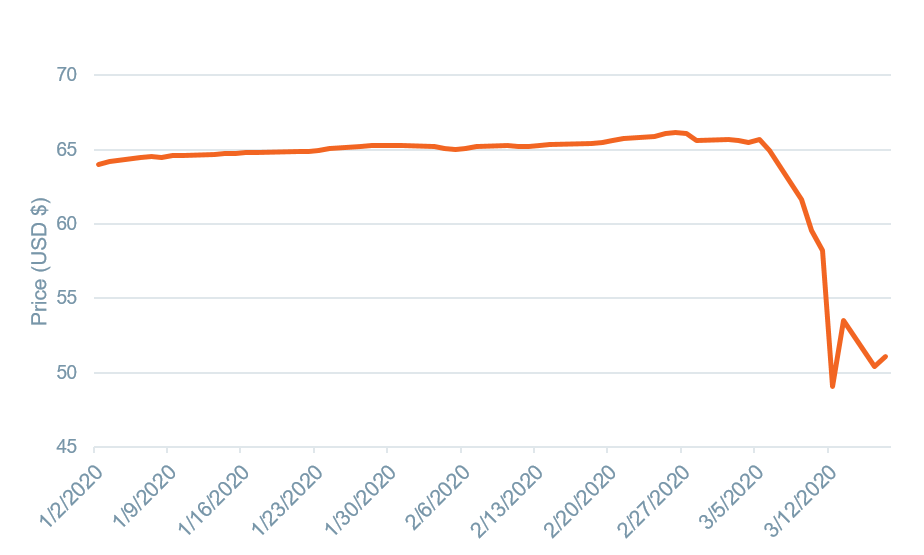 Source: Bloomberg. Data as of March 17, 2020.
The volatility caused by selling also causes extreme value in high-quality municipals, where we focus, as funds are forced to sell their highest-quality paper first to meet redemptions. The highest quality available are tax-exempt municipals that are refunded and secured by U.S. Treasuries and federal agencies such as GNMA, FNMA, and FHLMC (called escrowed to maturity (ETM) or pre-refunded municipals). The municipal bondholder receives the same tax-exempt interest and principal payment, but now the bond is secured by U.S. Treasuries, the U.S. government or a federal agency.
As municipal yields have risen (over 100 basis points, or 1.00%, in the last few days) and Treasury yields have decreased, the value of these high-quality municipals is at record levels. Figure 2 depicts the yield on AAA-rated municipals, the corresponding Treasury yield, and the ratio of the two—expressed as a percentage. The AAA/Treasury ratio is the yield on a AAA-rated municipal divided by the yield of a U.S. Treasury maturing in the same period and is one method to value municipals relative to taxable bonds. Because the income on tax-exempt municipals is tax free at the federal level and could be at the state level, high-quality municipals should yield less than a U.S. Treasury and other taxable bonds. The higher the ratio, the more attractive municipals are relative to other taxable fixed income securities.
We are now able to buy these municipals secured by Treasuries at 300% to 500% of the corresponding Treasury yield in five years and shorter maturities across the portfolios (tax-free yields at 1.50%–2.00%). At end of 2019, the ratios were 67% on a 2-year AAA/UST and 87% on a 30-year AAA/UST.
Figure 2
Yield on AAA-rated municipals, the corresponding Treasury yield, and the ratio of the two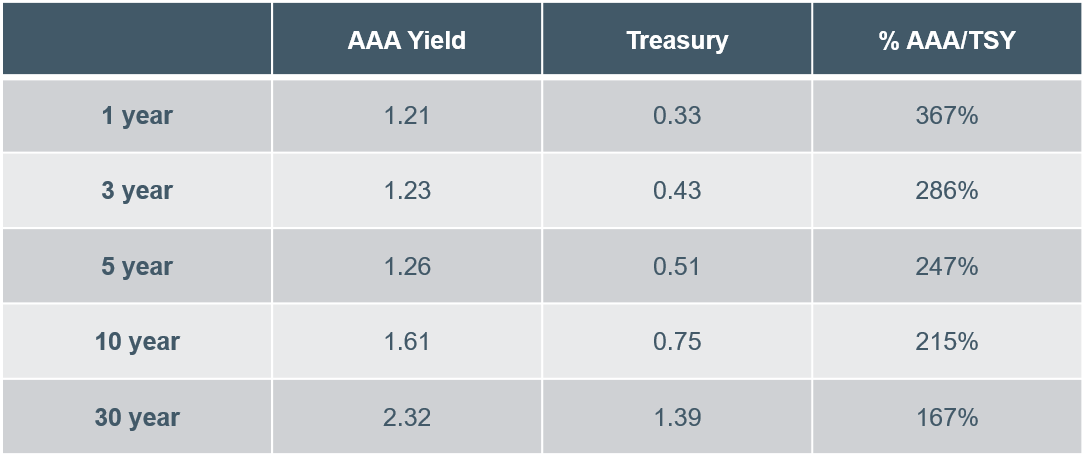 Sources: Municipal Market Data (MMD) and Bloomberg. Data as of March 16, 2020.
In addition, select high-grade municipals across the IG spectrum (AA, A, and BBB-rated) represent value. Municipal credits are still generally strong, having built higher cash reserves since the 2008 recession and increased debt reserve fund levels as revenues grew to record amounts.
Attractive sectors include short-term maturities (as short as 4 months) in highly rated credits in transportation, tobacco, industrial development secured by power companies, and daily and weekly tax-exempt floaters (called variable rate demand notes (VRDNs).
Core narrative
As the market continues to experience liquidity concerns and potential downward price pressure, high-quality municipals could become even cheaper across the curve. High-quality municipal bonds currently represent after-tax value, given high credit quality, limited volatility, and attractive diversification benefits (longer-term, municipals have a very low correlation to the S&P 500).
Investors in taxable money markets, U.S. Treasuries or other taxable alternatives can buy short-term municipals secured by U.S. Treasuries at nominal yield levels much higher than U.S. Treasuries, as well as other high-quality municipal credits. While select state and local government sectors (e.g., transportation, airport, and port authorities ) will undoubtedly come under short-term revenue pressure from the virus' impacts, the large majority of municipalities across the country have been in strong financial condition since the 2008 recession and are still one of the best credits available. In the end, most governments have strong pricing power in their ability to raise taxes.
Disclosures
Wilmington Trust is a registered service mark used in connection with various fiduciary and non-fiduciary services offered by certain subsidiaries of M&T Bank Corporation including, but not limited to, Manufacturers & Traders Trust Company (M&T Bank), Wilmington Trust Company (WTC) operating in Delaware only, Wilmington Trust, N.A. (WTNA), Wilmington Trust Investment Advisors, Inc. (WTIA), Wilmington Funds Management Corporation (WFMC), and Wilmington Trust Investment Management, LLC (WTIM). Such services include trustee, custodial, agency, investment management, and other services. International corporate and institutional services are offered through M&T Bank Corporation's international subsidiaries. Loans, credit cards, retail and business deposits, and other business and personal banking services and products are offered by M&T Bank, member FDIC.
Facts and views presented in this report have not been reviewed by, and may not reflect information known to, professionals in other business areas of Wilmington Trust or M&T Bank who may provide or seek to provide financial services to entities referred to in this report. M&T Bank and Wilmington Trust have established information barriers between their various business groups. As a result, M&T Bank and Wilmington Trust do not disclose certain client relationships with, or compensation received from, such entities in their reports.
The information on Wilmington Wire has been obtained from sources believed to be reliable, but its accuracy and completeness are not guaranteed. The opinions, estimates, and projections constitute the judgment of Wilmington Trust and are subject to change without notice. This commentary is for information purposes only and is not intended as an offer or solicitation for the sale of any financial product or service or a recommendation or determination that any investment strategy is suitable for a specific investor. Investors should seek financial advice regarding the suitability of any investment strategy based on the investor's objectives, financial situation, and particular needs. Diversification does not ensure a profit or guarantee against a loss. There is no assurance that any investment strategy will succeed.
Past performance cannot guarantee future results. Investing involves risk and you may incur a profit or a loss.
Indexes are not available for direct investment. Investment in a security or strategy designed to replicate the performance of an index will incur expenses such as management fees and transaction costs which would reduce returns.