The price of oil (as measured by West Texas Intermediate crude) has fallen over 27% since its early-October highs, well into "bear market" territory. The decline was arrested on Wednesday, halting the longest stretch of daily declines for oil since the 1970s. Some investors are seeing flashbacks of oil's most recent collapse, when it fell over 75% from mid-2014 to February of 2016, to a price of just $26/barrel. At the time, the ISM Manufacturing Index (a measure of manufacturing activity in the U.S.) dropped below the critical threshold of 50 (above which indicates expansion of the manufacturing industry; below which signals contraction) to 47.6. The U.S. effectively entered a "manufacturing recession."
Today feels a bit like it did a few years ago, in that the market is being driven by weaker demand and excess supply. Economic growth in China and developed economies has slowed. Trade concerns are weighing on projections for economic activity and oil demand in 2019. The market has also rebalanced, with supply exceeding demand, evident in the 10% increase in U.S. crude oil inventories since September of this year.
It is possible that oil has further to fall from its current price of $56/barrel, but we do not think it's likely that oil will recede to 2016 price levels. We see a few important distinctions in the current period that make it vastly different from the environment a few years ago. On the demand side, we expect that the deceleration in non-U.S. economic activity is bottoming out. Chinese policymakers have already announced several measures to stimulate the economy, which we think will become evident in the near future (though the magnitude of the growth impact of these measures is debated). It also remains our base case that a resolution will be reached in the trade spat between the U.S. and China, which would lift a significant overhang on growth expectations and sentiment for risky assets, including oil.
OPEC production and WTI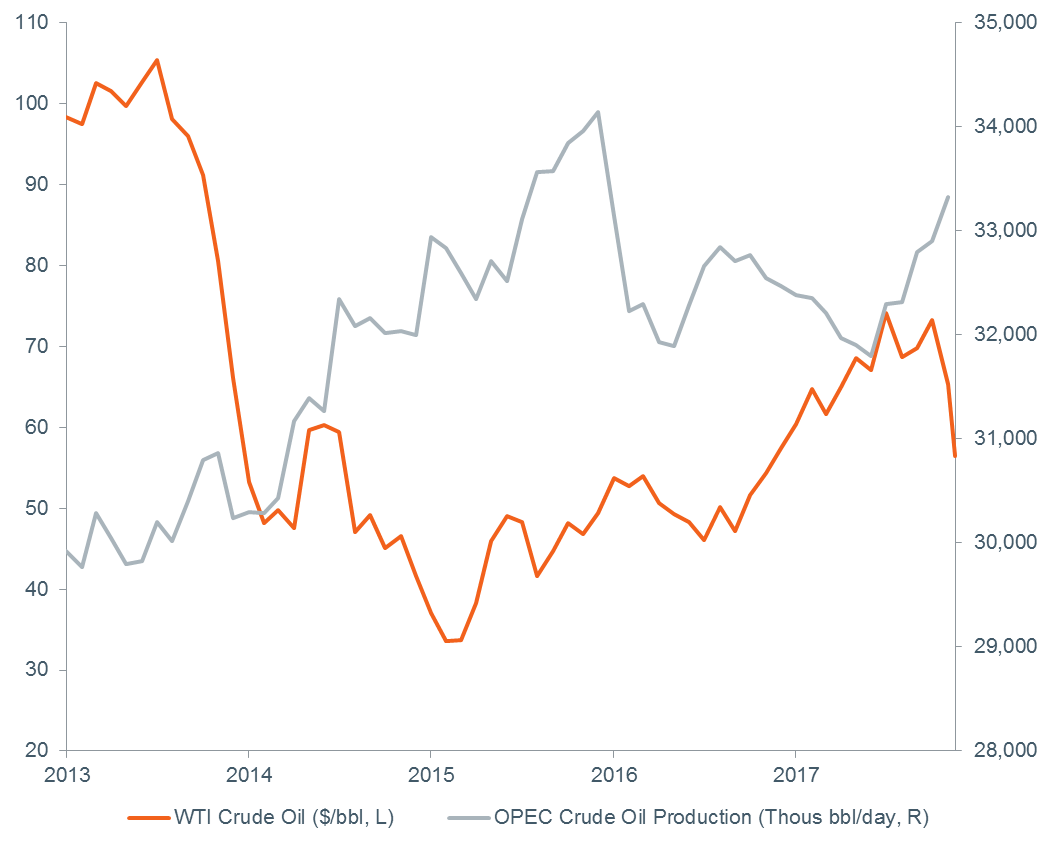 Data as of November 15, 2018. Source: Bloomberg.
On the supply side
Perhaps more important is the supply side of the equation. In 2014, OPEC made the surprising but strategic decision to increase production in the face of growing competition from U.S. suppliers. OPEC and non-OPEC countries sacrificed their own profit margins by pumping as much oil as they could in an attempt to lower the price, pressure profitability of U.S. producers, and drive them out of business. Ultimately, this strategy did not work and OPEC had to throw in the towel. After a significant amount of pain to all players involved, OPEC agreed in November 2016 to cut production.
Today is a much different situation. OPEC has been actively managing supply with the goal of maintaining stability in the price of oil. The wrinkle in the equation was Iran. President Trump's announcement earlier this year to reimpose sanctions on Iran meant less future supply from a country that was producing almost four million barrels per day. In response, Saudi Arabia and Russia planned to boost production as a partial offset. But another curve ball was thrown just a couple weeks ago, when Trump announced that eight countries would be granted temporary waivers on the sanctions. Saudi Arabia has reversed course once again and is now pledging to cut production, but the damage has been done, and investors expecting constrained supply (and higher prices) in global oil markets were caught off guard. Traders clamored to reverse their positions, sinking the price of the commodity.
We expect Saudi Arabia and Russia, the "swing producers," to curb production targets in order to help rebalance the market. This could take time, and it very much depends on global growth and trade stabilizing. In the meantime, oil-importing emerging markets have been struggling alongside a strengthening U.S. dollar (commodities are generally priced in dollars so a rising dollar makes oil more expensive). Lower oil prices offset some of this and provide a break at the pump, which would certainly also be welcomed by U.S. consumers.
Core narrative
Volatility is typical in the commodity asset class, but recent movements in the price of oil have stood out. From an investment standpoint, there are obvious implications for commodity investors, but at current levels equity investors should not be overly concerned. Oil's collapse in recent weeks is a function of expectations for increased supply (relative to just a few months ago) and decreased demand. We expect U.S. growth to decelerate a bit in 2019 but global growth to stabilize. If we saw another significant leg lower in the price of oil, it could start to threaten the manufacturing sector of the U.S. economy, given the U.S.'s greater role as an energy producer in the last decade. At this point, these lower oil prices serve as a helpful tailwind to energy-importing countries and U.S. consumers. We are not deterred by the panic that seems to be gripping oil markets, and we are maintaining our overweight to risky assets.
Disclosures
Wilmington Trust is a registered service mark. Wilmington Trust Corporation is a wholly owned subsidiary of M&T Bank Corporation. Wilmington Trust Company, operating in Delaware only, Wilmington Trust, N.A., M&T Bank and certain other affiliates, provide various fiduciary and non-fiduciary services, including trustee, custodial, agency, investment management and other services. International corporate and institutional services are offered through Wilmington Trust Corporation's international affiliates. Loans, credit cards, retail and business deposits, and other business and personal banking services and products are offered by M&T Bank, member FDIC. Wilmington Trust Investment Advisors, Inc. is an SEC-registered investment adviser providing investment management services to Wilmington Trust and M&T Bank affiliates and clients.
These materials are based on public information. Facts and views presented in this report have not been reviewed by, and may not reflect information known to, professionals in other business areas of Wilmington Trust or M&T Bank who may provide or seek to provide financial services to entities referred to in this report. M&T Bank and Wilmington Trust have established information barriers between their various business groups. As a result, M&T Bank and Wilmington Trust do not disclose certain client relationships with, or compensation received from, such entities in their reports.
The information on Wilmington Wire has been obtained from sources believed to be reliable, but its accuracy and completeness are not guaranteed. The opinions, estimates, and projections constitute the judgment of Wilmington Trust and are subject to change without notice. This commentary is for information purposes only and is not intended as an offer or solicitation for the sale of any financial product or service or a recommendation or determination that any investment strategy is suitable for a specific investor. Investors should seek financial advice regarding the suitability of any investment strategy based on the investor's objectives, financial situation, and particular needs. Diversification does not ensure a profit or guarantee against a loss. There is no assurance that any investment strategy will succeed.
Any investment products discussed in this commentary are not insured by the FDIC or any other governmental agency, are not deposits of or other obligations of or guaranteed by M&T Bank, Wilmington Trust, or any other bank or entity, and are subject to risks, including a possible loss of the principal amount invested. Some investment products may be available only to certain "qualified investors"—that is, investors who meet certain income and/or investable assets thresholds. Past performance cannot guarantee future results. Investing involves risk and you may incur a profit or a loss.
Any positioning information provided does not include all positions that were taken in client accounts and may not be representative of current positioning. It should not be assumed that the positions described are or will be profitable or that positions taken in the future will be profitable or will equal the performance of those described. Positions described are illustrative and not intended as a recommendation outside of a managed account. Indices are not available for direct investment. Investment in a security or strategy designed to replicate the performance of an index will incur expenses, such as management fees and transaction costs that would reduce returns.
Third-party trademarks and brands are the property of their respective owners.