March 26, 2020—The stock market's precipitous drop has wreaked havoc on portfolios, wiping three years of gains from the U.S. stock market in a matter of days. What we have experienced puts us in uncharted waters: a combination of one of the fastest declines in equity market history, the most abrupt and wholesale halting of economic activity ever, and the most rapid deployment of monetary stimulus we've ever seen. The perspective we would offer on the market and portfolio advice depends a bit on whether you are a fully invested, diversified investor or someone who is sitting on excess cash wondering if now is the time to buy. The good news is that there is a silver lining in the current environment for both parties.
Are we there yet?
First off, we don't think we are yet at the point of a sustainable rally, despite the very strong market performance on Tuesday and Wednesday (the S&P 500 gained approximately 11% over the two trading sessions). We obviously can't say with certainty what the near-term trajectory of the stock market will look like, but there is still too much hanging in the balance related to the path of the coronavirus, and let's not forget OPEC discussions, for us to think we've put in the lows for this bear market. We have already seen a decline in the S&P 500 of 34%, between February 19 and March 23, in line with the median for historical recessions but in about 1/10 of the average time it takes to get there—and observed technical indicators that imply investors are panicked (normally a good "buy" signal). Certainly, much of the bad news around the virus-induced economic shutdown is priced in. However, the biggest determinant of this market remains time —that is, the amount of time that the U.S. economy will remain on lockdown and if/when OPEC+ can come to an agreement on cutting production to ease the pain in the energy market. As it relates to the virus, the president is calling for an accelerated mitigation timetable. While we would love for the economy to be back up and running by Easter, if that ends up being too aggressive and the health care system becomes overwhelmed, we would expect the stock market to resume its decline. In short, we think there is risk that the timetable is longer than many investors expect.
Cash on the sidelines
The current equity market sell-off has been swift and deep, but there is a silver lining for anyone who has recently experienced a liquidity event or is sitting on extra cash. Now may be a great time to "put money to work" in the stock market.
As we wrote about in March 2018, deploying cash into the market can be a very personal decision. Typically, we recommend investing in a systematic, scheduled manner over a period of about three months. (Usually that entails investing the full fixed income portion right away and "tranching in" the equity allocation over the course of the three-month period, but this type of plan is best discussed and implemented with guidance from your advisor, according to your personal situation.)
The current market environment gives investors the opportunity to invest at stock market levels we have not seen in two to three years. Even within the municipal bond market we are seeing tremendous value due to investors seeking liquidity and being forced to sell their most liquid, highest-quality assets at a steep discount (see our recent Wilmington Wire post). Given our view that the bottom may not be in for the equity market, we would not advise investing all excess cash today, but the 30% correction in the U.S. equity market can give investors with a multi-year time horizon a very attractive entry point, so we would suggest accelerating the time frame for deploying cash.
Fully invested and nowhere to turn
For those of us that are fully invested in a diversified portfolio and do not have extra cash to take advantage of more attractive stock prices, the picture is a bit grimmer. Even investment-grade municipal bonds, which historically have acted as a parachute for at least a portion of the portfolio, have suffered losses of over 8% during the last month (as of March 24, 2020), and the only safe asset has been cash or gold. However, we would offer the following perspective:
Market drops are painful but a normal part of investing. Since 1950, the average annual price return on the S&P 500 has been 7% per year (not including dividends), and that is with 10 recessions that led to an average maximum peak-to-trough drawdown of 35% (Figure 1). Historically, the stock market has taken time to recover, but recover it does. On average, when the U.S. has experienced a recession it's taken the stock market just over three years for the stock market to decline, trough, and recover to its prior peak. This is a long time by many standards, but if a long-term investor throws in the towel and sells during those pullbacks, the time to recover can be greatly elongated.
Figure 1: Historical recessionary pullbacks in U.S. large-cap equities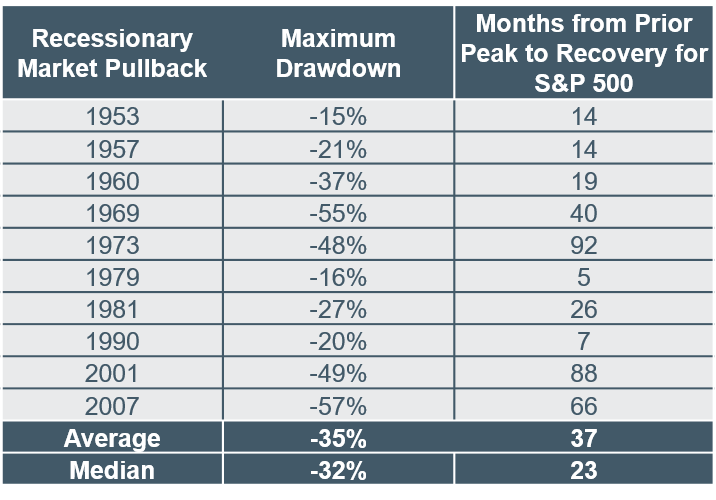 Source: Bloomberg. 
Maximum drawdown represents the return for the S&P 500 from peak to trough around historical recessions. 
Past performance is no guarantee of future results.
Rebalancing can be a secret weapon during down markets. Those who are fully invested can benefit greatly from periodic rebalancing. This is simply the act of taking an account's asset allocation and getting it back on its target asset allocation by selling the winning asset classes and buying the losing ones. An asset allocation can be distorted by sharp moves in financial markets like we have seen over the past month. We discussed this in a recent Wilmington Wire post.
What is often underappreciated is that an investor who rebalances during a downturn can end up with more money once the market recovers than an investor who simply rides the market rollercoaster (let alone the investor who gives in and sells at the bottom). Consider a simple 50% stock/50% bond[1] portfolio during the 2008/2009 financial crisis. Assume that portfolio was worth $100 at the market peak in 2007. By March 2012 the S&P 500 total return index had recovered back to its prior peak, and a portfolio that rebalanced every six months over that period ended up with $5 more (equivalent to 4% in this case) than a portfolio that did no rebalancing at all (Figure 2). The rebalanced portfolio also kept much closer to the portfolio's target allocation of 50% stocks/50% bonds, helping to reduce the risk of not meeting one's long-term goals that can come with an inappropriate allocation. The buy-low-sell-high discipline that comes with rebalancing can be a secret weapon for an invested portfolio.
[1] Calculations represent a portfolio comprising 50% of the S&P 500 Total Return index and 50% of the Bloomberg Barclays U.S. Aggregate Total Return Value Unhedged USD index.
Figure 2: Rebalancing is a powerful tool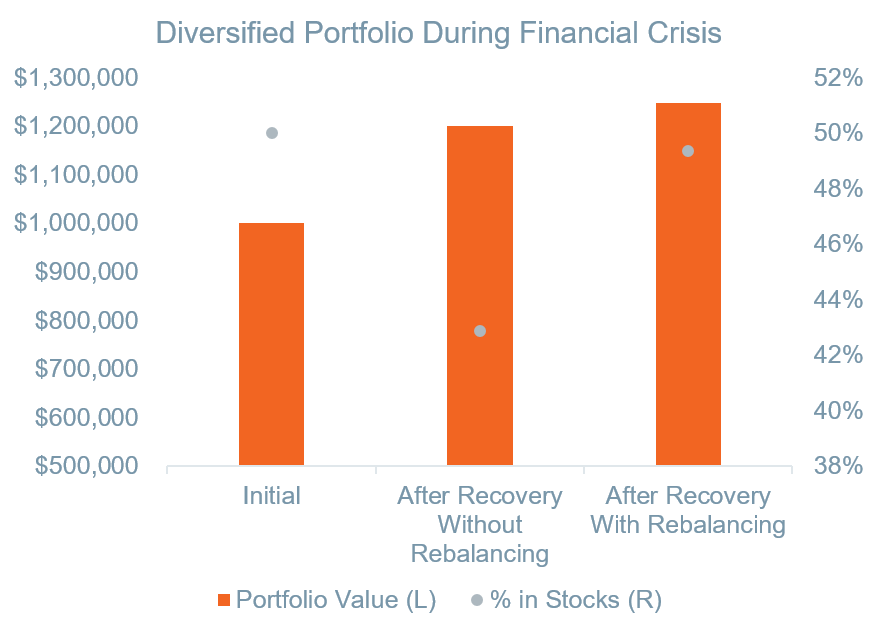 Represents the period from October 2007 through March 2012 for a portfolio that is 50% S&P 500 Total Return Index and 50% Bloomberg Barclays US Aggregate Bond Total Return Index.
Core narrative
Market selloffs like we have seen in recent weeks are challenging, but they can come with opportunities for a disciplined investor. We advise clients with cash to accelerate the deployment process, even if we anticipate some further weakness could be ahead. There is no way of knowing for certain if the market will head higher or lower in the short term, but we expect a systematic, accelerated strategy of investing cash to serve an investor well over the next three to five years. It bears reminding that the one-year return for the S&P 500 after the trough in 2002 was +37%, and the return after the 2009 trough was +72%. Even an investor who doesn't time the bottom perfectly can participate in most of what we anticipate will be strong returns for the equity markets over the next year.  We also advise clients to rebalance in today's market, as that is one way for those who are fully invested to still participate in some of the bargains to be had in today's equity market.
Disclosures
Wilmington Trust is a registered service mark used in connection with various fiduciary and non-fiduciary services offered by certain subsidiaries of M&T Bank Corporation including, but not limited to, Manufacturers & Traders Trust Company (M&T Bank), Wilmington Trust Company (WTC) operating in Delaware only, Wilmington Trust, N.A. (WTNA), Wilmington Trust Investment Advisors, Inc. (WTIA), Wilmington Funds Management Corporation (WFMC), and Wilmington Trust Investment Management, LLC (WTIM). Such services include trustee, custodial, agency, investment management, and other services. International corporate and institutional services are offered through M&T Bank Corporation's international subsidiaries. Loans, credit cards, retail and business deposits, and other business and
personal banking services and products are offered by M&T Bank, member FDIC. 
Facts and views presented in this report have not been reviewed by, and may not reflect information known to, professionals in other business areas of Wilmington Trust or M&T Bank who may provide or seek to provide financial services to entities referred to in this report. M&T Bank and Wilmington Trust have established information barriers between their various business groups. As a result, M&T Bank and Wilmington Trust do not disclose certain client relationships with, or compensation received from, such entities in their reports.
The information on Wilmington Wire has been obtained from sources believed to be reliable, but its accuracy and completeness are not guaranteed. The opinions, estimates, and projections constitute the judgment of Wilmington Trust and are subject to change without notice. This commentary is for information purposes only and is not intended as an offer or solicitation for the sale of any financial product or service or a recommendation or determination that any investment strategy is suitable for a specific investor. Investors should seek financial advice regarding the suitability of any investment strategy based on the investor's objectives, financial situation, and particular needs. Diversification does not ensure a profit or guarantee against a loss. There is no assurance that any investment strategy will succeed.
Past performance cannot guarantee future results. Investing involves risk and you may incur a profit or a loss.
© 2020 M&T Bank Corporation and its subsidiaries. All rights reserved.