September 17, 2019—This past weekend, we witnessed unprecedented developments in the oil market and are sharing our thoughts on the key questions that investors should be asking.
What is happening in the Gulf?
The Abqiaq oil-processing plant in eastern Saudi Arabia was hit by a series of drone strikes this past Saturday, disrupting 5.7 million barrels of crude oil production per day for the Kingdom. This amounts to approximately 5% of the global supply and more than half the Saudi total daily output (Figure 1), making it the single-largest oil disruption in history. Credit was immediately claimed by the Iranian-backed Houthi rebel group in Yemen that had previously launched attacks against Saudi oil pipelines and oil facilities. However, U.S. intelligence points to the likelihood of another culprit. President Trump and Secretary of State Mike Pompeo shared via Twitter this weekend that the U.S. believes Iran to be behind the attacks, a view that was repeated to the UN Security Council on Monday. President Trump tweeted that the U.S. was "locked and loaded," and ready to respond as soon as the Saudis indicated interest in pursuing the attacker; however, he has since backed down on some of that rhetoric and indicated no desire for immediate military intervention.
Figure 1: World Oil Supply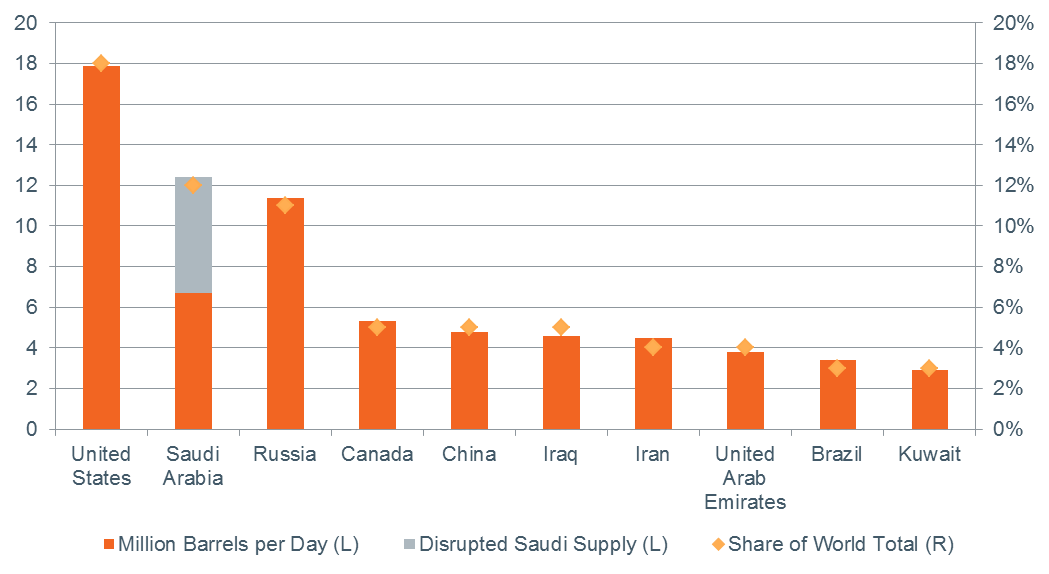 As of December 31, 2018 or most recent year available. Oil includes crude oil, all other petroleum liquids, and biofuels. Production includes domestic production of crude oil, all other petroleum liquids, biofuels, and refinery processing gain. Disrupted Saudi Supply reflects the outage occurring from the September 14, 2019 attack on Saudi Aramco's facility.
Source: U.S. Energy Information Administration.
Why now?
Understanding the motives of the attack are challenging, but it is noteworthy that just last week, former National Security Advisor John Bolton left the Trump administration under uncertain circumstances. He was hawkish toward Iran, advocating strongly for military intervention and regime change. His departure signaled the possibility of a turn in the direction of more peaceful reconciliation, with rumors swirling French President Macron was pushing closer to completion of negotiations to reinstate a version of the 2015 Iran Deal through secret talks. Hardline conservatives in Iran's government, looking to gain more domestic political power, saw an opportunity to act in an unprecedented way. While Iran has launched smaller-scale attacks against the U.S. and other Western powers in the last four months, knocking out such a massive portion of the worldwide oil supply was a massive escalation. Seeing that Trump's Twitter war of words failed to materialize into armed conflict earlier this year, Bolton's departure only further underscored the belief that the U.S. was all talk, no action.
What are the implications for the price of oil?
Oil prices spiked following the supply outage, with Brent crude oil jumping from $60/bbl to over $68/bbl midday on Monday and WTI crude exhibiting a similar spike, triggering a circuit breaker that halted trading early on Monday. On Tuesday, Saudi Arabia's oil minister indicated that the kingdom would be operating at pre-attack levels by the end of the month – a surprisingly rapid restoration of capacity that took investors by surprise and led to a 7% decline in the price of Brent crude oil from Monday's peak levels (though the price of oil was still trading 7% above pre-attack levels). Such a rapid return to full capacity reduces the risks that other countries, namely Kuwait, UAE, Iraq, and Russia, would increase production to fill the gap, eventually leading to excess supply in the market. While our medium-term expectations for the price of oil are not materially altered, we note that the geopolitical risk premium for oil is now higher, and there is a chance of higher volatility associated with the risk of a future escalation of violence.
How do we view the prospects for energy stocks?
The past two days have seen a short term bump in energy stocks from higher oil, the covering of short positions by hedge funds (as energy stocks have been unloved for quite some time), and a bit of a "value trade" that took hold in recent weeks. (Energy stocks are inherently value oriented, as they derive much of their future earnings' variability from the outlook for global economic growth and subsequent oil demand.) Over the medium term, we expect energy stocks to remain caught between the supply dynamics discussed above and a slowing demand outlook, which could be further exacerbated by any escalation of the U.S./China trade war. Our equity sector strategy is neutral to energy at this time.
Is an oil shock a risk to the U.S. consumer?
Spikes in the price of oil have historically been a recessionary risk, as higher oil and gasoline prices can lead to a pullback in consumer purchases of other goods. However, the U.S. economy has evolved in the past decade, shifting to a net producer of oil in recent years, which has taken the share of world GDP that benefit from higher oil prices to 34% from about 16% as recently as 2011. As a result, a spike in the price of oil today is more likely to result in a net increase in investment spending by oil companies that at least partially offsets the drag on GDP from the negative impact to the U.S. consumer. However, at a certain point (as we climb closer to $80/bbl for Brent), the negatives to the consumer may start to outweigh the incremental positives to capex. At the same time, we could see higher oil prices pass through into higher headline inflation, though we expect the Federal Reserve would continue to prioritize "core" inflation, which excludes energy and food prices. At some point, this could become a headwind to additional Fed rate cuts but does not place in jeopardy the expected cut at this week's FOMC meeting.
Core narrative
We take note of heightened recession risks compared to earlier this year, but a recession in the next 12 months is still not our base case. A spike in the price of oil, particularly from the $60/bbl Brent levels we were trading at prior to this weekend, still poses a relatively small risk to the global economy. If Saudi production can be restored as quickly as recent reports are suggesting, and armed conflict does not escalate significantly, we expect the fallout from this past weekend's attack to be fairly contained. As a result, we are reaffirming our neutral allocation to equities versus our strategic benchmark, as well as our neutral allocation to energy within our sector strategy.
Disclosures
Wilmington Trust is a registered service mark. Wilmington Trust Corporation is a wholly owned subsidiary of M&T Bank Corporation. Wilmington Trust Company, operating in Delaware only, Wilmington Trust, N.A., M&T Bank and certain other affiliates, provide various fiduciary and non-fiduciary services, including trustee, custodial, agency, investment management and other services. International corporate and institutional services are offered through Wilmington Trust Corporation's international affiliates. Loans, credit cards, retail and business deposits, and other business and personal banking services and products are offered by M&T Bank, member FDIC.
Facts and views presented in this report have not been reviewed by, and may not reflect information known to, professionals in other business areas of Wilmington Trust or M&T Bank who may provide or seek to provide financial services to entities referred to in this report. M&T Bank and Wilmington Trust have established information barriers between their various business groups. As a result, M&T Bank and Wilmington Trust do not disclose certain client relationships with, or compensation received from, such entities in their reports.
The information on Wilmington Wire has been obtained from sources believed to be reliable, but its accuracy and completeness are not guaranteed. The opinions, estimates, and projections constitute the judgment of Wilmington Trust and are subject to change without notice. This commentary is for information purposes only and is not intended as an offer or solicitation for the sale of any financial product or service or a recommendation or determination that any investment strategy is suitable for a specific investor. Investors should seek financial advice regarding the suitability of any investment strategy based on the investor's objectives, financial situation, and particular needs. Diversification does not ensure a profit or guarantee against a loss. There is no assurance that any investment strategy will succeed.
Past performance cannot guarantee future results. Investing involves risk and you may incur a profit or a loss.