December 18, 2020—It has become cliché to point out that the year 2020 defied all expectations, including those of most investors. So, it is with humility that we revise our financial market expectations and portfolio asset allocations heading into 2021. There has been a divide between the economic trajectory—which has been languishing—and a stock market that continues to make new highs. Three factors are now coalescing to bridge that divide in a direction that favors risky assets: the prognosis for vaccines, the promise of fiscal stimulus, and easy monetary policy. We see the outlook for equities as the most constructive in almost a year, and we expect further upside despite what has already been a strong fourth quarter for stocks. We are modestly increasing risk in portfolios to take advantage of expectations for higher equity returns. We are also making adjustments to our real assets allocation, an asset class that can offer important diversification and has inflation-hedging properties.
Vaccines
The slew of vaccine breakthroughs, beginning with the better-than-expected news of the Pfizer vaccine trials indicating an efficacy of 95%, represent a game changer for the 2021 economic outlook. Not only has COVID-19 vaccination begun before many medical experts thought possible, but there are three different vaccines with the potential to receive emergency medical approval by early 2021. Distribution of the vaccine will be no easy feat, but we believe the global transportation, logistics, and pharmaceutical industries are ultimately up to the task. In addition, the extremely high efficacy of the Pfizer-BioNTech and Moderna vaccines (Figure 1) increases the likelihood of people choosing to get vaccinated, another communication and education challenge that should not be underestimated. All things considered, there is promise of a faster return to normal as early as the middle of 2021, a scenario that is supportive of cyclical equities.
Figure 1: COVID-19 vaccine trial data indicates much higher efficacy than many other more established vaccines
Efficacy Rate of Major Vaccines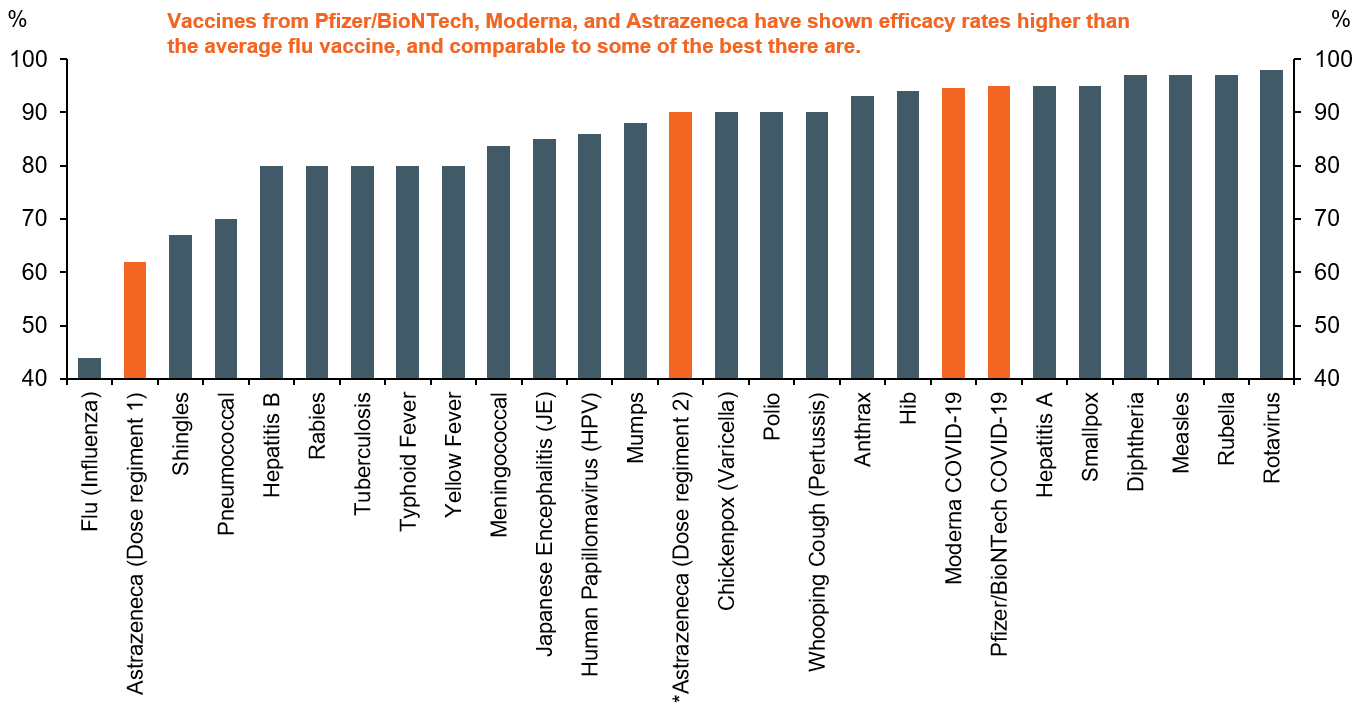 *Astrazeneca tested two dose regiments in Phase 3 trials. The first, two dose regiments was 62% effective, the second, half dose followed by a full dose regiment was 90% effective, but hasn't been tested in patients 55 or older, and will likely need further testing to confirm its overall efficacy rate.
Sources: Deutsche Bank Research, Center for Disease Control, World Health Organization, National Heath Service, National Center for Biotechnology Information.
Fiscal stimulus
At the time of writing, lawmakers in Washington are inching ever closer to another round of fiscal aid for consumers and businesses struggling amidst another round of COVID-related shutdowns. A package amounting to almost $900 billion is expected to include direct payments to individuals and enhanced unemployment benefits, which would provide both a renewed boost to consumer spending and additional flows into savings during what could be some very challenging months ahead.
On the election front, our expectation at this point is that the Republicans maintain a very narrow lead in the Senate following the Georgia runoff races on January 5. Should that be the case, a divided government would likely result in more muted fiscal stimulus in 2021 but also much less in the way of sweeping policy change on the tax, regulation, healthcare, and energy fronts. However, even if the Democrats take both Georgia Senate seats, the Democrats will lack a substantial, decisive majority necessary for enacting many of the party's more progressive policies, particularly in a year where many businesses will still be reeling from the pandemic. This is a constructive backdrop for equities.
Monetary policy
Global central banks, including but not limited to the Federal Reserve, European Central Bank, and People's Bank of China, pulled out all the monetary policy stops in 2020 (Figure 2). While some policy support may be reined in by Chinese policymakers beginning in 2021, the Federal Reserve continues to make clear its intention to remain extremely accommodative for years to come. At the Fed's latest policy meeting, the median expectation for the federal funds rate is still anchored at the "zero bound" (0—0.25%) at the end of 2023. The most notable monetary policy development of 2020 is the Fed's affirmation that it intends to allow inflation to run above its 2% target for a period to make up for years of low inflation. That means businesses can plan for low rates, and higher borrowing capacity, for years to come. Meanwhile, investors continue to be forced out the yield and risk spectrum, and equity valuations could be supported at above-average levels for a prolonged period.
Figure 2: Central banks expected to remain accommodative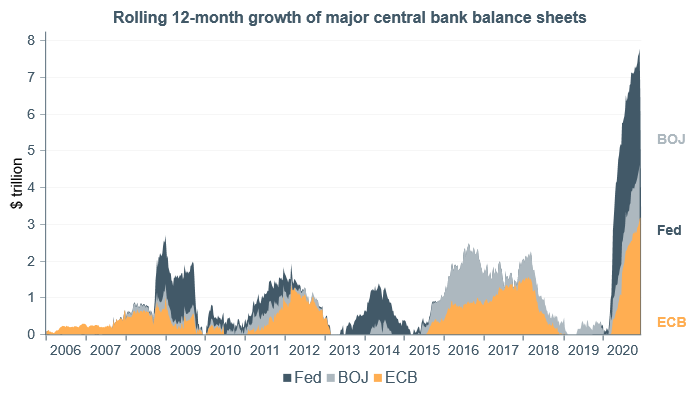 Sources: Federal Reserve, European Central Bank, Bank of Japan. Data as of December 13, 2020.
Risks
We are by no means signaling the all clear, as several key short-term risks are lurking underneath the surface. The leading and most obvious risk is the path of the virus and the threat of widespread restrictions on mobility and business activity. As mentioned above, there is also a chance of issues with distribution, side effects, or participation of vaccines. The political environment also still hangs in the balance, to be ultimately decided on January 5. With investors cheering prospects for a divided government, there is the potential for Democrats to stage an upset that could ultimately result in more sweeping tax, regulatory, or other policy changes. Finally, valuations are worth monitoring. They prove to be a poor short-term market timing tool, but certain areas of the equity and fixed income markets have become expensive. Valuations of many U.S. large-cap technology companies are pricing in very optimistic growth rates far into the future. These valuations could certainly be sustained, particularly given low interest rates, but also suggest more muted equity returns over a three- to five-year time horizon.
Portfolio changes
Vaccines, fiscal stimulus, and monetary policy all provide support for an economic recovery and returns of riskier assets over a 9- to 12-month investment horizon. As a result, we have shifted assets—2% for a portfolio with moderate risk and an allocation to hedge funds—from investment-grade bonds into high-yield bonds and equities. We now hold a neutral allocation to high yield bonds versus our strategic benchmark and have modestly increased our overweight to equities (Figure 3).
We are in the early stages of a global recovery and new economic cycle, which is generally a positive backdrop for smaller domestic companies. Our 2021 Capital Markets Forecast also highlighted record cash levels on corporate balance sheets, some of which we expect to be deployed for mergers and acquisitions (M&A) and strategic partnerships. A flurry of M&A activity could benefit small-cap equities, as they tend to be more frequent acquisition targets. Small-cap equity indices also have a larger allocation to cyclical industries, which would benefit from a global economic recovery.
Emerging markets (EM) equities are an asset class where we have high conviction. First, from a supply-side standpoint, EM continues to be the "factory to the world." Much of the technology that supports services, like semiconductors and the cloud, are developed and sourced from EM (China, in particular). Second, from a demand-side standpoint, EM societies, particularly those of Asia, are in many cases ahead of the rest of the world in adopting new technologies, such as cashless society and forthcoming augmented and virtual reality. Third, China—which comprises roughly 40% of the MSCI Emerging Market Equity Index—is simply ahead of the game in terms of overcoming the public health crisis, spurring economic growth, and achieving post-Covid normalization. Lastly, EM equities are still cheap relative to historic metrics and other parts of the world. A weakening U.S. dollar, which we would expect to coincide with a global economic recovery, would also be supportive of EM equities.
Real assets represent a smaller allocation in a diversified portfolio but offer diversification and have inflation-hedging potential. We have sold our modest gold position and deployed those assets into commodities and Treasury Inflation Protected Securities (TIPS). As described above, the economic outlook has improved in recent months. We still expect inflation to accelerate over the next 12—24 months given a torrent of liquidity added by policymakers, but we think commodities and TIPS will provide better risk-adjusted returns than gold going forward. We also suspect that gold may be experiencing some cannibalization from bitcoin as investors flock to the cryptocurrency. For more on the remarkable trajectory of bitcoin, read our recent Wilmington Wire.
Figure 3: Current tactical asset allocation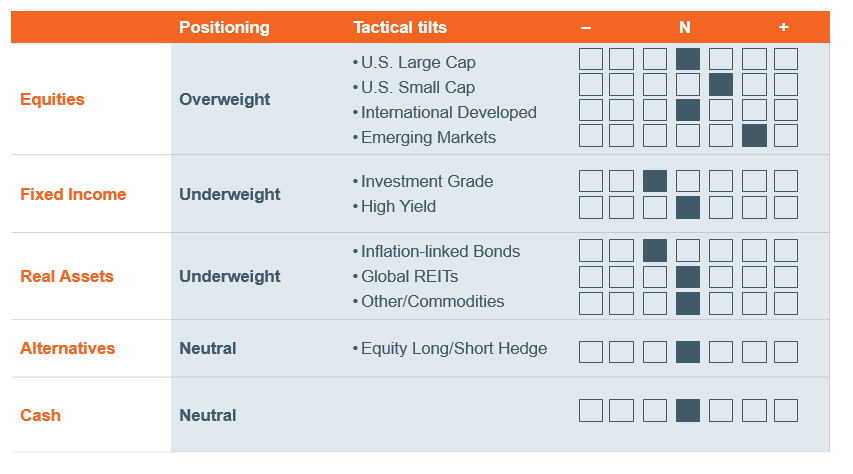 We believe these portfolio changes will position our clients to participate in an economic recovery and continued stock market strength. From an investment planning perspective, this year has served as an important reminder of some key principles that we believe bear repeating:
Long-term investors should consider looking through near-term volatility, stick with their long-term wealth plan, and stay invested. Volatility will return at some point over the next 12 months—perhaps sooner rather than later—but exiting the stock market in times of turbulence is one of the biggest mistakes an investor can make.
Revisit your wealth plan, goals, and conduct a portfolio stress test periodically to ensure your portfolio aligns with your risk tolerance. This preparation has a much better chance of setting you up to succeed than most new year's resolutions.
Do not forget the power of rebalancing. We are continuously monitoring drift in our client portfolios. While it can be hard to take some chips off the table when the market is strong, or buy in during periods of weakness, these (often modest) portfolio changes can have a powerful compounding effect over time.
To read more of our latest insights on the markets and economy, including the trends we expect to endure in 2021, please visit our Capital Markets Forecast.
Disclosures
Wilmington Trust is a registered service mark used in connection with various fiduciary and non-fiduciary services offered by certain subsidiaries of M&T Bank Corporation including, but not limited to, Manufacturers & Traders Trust Company (M&T Bank), Wilmington Trust Company (WTC) operating in Delaware only, Wilmington Trust, N.A. (WTNA), Wilmington Trust Investment Advisors, Inc. (WTIA), Wilmington Funds Management Corporation (WFMC), and Wilmington Trust Investment Management, LLC (WTIM). Such services include trustee, custodial, agency, investment management, and other services. International corporate and institutional services are offered through M&T Bank Corporation's international subsidiaries. Loans, credit cards, retail and business deposits, and other business and personal banking services and products are offered by M&T Bank, member FDIC.
Facts and views presented in this report have not been reviewed by, and may not reflect information known to, professionals in other business areas of Wilmington Trust or M&T Bank who may provide or seek to provide financial services to entities referred to in this report. M&T Bank and Wilmington Trust have established information barriers between their various business groups. As a result, M&T Bank and Wilmington Trust do not disclose certain client relationships with, or compensation received from, such entities in their reports.
The information on Wilmington Wire has been obtained from sources believed to be reliable, but its accuracy and completeness are not guaranteed. The opinions, estimates, and projections constitute the judgment of Wilmington Trust and are subject to change without notice. This commentary is for informational purposes only and is not intended as an offer or solicitation for the sale of any financial product or service or a recommendation or determination that any investment strategy is suitable for a specific investor. Investors should seek financial advice regarding the suitability of any investment strategy based on the investor's objectives, financial situation, and particular needs. Diversification does not ensure a profit or guarantee against a loss. There is no assurance that any investment strategy will succeed.
Past performance cannot guarantee future results. Investing involves risk and you may incur a profit or a loss.
Alternative assets, such as strategies that invest in hedge funds, can present greater risk and are not suitable for all investors
The gold industry can be significantly affected by international monetary and political developments as well as supply and demand for gold and operational costs associated with mining.
Indexes are not available for direct investment.
©2020 M&T Bank Corporation and its subsidiaries. All rights reserved.