Running a business throughout a pandemic hasn't been easy. But many business owners remain skeptical about the economy even moving beyond the pandemic. In March 2020, 57% of business owners had confidence that they would achieve their business' long-term financial objectives, but by February 2021, only 34% still had that confidence, according to Wilmington Trust research.
More and more business owners report feeling insecure about the future and the changing business landscape, as a result of changes brought on by the pandemic, as well as economic and legislative changes. Those changes are leading business owners to exit their businesses in record numbers, many on a faster timeline than they had planned even a couple of years ago. In fact, the number of business owners who plan to retire sooner than originally planned has doubled in less than a year, our research shows.
If you're considering exiting your business, you're not alone. But before you take such a big step, it's wise to make sure you're ready. Take time to think through these three important questions and plan carefully to prepare for what comes next.
Are you ready to make an exit?
Many business owners went through a financial crisis in 2008, weathered the pandemic in 2020, and simply aren't interested in managing their businesses through another potential economic crisis. In addition, technology is fundamentally changing the way many businesses operate, and some business owners don't want to invest the time and money to scale up technology efforts.
However, making the decision to sell your business isn't something that should be done overnight. The process needs to start a lot sooner than just one day deciding it's time to exit the business. For most business owners, the business is their key asset, and a lot has to happen when deciding how to transition that asset.
Think about it: As an entrepreneur, your business probably "powers" every other aspect of your life. It likely provides a regular income, retirement savings, education funds for your children, and legacy assets for your family.  On a broader level, it also offers social interaction and structure to your days and weeks. Before you make the decision to leave your business, make sure you're ready to deal with all of the potential changes that will occur as a result.
Compare your personal wealth to a Rubik's Cube where each side represents some facet of your business, wealth, and legacy goals. If the blue side represents your business, it may be straightforward to resolve issues on that face. But when you change one side of a Rubik's cube, it automatically changes other faces. Think about your various goals and recognize that changes at the business may affect tax strategy, estate planning, and retirement cash flow. With so much interconnectivity, it's vital that business owners solve their whole Rubik's Cube.
Are you financially prepared to make an exit?
Wilmington Trust research shows that many business owners want to accelerate their exits but are concerned about how their wealth will be managed in the future. In March 2020, half of all entrepreneurs were very confident that their personal and business assets would be well managed if they were to die or become unable to manage them. In our latest survey, only 34% said the same.
That decline suggests that the businesses aren't ready for transition because they aren't transferable, predictable, and/or sustainable. Transferability means that the business can run without you. Predictability gives the next owner comfort that the business will continue to produce dependable cash flow.  Sustainability is about durable relationships and lasting competitive advantage.  Working on those three metrics before exiting a business drives the value of the business and positions you and your family for the rest of your life and beyond.
Envision a triangle where the top angle is your personal wealth including business value, and the bottom two angles are your retirement needs and your legacy desires. If you're planning to sell your business, you want to know that the sale value will support the retirement and legacy angles.
This means looking at your whole asset picture – including the business – to determine whether you will have the asset base to support your lifestyle cash flow needs as well as the legacy you want to leave for your heirs. If the math doesn't work, adjustments are in order. You could consider changing your retirement cash flow target, reducing the legacy to your heirs, working to make your business more valuable before selling, or some combination of changes to each angle.
How should you handle a liquidity event?
If you choose to sell your business, it's important to plan carefully for the full financial impact of the sale. Many business owners get very focused on the "headline value" of the deal and fail to pay enough attention to various tax and estate planning opportunities that can maximize what they will net from the sale.  At the end of the day, it's the net proceeds that matter most!!
On that score, it's also important to understand the various avenues to realize liquidity from your business and how they match your individual situation and needs. For example, you can complete a full sale of the business to a strategic buyer for maximum liquidity.  Alternatively, you might consider a partial sale to a private equity fund that allows you to retain a significant minority in the business and lead it for several more years before fully cashing out.  Another option could be an Employee Stock Ownership Plan (ESOP), which can provide you with liquidity and potential tax advantages, while providing wealth-building opportunities to your employees.  
The most important step is to plan carefully for a sale on the front end so that you'll be better positioned to manage the outcome of the sale. Turn to financial advisors who are experienced with business valuation and exit strategies to help you determine the right way to exit your business.
Let our team help you make informed and proactive decisions for your business exit strategy.
---
More interesting data from our 2Q 2021 research on business owner retirement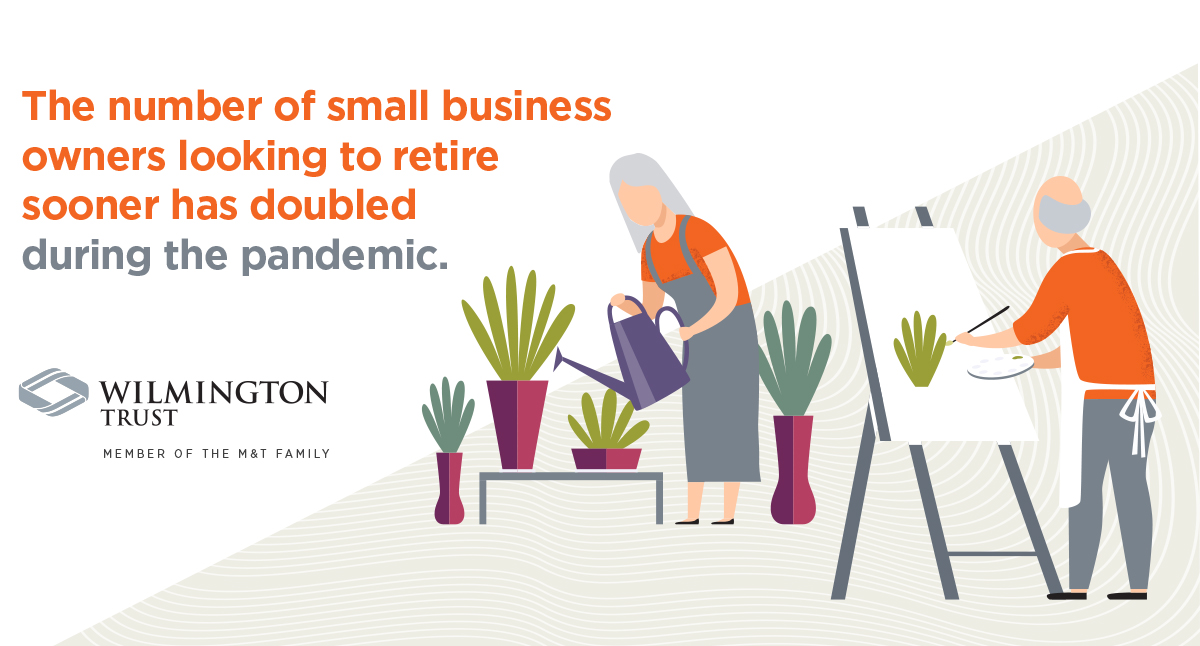 Learn why in our 2Q 2021 Business Owners' Outlook: The Rush to Retire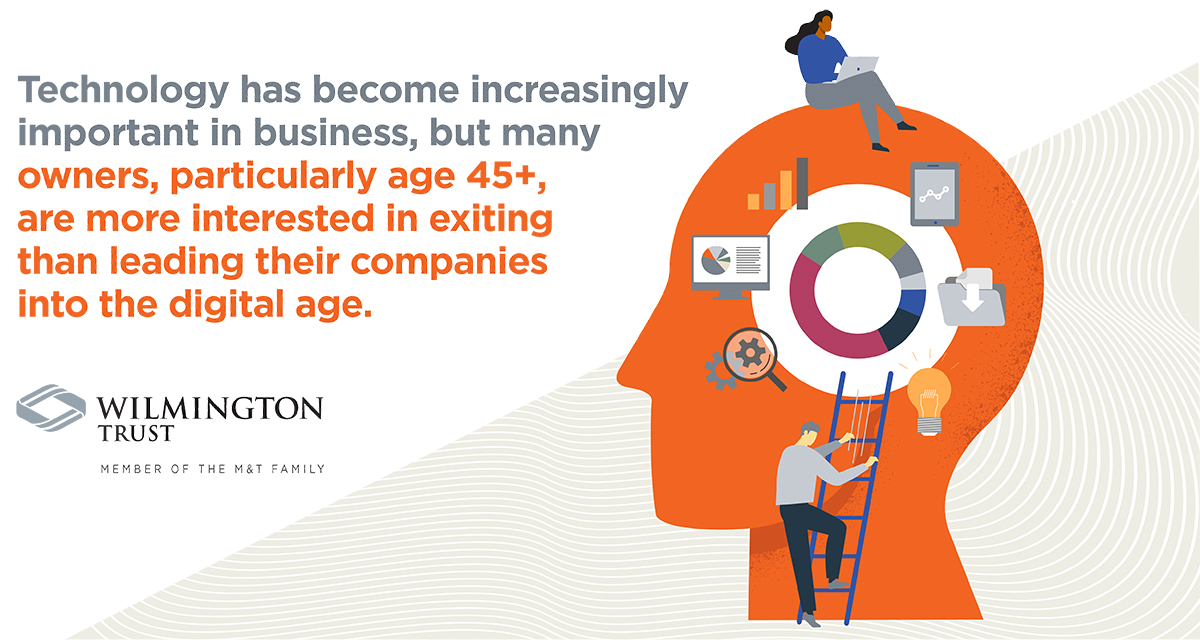 Learn more about the The Business Owner Digital Revolution and find out how some business owners are doubling down on the digital experience, while others have decided it's time to retire.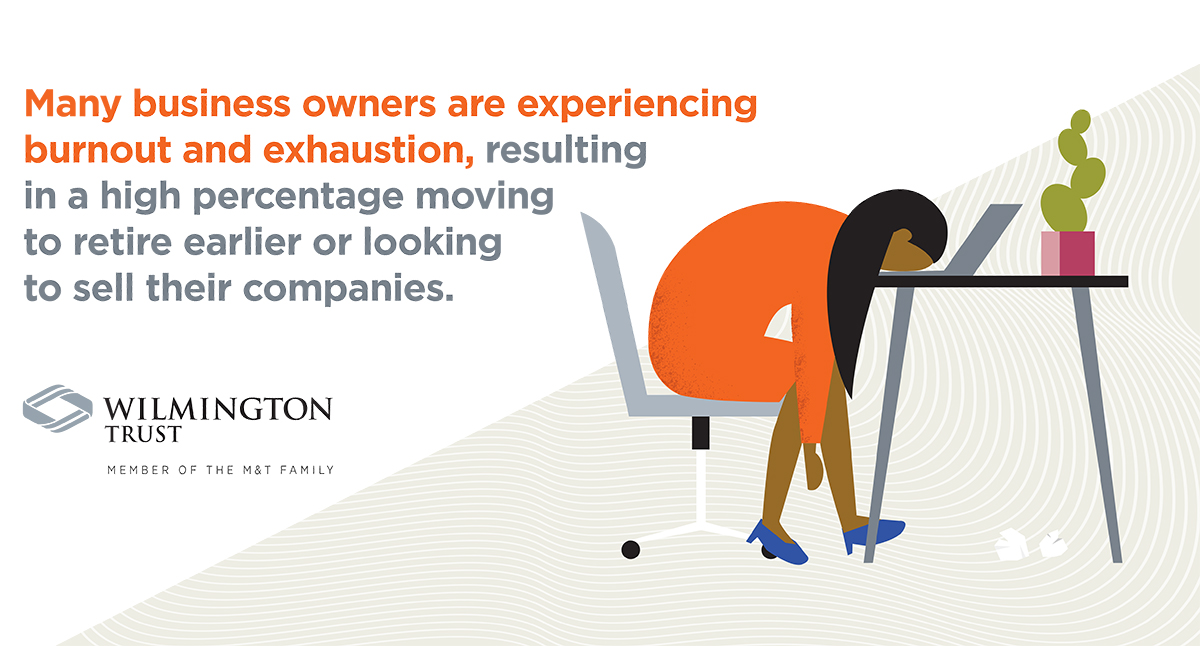 Exhaustion may be playing a role in the growing interest to transition a business, but business owners shouldn't overlook the importance of planning and preparation. Read Holistic Succession Planning for Family Business Owners to learn more.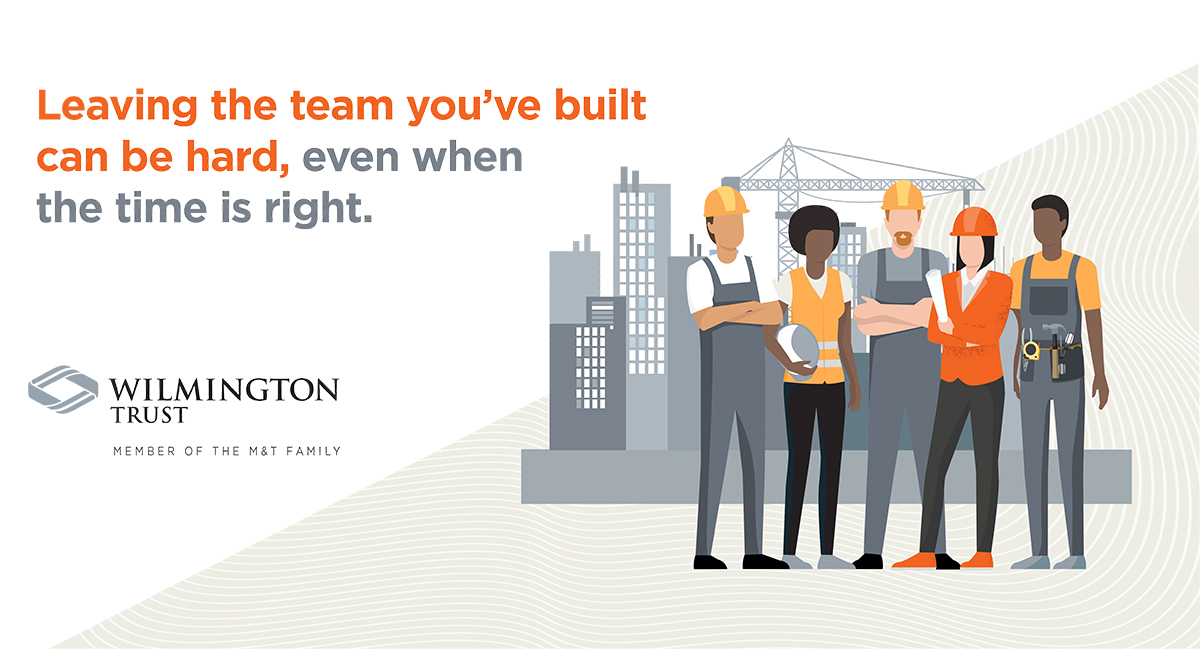 Listen to our Emerald GEM episode on Overcoming the Grief of Selling a Family Business for tips on dealing with feelings of loss and uncertainty following the sale of a family business. 
Wilmington Trust Emerald Family Office & Advisory is a service mark and refers to wealth planning, family office, specialized transaction, and other services provided by Wilmington Trust, N.A., a member of the M&T family.
The information provided herein is for informational purposes only and is not intended as a recommendation or determination that any tax, estate planning, or investment strategy is suitable for a specific investor. Note that tax, estate planning, investing, and financial strategies require consideration for suitability of the individual, business, or investor, and there is no assurance that any strategy will be successful.
Wilmington Trust is not authorized to and does not provide legal, accounting, or tax advice. Our advice and recommendations provided to you are illustrative only and subject to the opinions and advice of your own attorney, tax advisor, or other professional advisor.
The information in this article has been obtained from sources believed to be reliable, but its accuracy and completeness are not guaranteed. The opinions, estimates, and projections constitute the judgment of Wilmington Trust and are subject to change without notice.